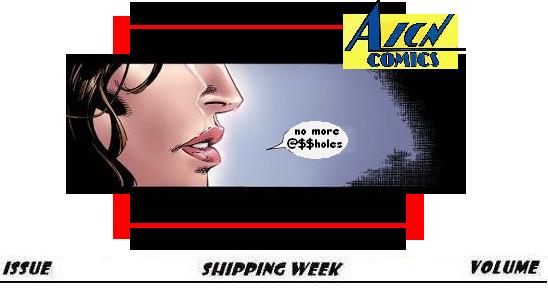 ---
The Pull List (Click title to go directly to the review) THE STAND: CAPTAIN TRIPS #1 SUPERMAN: ESCAPE FROM BIZARRO WORLD HC GN CIVIL WAR: HOUSE OF M #1 GREEN LANTERN COPRS #28 DEADPOOL #1 Raiders of the Long Box presents THE UNAUTHORIZED BIOGRAPHY OF LEX LUTHOR OGN dot comics presents… Big Eyes For the Cape Guy presents TOTO! VOL 1 & 2 CHEAP SHOTS!
---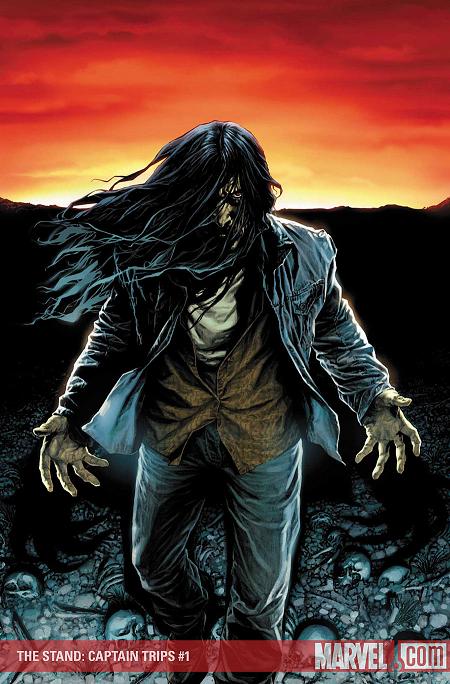 THE STAND: CAPTAIN TRIPS #1
Written by: Roberto Aguirre-Sacasa Art by: Mike Perkins and Laura Martin Published by: Marvel Comics Reviewed by: Ryan McLelland
THE STAND is hands down my favorite Stephen King book - a large novel I've read through twice. The last time I tried to read it I got about sixty pages in, felt a bit lethargic, and actually ran to the store to buy the TV-movie starring Lieutenant Dan, Pretty in Pink, and Parker Lewis. While it's no 10 hour HBO adaptation, it certainly does the job.
Perhaps the only other genre that can capture the magic of King's novel is the world of comic books. While I love King's THE DARK TOWER series I wasn't too crazy about THE DARK TOWER: THE GUNSLINGER BORN mini. That didn't stop me from snagging THE STAND: CAPTAIN TRIPS #1 the moment I saw it on the, well, stand.
Of course seeing that was a five issue miniseries I immediately hoped that Marvel wasn't going to try doing THE STAND in just five issues. After reading the comic I'm glad to say that is not the case with CAPTAIN TRIPS being the first of hopefully several miniseries that will bring the massive, epic book to life.
Writer Roberto Aguirre-Sacasa hasn't taken many liberties with the story he doesn't really need to. Aguirre-Sacasa updates the book for the Y2K crowd just as King did when he updated his own novel from the seventies to the eighties. The tale is a timeless one: a military plague creeps out of an Army base and thanks to man's desire to live the virus ends up killing everyone. Frannie, Stu, and Larry are three very different people from three very different places and they don't know their paths are intertwined yet as the virus, Captain Trips, starts to decimate the country.
The first issue acts as an introduction to their characters with the virus taking a backseat. It doesn't make for the most interesting first issue in terms of action but absolutely brings King's story to life. This isn't even "an adaptation" but a new way to bring THE STAND to readers that is so above and beyond the television miniseries. Artist Mike Perkins does an amazing job bring this world to life and bringing these three different worlds (Texas, Maine, and New York) to life. Visually you feel the difference when you look at the panels and nothing of this story feels rushed.
The artwork is fantastic, the story is spot-on, and Marvel hits a home-run with THE STAND: CAPTAIN TRIPS. It's so good that even Stephen King will read this comic and say, "Wow!" It is a rare treat for new and old fans of King's epic.
Ryan McLelland has worked in movies and comics journalism for the past several years before joining the @$$holes here at AICN. Ryan's comic work has already graced comic shelves with Arcana's PHILLY, WISE INTELLIGENCE, UPTOWN GIRL, and THE SENTINELS ANTHOLOGY. He rarely updates his blog but when he does it can be read at www.eyewannabe.com
---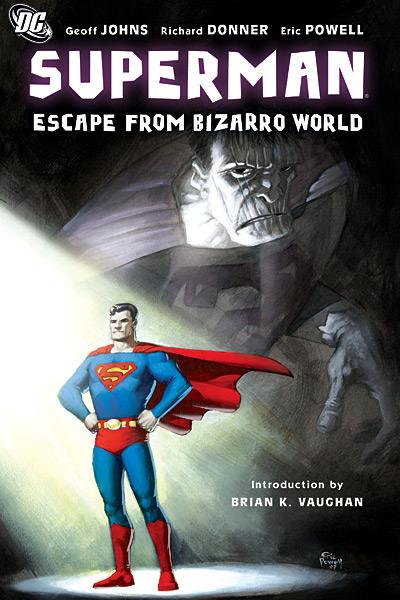 SUPERMAN: ESCAPE FROM BIZARRO WORLD HC
Written by Geoff Johns and Richard Donner Art by Eric Powell Published by DC Comics Reviewed by Stones Throw
I remember enjoying the issues of Geoff Johns and Richard "I directed SUPERMAN: THE MOVIE and now I'm having SUPERMAN the comic written for me" Donner's Bizarro storyline in ACTION COMICS that I picked up last year, so this was a cool hardcover to get a chance to look through. Contained within it are all three issues of the Bizarro World epic that ran through ACTION COMICS, plus three cool back-ups reprinting classic Bizarro stories and some nice, though hardly insightful, introduction and commentary by Brian K. Vaughan and writer Geoff Johns.
By far the best thing about these issues is the art from THE GOON's Eric Powell. It's great to see a truly singular style get a chance to draw one of comics' biggest icons. He brings a cool and creepy Universal horror feel to Bizarro's cuboid homeworld and its freakish denizens, and a refreshingly Golden Age take on Big Blue (Superman, FYI), with elements of the Silver Age comics and the movies, like the Fortress of Solitude and little blue spaceships mixed in for the full neo-classical flavor. I can't say he wowed me with a particularly fresh take on Bizarro World, but what was there was nice to look at and drawn in an expressive, clear style, so I can't quibble.
As we've come to expect with Johns, his and Donner's story moves along at a nice clip too, with some cool scenes and touching moments of emotion that get right to the heart of the Superman mythos in kind of an obvious way. I've got to say that what surprised me the most, and what caused the storyline to suffer in comparison to Grant Morrison and Frank Quitely's amazingly heartfelt and demented ode to Bizarro World in the pages of ALL STAR SUPERMAN (which, unfortunately for these issues, saw print at about the same time last year), is just how straightforward they were with Bizarro and his home planet, which is hardly a new concept.
See, a few years ago, DC had this giant-@$$ event called INFINTE CRISIS, which was going to clear up all their continuity problems once and for all and let them finally get down to telling fun new classics with their cast of iconic characters, only they never quite got around to that side of it. You might have heard of it, they've got another one called FINAL CRISIS going on at the moment. This seems like one of the storylines that came out of that short-lived era of possibilities and excitement between two giant-@$$ events. "Cool! We can go to Bizarro World!" But as the back-up stories kindly provided by DC show, the Bizarros have been around for a pretty long time and have had a lot done with them. Starting back at entry-level is fun at first, but not totally necessary.
OK, that's the linking paragraph out of the way, now I can talk about the reprints. Way ahead of the competition is a Curt Swan story from 1960 called "The Mark of Bizarro". Bizarro #1 returns home one day to find Bizarro Lois has had a baby—only it's a hideous freak, the spitting image of a young Superman. The other residents of Bizarro World set upon the kid, so Bizarro #1 hides him in a shell floating in space, which is actually a satellite which takes him away to Earth, leaving his Bizarro parents grieving. As you can tell, it's pretty heady stuff. Loss, alienation, intolerance, family, robots conveniently driving cars into quicksand, it's all covered.
ALL STAR SUPERMAN POINTS: Bizarros invading Earth, carrying a warped version of the flag; a lone sane inhabitant of Bizarro World; Superman building himself a new (lead-lined) suit; a sense of loss yet achievement for Superman in the end, etc.
Also included is another one drawn by Curt Swan, from DC COMICS PRESENTS in 1984, featuring Superman and Bizarro teaming up to stop a Bizarro Amazo from handing out superpowers to innocent people, and John Byrne's Bizarro tale from MAN OF STEEL #5.
It might have seemed like I was pretty hard on the ESCAPE FROM BIZARRO WORLD storyline, and it is definitely a fun time. But I also think this story is a good example of the negative effect of DC's reboot mania, which is the reason the All Star line (in the case of ALL STAR SUPERMAN at least, I'm not sure what's going on with the other one) was established: take everything that's been done with these characters on board, build on it and progress, rather than pacing around over the same few square feet over and over again. It might be a nice area, but the walk starts to repeat itself after a while. ESCAPE FROM BIZARRO WORLD is gonna be a great story for younger readers and those new to the Superman mythos, but, bizarrely, I found a 48 year old story read by kids half the age of your average comic book geek today had more depth.
Which, y'know, is what we want in our Bizarro comics.
---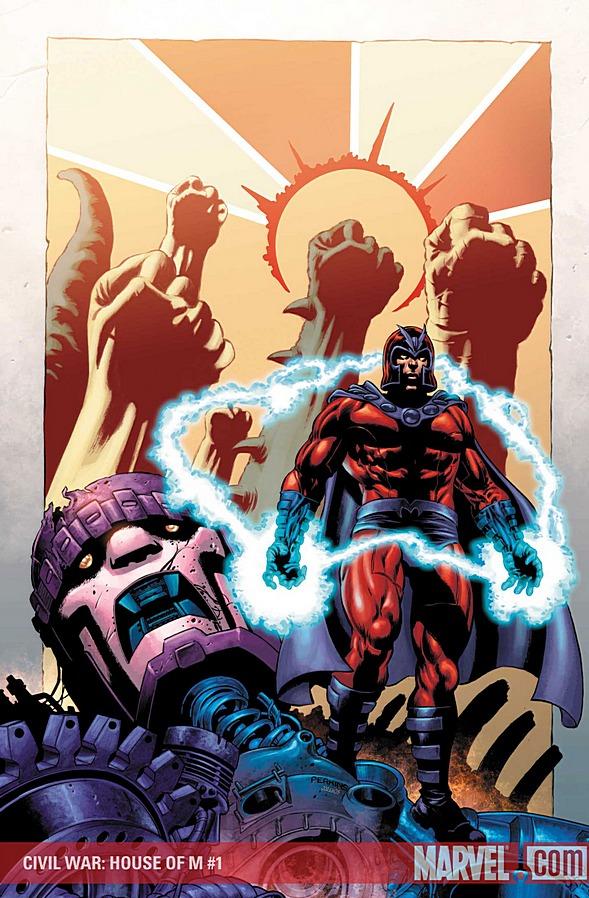 CIVIL WAR: HOUSE OF M #1
Writer: Christos N. Gage Artist: Andrea Divito Publisher: Marvel Comics Reviewer: Jinxo
This is kind of weird. Now we have big crossover events crossing over with other big crossover events. So normally you would have,say, Spider-Man with a big slug at the top that says SECRET INVASION! But… what do you do when slug lines collide? Which "event" is the title of the book and which is the "event"? The cover and first page say this is the HOUSE OF M: CIVIL WAR. But in the publishing information on page one, it says CIVIL WAR: HOUSE OF M. Not that any of that matters to the story, but the idiocy of the naming problem made me laugh.
What about the story? The last time I checked in on the HOUSE OF M reality was back with the HOUSE OF M: AVENGERS mini. That was okay. I'm just growing more and more confused over the relevance of anything HOUSE OF M. It was an altered fake reality that came and went and wasn't crazy exciting in the first place. If we're going to keep returning to it can we just make it a full fledged alternate reality instead of one that currently is, well, erased? I mean, what is the point to any HOUSE OF M tale when, really, each story should end with, "Yadda yadda yadda… it all got erased"?
And part of the reason I want HOUSE OF M's status in the Marvel Universe to be straightened out is that so far I actually like this new book and would like it more if I felt in some way it was relevant and not part of a dead end what's-the-point piece of continuity. Oddly enough this book doesn't dive right into recent times where you would have expected most of the HOUSE OF M continuity manipulations to have taken place. Instead this book starts with wee baby Magneto in World War II. It actually feels like it could be part of the main Marvel continuity. Are there tweaks and changes? Of course there are. But the main continuity is always being tweaked and adjusted so the changes don't feel crazy out of place. It feels more like a standard revision of Magneto's past, and one I actually like a lot. I know in the end the story must go horribly wrong with Magneto becoming the uber despot, but right now the story is still at the point where you like the guy. At the very least you can't help but feel for the guy. You think your life is rough? Yikes. The section where Magneto's happy family life literally goes up in flames is particularly effecting. His whole life is just one kick in the ass after another. Again, you can't help but sympathize while still being aware those bad events have him destined for no damn good.
Andrea Divito's art in the book also deserves mention. The very first pages set in WWII do a nice job of setting a tone by giving the art a washed out, almost sepia toned look. The shots look old and the people and places look pale, drained of life and hope. They don't hold to the look long, just long enough for the impact. The scene I mentioned earlier where Magneto's first "house" goes up in flames is likewise nicely orchestrated. The techniques are comic book 101 uses of light and shadow, of dramatic poses. But it is all done to perfect effect. Magneto letting loose his pain, his saving his daughter who may be beyond saving, her form just a black silhouette, the angry father taking his revenge…I could go on. Might be comic book 101 but it's f***ing A+ composition.
Given that the original CIVIL WAR saga pissed me off and HOUSE OF M left me cold I am pleasantly surprised that a book combining the two can have me this excited and hopeful. Guys, I'm really liking this. Please don't mess it up.
Jinxo is Thom Holbrook, lifelong comic book reader, and the evil genius behind poobala.com. He may appear cute and cuddly but if encountered avoid eye contact and DO NOT attempt to feed.
---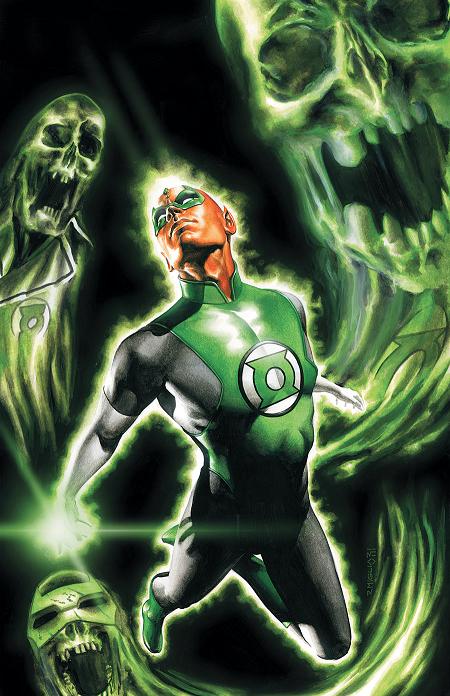 GREEN LANTERN CORPS #28
Writer: Pete Tomasi Artist: Luke Ross Publisher: DC Comics Reviewer: Optimous Douche
There seem to be three types of titles churning out of DC right now.
There are the titles that directly acknowledge a crisis, strike that, a FINAL CRISIS is upon us. These are generally identified by the words FINAL CRISIS emblazoned on the cover and they usually chuck another line into the UPC code to up the price an extra buck (but ooooohhh the cover is soooo shiny).
Then there are the titles that are touched in a peripheral sense by CRISIS, like GREEN LANTERN'S ret-con, or BATMAN'S foreshadowed end of days with R.I.P. There is nary a Libra or dead Flash in sight, yet these types of titles benefit by being able to darken their worlds thanks to the overarching theme "evil will triumph" that FINAL CRISIS is blanketing across the DC universe.
Finally there are books like GREEN LANTERN CORPS that seem content to just tell a damn good story and will figure out what the hell FINAL CRISIS means to them probably at the same time we all figure out what the hell it means period.
This is not a slap in the face to CRISIS; I'm enjoying 85% of what's happening. But it is damn refreshing to turn off my organic comic database of facts, events, and obscure plot threads to just enjoy one self-contained story from month-to-month. For the past two months Tomasi has been doing some inventive original story-telling in GREEN LANTERN CORPS by remembering the two things that can make this title succeed: deep characterization and cosmic ass-kickery.
I'll admit I was one of the collectors that jumped ship from this title at the end of the "Sinestro Corp War". I figured, could there really be anything better than what was happening in the life, or I should say the past life, of Hal Hordan? While not necessarily more interesting, GLC is definitely keeping in step with its own present day perspective. For anyone that is bitching about the fact GREEN LANTERN is starting to get mired in its lengthy flashback, GL CORPS is the book for you. I was actually waiting for the moment when someone would ask "Where's Hal Jordan?" and Guy Gardner would respond with his usual snark, "In 1994, hanging out with Sinestro." While I did not get my break of the 4th wall, what I did get was some phenomenal present day emerald justice.
When an issue opens with a vat of eyeballs floating in a hyperbolic gel tank a la Luke Skywalker in Empire Strikes Back, you know you're in for a special treat. The ocular grapes in question belong to the family members of Green Lanterns in training and were collected after they rained down from the sky at the close of last issue. Bringing in their resident ghost whisperer Saarek, the boys on OA learn that this literal skull-fucking was the result of some peeved off sentient insect Yellow Lanterns. What I found most interesting about this issue was not the fact that a Lantern has ESDP (extra sensory dead perception), nor the retribution paid to the yellow bugs. While all of that is good stuff, what blew me away was how Tomasi handled the reactions of the newbie Lanterns. Instead of each flying off to exact their own kind of justice, they simply said, "I quit." When politicians talk about family values, this is it folks. This was the finest example in recent memory of the moral fortitude required to wear a ring.
I was also wowed by the very simple interaction between Guy Gardner and his on again/off again paramour Tora "Ice" Olafsdottir. All of us older collectors will remember the JLI days back in the 80s when Guy used to bludgeon Ice with overt sexual innuendos in an attempt to gain her affection. Whoever said comics can't evolve or are for children needs to read the two pages where Ice appears on OA. Granted it took Mr. Gardner 20 years to evolve from junior high schoolboy with a crush to a real man, but hey, it is evolution.
Perhaps the only thing that put me off on this issue and its predecessor is the formation of the new GL bar and hangout owned by Guy and Kyle Rayner. Caution, creators: remember all it took was one bar and a snot nosed brat to turn the brilliance of "All in the Family" into the drek that was "Archie Bunker's Place" and once the "Peach Pit" appeared "90210" it went to 9021oh-no. And honestly, what is there to run, really? Can't the guys in green just create a bunch of ring constructs to wait tables and flip burgers? Tomasi is handling it well for now, but I really don't want to see too many panels devoted to Guy and Kyle cleaning vomit out of a urinal in the future.
When Optimous Douche isn't reading comics and misspelling the names of 80's icons, he "transforms" into a corporate communications guru. Optimous is looking for artistry help, critical feedback and a little industry insight to get his original book AVERAGE JOE up, up and on the shelves. What if the entire world had super powers? Find out in the blog section of Optimous' MySpace page to see some preview pages and leave comments.
---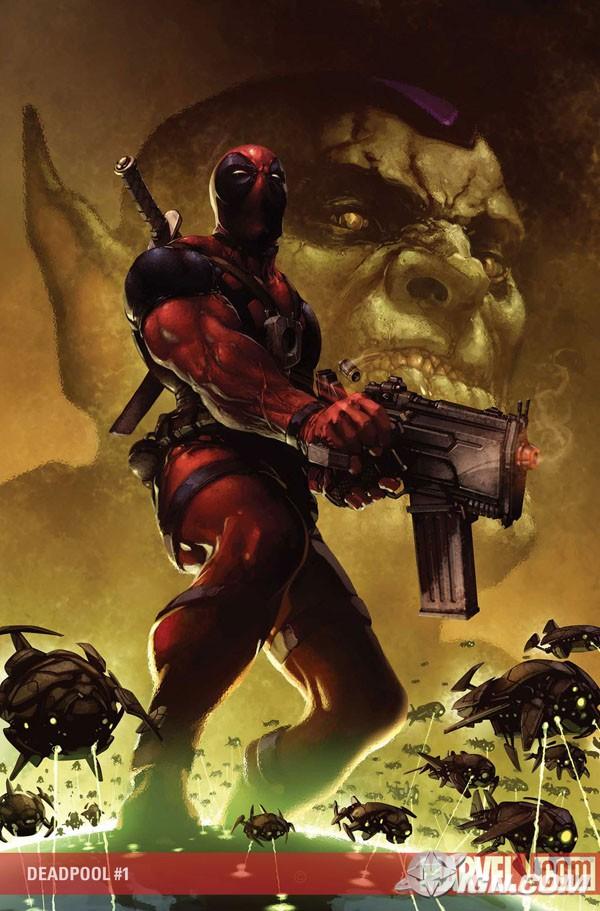 DEADPOOL #1
Written by: Daniel Way Art by: Paco Medina and Juan Vlasco Published by: Marvel Comics Reviewed by: Ryan McLelland
Why was DEADPOOL ever cancelled? Why? The character is awesome and I've never had a bad time reading a DEADPOOL book. Daniel Way rips right into the latest DEADPOOL series full force and never had a bad second writing this book. As a Skrull Invasion crossover Way hits this right out of the park as he writes what has to be the best single issue of the entire invasion. DEADPOOL is a book that has everything right inbetween its covers and all I can say is welcome back, DEADPOOL - you've been missed.
If you've been hiding under a rock, the Skrulls have attacked Earth. They beat everyone up and they disguise themselves as Jarvis, Spider-Woman, and Dr. Bong. The heroes rally and try to come up with what to do next. The Skrulls continue to invade, landing themselves in a baseball park only to find they are being attacked by some ugly mascot.
Of course, the ugly mascot is our favorite merc-with-a-mouth who starts tearing the Skrulls to shreds. It's nearly like a videogame as wave after cocky wave go after Deadpool as the dome closes on the field. The Skrulls think they have it made because they've locked in Deadpool. They never realize that it is they who are locked in with him.
Now, plotwise you are getting lot. It's not like we are expecting Daniel Way to be channeling Charles Dickens. It's Deadpool so we expect a lot of great dialogue coupled with meaningless violence. That all comes in spades and the book never fails to disappoint.
I can't say enough about Paco Medina's artwork - the guy should be drawing every Marvel book there is. His Deadpool is perhaps the best looking Deadpool ever drawn, besting any comers from Joe Mad to Ed McGuinness.
There's no real reason to continue on about the plot of the story - just know that if you are a fan of Deadpool this is for you. If you are a fan of Marvel Comics - this is for you. Hell if you are a fan of a good time this is for you. DEADPOOL #1 is the most fun you'll have reading a book this month so the only choice you have is to get your grubby little hands all over it.
---
Editor's Note: The internet is a big place filled with too many websites, blogs, and cyber-ramblings to count. Overlap is inevitable sooner or later and that's what happened with our "It Came From the Bargain Bin" section here at AICN Comics. I was recently contacted by Toby Finch, the writer of a column by the same name who has been using the title for quite some time. Not wanting to ruffle feathers and in my eternal quest to soften up the harsh realm that the internet has become, I wanted to extend our apologies to Mr. Finch for using the title of his own Bargain Bin column and toss you all a link to that column so you can check it out yourselves. Be sure to check out the original "It Came From the Bargain Bin" here.
This left us in search of a new title for our quarter comics section, so our very own Bargain Bin Jumper BottleImp came up with this little logo and thus our "It Came From the Bargain Bin" will now and forever more be called…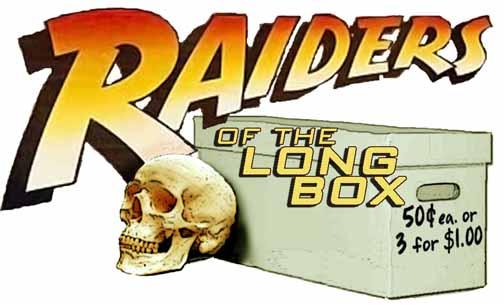 Every comic shop has them… battered long boxes jam-packed with dog-eared titles ranging from forgotten heroes of the 1970s to multiple copies of chromium-covered "collector's item" comics from the Big Bust of the 1990s. But if you are patient, and dig deep enough, you just may find something special…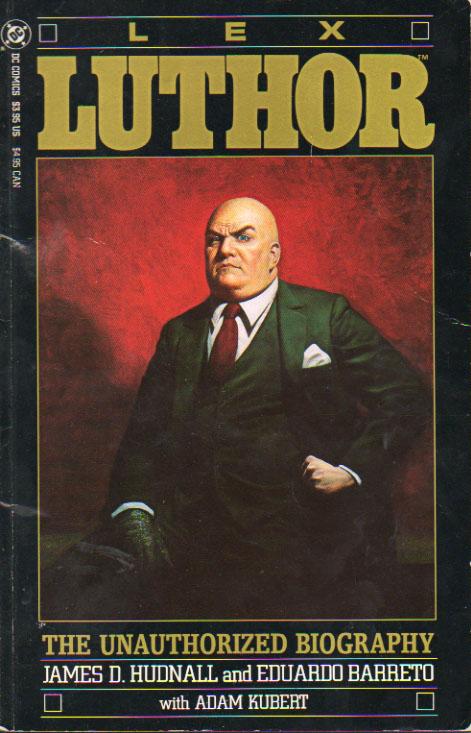 LEX LUTHOR: THE UNAUTHORIZED BIOGRAPHY OGN
Writer: James D. Hudnall Artist: Eduardo Barreto Color Artist: Adam Kubert Published by: DC Comics Reviewed by: BottleImp Found for: 50 cents
Superman's arch-enemy—he's been depicted as a mad scientist bent on world domination, a former ally of Superman whose admiration was transformed into hatred and thoughts of vengeance, a ruthless businessman seeking power through corporate means, and even as a defender of human achievement against the unasked-for interference from an alien god. Recently Lex Luthor's pendulum has swung away from the businessman aspect and further back towards his roots of scientific villainy (though most of the time in today's comic books he still chooses to go with the suit-and-tie look rather than the purple-and-green spandex). However, my favorite incarnation of Luthor remains the executive who believes he is above the laws of the common man. If we look for comic books to be more "realistic" and reflect issues in contemporary culture, what better example do we have of Luthor-style evil than in the CEOs of corrupt corporations? One need look no further than the Enron scandal of a few years back, and the arrogance with which Kenneth Lay and others believed their actions were above the laws of the common man. This is the manner of Lex Luthor that James Hudnall explores in his excellent UNAUTHORIZED BIOGRAPHY.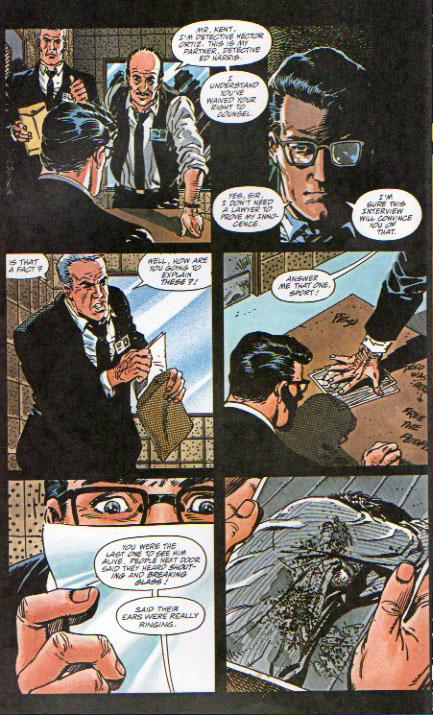 The structure of the story is classic crime noir: Reporter Clark Kent is brought in for questioning about the murder of fellow journalist Peter Sands—it seems that all the evidence marks Kent as the killer. As Kent is grilled by the police the narrative flashes back to Sands' life leading up to his demise. Sands is an alcoholic, washed-up tabloid writer desperate for money to pay his overdue bills. After being turned down for jobs from several magazines of increasingly questionable quality, Sands is contacted by an editor who wants a "nice juicy bio" on par with work he had written in the past—does Sands have anything he's working on now? Sands grabs a newspaper and reads the headline: LUTHOR DONATES ORPHANAGE. He blurts out that he's writing an "unauthorized" biography of Lex Luthor, but needs cash to follow up the leads. Once the editor agrees to send out a check, Sands has no choice but to begin his project. As he investigates into Luthor's background, disturbing information starts to emerge. Once Peter Sands is in deep enough to arouse Luthor's attention, there's no going back.
Hudnall crafts an intriguing story, interspersing scenes of Kent's interrogation with Sands' investigation into Luthor's past. As I said, this is crime noir; the sequences of Sands interviewing people and digging up leads is accompanied by his narration—commonplace in today's comics, but back when this book was published in 1989 the thought balloon was still the preferred method of revealing a character's inner monologue. The narrative captions add a Raymond Chandler, 1940s feel to the murder mystery. THE UNAUTHORIZED BIOGRAPHY also reminds me of CITIZEN KANE and SUNSET BOULEVARD, where the story opens with the main character dead, and the remainder of the tale takes the audience back to the beginning. It's dark, dirty and atmospheric, and Eduardo Barreto's artwork is the perfect complement to that atmosphere.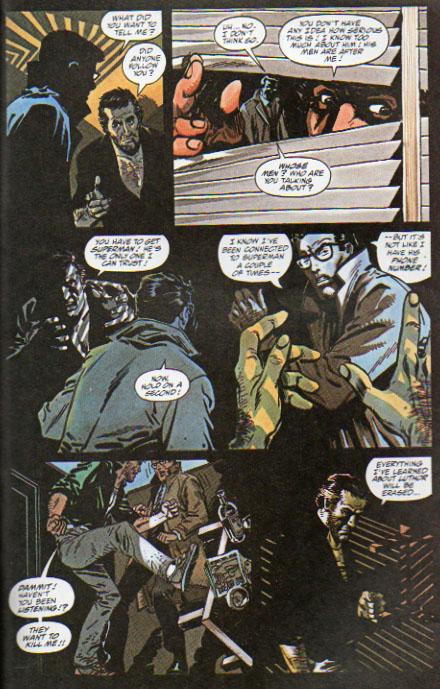 Barreto is one of the great underappreciated artists of the comic book world. Because of his style and facility for drawing '40s and '50s style people and environments, his work is usually found in stories set within that time period… or in this case, a story with a gritty '40s atmosphere. Dramatic light and shadow is used throughout the comic—nothing says "noir" like venetian blind shadows falling across a face—and the richly rendered tones are aided by Adam Kubert's earthy color palette. This is not the four-color world of Superman—this is the grimy, dirty world of his antithesis.
In a way, LEX LUTHOR: THE UNAUTHORIZED BIOGRAPHY is a companion to Alan Moore and Brian Bolland's THE KILLING JOKE. Both comics shed light on the past of iconic villains, and both in some way explain why Luthor and the Joker do the things they do. There is one major difference, however: while in THE KILLING JOKE the Joker is portrayed as being more or less a victim of circumstance, Luthor is and always has been in control—of himself, of others, and of his city. His evil is explored, but not excused. Now I know that some people would prefer Lex to be more morally ambiguous—in fact there was some back-and-forth in last week's talkback about such characterizations—but I believe that Hudnall's view of Luthor is perfect for Superman's nemesis. After all, Superman embodies everything that is positive and good in the world—truth, justice, and the American way (well, maybe that last part could use some tweaking these days).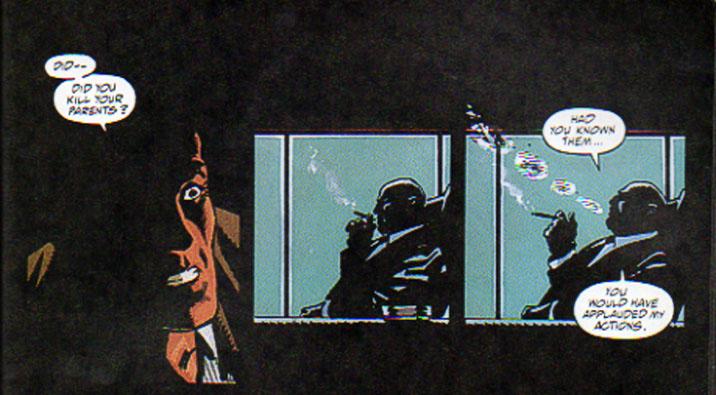 Again, there are those who find that characterization boring, but I would argue that as long as the writer is crafting Superman seriously and sincerely, the Boy Scout image can be just as entertaining as any "darker" character (such as Batman)—just look at the work done by Paul Dini, Alex Ross, John Byrne or Kurt Busiek. Therefore, I believe that in order to maintain a Superman whose moral compass remains firmly pointed, Lex Luthor MUST remain totally at odds with that direction. Evil without explanation or redemption is not uninteresting, despite what some may think—in the able hands of Hudnall, Barreto and Kubert, evil is wonderfully engrossing.
I picked up my battered copy in a fifty cent bin years ago. Though the character has moved on from this incarnation, the story is as good as ever. I highly recommend picking this comic up if it ever crosses your path.
---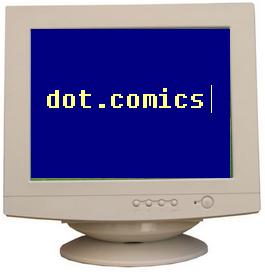 Hey folks, Ambush Bug back again with a gig-and a half of online comic goodness. This week we look at three more online comics: a mythological tale, an over the top mystery, and a live action webseries. All of these comics are just a mouse-click away and the best part about them is that they are frikkin' free! Enjoy!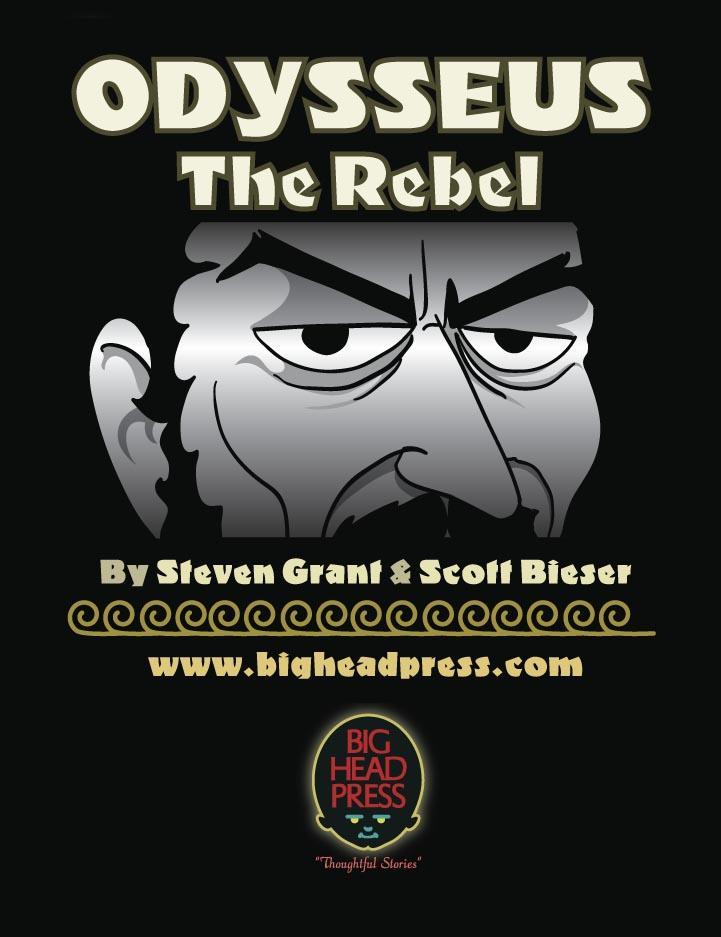 First we have
ODYSSEUS THE REBEL
from Big Head Press and creators veteran comic book writer Steven Grant and artist Scott Bieser. This looks to be a web premiere of a new comic which Big Head will probably collect and distribute at a later date. It started out with a 12 page preview and new pages drop thrice weekly on Mondays, Wednesdays, and Fridays. This slickly produced web series utilizes one of comic books' oldest ancestors, the Greek myths, and follows Odysseus ten years after the end of the Trojan War. The story is light in tone which is supported by simplistic and cartoonish art, but doesn't fail to entertain as Odysseus frustrates God and monster alike with his rebellious nature. Bieser's crisp and clean lines are reminiscent of the designs on classic Greek urns, yet maintain a vibrant, fun bounce. Writer Grant leaps from one adventure to the next in this tale of what happens to a hero after his heroic yarn has spun.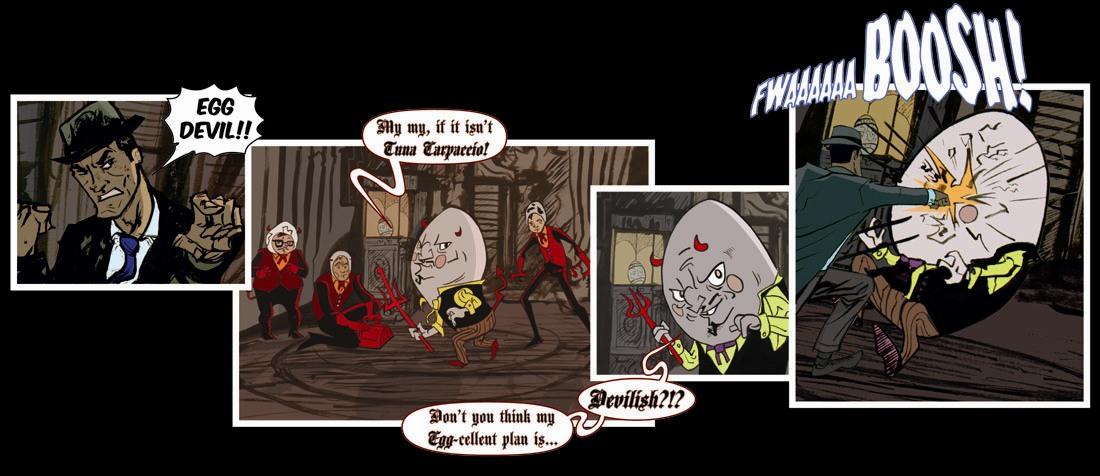 Absurdist detective noir is what you'll find when you click follow the url to
TUNA CARPACCIO P.I.
This goofy yarn by writer Tony Chavira follows oblivious detective Tuna Carpaccio as he stumbles through cases, thinking with his fists rather than utilizing any real detective skills, and living up to any and all film noir detective clichés. The dynamic art by Josh Dunlap is fun and along the lines of THE VENTURE BROTHERS cartoon. Tuna is not really attuned with the real world; something that especially aggravates the women of his life: his secretary Pancakes and Police Detective Malta, who spends just as much time dodging Tuna's pick up lines as she does criminal's bullets. Somehow, the cases are cracked in the end...or not. It doesn't really seem to matter either way to Tuna. This is an especially witty read. Only about twelve pages are finished, with a new one dropping every Monday, so it won't take you much time to read and catch up.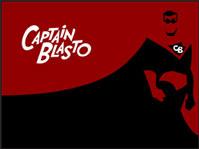 Last time we checked in with
CAPTAIN BLASTO
, the fake superhero and his even more fake criminals were having fun playing superhero vs. villain with the general public none the wiser. A meek teenager comes up with a plan to bring a bit more excitement into his life and convinces a few friends to dress up as criminals and try to commit crimes for him to thwart. CAPTAIN BLASTO is a clever webseries--not a comic, but an episodic live action series of short films that all together make for a pretty entertaining film when the episodes are all put together. The makers of this webseries do a great job of playing off of comic book clichés. The story is made more interesting when Captain Blasto recruits a villain to lead his gang of crooks, but little does Blasto know that his friends are beginning to commit real crimes. It looks like Blasto is soon going to have to stop playing hero and start being one. Defintely one of the cooler things going on right now. So far, eight episodes have been released with more scheduled soon. For a taste of what to expect from this webseries, check out
Episode Two,
one of the best.
Ambush Bug is Mark L. Miller, reviewer and co-editor of AICN Comics for over seven years. Check out a five page preview of his short story published in MUSCLES & FIGHTS 3 (AVAILABLE NOW at Muscles & Fights.com.) on his ComicSpace page. Bug was recently interviewed here and here at Cream City Comics about indie comics, his own artistic process, the comics industry, and other shades of bullsquat. Look for Bug's follow-up this Fall in MUSCLES & FRIGHTS!
---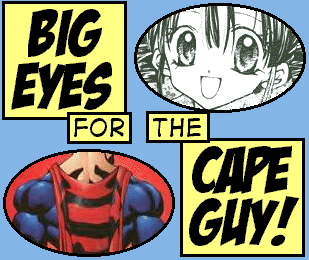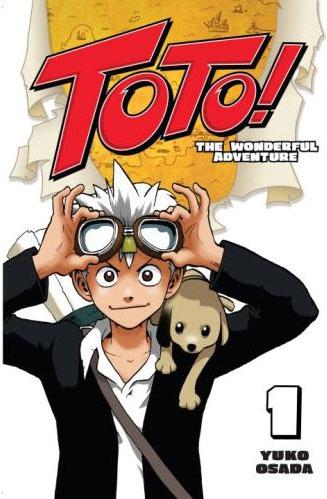 TOTO! Vol 1 & 2
Picture an Indiana Jones movie. Transpose it to one of anime/manga's quasi-fantastic landscapes, and repopulate it with the kind of armies, gangs and eccentrics native to those adventures. Abbreviate the chatty bits and exposition. You arrive at TOTO!, a Wizard of Oz re-imagining (the way Kill Bill's House of Blue Leaves is re-imagining of Lady Snowblood) that spends little time at rest or waiting to establish an idea. When it's good, TOTO! is sprinting from exploding zeppelin (the Baum) to kung fu dust-up with adventure serial zeal. When it's not as good, it's sprinting back to the better stuff. Lacking star power, TOTO! is missing the compulsive draw of an a NARUTO or a ONE PIECE. Yet, even if TOTO! is not a contender for the title of an A level shonen champion, it still fields a solid triple threat of danger, action and humor. As such, it is tremendously fun manga, if not seek out/mark on the calendar appointment reading.
The above mentioned quasi-fantasy world was blasted into social collapse fifty years ago. In the intervening decades, the world that developed could be essentially characterized by the presence of two institutions: largely unchecked state armies and the machinery of a "second industrial age." Fans of FULLMETAL ALCHEMIST, PUMPKIN SCISSORS, and the like should recognize the landscape. However, even if the reader may be familiar, the hero of the manga, Kakashi grew up on a small island with the desire to follow his father's lead and take an extensive look throughout this world.
TOTO! performs to the back row. The lineage from broad, physical comedy to expressive cartooning is evident in the buoyant pacing that the manga inherits from Kakashi's irresistible momentum. There is never a panel without every character, whether named or anonymous crowd extra, whole heartedly emoting. Even the icy folks broadcast their chilly disposition with each line of their faces. As a symbol oriented medium comics/manga can rely on shorthand for action. In contrast to works that merely suggest a punch or a collision, TOTO! seldom sits flat on the page. Following kinetic action where a figure might dart and twist to snag and redirect a mid-air missile shell with the kind of two-page spread explosive destruction that should result from that sort of stunt, and pairing it with expressions of complete awe, Toto! works to re-establish the magnitude of action which is not objectively new or unseen.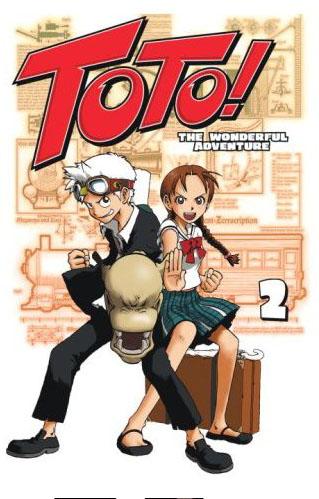 Throughout the first two volumes of TOTO!, the "Wizard of Oz" part of the equation has been manifesting itself when Kakashi's scrambles spin into hammy weirdness that can only be described as "manga-style". Some of these references are worthy of a groan. Yet, while no acuteness points are awarded for figuring out which of the Wizard of Oz quartet the character Noil represents, the shamelessness in such a gag is endearing. But, the Wizard of Oz puns, and word plays also result in more vivid inspirations. Dorothy as a student schooled in the Tornado Senjutsu martial art is particularly brilliant, especially as she employs a weird mix of explosive leaps and dashes, combined with soft-style twists and plant-the-guy's-face-into-the-pavement redirections. The surprise concerning Toto's role is not revealed until volume 2. To invoke a recent comics hot-button issue, it is slightly bewildering, but far more strange and fun than the Wonderdog reveal in the latest TEEN TITANS.
Much of TOTO! is light hearted. When, during the first chapter, people are tossed from an airship into the ocean, then the assailants toss down inflated rafts after the victims, TOTO!'s threshold for brutal mayhem is set low. Except, the manga also contradicts this sentiment, ending the volume with Kakashi receiving the warning "It's true that you can find many beautiful and delightful things. But there are many disgusting and ugly things as well. In this society, you'll find more disgusting and ugly things. " Two volumes in, Kakashi and company have narrowly escaped immolation, execution and other nastiness without the manga casting off the halo of light hearted adventure. Kakashi's undeterred intension to see the world in the face of the "disgusting and ugly" rings a bit of
Kino's Journey's
"the world is not beautiful, therefore it is." (If you haven't seen the Kino's Journey anime or read the light novels, make it a point to check out these gems).
The Indiana Jones charm of toying with danger and cartoon evil that shines in the first two volumes of TOTO! and the harsh, unsentimental fables that it promises would seem to contradict each other. While not on the path towards derailing itself by betraying either, TOTO! doesn't appear capable of working the wizardry needed to construct this particular chimera of edgy whimsy. This is less a failing than it is a reason why TOTO! is breezy fun.
Scott Green has been writing for AICN ANIME for close to seven years. If you like what you see here and love anime & manga, be sure to check out his latest AICN ANIME column here.
---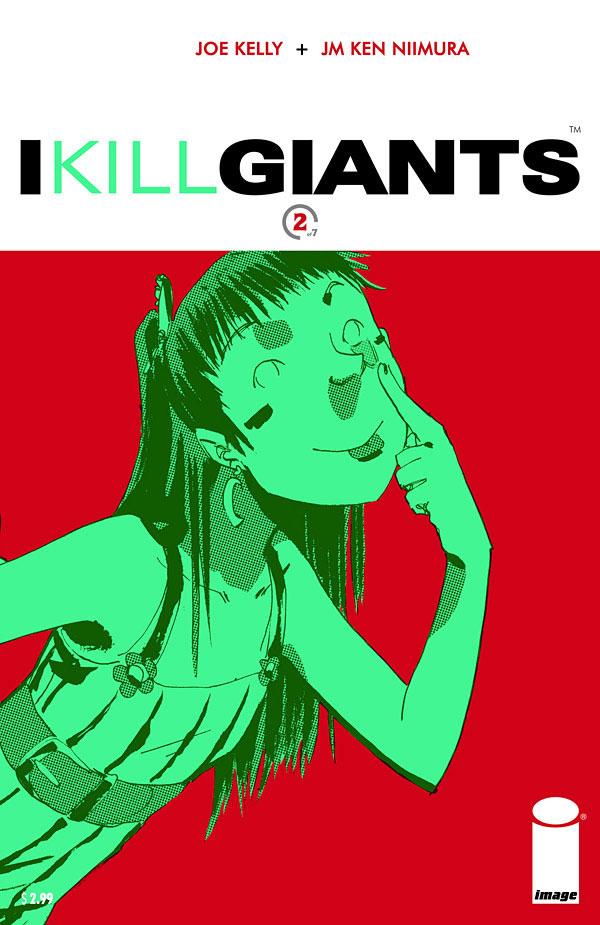 I KILL GIANTS #2 Image Comics
Unsure of what to expect from a creator driven project like this from Joe Kelly (as I'm definitely almost completely acquainted with his Marvel and DC work) I have to say I'm actually pretty endeared with I KILL GIANTS here from him and Image Comics. A couple issues in, though, and I'm enjoying this little story he and his artistic partner Jm Ken Niimura are whipping up. What I thought was going to be a sort of Manga adventure featuring a plucky female lead is turning out to be a sort of introspective look at an eccentric and snarky young lady as she tries to survive day to day in her own little world. Our girl Barbara here has some panache to her, that much is clear, but between her inability to really connect with anyone at school to net some friends and a home life that appears to have a tragic history to it. It's actually almost kind of painful to watch as she smart-asses her way out of every situation to mixed results - like the pretty violent conflict with a school bully in this issue - and its state of being an obvious mechanism for her to deal with the world around her. All in all, IKG has actually struck me with its quirky humor and the depth behind it. I'm highly interested in seeing where the story takes our brash heroine. Really good stuff here. -
Humphrey Lee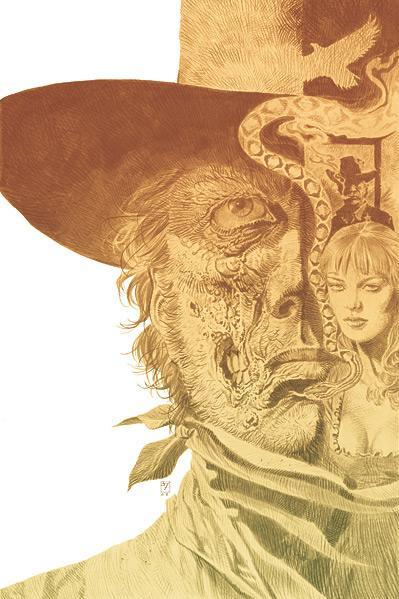 JONAH HEX #35 DC Comics
J. Palmiotti. J. Gray J.H. Williams III And J. Hex. If those four J.'s don't inspire you to pick up this book, check for a pulse. Just freakin' buy it already. -
Bug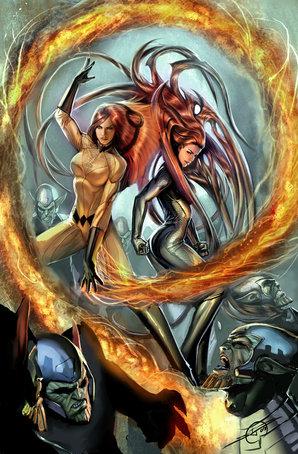 SECRET INVASION: INHUMANS #2 Marvel Comics
I have to say, the parts of "Secret Invasion" that seem to work best for me are the unique battlefronts stories. The Wakanda invasion in BLACK PANTHER, the attack on British magic in CAPTAIN BRITAIN AND MI:13…and the battle for Attilan against The Inhumans. Yeah, you don't want to piss off those guys. Nothing better than a group of Inhumans getting really ticked off and opening up the whup ass. And there's no better way to really enrage them than by kidnapping their leader. Well, their usual leader. At the moment Black Bolt has been overthrown by his crazy ass brother Maximus. Which brings me to the other element in this book I love that is also being put into use in the main "Secret Invasion" book: having a threat so big that even the bad guys sign on to fight it off. I flash right back to "The Rocketeer" and the mobsters fighting alongside the government forces to fight the Nazis because, good or bad, they're all Americans. Maximus might be a power hungry SOB, but pushed to the wall, he puts his people first. And piss off Medusa and she'll make Maximus look like a puss by comparison. The shit hits, Inhuman villains can turn heroic and heroic Inhumans can show you the meaning of the word inhuman. -
Jinxo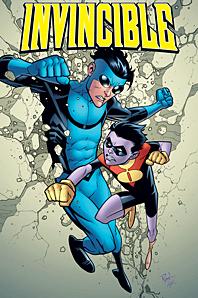 INVINCIBLE #52 Image Comics
The new era of INVINCIBLE has started, and goddamn is it turning bloody quick. As our lead Mark Grayson is starting to adjust to his life outside the system the shit definitely hits the proverbial fan this issue as he and his brother get in a pretty fatalistic scrap that brings up some huge morality issues, something Mark has been internalizing ever since his conflict with Angstrom Levy. And it makes for a compelling debate to see the two brothers come to given the family history on both sides. It will definitely make for some confrontation not only immediately as this debate will carry on into the next issue of course, but as time passes and the oncoming war with the Viltrumites makes its way towards Earth. It's a hell of a card for Kirkman to lie down on the table in this ongoing saga of INVINCIBLE, especially right out of the blue with barely an issue after Kid Omniman has made his crime fighting debut, but it's a damn intriguing one nonetheless. I can't wait to see how this starts to play out and the ramifications begin to ripple. This is just more proof that Kirkman really knows how to keep his audiences guessing, all the while taking them deeper into the story with a completely logical and sensible step forward. That always earns a big kudos from me, and this issue with these current developments is definitely no exception. -
Humphrey Lee
CRIMINAL MACABRE: A CAL MCDONALD MYSTERY – CELLBLOCK 666 #1 Dark Horse Comics
The first issue of a new Cal McDonald miniseries is always reason to celebrate. More than any of Steve Niles' wicked creations, Cal's adventures always seem to be the most thought out and entertaining. Following the adventures of the drugged out, hard-luck gumshoe with a penchant for taking bizarre cases has been a habit of mine since Cal and his creator first came on to the scene, but with each miniseries, Niles seems to be deepening the character and developing as a better comic book writer. This issue is a lead in to what looks to be another great read. Cal is pursued by the cops and captured by the end of this issue. Looks to be a prison story coming up on the horizon. And if the rest of this story portrays Cal as it does in this issue it's going to be a helluva fun ride. Sure he's pathetic and crude--the type of guy who belches as loud as he can in a bar full of strangers simply to drive the point home that he doesn't give a shit about anything and I wouldn't have Cal any other way. Plus the amazing Bradstreet covers depicting Thomas Jane as Cal make me wish they'd hurry up and make the movie already. -
Bug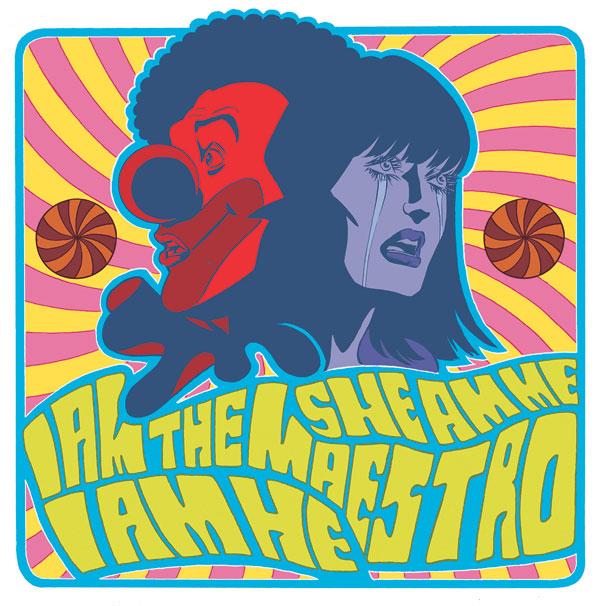 YOUNG LIARS #7 DC Vertigo
At some point I have to start taking the titles of these issues and story arcs seriously. Two issues ago, the "Midget and Mr. Johnson" issue definitely featured a Midget and, well, there was a Mr. Johnson as it got violently and bloodily got removed from its owner. Now we're on our second arc, "The Spiders From Mars" and I don't know what the fuck is going on. Not that that's a bad thing, mind you--in fact the change of narrative is at the very least a ballsy move and the most a hell of a creative outlet. After the Amy Racecar material in the seminal Lapham work STRAY BULLETS, something like this isn't entirely unexpected. What is in the air though is exactly how the hell any of this mad bastardry relates to the story we were already presented. Is it just some sick little play going on in the head of our heroin with a bullet in her brain, Sadie? Or, god help us, is some of this tale of millions of spiders from Mars traveling to earth and starting a take over of the planet from a godforsaken trailer park in Iowa actually true and a part of the overall story? I'm assuming more the former than the latter but with a mind like Lapham's, who knows? All I know is that for sheer ballsiness alone I'm damn well on this crazy train as long as it doesn't completely derail into something that would make VIDOEDROME look like remedial material in comparison. -
Humphrey Lee
---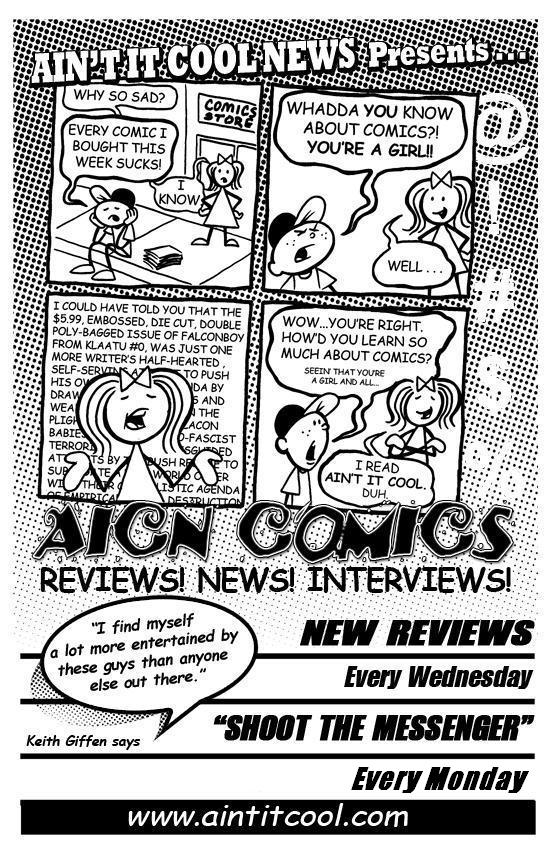 Ad by Prof. Challenger
Remember, if you have a comic book you'd like one of the @$$holes to take a look at, click on your favorite reviewer's link and drop us an email.
Check out the @$$oles' ComicSpace AICN Comics page here for an archive and more @$$y goodness.