I am – Hercules!!
Will a giant crate of sweet butter crush Julian? Will Dutch be forced to strangle Vic into submission like a stray cat? As he did with season six, my man Capone has graciously agreed to file reports on episodes of "The Shield's" final season. Note that Kurt Sutter, the "Shield" vet who wrote tonight's 7th-season opener, is also the creator and showrunner of the Sopranos-y biker drama "Sons of Anarchy," premiering tomorrow on FX! Hey everyone. Capone in Chicago here, taking one of my rare trips east of the border to the Coaxial column to review the final season of FX's greatest contribution to society, "The Shield," which has been dubbed "The Final Act" for these concluding episodes. Having seen the first eight episodes of what I believe is meant to be a 13-episode wrap up, I can tell you my guts have already been torn out repeatedly, my heart broken many times over, and my sense of good and evil has been twisted around so many times, I don't even recognize which is which. In other words, this is a typical season of "The Shield." The other thing I noticed that isn't quite as status quo for this show is that the final season is its most densely plotted and most political of any that have come before it. Not to put anyone off of trying, but this season of "The Shield" might be the most difficult to simply jump into cold without at least a marathon viewing of Season 6; naturally I would recommend starting from Episode 1.1, because this show is all about the past coming back to haunt its characters. Terry Crowley's name continues to surface, even this many years since the pilot episode. Every individual crime is part of a much bigger picture involving Vic Mackey (Michael Chiklis) and the Strike Team's deep involvement with gangs of murderous Armenians (led my Rezian) and the Mexicans (led by the shrewd real estate developer Pezuela). Vic is still trying to save his badge, but if he can't do that, he wants to leave a crime-busting legacy that no top brass can deny or forget. Here's my attempt at a spoiler-free review of the Season Premiere of the the last season of "The Shield." Title? COEFFICIENT OF DRAG Writer? Kurt Sutter (writer of 16 episodes of the show) Director? Guy Ferland (director of 9 episodes, as well as episodes of "The Riches," "Sleeper Cell," and "Prison Break") Where do we pick things up? Right where we left off. Mackey and Councilman Aceveda (Benito Martinez) have a box of blackmail files for some of the most powerful people in Los Angeles and California, which they have stolen from Pezuela's courier. No one knows they have it, and they know it's the key to both their futures. Vic finds the man who spent two years compiling that intel, and he convinces the guy that his losing the box means his death sentence. He tells Shane (Walton Goggins) to arrange for the guys safe passage to Mexico. Vic and Aceveda agree to hide the blackmail box in a place where only the two of them have the keys. Meanwhile Shane is still picking up the pieces with Vic and his wife (Michelle Hicks) about spilling the beans to the Armenians about the Strike Team's role is stealing the money train cash. When Shane arrives home, he finds his wife bound and gagged. Do Vic and Shane kiss and make good? Not exactly, although Shane's efforts to save Vic's family at the end of the last season go a long way toward making things cool between them. They form an uneasy alliance to track down the man who tried to kill Vic's family. Ronnie (David Rees Snell) is less eager to forget that he and Vic are working with a guy who dropped a grenade in their parter Lem's lap. Hey, don't other people do police work at "The Barn"? Indeed they do. In what is a play I'm not sure long-time fans of the show are going to like. Most of the Barn's other players rarely interact with Vic and the Strike Team. In fact, there is little or no interplay between Vic and Dutch (Jay Karnes) in these first few episodes. That being said, Dutch has stepped up to be the star of his own built-in spin-off within the confines of "The Shield." Dutch has never been more interesting as a person or an investigator than he is this season. And remember that he and Danny (Catherine Dent) hooked up at the end of last season, and incident that is dealt with briefly in a single exchange in this episode. A man walks into the Barn claiming to have arranged for the death of his wife. Since he has already been tried and acquitted, he knows he can't be tried again. But he fears for his life because another player in that crime is now out to get him. The case itself is not that interesting, but it serves as an excuse to bring back Det. Billings (David Marciano), who is still suing the department for an alleged head injury that is causing him memory loss and other ailments. No one is buying his claim, and Dutch even tricks Billings into doing a little detective work while he's in the Barn, a decision Billings may regret. Who brought in the Feds? Laurie Holden's (THE MIST) FBI Agent Olivia Murray sets up shop in the Barn to help out with the Mexican-Armenian situation. She's actually useful to Vic on gathering intel, and we have nothing to worry about from her...nope...nothing at all. Wasn't Vic about to lose his job at some hearing? Vic is sweating bullets for most of this episode about the results of his hearing from last season, but thanks to a little dealing with the blackmail box and help from Pezuela, Vic gets something of a reprieve. What else is happening to some of our old favorites? After the cops raid an Armenian stronghold, Danny is attacked after a fellow officer fails to clear a room. The incident sets up a big change in Danny's life and career. Her former partner, Julien (Michael Jace), is still working on the Strike Team, but he's not part of their inner circle and is often sent off to do grunt work while the dirty dealing get handled by Vic and his crew. Captain Wyms (CCH Pounder) is still dealing with her recently diagnosed lupus, and doing so in secrecy. She knows any sign of weakness makes her a target to the brass. Where do things leave off after one episode? Vic's web of lies successfully pits the Mexicans against the Armenians. Shane makes certain assurances to Vic about the safety of his family. How does it end? "We just sit back and watch the gang war." 10 p.m. Sunday. FX. -- Capone capone@aintitcoolmail.com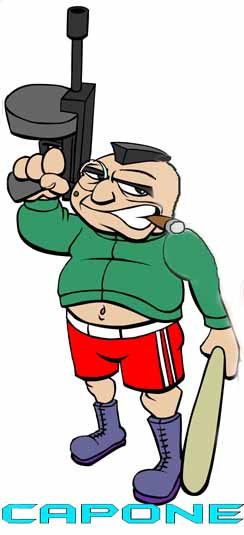 The First Five: Now $25.99 Each!!

$4.99: Miller's Crossing!! 195-Title Big DVD Dale!!