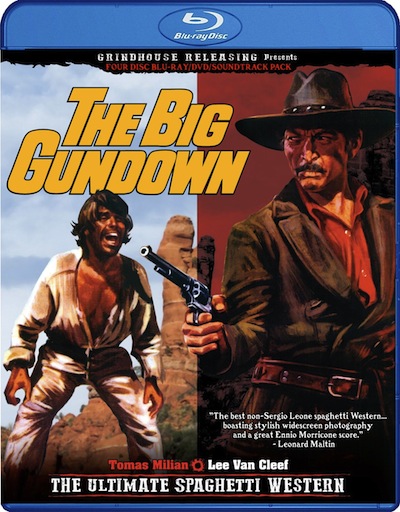 (I'm republishing this review from July 15, 2008 because Grindhouse Releasing recently put out a gorgeous restoration of this magnificent film. For a time, it was hard to find a decent version of THE BIG GUNDOWN. Now that both the U.S. and European cuts exist in this amazing four-disc set, THE BIG GUNDOWN belongs on every cinephile's Blu-ray shelf.)
If you've never heard of Sergio Sollima's THE BIG GUNDOWN (or listened to the more-famous-than-the-movie Ennio Morricone score), just try to imagine a spaghetti western version of MIDNIGHT RUN starring Lee Van Cleef and Tomas Milian in which the latter plays Jonathan Mardukas (or, in this case, Cuchillo Sanchez) as a happy-go-lucky, knife-wielding scoundrel accused of raping and murdering a twelve-year-old girl.
What's terrific about Columbia Pictures' ninety-three-minute U.S. cut of THE BIG GUNDOWN - which kicked off the American Cinematheque's "Italian Grindhouse" series last Friday night - is the way Sollima and co-writer Sergio Donati refuse to address Cuchillo's guilt/innocence until the viewer has already been charmed by Milian's Mexican fugitive. We may think we know what's coming (especially since the story was co-conceived by Gillo Pontecorvo's right-hand polemicist, Franco Solinas), but the situation is still charged because we can't be sure that Van Cleef's bounty hunter, Jonathan Corbett, knows and/or cares whether Cuchillo committed this unspeakable act (of which he's been accused by Brokston, a wealthy railroad baron played by Walter Barnes). All we know of Corbett is that he's willing to cash in on his reputation - built up by hunting down dozens of ruthless bandits throughout the state of Texas - by running for the Senate as Brokston's man. He rationalizes the industrialist's rail ambitions as beneficial to the people, but this is Lee Van Cleef we're talking about here; there's always a glint of malevolence in those squinty eyes.
Though Corbett has already earned Brokston's admiration, the tycoon can't help but request that the renegade lawman track down the devilish Cuchillo - who, being Mexican, needn't the courtesy of a trial. But while it doesn't take much effort for Corbett to find Cuchillo, capturing him proves a bit of a greased pig competition: after evading Corbett in a migrant village, Cuchillo seeks shelter at a cattle ranch where a cast-iron bitch of a widow cuckolds her dopey male employees (shades of Joan Crawford in JOHNNY GUITAR). Corbett turns up here, too, but Cuchillo, after getting viciously whipped to shreds by the dipshit cowboys, manages to elude apprehension once again (I won't spoil how, but the resulting shootout is pretty damn ingenious).
The first two acts of THE BIG GUNDOWN leg out a familiar cat-and-mouse game (with the capable Corbett having to behave a little too stupidly on occasion just to keep the plot moving), but it's fun because Milian is clearly having the time of his life as Cuchillo. It's also amusing to watch a no-nonsense badass like Van Cleef get repeatedly outmaneuvered by a cartoonish rapscallion - who, y'know, may or may not have raped and murdered a little girl.
Further to that point, Corbett obviously buys the charges leveled against his quarry in the early going, and we're meant to as well: for instance, before happening upon the widow's ranch, Cuchillo finds himself involved in a tense moment with a young Mormon girl - and the wonderfully perverse punch line that caps this scene stings all the more because we still don't know if Cuchillo's a sexual deviant. Also intriguing is the fact that Corbett develops a grudging respect for Cuchillo before the true circumstances of his kangaroo conviction are known. What kind of a morally compromised prick shows mercy to a child murderer?
If THE BIG GUNDOWN were nothing more than Corbett and Cuchillo driving each other mad, it'd be well worth your time, but there's plenty happening on the periphery, too. Accompanying Brokston on his business travels is Baron von Schulenberg (Gérard Herter), an Austrian quick draw artist who's spoiling for a showdown with Corbett. Never mind that his obsession could kibosh Brokston's scheming altogether; von Schulenberg just wants to see if his reflexes match up with the best in the west. (Gee, I wonder if John Landis ever saw THE BIG GUNDOWN.)
Spaghetti western fans often favorably compare Sollima's 1966 yarn to another major work of that year (hint: it also features Van Cleef and boasts the most indelible Ennio Morricone score). This is a bad idea. Though his widescreen compositions are Leone-esque on occasion, Sollima's not attempting anything as epic as THE GOOD, THE BAD AND THE UGLY; basically, THE BIG GUNDOWN is a mildly politicized oater which builds to a goosebump-inducing finale that lets our heroes flaunt their expertise with their respective steel. It's a shades-of-gray crowd pleaser. Had Solinas and Pontecorvo brought the tale to the screen, they probably would've positioned Cuchillo as the protagonist versus Corbett (as a Javert-styled antagonist); I admire their films, but the ambiguity (while it lasts) of Sollima's version is much more interesting.
It's also more rousing. The chief virtue of Sollima's approach is that we get to cheer on both men as they face down their thoroughly corrupt pursuers. Though the Egyptian Theater was probably at one-third capacity last Friday evening, there was still a charge crackling through the room when Morricone's main theme kicked up for the climactic standoff. THE BIG GUNDOWN's popular reputation rests on this finale, and it delivers so emphatically that I can't understand why Sony refuses to restore the film for a serviceable Region 1 release. Maybe they're waiting for some European distributor to cough up a decent copy of the 106-minute cut; at this point, I'll gladly take either. And, trust me, you will, too. The Italian Grindhouse series is running through July 24th, and there's plenty of good stuff on the way. Check out the schedule here.
Faithfully submitted,
Jeremy Smith