---
What's SHOOT THE MESSENGER?
Well, AICN COMICS: SHOOT THE MESSENGER is your weekly one stop shop for comic book news that's dropped in the previous week. Thanks to Newsarama, CBR, Wizard, etc. for reporting it as it breaks. Click on the links for the original stories. This column cuts the crap to run down all the vital information for those of you who don't follow it as it comes in, and serves it all up with that special ingredient of @$$y goodness. It's also the place for interviews, previews, and special reports. We've got a little of everything this week. First up…the news.
---
@ Chuck Dixon's return to DC is over almost as soon as it began, it seems – on Tuesday he announced on his forum
"I am no longer employed by DC Comics in any capacity"
, and followed this up with a post
explaining
that he "did not quit". However, he did post comments in CBR's
Comics Should Be Good
section saying that "DC, currently, is run from the top down in a way that makes Jim Shooter's aegis at Marvel look like a hippie commune" and that the main difference is "success in raising circulation and long term planning". Until further details emerge, Chuck's ROBIN run ends with #174 (also the last issue that isn't a BATMAN RIP tie-in) and his work on BATMAN AND THE OUTSIDERS is over with #10, according to the man himself.
@ BOOM! Studios'
PULP TALES
(released in September) will feature a new creation from '76 creators B. Clay Moore and Seth Peck, with artist Chris Samnee –
"Bluejack"
is a Doc Savage type who had his skin turned blue and became immortal at some point in the '30s and now heads a multinational corporation. The anthology, which is being produced to benefit 30 DAYS OF NIGHT/CAL MACDONALD artist Josh Medors, will also feature contributions from Steve Niles, Tony Fleecs and PUNKS' Josh Fialkov…
@ Todd McFarlane
returns to SPAWN
with # 185, and it'll be illustrated by another Image founder, Whilce Portacio…
@ Garth Ennis and Jacen Burrows reunite for
CROSSED
at Avatar, a
non-zombie
horror series that's another example of the plagues-turning-people-nuts (see 28 DAYS/WEEKS LATER, THE SIGNAL and THE HAPPENING) genre…
@ Cameron Stewart and Ray Fawkes' original graphic novel APOCALIPSTIX will debut at the San Diego Comic Con—check out a
50 page preview
at the link…
@ In the vein of their RAY HARRYHAUSEN PRESENTS comics, Bluewater Productions is beginning a new
VINCENT PRICE PRESENTS
line in October, with an adaptation of "Last Man on Earth" up first…
@
Ending on a sad note, Mile High Comics' Colorado HQ
- one of the largest comic book stores in the country – was recently hit by mud and water, damaging over 100,000 comics and graphic novels. Oh, the super-humanity!…
And now, let's hand it over to Ambush Bug for a special preview.
---
Hey folks, Ambush Bug here with a special preview to a new Top Cow Comic that hits the stores this week called GENIUS! It's the third of six PILOT SEASON 2008 books from Top Cow, where you the readers decide which one-shot book gets to become an ongoing series. GENIUS looks to be a somewhat controversial book (I'll let you be the judge after reading the pages below) from writers Marc Bernardin and Adam Freeman (who wrote the cool MONSTER ATTACK NETWORK) and art by Afua Richardson. Enjoy this seven page preview!
So sound off and let Top Cow know what you think of this PILOT SEASON 2008. This looks to be a pretty politically and racially charged story. It reminded me a lot of the BOONDOCKS stuff, but waaaay more serious. Look for GENIUS #1 on the shelves this Wednesday.
And now Humphrey Lee's got a Q&@ for our reading enjoyment. Take it away, Humphrey.
---
Thanks, Bug. Alright kiddies, gather around. I'm Humphrey Leeand we have the creators of THE AMAZING JOY BUZZARDS here, Mark Smith and Dan Hipp, to discuss/promote the book a little as there's a brand new collection of all the AJB material rolling into your shops as we speak. So let's see what these rather excitable chaps have to say before you all go off and try out this rather damn fun book, okay?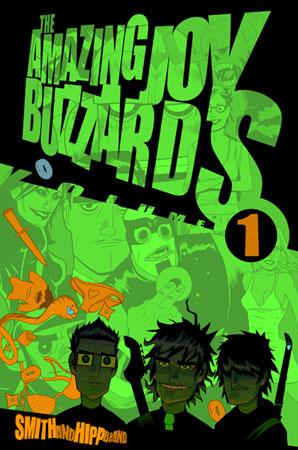 HUMPHREY LEE (HUMHREY): Well alright, first things first: why don't you give our readers a quick hit on what the AMAZING JOY BUZZARDS are?
DAN HIPP (DH):
The easiest way to put it is that THE AMAZING JOY BUZZARDS are the world's greatest Rock and Roll, supernatural, adventure band, with a mythical Mexican wrestler, unwittingly managed by the CIA while they're solving crimes, fighting monsters, and wooing the tender hearts of ladies everywhere. That about covers it, right?
MARK SMITH (MS):
That sums up THE AMAZING JOY BUZZARDS perfectly! Oh Dan, you genius!!!
HUMPHREY: Where did the idea for AJB come from? It feels to me like there's a familiar but really not, modern day "Scooby Doo meets Johnny Quest" kind of essence considering all the hijinks they're constantly getting into, but I could just be reading too much into it.
DH:
There is absolutely that Saturday morning cartoon vibe there. Mark cites a lot of 60's film as influences, but there is that undeniable playful element you got from sitting down with your Frosted Flakes and watching "Transformers", or whatever. I think that part of the charm there is that you're set up to think everything about the characters are just fun and games, so when something serious happens there is potentially more weight. I mean it's like watching the GIJOE movie when you're a kid, and you know that nobody ever dies, but then Duke TOTALLY GETS STABBED THROUGH THE CHEST BY SERPENTOR!!! Or the TRANSFORMERS movie when (SPOILER)...(No, SERIOUSLY, SPOILER!) Optimus Prime dies, it's like "TOTALLY NO WAY!!!". Anyhoo, the "Scooby Doo" vibe is inherent to the material, but it wasn't a specific reference. Mark definitely brings the 60's film influences, I'll bring some 70's and 80's in, and we meet somewhere in the middle with the Saturday morning cartoons. So there you go, a ridiculously non-specific answer.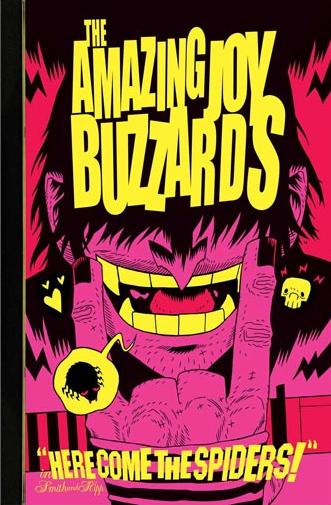 HUMPHREY: So, El Campeon: Quite possibly the greatest character ever. Okay, I'm exaggerating but he's awesome. You wanna give the people the rundown on just who he is and where this wonderful hunk of character emerged from?
MS:
El Campeon is a mystical luchadore who's also a magical genie. He lives in a magical amulet and he can be summoned when the wearer of the Amulet says "GO EL CAMPEON GO!!!". He doesn't grant wishes and he has free will. So the amulet found the Amazing Joy Buzzards and teamed them up with El Campeon for a good reason. It's destiny. El Campeon likes donuts and taking a lot of naps so he's quite a character and a lot of fun. El Campeon emerged all those years ago when I saw a lot of Mexican wrestling in movies. Now it's gotten really popular in the past few years again, but I was on the ball with it well before all of that. In college my friend Jeff was a boxer and he had the nickname El Campeon. So I asked him if it was cool to use and he said was. Hence El Campeon was conceived as a twinkle in my eye, and then as a person and more of a living character when he was designed by Dan.
HUMPHREY: How hard is it for a more, "eccentric" I guess is a good word, book like AJB to pull down an audience in today's comic book industry? I mean, you see something similar like SCOTT PILGRIM taking off like nobody's business, but at the same time not much else. What do you have to do to find that audience support to keep it going?
MS:
I don't think it's all that hard. I think a lot of people grew up on this kind of humor so the audience is there and they support the book. We've always had strong numbers. But SCOTT PILGRIM it seems everyone latched onto and jumped on the bandwagon for. It's just how things work out. This is really a full speed run for us leading off with this Volume 1, then going into 2, and 3, and we've got some good tricks up our sleeves, so we'll catch up.
DH:
Yeah, SCOTT PILGRIM is awesome! When the first issues of AJB came out, I think it was around the same time that SP did, so we didn't even know about it at first, which just shows that I think there are a lot of people in their 20's and 30's now that share that "eccentric" mentality for storytelling. I think that's one of the reasons we're seeing crazier things in film as well, since you have the same people writing the material that were into video games, cartoons, John Carpenter (when he was John Carpenter), and more! AND MORE!!!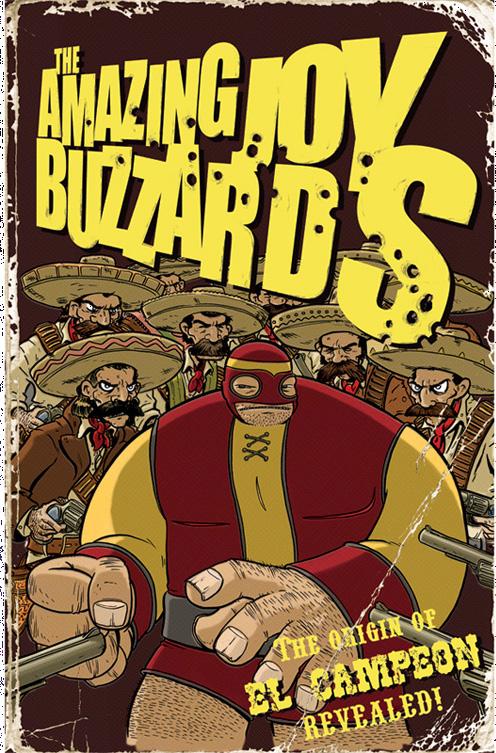 HUMPHREY: Do you guys think you've been successful in that endeavor?
MS:
I think we have in many ways, there are a lot of people who are fans of the book and love it, but I think we've honestly fallen short in a lot of other ways. But we've had issues coming out here and there and then we'd go away and come back, so I think the real challenge is to let our audience know what we've got in store for them and just how long the series will go for. I think that's the challenge, but there's been such a wait between the last Volume 1 in 2005 till now that this is an entirely new audience reading us as well. So with Volume 2 being an original graphic novel it will be interesting to see how it does, because there have been three or four waves of AJB to date: Single issues for Volume 1, the trade for Volume 1, singles issues for Volume 2, the trade for Volume 2, then this new Volume. So if those different segments of audience come together for the new all original Volume 2 I think we'll have a very large push for it that will pay off nicely.
DH:
Yeah, and it's certainly opened doors for us with our other books, so regardless, it's been a grand experience. I do think that the Director's Cut version of Volume One (out this week, folks!) has modified the original material enough that it's more accessible and reader friendly.
HUMPHREY: The art style on AJB also feels like it hearkens back to some of those Hanna-Barbera adventures of yore (at least from a presentation and moodiness standpoint it feels) but, of course, with its own modern sensibilities. Is there any certain influence on those lines and inks, or am I just reading into this too much again?
DH:
This sort of goes back to the influence of cartoons I suppose. Not Hanna-Barbera specifically, but cartoons most definitely. What I was really in sweet, sweet love with was the Batman animated series, since you can really tell that the creators were taking risks and sticking by the rule that there really was no rule. I always try and keep that in mind when I'm putting the pages together, which is how we'll end up with some interesting, bizarro bits.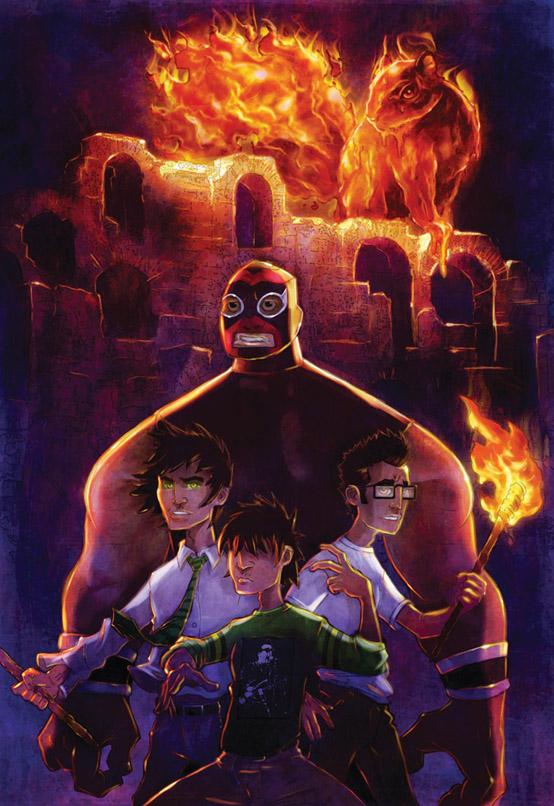 HUMPHREY: Do either of you gentlemen have a particular favorite character out of the bunch you've created? It seems everyone gets their share of the limelight, whether it be Gabe with the smarts, Stevo with the more "crazy-ninja-action" stuff, or Biff and his cavalcade of ladies.
MS:
For me Gabe was sort of the core of the book for the longest time and he's one of my favorites. I like Biff and El Campeon a lot just because they're such characters and so fun to write. There's a bit a lot of Dan and myself injected into the characters. Dalton's fun to write because it's a bit of a dream of what I could be like uninhibited like if I turned into Mr. Hyde and just let lose that side of my personality and let it take control. But as a personality I'm more center and probably more towards Gabe or even El Campeon for his idleness, with just a dash of Biff thrown in.
DH:
I split my love equally between the three boys (oh, that totally reads the wrong way). Like Mark said, there are certainly dashes of us in there. Gabe lets us be nerdy and doubtful (which is easy enough), while Biff lets us be a little arrogant and full of ourselves, in a Jack Burton, "Big Trouble in Little China" sort of way. Stevo is the guy we could probably never be, but I've got a crazy competitive side, so I can at least empathize. Dalton gets to be the James Bond I'll never be, and El Campeon eats all the donuts I won't allow myself to. Hmm, now I'm just sad.
HUMPHREY: Alright, so this "Director's Cut" has pretty much all the AJB material up to the present in one volume right? So after buying and reading this, when can everyone expect to get some brand new AJB adventures?
DH:
Yes indeedy, it does have all the proper material, but it's been re-framed, re-lettered, re-edited and in some instances re-worded, with additional new pages, so it really is worth picking up! You REALLY should! I'll cry if you don't. Unless you're not going to get it to spite me, in which case, totally DON'T pick it up!
MS:
Yes! This is all the volumes with the proper continuity leading up to the new volume. The Amazing Joy Buzzards Volume 2 is titled MONSTER LOVE and it's out in October.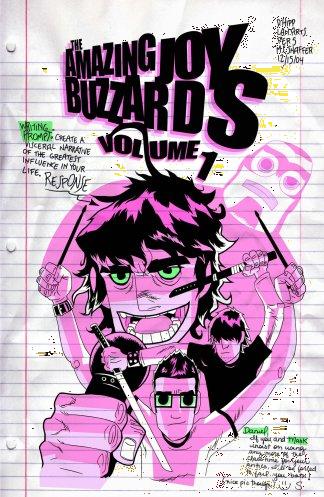 HUMPHREY: So, one last big push, if you like _______ you'll love the AMAZING JOY BUZZARDS. AaaaaaaaaaaandGo!
MS:
Poultry? The answer's Poultry right? No, no, wait I've got this one…
And there you go folks. I'll admit I didn't have much exposure to THE AMAZING JOY BUZZARDS up until I talked to these fine gentlemen about it, but after having read a large chunk of it now, it really is one of those "big bundle of energy" type books that brings a lot of fun and excitement with it. THE AMAZING JOY BUZZARDS VOL. 1: HERE COME THE SPIDERS like we all just said should be in stores as this hits the Interwebs with a price of about twenty bones for nearly 300 pages of material. Not too shabby. Give it a shot if you have the extra scratch.
Thanks for reading...
And now it's back to Bug for the fight we've all been waiting for.
---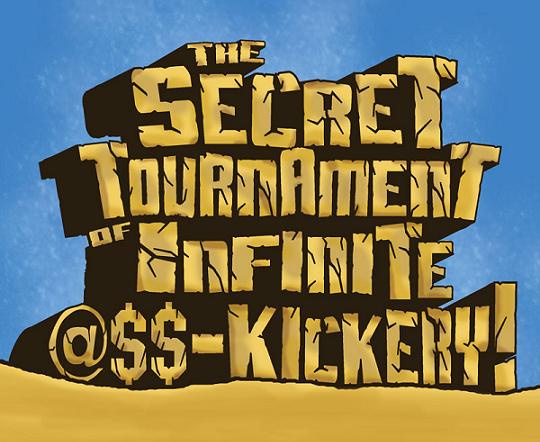 Logo by superhero
CHAMPIONSHIP MATCH WINNER!!!
Sixty-four of comic bookdom's best fighters enter, today we crown our SECRET TOURNAMENT OF INFINITE @$$-KICKERY Champion. It's comics' version of March Madness, only it lasted a whole lot longer. This is your ring-master, Ambush Bug here with our final match-up. It's all boiled down to this one, folks. We've had ten tough-as-nails weeks of balls to the wall action. On behalf of the @$$Holes at AICN Comics, I want to welcome you to the Championship Match! It's been a contest like no other---up to you the kind-hearted readers to determine the best of the best, boiling fanboyism down to its basics...whether one guy can kick the other guy's @$$.
My inbox was full of submissions and I want to take this time to thank each and every one of those who sent in submissions. This was the toughest match-up to pick a winner for. Both contestants were noble warriors. Both disciplined and battle savvy. Born to win or just plain lucky, it doesn't matter how they got here—it just matters who comes out the winner. And now, let me shut the hell up and settle this tournament the old fashioned way…
it's time to fight!
---
Winning submission by Travis Caffrey


Nighttime in Gotham City. Nightwing crouches on building's edge, looking out beyond the pier, across the water. Waiting.
He scarcely hears it: the unmistakable sound of a body slicing through air. With a dancer's grace, Nightwing twists to see the black-clad ninja, Snake-Eyes, launching a perilous flying kick at his throat. Hand grasps ankle, and before Snake-Eyes can react, his trajectory has been changed. He hurtles down into the impermeable blackness of the dock.
Nightwing follows, landing nimbly.
Without sparing an instant, Snake-Eyes lunges, firing blows like bullets. The warriors flow as liquid, every attack parried and returned. They battle silently as they make their way toward the water, black as ink.
Finally, Snake-Eyes connects, clipping the acrobat's jaw. Without missing a beat, Nightwing follows the momentum, flipping into the air, and catching Snake-Eyes in the chin. As Nightwing attacks again, Snake-Eyes sends a defensive kick, and receives a sickening crunch as his leg shatters.
Their fluid dance becomes solid as the ninja barrels into the acrobat, and both fall. Nightwing gasps as the air is driven from his lungs. Snake-eyes lands two solid punches before Nightwing's knee propels him over the dock's edge.
There is no splash, only silence. Nightwing rises, knowing a wounded animal is all the more dangerous. He waits, and listens.
A tap behind him.
He whirls, just as the ninja's palm shrouds his vision. The sound is faint. Palm strikes nose, bone pierces brain, and Nightwing falls into a shuddering heap on the dock.
Snake-Eyes peels back his mask and sits by the fallen warrior. He listens to the siren sounds of Gotham City, and watches the glow of a symbolic bat play across the milky clouds. The fight is finished, and he knows he must vanish before someone comes looking for revenge.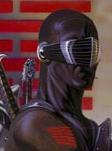 THE WINNER AND THE 1st SECRET TOURNAMENT OF INFINITE @$$-KICKERY CHAMPION IS…




SNAKE-EYES!
Congrats, Travis. That was one hell of a fight.
Well, that's it folks. It was a long and hard road, but in the end, it was Snake-Eyes, the silent G.I. Joe commando, who took out all of the competition. Now we know who the Champion is and knowing is half the battle. Thanks again to all who participated and made this ambitious endeavor a success.
Thus ends our first tournament, but fear not, Faithful Talkbackers, another tournament just may be on the horizon.

"They're not dumb enough to try this again, are they?!?!"
---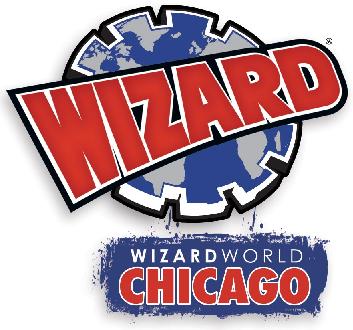 Ambush Bug & Sleazy G are heading to WIZARDWORLD CHICAGO at the Donald E. Stephens Convention Center on June 26-29…are you?

Check out who else is going to be there…
Special guest: Warren Ellis Special Appearance by Todd McFarlane Actress Missy Peregrym from REAPER & HEROES The Original Image founders reunite. Also in attendance: Alex Ross, Brian Michael Bendis, Geoff Johns, Joe Quesada, Alex Maleev, Tony Daniel, Adi Granov, Jim Calafiore, @$$Hole Patron Saint Gail Simone, Ethan Van Sciver, Dan Didio, Peter David, Bob Layton, Greg Rucka, Sean McKeever, Lou Ferigno, George "The Animal" Steele, Boba Fett, and the dude who played Cousin It in the ADDAMS FAMILY. And don't forget the ever popular many, many more.
Be sure to click here for more information.
---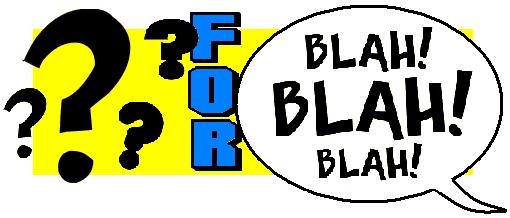 Which classic creative team would you most like to see reunite for new stories?