---
What's SHOOT THE MESSENGER?
Well, AICN COMICS: SHOOT THE MESSENGER is your weekly one stop shop for comic book news that's dropped in the previous week. Thanks to Newsarama, CBR, Wizard, etc. for reporting it as it breaks. Click on the links for the original stories. This column cuts the crap to run down all the vital information for those of you who don't follow it as it comes in, and serves it all up with that special ingredient of @$$y goodness. It's also the place for interviews, previews, and special reports.
Slow news week this week, but that doesn't mean that we don't have stuff for you!
---
PREVIEW & CONTEST
Hey folks, Ambush Bug here with an AICN Comics First Look at a new trade paperback of the recollected and remastered version of the popular Valiant series X-O MANOWAR. This trade entitled BIRTH, also includes all new material and remastered panels. I was a huge Valiant fan back in the day and it really makes me giddy to see new activity in the Valiant Universe. A while back we previewed Valiant's first trade, HARBINGER, and ran a contest with it. We're going to do it again and this time a few lucky Valiant fans will walk away with the X-O MANOWAR: BIRTH Hardcover Trade Paperback.
Since it looks like HARBINGER is getting the big screen treatment soon, I thought it'd be fun to cast both a HARBINGER film and, just for shits and giggles, cast an X-O MANOWAR film as well (who knows, maybe we'll inspire some Hollywood execs with our picks).


15 lucky contestants will win the X-O MANOWAR: BIRTH Hardcover Trade Paperback.
5 will win copies signed by the creators.
And 1 lucky winner will receive a signed copy of the book plus a sketch by the creators.


Deadline is Friday (5/2/08). Winners will be announced in next Monday's AICN COMICS NEWS: SHOOT THE MESSENGER Column (5/5/08).


Send a short email here with your casting picks for an X-O MANOWAR and HARBINGER movie.


Here's a peek at what you're working for folks.
---
Ambush Bug back again with another Q & @. For the better part of the last year, we've been hearing rumblings and seeing promotional art from a new comic book publisher calling themselves Radical Comics. This sales push went on for so long that some wondered if the books were ever going to be hitting the stands. Well, the wait is just about over and we had a chance to chat with Radical Publisher Barry Levine about his new line of books
@$$Holes (@): Seems we've been hearing about Radical Comics coming out for some time now. Can you tell us about this marketing strategy of yours and why its taken so long for the books to hit the stands?
Barry Levine (BL): We actually were trying to win the @$$ie for "The Radically Way Too Early Marketing Bonanza Award." Now that this has been accomplished, Thank You Aint It Cool News, its time to sit back and enjoy the ride… I've been an artist my whole life starting as one of the top rock photographers of the world for bands like KISS and QUEEN. My mentality has always been about quality first and understanding that you don't get a second chance to make a first impression. Out of all the photography and art direction I have done, I really only liked 25% of my work. So when I started this company, I wanted to make sure that we had the proper financial infrastructure that would allow us the freedom to be less demanding on our creators regarding a time frame.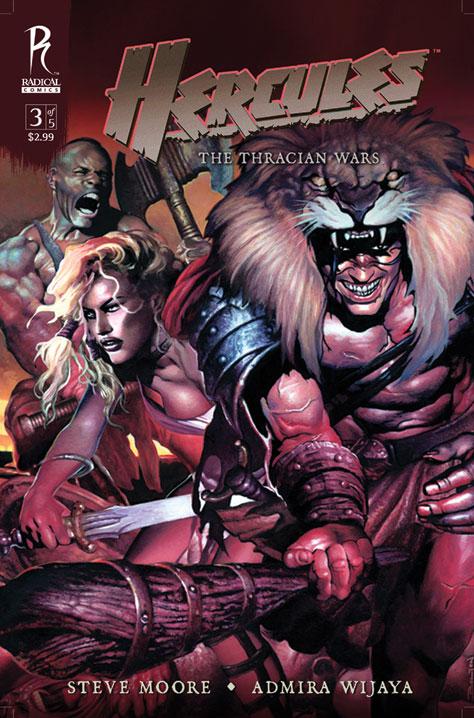 At last year's San Diego Comic-Con we chose to debut the quality of our titles like an art gallery. We got great feedback from writers like yourself, as well as other websites and magazines, and got to meet a lot of our audience as well as learn what everyone expected from a new publisher to be successful in our launch. We took all of this into consideration and decided that we weren't going to rush to get our books out in November or even February, but wait until May to coincide the release of our first titles with Free Comic Book Day. We really planned on using San Diego Comic-Con as our launching platform and then use that momentum to build from that point on as we expanded into 2008.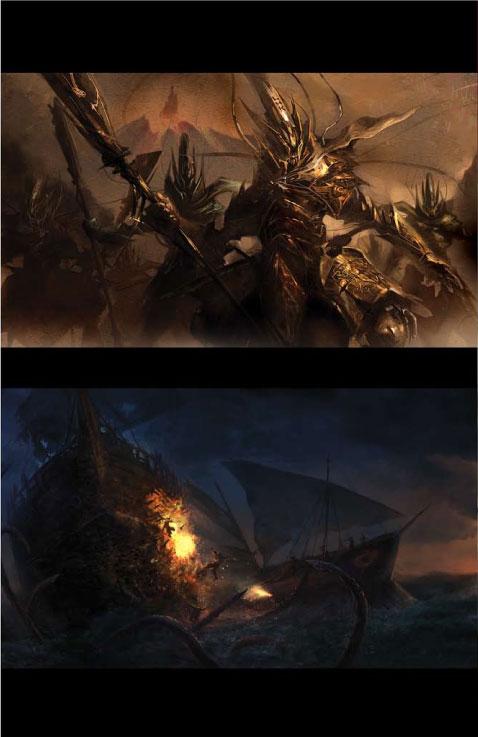 @: Having been given the privilege of taking a look at two of your first projects, I am very impressed at the final product. What did you go for when selecting the creative teams for HERCULES and CALIBER?
BL:
Stylization, the look of our characters and creating the proper mythology as well as grounded story elements for each series. We, being a new publisher, only wanted to use the iconic aspect of the HERCULES title. We reinvisioned everything. Also, one of the things we do at Radical and Imaginary Friends Studios is designing the characters first prior to bringing on any specific artist for interiors or covers. This serves as an instrument of inspiration to our writers and artists. The teams working on Hercules are talents such as Steranko, Royo, Sejic, Bolton, Pratt and additional variant covers by our partners in Singapore, Imaginary Friends Studios. The interior artwork is being illustrated by Admira Wijaya with colorist Sunny Gho, both of Imaginary. On CALIBER, Luis Royo, Dave Wilkins and Tomm Coker with other covers being done by Stanley "Artgerm" Lau of Imaginary. This is including both issue #2 covers and issue #1 covers outside of Wilkins piece. Garrie Gastonny of Imaginary Friends Studios is doing all of the fully painted sequential pages. Their initial character and production renderings captivated as well as embellished Sam Sarkar's stories and at that point, Sam felt no one else could do this concept justice but Gastonny from Imaginary.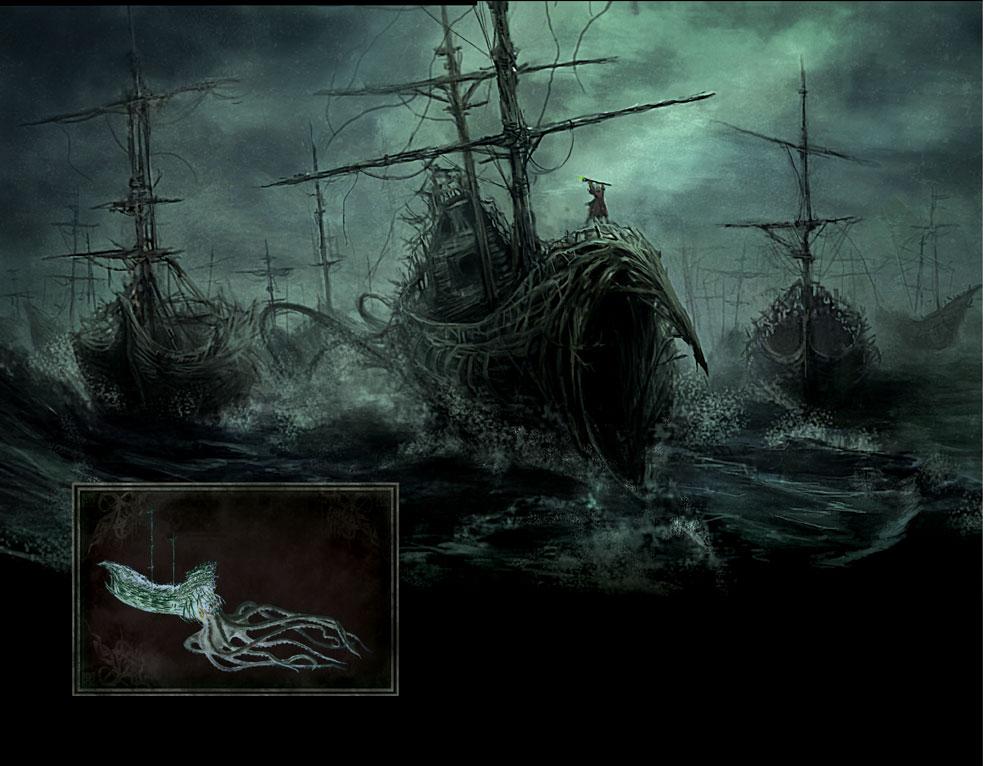 @: You've clearly stated in your mission statement for the company that your projects are being developed for both comics and films. Can you tell which projects are set to see the silver screen first and who may be making these films?
BL:
I just want to make it perfectly clear that the COMICS come first. The films will be a direct result of the quality and consistency of each title. It's extremely important to establish these titles as stand alone series before we focus on anything else for our projects to be adapted to. Obviously we are focused on getting these adapted for other markets and would love them to be successful films, video games, etc. We have just recently sold HERCULES to Spyglass/Universal with Peter Berg on board to produce and direct. We will make a more extensive announcement in all the trades, once we have brought on a writer. The last thing I want to do is make an announcement just based on a development deal. We will also be announcing at Cannes regarding CALIBER with John Woo to direct and produce. That project will be independently financed and will go into production in 2009. We are all really excited about working with these extremely talented individuals. Berg's HANCOCK will be a huge film for him this year and John Woo's BATTLE OF RED CLIFF is going to blow a lot of people away. Four months ago, Sam Sarkar and I spent the weekend on set, just outside of Beijing, with John Woo and Terence Chang. To say we were impressed with the extravagance and precision of their operation is putting it mildly.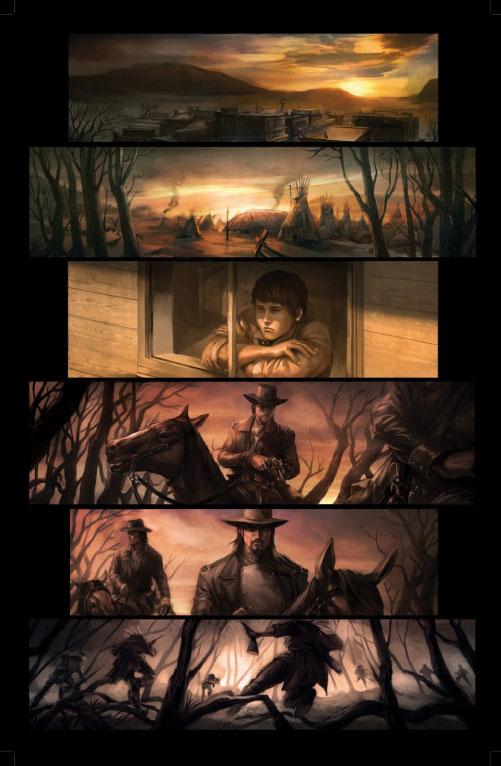 @: In comics, budget isn't an issue. Quite the opposite for films. CALIBER and HERCULES seem to be pretty big budget tales. How do you plan to transition these stories to the big screen? Can the books be read as storyboards?
BL:
A lot of our properties are basically high concept, with big set pieces but I always tell an artist and a writer of the comic never to restrict themselves. They are not writing a screenplay or storyboards, they are writing a comic. So never censor your imagination. Funny enough, out of all the comic books I worked on in my career, this is the first time that I ever had a director and his producing partner want to adapt straight from a comic creator's story. They were adamant that Steve Moore's story is the one we want to tell. Obviously, when we bring on the writer, he will have a lot more dramatic license to work with but knowing how Peter's partner, Sarah Aubrey, feels about Steve's story, they will stay true to the essence of his comic series. One of the reasons we brought on the artist for HERCULES and CALIBER from Imaginary Friends Studios, is not for the direct storyboards, but the fact that these guys design and create sequential work as if they were cinematographers. They create and see. In doing that, they have been able to capture and emulate an excellent visual point of reference.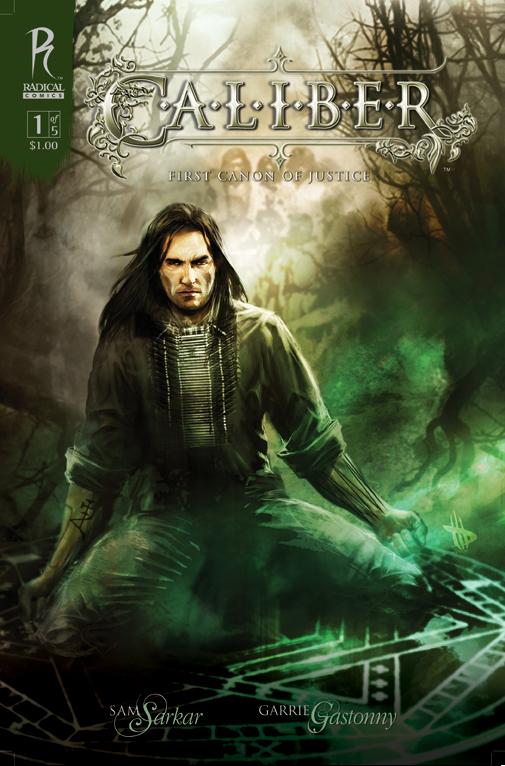 @: Hercules is a character that has been represented quite a few times in comic book form. How is your Hercules different than Marvel's jovial hero and DC's duplicitous villain?
BL:
We are a little more serious in our approach and depiction. Steve Moore's attention to detail and Greek mythology knowledge is evident in the dialog and concepts which serve to create a real, grounded realm for the characters and story to believably exist within.
@: Steve Moore is a pretty legendary talent in the UK. Did you approach him about working on HERCULES, or did he pitch the idea to you? Are there plans for any more series with Hercules, or with any new characters?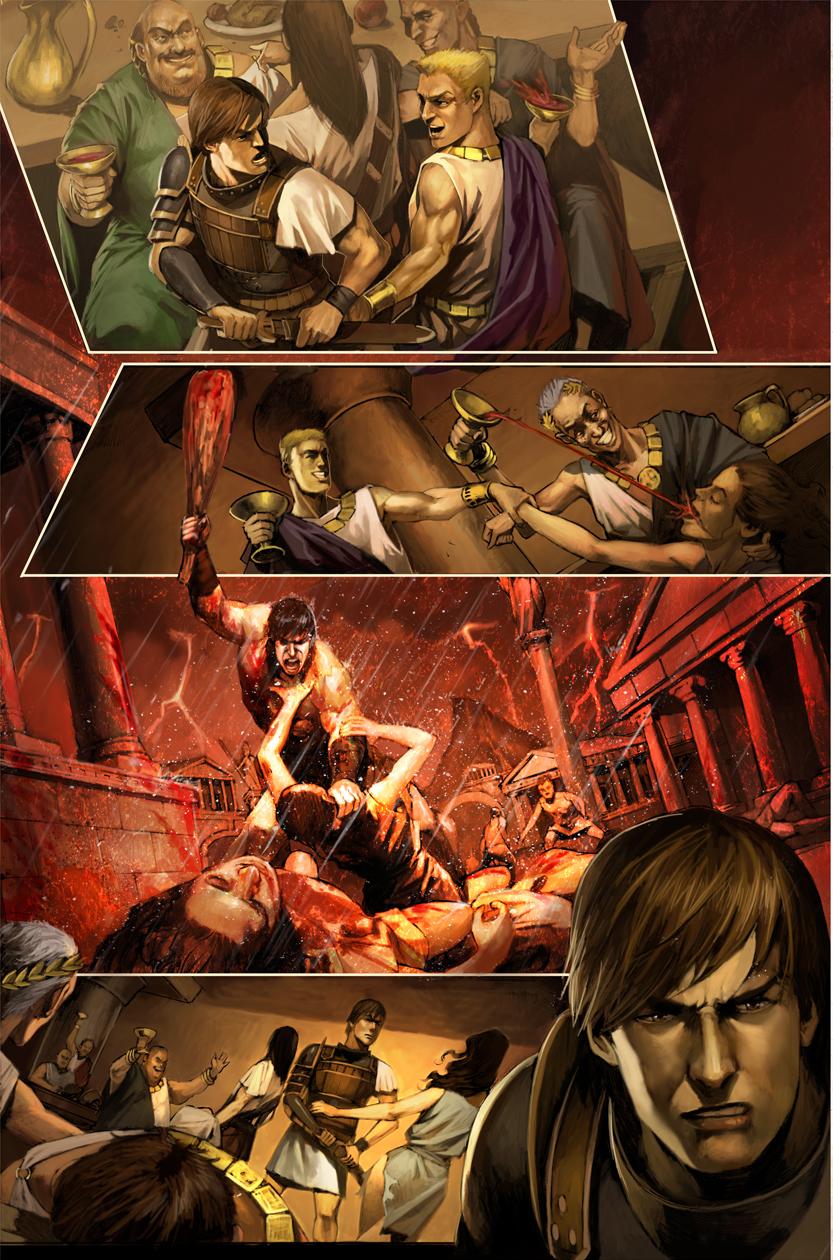 BL:
My partner, Jesse Berger and I, were talking about doing Hercules for quite a while. We had a pretty definitive idea of avoiding the Hercules clichés. Knowing Steve Moore's attention to detail and mythology, he was the most obvious person to talk to. We asked our Editor-in-Chief, David Elliott, who has known Steve for over 20 years, to approach him on our behalf. Talk about detail, the issue #1 that Steve sent us was 58 pages. I'd say he definitely pays attention to detail and does his research.
As a matter of fact, the 5 issue series currently being published is aimed for an ongoing series. Steve Moore has also committed to writing the next series. We will be including new characters with the focus of the story not taking place in Greece, far from it actually. Further info on this next HERCULES series will be announced at San Diego Comic-Con in July.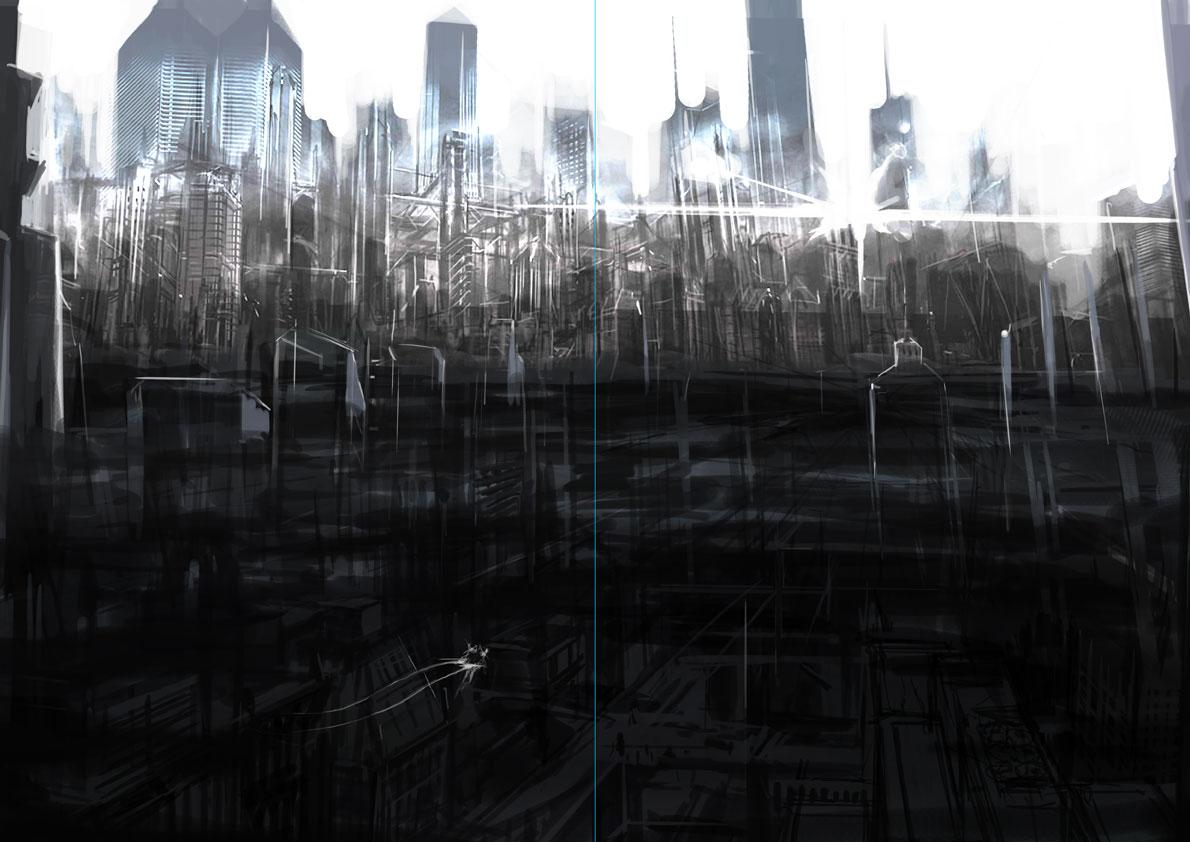 @: I found it interesting that certain aspects of the Greeks' varied and contradictory legends were included here, such as the lesser-known myth that Prometheus created Man (and later played a role in the arrival of the first woman, Pandora). Will most of the characterization be based on this sort of deep historical research, or will Steve be adding his own approach to the mix?
BL:
Steve, as I've previously said, is manic when it comes to research. Everything is written with a purpose. As for Steve adding his own approach to the mix, his dialog, ingrained with true mythology, is how he reinvents the genre.
@: Sam Sarkar is not a name we've heard before. Can you tell us more about where you found him and what else he's working on after CALIBER?
BL:
I found Sam at McDonalds… I actually met Sam by working on REX MUNDI with Alan Richie and Mike Richardson. This is a project that I'm involved in as Executive Producer but not through Radical. I found Sam to be the smartest person in development that I have met in the industry. I later found out that he is a very talented screenwriter who wanted to work on comics as well. He pitched me CALIBER and it took me five seconds to agree to publish it. Yes, he is working on another project, but we are going to maintain our current focus and finish this one first.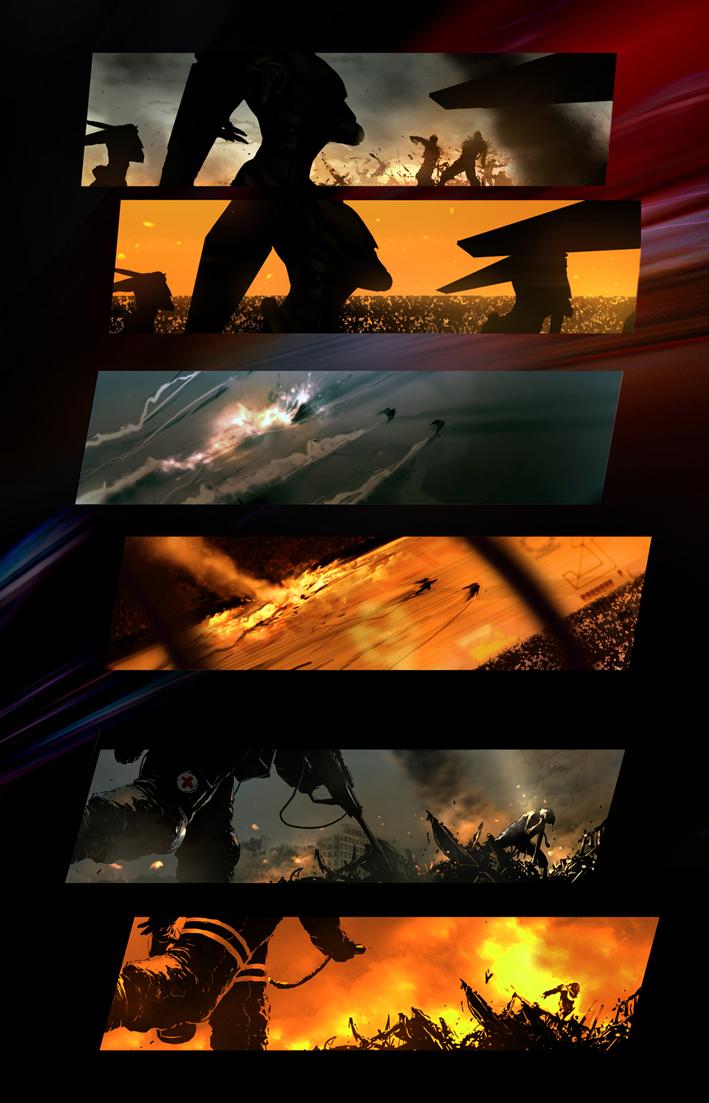 @: Reading through the Radical Comics Preview, there seems to be quite a few projects on the way in the coming months. Many companies have made the mistake of releasing too many titles right off the bat and often times blow their load all at once in the beginning and then peter off into obscurity. Other companies buckle from the weight of an already oversaturated market of #1 issues. How are you planning to beat the odds and make it as an independent publisher?
BL:
Sounds like my old sex life. What you're saying is our philosophy. We are not looking to run before we walk and therefore we are releasing only one book a month. In May, we are releasing two because it gave us the opportunity to brand our company on various levels. April 2009, we will start releasing two books a month, possibly three. We made a promise to all of our creators that we would focus on one title a month until 2009. This gives us the opportunity to market our books properly and make financial commitments to each title. I've seen what happens in the past to CrossGen and others. If you don't learn from the past, then you'll always have a problem. I'm not afraid of the oversaturated market. When I was a music supervisor and photographer, I never worried about competition, only what I was responsible for and what I could bring to help enhance and embellish each project.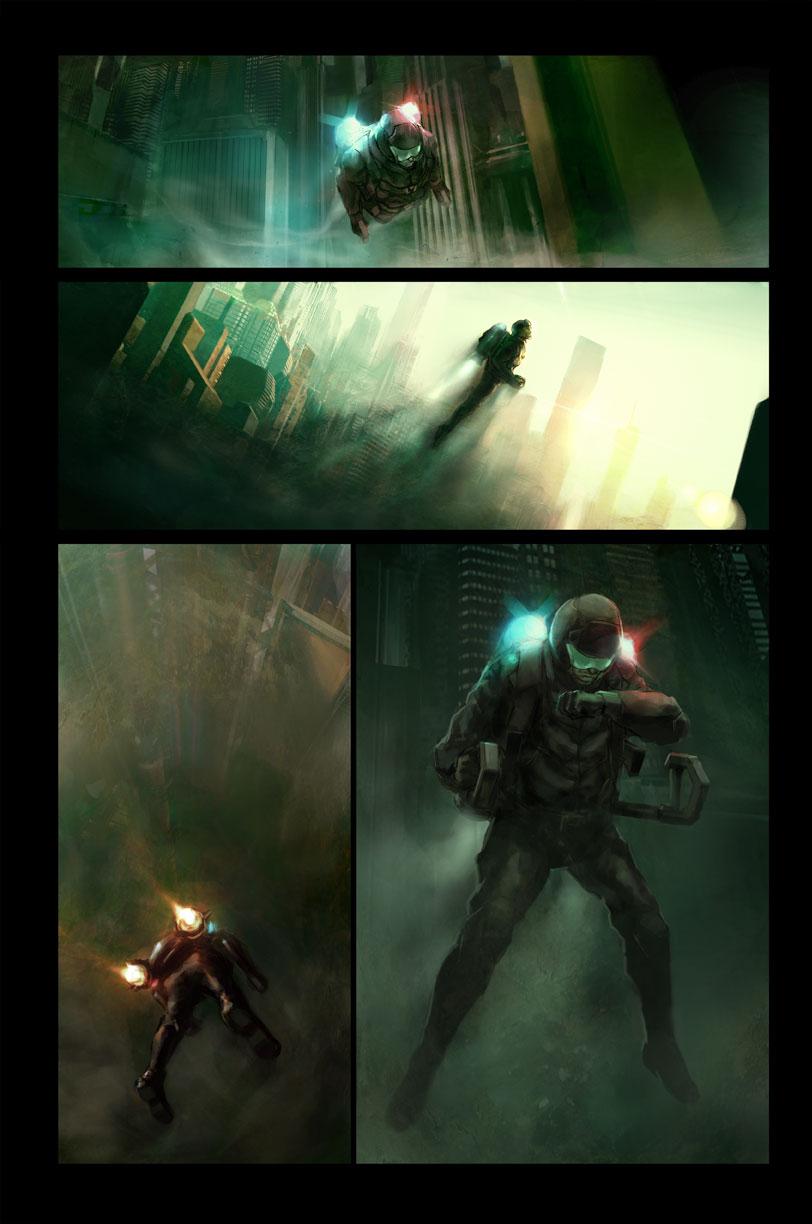 @: The art on both of these books is fantastic, and well-suited to the mood of the stories being told. So what's the story behind Imaginary Friends Studios? Who are they, and where did they come from? Can we expect the look of these two titles to become the "house style" for Radical, or will there be more diversity down the road?
BL:
Imaginary
has 50 artists on staff and they do everything from paintings for packaging, concept art for films and games, covers and interiors for comics and a multitude of contributory design elements. And while they are based in Asia, they have artists from Europe too and they themselves grew up fully exposed to American entertainment. They even speak English as a first language and in turn have a great sensibility of what works for our titles.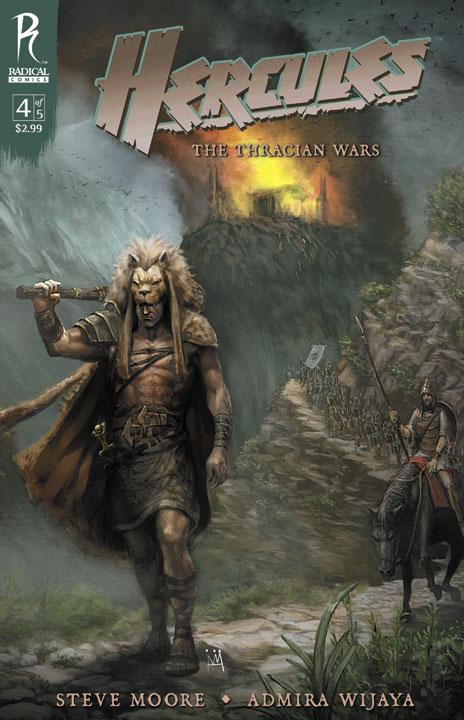 But as much as we love them, we want to work with anyone who is good for our titles- even outside of Imaginary. For us, it's not about who you are, but about quality. If an artist can illustrate good, quality interiors and/or covers we want to work with them. Whatever makes our books better makes us better.
There will be diversity down the road. Imaginary Friends Studios is responsible for Steve Niles' CITY OF DUST (formerly KHROME) and their own creation, FREEDOM FORMULA. If you look at FREEDOM FORMULA, CITY OF DUST, HERCULES, and CALIBER, they all have a commitment to quality. I don't know if I want to use the term house style. I want to be known as a company that has a multitude of stylization for our interiors and covers predicated on the needs and tone of each individual project. Each panel and cover looks like a mini painting and it gives depth to all of our titles through the quality art and style.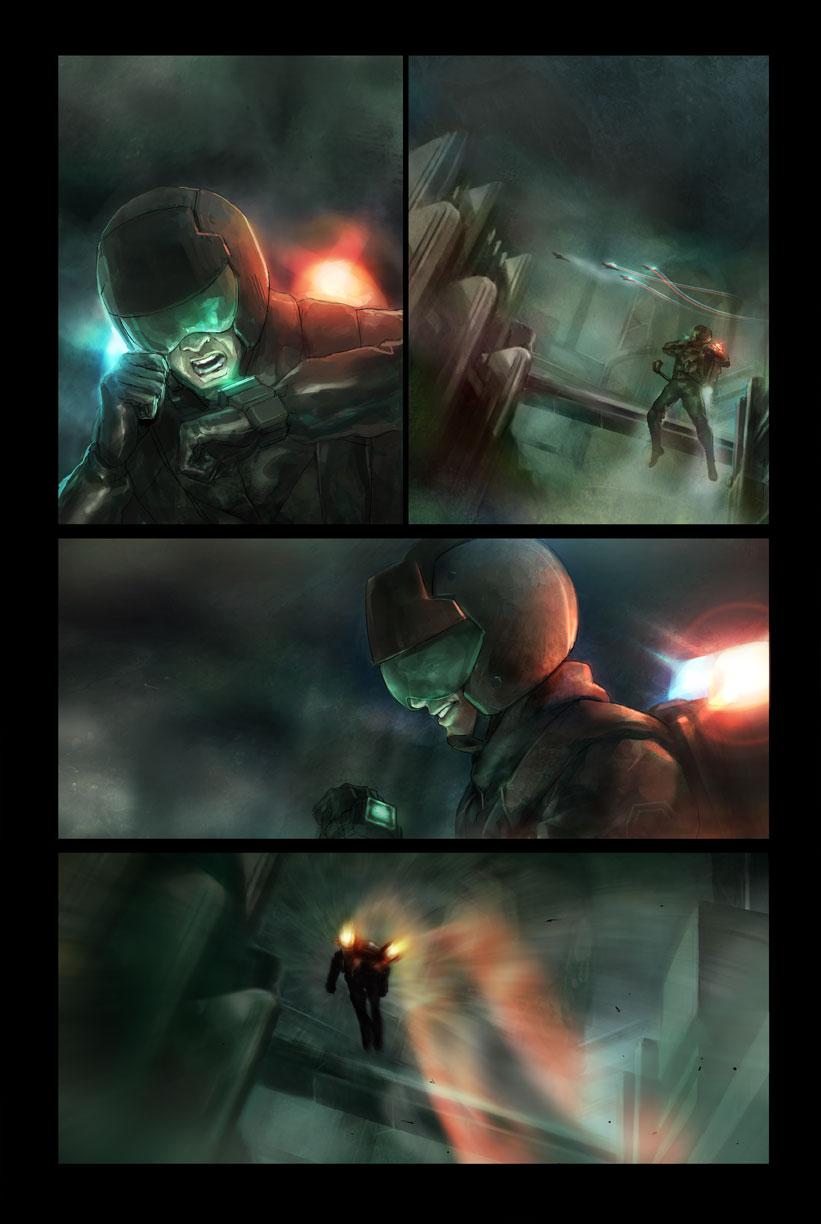 @: Out of all of the titles coming soon from Radical, which are you most excited for fans to see?
BL:
That is kind of unfair to the rest of our titles. We take each book as it comes and let the fans discover what is exciting. I don't want to put one over the other.
@: There's promotional art for Yoshitaka Amano's illustrated take on Mozart's "The Magic Flute" called MATEKI. Is this an exclusive to your company, or do you just have the English language publishing rights?
BL:
Yes, MATEKI is an exclusive for Radical and we have worldwide rights, including Japan.
@: What are your plans for trade paperbacks? Will you be collecting the miniseries at a later date? How about softcover versions of hardcover titles like MATEKI?
BL:
Mostly we will be collecting our miniseries in two different formats. Generally the first release will be in a larger, oversized, hardback format and then we will follow up with the more traditional, comic book sized, soft back trade. There is also the possibility that some projects we won't want to put into soft back format. Currently we are only considering MATEKI to be published in hardback format.
@: So far we've got mythological action with HERCULES and a supernatural western in CALIBER. Can you give us a glimpse of what else we can expect in the near future from Radical?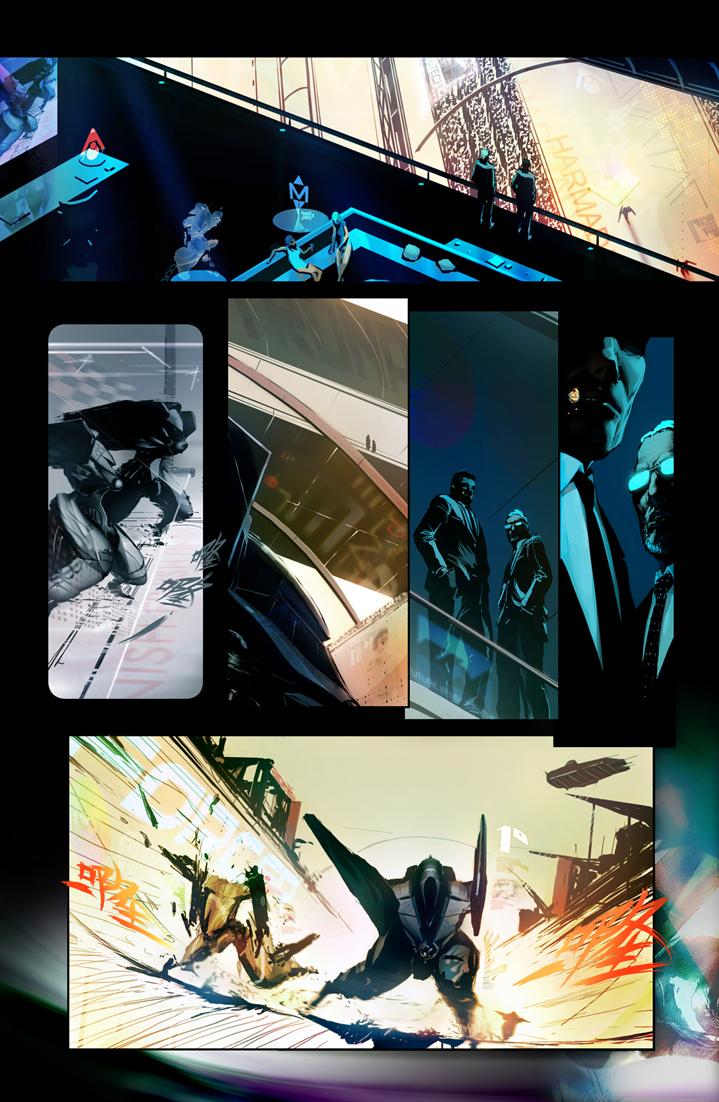 BL:
Yeah, Steve Niles' CITY OF DUST (formerly KHROME) is a supernatural BLADE RUNNER, we're also publishing ALADDIN, but more in the vein of a darker LORD OF THE RINGS rather than the traditional story of 1001 ARABIAN NIGHTS. This is also an extremely dark series of comics being written by Ian Edginton. OBLIVION, created by director Joseph Kosinski, (TRON 2.0 & LOGAN'S RUN) is also being written by Ian Edginton, with a lot of unbelievable action, sci-fi pieces. This project also has tremendously cinematic and detailed illustrations being created by Kai of Imaginary Friends Studios to fully bring to life the world of Joe's story and Ian's adaptation as a hybrid graphic novel.
I hope this interview gives you a really clear idea as to the quality of the art and concepts that we here have committed to publish and sincerely thank you for speaking with us about Radical!
@: And thank you for answering our questions. We're looking forward to checking out the books.
---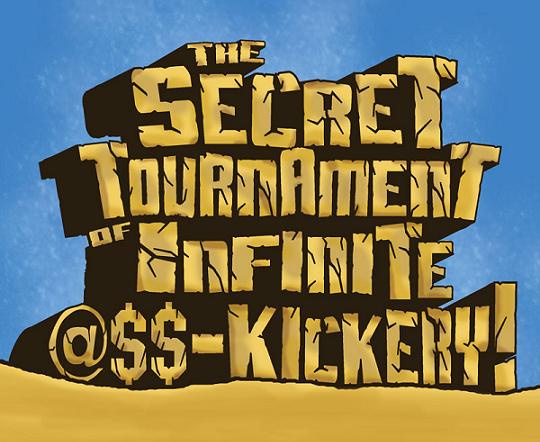 Logo by superhero
ROUND TWO / BRACKET ONE
Sixty-four of comic bookdom's best fighters enter, only one will be crowned THE SECRET TOURNAMENT OF INFINITE @$$-KICKERY Champion. It's comics' version of March Madness, only it lasts a bit longer. Ambush Bug here yet again, on behalf of the @$$Holes at AICN Comics, welcoming you all back to a contest unlike any other: boiling fanboyism down to its basics...whether one guy can kick the other guy's @$$.
We're starting Round Two this week. We've separated the champs from the chumps in the first round and now are ready to get down to business. But before we move on to this week's fights, let's see the winners of last week's bouts.
---
Winning submission by Steven Lavalley
The two grizzled war veterans stare at each other from across the arena, sizing up their opponent.
"Ladies and Gentlemen, our next bout is set to begin! As you know, this tournament forbids the use of weapons or super-powers. Our combatants have been scanned for weapons, and we are now activating the Nullification Field which inhibits the use of any powers or super technology. May the best man win!"
Suddenly, the arena is bathed is a light gray light as the Nullification Field is activated. The Rock strides forward, determined to end this fast. Fury moves in slower, more cautious. However, with each step he takes, Fury is growing older. The Nullification Field is inhibiting the Infinity Serum that has kept Fury young for decades. He's a 70 year old man by the time Sgt. Rock gets to him.
"What the hell?" exclaims Rock. "What's goin' on here? I ain't fighting some old guy!"
While Sgt. Rock looks around for an explanation, Fury falls forward and jabs his bony fingers into The Rock's throat. Both fall to the ground, but Sgt. Rock is drowning in his own blood while Nick Fury survives long enough to win the match!
WINNER: NICK FURY
---
Winning submission by Michael Berryman's Barber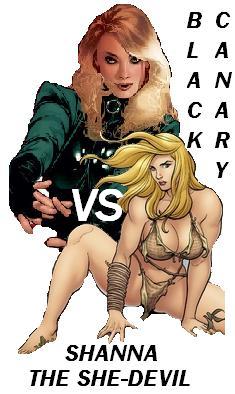 "Do you think they put us against each other because we're blondes?" Black Canary's attempt at witty banter goes unanswered by the Jungle Girl who paces like a tiger in a cage, ready for attack.
"Well, I guess talking this through is out." Canary throws a kick, which Shanna ducks.
Canary vaults over her opponent, but Shanna reaches up and snatches Black Canary by her hair and slams her hard on the ground.
Tufts of golden hair thread through Shanna's splayed fingers.
The Canary rubs the patch of scalp where her hair used to be, then gives the same attention to her bruised posterior. "Fine, Bo Derek. No more games."
The two grapple with one another momentarily, but Canary flips Shanna onto the ground, immediately locking the She-Devil's arm in a Brazilian Jiu-Jitsu arm bar. "Just give up!" She grunts, gripping her arms tightly.
Shanna squirms like an animal caught in a trap and like said animal, sacrifices the limb to escape her capture. A loud crack indicates Shanna's shoulder separating from its socket. The Canary lets go in disbelief.
"What the hell is wrong with you?!?" Shanna holds her wounded arm and rises to her feet. She charges the Canary with a growl.
Canary notices that her opponent's animalistic rage has blinded her. She dodges the She-Devil's attack and wraps her arm around Shanna's throat, while pressing her other arm against the back of her neck.
Canary holds tight as Shanna tries to break free, but the circulation is cut off by the Canary's Guillotine Choke. Shanna's fight flees her body and she slumps into unconsciousness.
WINNER: BLACK CANARY
---
Winning submission by Barry Hammer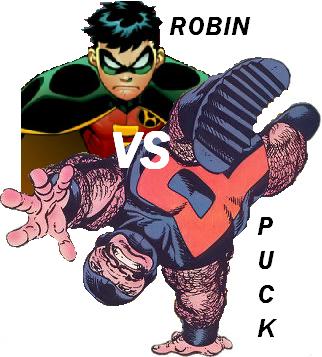 Robin looks across the ring, seeing his opponent cracking his knuckles and grinning like a mad idiot. Robin's first instinct is to laugh at the sight of this…well, short guy. But he knows that bad things can come in small packages. Like that one time he got a gift for Arianna, and – well, I digress.
"Come get me, kid!" Puck yells from across the ring. Robin starts to advance, confident in his footsteps, until Puck bends down. "Huh?" Robin thinks to himself, a second before Puck grabs his own feet and starts rolling himself towards Robin. However, while Puck is still able to roll like a bowling ball, he forgot (or nobody told him) that he wouldn't have any extra speed and strength in this contest. Puck manages to roll two feet closer to Robin before stopping in the middle of the ring.
"Hey, kid, help me! I can't straighten up again!" Puck starts sweating as he sees Robin advance on him, this time with more of assurance. "Sure, I'll help you," Robin says. He picks Puck up and rolls him like…well, like a really old guy stuck in the shape of a donut, towards the wall. The impact knocks Puck out, and when he comes to, he's on a stretcher being led out of the ring. "I got you straightened out," Robin says as Puck is led into a room with a blinding white light, never to be heard from again (until someone decides to resurrect him. Again).
WINNER: ROBIN
---
Winning submission by Harrison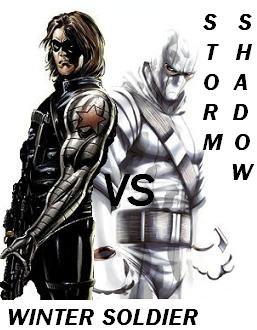 Winter Soldier jumped the eight-foot steel fence into the desolate plot. Immediately, he flew backwards and stuck to the fence by his bionic arm. His guns tore from their holsters on their own and stuck to the fence around him. Across the weed-grown plot, he saw a flash of sparks and a man in white wrapping a torn power line around the fence.
"Storm Shadow? Let me up and make this a fair fight."
The white ninja grinned at him as he approached. "Guile is the ninja way."
"Fine."
Winter Soldier grabbed his high-powered rifle with his free hand and twisted it as hard as he could. Once the muzzle was pointed directly at the shoulder joint of his metal arm, he pulled the trigger. The first shot buried itself in his metallic armpit. The second tore a hole through the top of his shoulder, and the third and fourth bullets separated his prosthetic arm from his body.
To his opponent's shock, Winter Soldier stepped into the makeshift arena, his bionic arm still sparking as it stuck to the fence.
Storm Shadow, regretting having chosen the very ploy that would disarm himself as well as his opponent, shook off his wonderment and charged the one-armed combatant. A strong kick to Bucky's chest, followed by a leaping scissors strike to his head, dazed the Winter Soldier, but he instinctively grabbed for his foe's leg as he sailed overhead.
His only hand closed around Storm Shadow's foot and swung the ninja in a terrible arc from seven feet in the air directly into the packed earth. Still reeling, but angry as hell. The Winter Soldier straddled the ninja's waist and held him down.
Thirty-seven right hooks later, the white costume was soaked in blood, and the ninja succumbed to the darkness.
WINNER: WINTER SOLDIER
---
Congratulations to all the winning participants. Winners will move on to Round Three. Be sure to check out this week's bouts. But first, the rules:
@ To even the playing field,
contestants are powerless and weaponless upon entering the ring. They must win on fighting prowess and character alone!
@ Check out the fights listed below and
send a 300 word (or less) fight scene
to us determining who the winner is and how the fight should play out. (Remember: it's best to SHOW, don't TELL, in these submissions. That means write the scene as if it is happening, don't tell us what will happen…it makes for more interesting readin', don't cha know!). @ Be sure to indicate the winner of each match in the subject line of your email. @ Submissions are judged by a select group of @$$Holes (hint: we're looking for the most entertaining one to win, not necessarily the one that has been done and over done in comics before. ORIGINALITY RULEZ!). @ Winners of each match will be announced in the column a week later (that means if the fights were introduced in Monday's SHOOT THE MESSENGER Column, the winner will be announced the following Monday, same for Wednesday's reviews column). @ Submissions can be sent in to @$$Hole HQ via the link below until midnight Friday. @
THIS CONTEST IS NOT FOR PROFIT
but done out of love for Fan Fic, comic book store trash talk, and online comic book debate. @ Have fun and enter as many times as you'd like! There can be only one winner, it's up to you who that turns out to be!
Here are this week's combatants! Be sure to follow the links to find out how our fighters have gotten this far!
---


Bracket One Fight One USAGENT VS BANE
In Round One,
USAgent pulled a rope a dope with the KGBeast
and proved that he was a real American hero. This week, the Red, White, and Black Avenger takes on the man who broke the Bat,
Bane
,
who broke every bone in Crossbones' body in his first match.
Can the back-breaker beat the replacement Cap or will the American Spirit come through again?
---


It was a tough match, but
Black Panther came out on top against Bronze Tiger
in the first round.
Catwoman had a much easier time with Hellcat.
Catwoman's spent most of her criminal career challenging heroes with pointy ears.
What will be the outcome when these feline fighters match-up?
---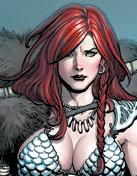 Over a sup of java,
Wildcat
and Batroc came to an agreement that Wildcat would pretty much wipe the floor with the flippant Frenchman.
Without a blow thrown the match went to the boxer.
Now Wildcat faces a much more challenging foe in
Red Sonja
.
This she-devil with a sword shocked everyone by beating Batgirl in the first round.
Will the barbarianess surprise us again and kick the kitty out for the night or will Wildcat knock out this crimson coiffed knockout?
---


Our final fight of the night pits the best of today against the best of tomorrow.
Lady Shiva schooled Elektra by taking advantage of her weaknesses.
But she's going to have to search hard for this week's opponent's Achilles Heel. After a tough battle,
the Karate Kid took the Taskmaster to task
and proved he had it in him to advance to round two.
Who will come out on top: the Lady or the Legionnaire?
---
There's Bracket One's matches. Send in your 300 word (or less) fight scenes to the link below. Deadline is Friday. Those of you complaining in the talkbacks, I challenge you to take a shot at it if you don't like what you see. All of this is up to you. Look for the winners of these match-ups in next Monday's AICN COMICS NEWS SHOOT THE MESSENGER Column, and look for the Bracket Two's match-ups in this week's AICN COMICS REVIEWS Column on Wednesday.


Send your fight submissions here!


Good luck, have fun, and go kick some @$$!