---
What's SHOOT THE MESSENGER? Well, AICN COMICS: SHOOT THE MESSENGER is your weekly one stop shop for comic book news that's dropped in the previous week. Thanks to Newsarama, CBR, Wizard, etc. for reporting it as it breaks. Click on the links for the original stories. This column cuts the crap to run down all the vital information for those of you who don't follow it as it comes in, and serves it all up with that special ingredient of @$$y—
Ah, shaddup! Sorry, folks, Stones Throw is a still a little hungover from the @$$ie after-party. Not to mention that I keep finding monkey fur from Schleppy in weird places around my person. Anyway, while we were all gearing up for the Biggest Night in Comics ™, a comparatively minor event was taking place in San Francisco. WonderCon, they call it. I wasn't there, even going so far as to be in a whole other country at the time, but I did scour Newsarama and Comic Book Resources so as to provide you with the next best thing to the actual experience. Yep, short, text-based bulletins are where it's at. Take it away!
@ DC COMICS NEWS…Brian Wood and Becky Cloonan's DEMO, which focused on ordinary, young people dealing with supernatural powers, will return for a
six issue second volume
at Vertigo...
@ Also at Vertigo, Matt Wagner will write MADAME XANADU, featuring the character from Arthurian legend. Amy Handley will draw…
@ No longer Marvel exclusive, J. Michael Straczynski will begin work at DC on some as-yet-unconfirmed titles. New SUPERMAN and BABYLON 5 comics seem to be a strong possibility…
@ In addition to SUPERMAN,
James Robinson
is writing another book for DC--Dan DiDio hinted that it will feature Green Lantern and Green Arrow…
@ Meanwhile, at
WILDSTORM
—Yoshinori Matsume's BATMAN: DEATH MASK, about Bruce Wayne's time training in Japan will be republished in its original manga format. That means you start at the end…
@ Gail Simone is working on a new WELCOME TO TRANQUILITY project…
@ Chronically late books watch: new scripts for WILDCATS and PLANETARY from Grant Morrison and Warren Ellis, respectively, are reportedly "in"…
@ Gene Ha is currently working on a new TOP TEN series with Zander Cannon…
@
DARK HORSE NEWS
…Mike Mignola has been working on two separate HELLBOY miniseries that will be released at the end of the year to tie into the second movie. HELLBOY: THE WILD HUNT will be six issues and there'll also be a three issue mini set in Appalachia…
@ Sergio Aragones has GROO meeting CONAN and TARZAN in two upcoming miniseries…
@ Look for a new black and white CREEPY anthology from Dark Horse later this year…
@ Steve Niles and Kyle Hotz will produce two new CRIMINAL MACABRE shorts as web comics in April and May…
@ THE CLEANERS is a new series from Mark Wheaton, Joshua Fialkov and Rahsan Ekdal about scene cleaners at supernatural crimes…
@ The comics so big they made a movie to go along with 'em: new Indiana Jones books are on the way, starting with the film adaptation in May and continuing with INDIANA JONES AND THE TOMB OF THE GODS in June…
@ IMAGE NEWS…
JMS
work is spreading like a comic book-writing venereal disease—he'll produce two new, creator-owned series, JUSTICE and TEN GRAND, for Image…
@
TOP COW NEWS
…fallout from Top Cow's PILOT SEASON: Joshua Fialkov and Rick Mays will return to CYBLADE, while Joe Casey will write a new VELOCITY book. Six more titles are already lined up for Pilot Season 2008…
@ Assorted high concepts from
BOOM! Studios
—"The Sopranos" in inner-city LA (HIGH ROLLERS); BOURNE-meets-Westerns (PALE HORSE); robots and comedy (SHMOBOTS); and elves, dwarves and trolls playing football (BLOOD BOWL)…
@ NON-CON NEWS…Fun is currently outlawed in the Marvel Universe, so the Marvel Adventures line will play host to
MARVEL ADVENTURES: SUPER HEROES
by writer Paul Tobin and artist Alvin Lee, which will feature off-beat and wacky stories starring Spider-Man, Iron Man and the Hulk…
@ New publisher
Radical Comics
will launch in May with a whole line of books, including HERCULES and CALIBER…
And now let's pass the mic to the esteemed Prof. Challenger for an utterly independent interview.
---
Prof. Challenger here with a real treat. For this week's SHOOT THE MESSENGER I've been given the opportunity to shoot ten questions to Chris "Uncle Staple" Nicholas of STAPLE! THE INDEPENDENT MEDIA EXPO. Chris tells us that he's the founder and lead organizer of STAPLE! The Independent Media Expo. He lives in Austin, Texas as one of those people who came up for college and stayed. He reads and self-publishes comics, occasionally naps, and wishes someone would make a new WAR OF THE MONSTERS, preferably for wii. For pets he has some fish whose tank is currently very, very dirty. At least, he's fairly sure there're still some fish in there.
Now, on to the questions!
@: For those who don't already know, what is STAPLE?
Chris Nicholas (CN): STAPLE! The Independent Media Expo is the Southwest's only convention for independently produced comics, zines, graphic arts, DIY Crafts and animation. It's a celebration of the creative spirit as well as a marketplace and meeting place for folks who produce their own works of these type and those who are looking for stuff like this that can't really be found anywhere else.
@: When and where is it?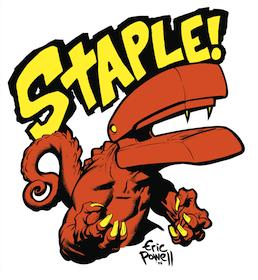 CN: The fourth annual show will be held Saturday, March 1st, 2008, 11am - 7pm at the Monarch Event Center in the Lincoln Village Shopping Center next to Highland Mall, in the former site of the Lincoln Village Cinema. This is a brand new and very exciting venue for STAPLE! and for Austin, which has allowed us to significantly increase the size of show. There's also a pre-party the Friday night before at Austin Books, and the STAPLE! after-party live art show will be held at Red's Scoot Inn on Saturday night after the show.
@: Why did you choose Austin as the best venue for STAPLE?
CN: Well, mainly because I live here, but it's also just a great fit. Austin has a vibrant arts scene and a community that is very supportive of creativity. It happens to be rather geographically central to Texas and is a great and wonderfully fun "destination" city on its own. There're also tons of comics creators and fans here. It was really a no-brainer.
I was particularly inspired to believe in the possibility of something like this working here by the turnout at Austin Books for the first 24HR Comics Day event they hosted. There were around 40 people there, all drawing away, the largest such gathering in the world. THE WORLD! They held on to that title the next year with something closer to 70 people in the shop.
@: Who are some of your higher profile guests on tap for attendees?
CN: This year, since we were lucky enough to have two sponsors, Austin Books and Rogue's Gallery Comics & Games, we were able to get two very awesome guests: Eric Powell, creator of The Goon, and Brian Wood, writer of DMZ, Local, Demo and Northlanders to name a few. I'm a huge fan of these guys so I'm very personally excited to meet them.
@: What does STAPLE! have in terms of panels and other special events?
This is truly going to be one of the most action-packed STAPLE!s we've had so far. There'll be Q&A sessions with both our featured guests, a Webcomics Discussion Panel with Scott Kurtz (PvP), Danielle Corsetto (Girls With Slingshots), David Malki ! (Wondermark!), and Kris Straub (Starslip Crisis), and, just added, a recruitment rally by Lord Vile, Austin's resident super-villian. Dr. Sketchy's will be hosting some drawing sessions right on the con floor, and I understand that Ruby Rockett (Prof says "YOWZA!") will be appearing to model for those.
@: Since STAPLE! is a fairly new animal, can you spin a little background on the beginnings of STAPLE!, why the decision to focus on the smaller independent press, and why it's growing so quickly as an event?
CN: Actually, a very vague idea for something like this had been knocking around in my brain for a while, but about 5 years ago a friend and I began self-publishing our own comics (a crime story called
You Chose Right The First Time
– get it at STAPLE!), and in our efforts to sell and promote it we began meeting more and more people from Austin and other cities in Texas who were doing the same thing, or something very similar. One of the only ways to distribute this kind of work is to table at shows, but all the truly small-press shows were at the time very far away from Texas. After a while I realized there was enough talent just in Austin, and certainly regionally, to put on a pretty good sized show. I started talking to folks about it, on message boards and at the Austin Sketch Group (where I recruited a lot of help early on), and there was plenty of interest. Started researching how to do it, got some people together and got to work. Took just under a year to plan and execute that first show, we were starting from scratch after all, but the work paid off in the amazing success we had that very first year.
That success, and the continued success and growth of the show, can, I believe, be attributed to several factors: the hard work and dedication of our all-volunteer staff; the spirit and philosophy of STAPLE! which is basically about bringing folks together, and keeping everything affordable for both exhibitors and attendees; the support of art in Austin and the rising popularity of comics in general; being in the right place at the right time; lots and lots of luck. And there's probably more to it than that, too.
My friend and I are still self-publishing, btw, and have a new book out for STAPLE! called
That Damned Cat
, a supernatural/black comedy. With a jerky cat.
@: As founder and lead organizer of the Expo what are your attendance expectations for this year's STAPLE?
CN: That's something you never know till day of, but I have pretty high hopes this time around. Last year we had around 500 or so through the door and I'm betting we'll get a good deal more than that. We've gotten a lot of exposure, done a lot of promotion and word is really getting out about how awesome STAPLE! is. Anyone who misses it is going to be very, very sad indeed.
@: What are your longterm goals for STAPLE! and do they include expansion into more venues than just Austin?
CN: At this point I really just want to maintain the home-grown, friendly, fun atmosphere of STAPLE! Any growth would have to be easily manageable. I can't honestly envision something like this working outside of Austin. We've got exhibitors coming in from both coasts. Everybody knows this is where the party's at.
As a personal goal I'd like to apply my four years of experience organizing STAPLE! to doing some other kinds of events. Some workshops, writer's conferences. Maybe a music festival, but I think there might be one of those here already.
@: Godzilla or King Kong?
CN: Whilst I have great love and respect for the big lizard, King of the Monsters and all, I'm going to have to go with King Kong. He's a romantic at heart and tragically misunderstood. I can totally relate.
@: How can interested readers and professionals find out more information?
CN: Visit the
STAPLE! website
It has all the show info, podcast interviews with some of our guests, the STAPLE! Community Blog, interesting articles, and archives of the old message board with reviews of and tons of pics from previous shows. You could also email me
here
, but I probably ain't gonna answer till after my post-STAPLE! coma wears off.
Thanks for your time, Chris! All of us here at @$$hole Headquarters (especially the Austin branch) hope this year's STAPLE! is a huge success.
Back to you, Stone.
---
Thanks, Prof. Have fun at the con.
So, any thoughts on this week's helping? I, for one, am glad to see more TOP TEN, but not too sure about the lack of Alan Moore. Yeah. Anyway, feel free to gab it up, I'm off to grab back that Best Publisher @$$ie Rock-me Amodeo presented to Marvel Comics.