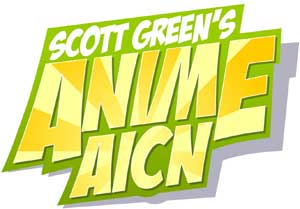 Logo handmade by
Bannister
Column by
Scott Green
Anime Spotlight: Phoenix Volume 1: Persistence of Time Released by Anime Works
There is a weight and expectation associated with anime adaptations of Osamu Tezuka's manga, especially ones that the creator valued as highly as his work of layered ambitions, Phoenix. The "God of Manga" used it to experiment, both with the medium and with patterns of human behavior. An effort to thoughtfully transition Tezuka's stories is demonstrated in the Phoenix anime, and the results are solid, both ideologically, and in the elements of storytelling. Significant concerns are not simply invoked. It actually makes statements rather than just cast out a line, hoping to snag significance or mistake a poorly defined philosophy for ambiguity. It's not Bergman or Kurosawa, but it does mix accessible, compelling plot with a discussion of human fundamentals. Phoenix director Ryousuke Takahashi is best known for creating "real robot" anime series, in which the war machines on screen bow to the laws of physics and design constrains. Rather than the colorful "super robot" power-totems, "real robots" featured utilitarian, often boxy designs, and within the context of their anime, they were generally mass produced weapons Specifically, Takahashi's name is tied to Armored Trooper Votoms, a classic 1983 sci-fi anime where a veteran soldier continued to fight for his own survival. Following similar themes and modes of story telling, Takahashi preceded Votoms with Fang of Sun Dougram, and followed it with Gasaraki, Blue Gender, and recently the photojournalism framed Flag. Other looks at war in his volume of work include the adaptations of Leiji Matsumoto's The Cockpit and Kaiji Kawaguchi's Silent Service. Yet, he hasn't strictly been a torchbearer for "real robots" and war anime. He wrote super robot tribute GaoGaiGar, the magic girl meets Little Red Riding Hood girl's Akazukin Chacha, and samurai send-up Carried by the Wind: Tsukikage Ran. In the case of Phoenix, Takahashi produces a palpably reverent adaptation of Osamu Tezuka's self-described "life's work." The widely respected innovator of manga and anime labored on Phoenix between 1956 and 1989 before his death tragically curtailed his final vision of the opus. Its twelve entries alternated between working forward from the beginning of human history and backwards from the end. (There's a few more if you count short ancillaries like the stage-play on manga Robe of Feathers, and prototype/side steps like The Phoenix: "Egypt, Greece, and Rome" and the Manga Shonen version of Phoenix: Dawn.) Each entry functioned as an epic or an intricate story on its own. Themes were developed and enhanced between the self-contained works, but cast also passed between them, either revisiting characters in other stages of their lives, or, more frequently, through reincarnation. The spoke of this Buddhist wheal is the phoenix, the mythical bird who is eternally being reborn in fire, whose blood reputedly restores youth or grants immortality. The superficial irony of Phoenix is that its emblem is a quaintly cartoonish chicken/peacock. Divorced from Tezuka's history of injecting serious themes into cute, abstract designs or his specific intentions here, the fire-bird looks as not have quite the same cinematic echoes that the manga demonstrated. Phoenix radically shifts the nature of its narrative for Resurrection. The sprawling historical epic contracts into a high concept sci-fi, set in enclosed spaces. Its core premise remains unchanged in the adaptation: a young man is revived from the brink of death by advanced, experimental science. Like the manga, in his new lease on life, Leona's brain has been re-wired such that he sees humans as animated, inorganic masses and robots as living, near-human beings. Unlike the manga, rather than a young man killed in a traffic accident, Leona is a researcher, tracking the phoenix as Earth suffocates under the effects of war and pollution. While Tezuka utilized well formed storytelling in the historical captures of Phoenix, the future, sci-fi phased had a distinct tendency to be experimental. Tezuka appeared to allow the narratives to push further beyond the typical structure of manga. Many were either intentionally convoluted (Nostalgia) or reflected the internal perspective of the characters (Universe). As a result, they weren't as aesthetically tidy as the historical chapters. Resurrection has the difficulty that it is dealing with a protagonist who does not see objective reality. And, it is difficult the back its hero. Ostensibly, the anime seems to be setting the character in the mold of an amnesiac who is a better person than the one he was before losing his memory. However, if he was a flawed, possibly unprincipled before the critical incident, afterwards, he's strictly stressed, at whit's end. With an easily forecast tragic ending, Resurrection does not seem to be progressing in a direction that is as involving as Dawn's. Nor are the techniques employed to tell the story as intriguing in anime as they were in manga. Resurrection is essentially a "see beneath the skin" parable with Astro Boy like usage of robots as a metaphor for race or oppressed classes. A key factor in the manga's effectiveness was the severe turn its events took. Because the anime opens with humanity in apocalyptic dire straits, it doesn't seem like it has the same capacity to allow events to turn for the worse. As moving and sorrowful as some of the scenes are, it doesn't smooth out problems caused by its transparent agenda and under-justified lead. The design traits of modern anime in particular doesn't look like Tezuka's work, but Tezuka's work looks like anime. Tezuka famously compared his range of cartoonish design to a troupe of actors, and that sentiment rings true in how he utilized them. The composition and impression of motion in how he managed his pages demonstrated how he worked with the subjects like film director or in a few noticeable cases, a stage director. Takahashi pays tribute to Tezuka by animating a precisely crafted adaptation. Given the character design, Phoenix is unmistakably "Tezuka," but, even in its re-creation of the manga's iconic scenes, there is little to suggest that the anime studied the manga, then went about producing the exact same effect. The adaptation is faithful, but tailored to the new medium rather than simply moving the existing images. It adjusts for the rhythm and palette of digital animation. Yet, the anime recalls Tezuka's approach in establishing a sense of performance in the character animation. The characters breathe, they sweat, there's small, subtle details in their posture or motion. The Phoenix anime is not a work of invention like the manga. It isn't testing new ground for the medium. It isn't trying to work out ideas for the first time. However, it is a well crafted work. It pays tribute to a great storyteller, and in turn, painstakingly recreates his stories in anime. If you are looking for anime with substance, Phoenix is essential viewing.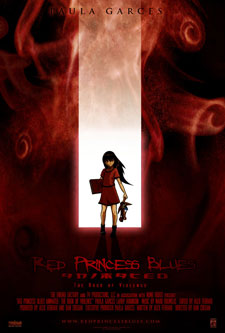 Animated Short Featuring Paula Garces

Artist and Creative Director of the Visual Effects House Numb Robot, Dan Cregan makes his directorial debut in Red Princess Blues Animated: The Book of Violence. Red Princess Blues Animated: The Book of Violence is an animated short film prequel to Alex Ferrari's upcoming feature film Red Princess Blues starring the Paula Garces (Harold and Kumar 1 & 2, The Shield, Man of the House) .

A trailer can be seen here

Upcoming Dark Horse

BERSERK VOLUME 23 KENTARO MIURA (W/A) on sale May 28 $13.95

BLOOD+ VOLUME 2 ASUKA KATSURA (W/A) on sale May 14 b&w, 208 pages $10.95 Filling in details and expanding upon events in the Blood+ mythos, the Blood+ manga series is the official adaptation and companion to the popular Blood+ anime series that's been running on Adult Swim -- and to the Dark Horse novels of the same name! In this manga volume, the deranged Charles takes center stage -- and traumatizes Riku, Saya's sweet, adoptive brother. With only vague moments and memories slowly returning to her after a year as an amnesiac, Saya's still not sure why the confident, one-armed Charles is tormenting her. What she does know is that she's determined to hold her own against a small army of blood-craving Chiropteran beasts when they threaten her and her loved ones. She also learns an important lesson in Chiropteran physiology! DOMO On sale Mar 26

Domo Photo Journal 5 1/2" x 8 1/2" spiral-bound journal 128 pages $9.99

Domo Self-Mailer Stationery Set 7 1/8" x 10" 40 pages 5 designs repeating eight times $8.99

Domo "flocked" Journal die-cut into the shape of Domo, brown fur is a flocked material that resembles fur 128 pages $14.99

Domo Sculpted Magnet 3" on color backing card $7.99

Domo Embroidered Patch 3" x 2.5" 3-color embroidery $4.99

EDEN: IT'S AN ENDLESS WORLD! VOLUME 10 HIROKI ENDO (W/A) on sale May 7 $12.95 By 2112, the Closure Virus has already wiped out about one-third of the world's population, but it mutates again to infect not only people and living creatures -- but inorganic matter as well. Dubbed the "Disclosure Virus," this new threat overruns several major cities, creating huge crystalline shapes with the matter it absorbs. With the world's economy also crumbling, the additional pressures send dominant political forces into desperate tailspins. Nomad sends agents to find Marihan, a minority leader who now holds important information about a terrorist network. Knife-wielding, fan-favorite Kenji is searching for her, too, feeling personally responsible for her safety -- and running headlong into danger. In Peru, Elijah is now several years older, and he gets involved in yet another Propater fiasco. With his sister still captured, Propater gives him one more reason to seek bloody vengeance when an old friend is murdered.

PATH OF THE ASSASSIN VOLUME 12: THREE FOOT BATTLE KAZUO KOIKE (W) and GOSEKI KOJIMA (A) on sale May 28 b&w, 320 pages $9.95 TPB, 5" x 7" The march continues as Japan's future shogun moves to the center of Japan to claim it as his own. But along the way he'll have to deal with intense and complicated politics, strange and sometimes perverted fighting techniques, and a rapidly changing samurai culture in old Japan. And often the history of Japan all rests on the wiles of shogun-to-be Ieyasu's clever and loyal ninja, Hattori Hanzo. Lone Wolf & Cub creators Kazuo Koike and Goseki Kojima are experts at weaving an intense and sometimes oddly sensational yarn, and this quasi-historical tale of a young man's rise to the top of samurai politics doesn't pull any punches.

SAMURAI CHAMPLOO MINI-BUST #1: MUGEN on sale 5" tall Hand-painted, limited-edition $49.99

STYLE SCHOOL VOLUME 3 VARIOUS (W/A) on sale May 14 FC, 176 pages $17.95 TPB, 8 7/8" x 10 1/8" Dark Horse's third volume of Japan's leading manga and anime instructional magazine is on the way! Learn the techniques of Japan's top manga and anime artists in Style School, showing step-by-step methods to help today's up-and-coming illustrators master the use of pen, brush, paint, marker, screen tones, computer modeling, and other tricks of the trade. Gain insight into the weapons of choice of today's top creators, especially those brands and tools that are so hard to find outside Japan. See for the first time the eye-popping art of tomorrow's manga and anime stars, with page after gorgeous page of spectacular visual imagination. And find out how to submit your work to be considered for publication in upcoming issues of SS Magazine in Japan!

Upcoming in Japan

From Anime News Network Trailers for Production I.G's Tokyo Marble Chocolate feature "Mata Aimasho" by hip hop artist Seamo and "Zenryoku Shonen" by the jazz pop duo Sukima Switch. Bootleg, a novel by British author Alex Shearer will adapted into anime and manga by Aiji Yamakawa series under the name Chocolate Underground. Yakushiji Ryoko no Kaiki Jikenbo (The Strange Case Files of Ryoko Yakushiji) by Yoshiki Tanaka (Legend of the Galactic Heroes, Sohryuden - Legend of the Dragon Kings, The Heroic Legend of Arslan) will be adapted into an anime TV series. A site for BONES' Soul Eater "cool & pop action fantasy" has gone online. The anime adapts Atsushi Ookubo's (Get Backers) manga about a school for death gods. A preview of Xebec and GENCO's "hard-boiled science fiction action" Mnemosyne - Mnemosyne no Musume-tachi is online. Toho will be releasing an theatical anime adapation of the Takuya Mitsuda baseball manga series Major in the wake of the upcoming,third anime series. An anime adapation of Eiichi Shimizu and Tomohiro Shimoguchi's "real battle action robot" Iron Linebarrels (Kurogane no Linebarrels) "real battle action robot" manga is scheduled for 2008. Total Promotion will be producing an anime adaptation of the Korean drama Winter Sonata. The anthology Jump Square will launch with a one-shot manga created by Gintama's Hideaki Sorachi. Other one-shots have been produced by Masanori Morita (Rokudenashi Blues) and Takeshi Obata (Hikaru no Go, Death Note). A two chapter Boys Over Flowers (Hana Yori Dango) side-story will run in Issue #3/4 of 2008 (on sale January 4) of Shueisha's Margaret magazine. A third live action series of Gokusen will premiere in April. The anime adaptation of the manga about a yakuza princess turned highscool teacher was released in North America by Media Blasters.

Conventions, Ect.

Japanese electronic/pop group tokyo pinsalocks will make their USA premiere at Anime Boston 2008 in Boston, MA, March 21-23, 2008. Phoenix Comicon announced that creator, writer and artist of Tokyopop's Dramacon Svetlana Chmakova and voice actor Greg Ayres will be in attendance at the January 25-27th convention at the Mesa Convention Center. The Society for the Promotion of Japanese Animation (SPJA) has launched a new site for Anime Expo 2008. Attendees, Press and Industry Members are also encouraged to view the video coverage site of the 2007 convention at www.AXBackstage.org.

Eyeshield 21 Animated Series To Debut On Toonami Jetstream

VIZ Media, LLC announced the launch of the football EYESHIELD 21 animated series on Toonami Jetstream. The first episode debuts on December 17th and will be available at ToonamiJetstream.com. Toonami Jetstream is a free service, supported by advertising that includes both streaming video ads and graphic ads.

Figures News

Art of War is selling painted kits of their Guts & Farnese statue, limited to 5 pieces limited worldwide. The 24cm(H) x 20cm (W) x 23 cm (D) piece will be sold with a customized name plat for 80,000 YEN.

Organic Hobby, Inc in conjunction with Kaiyodo will be releasing its new FRAÜLEIN REVOLTECH for the U.S. market, Fraülein Revoltech #002 Rin Tohsaka in February 2008 with a SRP of $24.00. Fraülein Revoltech Rin Tohsaka is a character from the Japanese visual novel and anime series Fate/Stay Night by TYPE-MOON. A model student and idol of Shiro's school, Rin is secretly a sorceress and Master in the Holy Grail The figure stands six and a half inches and has multiple articulation points. "Fraülein Revoltech in Tohsaka" comes equipped with "Replaceable" parts and accessories (such as 1 sword, 3 set of hands and 1 display base).

YamatoToysUSA is running a holiday sale that includes kkitousen, Megazone 23, and Armored Trooper Votoms figures. Cool Japanese Toys reviews the Super Robot Wars 1/144th Scale Model Kits from Kotobukiya

Buisness News

According to ICV2, FUNimation has announced that departed COO Ward Thomas has been replaced by Suncoast co-founder Gary A. Ross. Atari, Inc. announced that it settled its previously reported dispute with FUNimation Productions Ltd. with respect to an audit of amounts due to FUNimation under certain sublicense agreements and other matters. Under the terms of the settlement, Atari, Inc. paid to FUNimation $3.5 million, comprised of a cash payment of approximately $2.7 million and a reduction of $0.8 million in the amount of the recoupable royalty advance made to FUNimation. Atari, Inc. originally paid FUNimation $10 million in January 2004 to secure the exclusive interactive U.S. rights for the Dragon Ball Z franchise through January 2010. As previously disclosed in our Quarterly Report on Form 10-Q for the quarter ended September 30, 2007, the Company reserved the settlement as of September 30, 2007. Pokémon USA, Inc. announced Akira Chiba, president, will resign at the end of this year to pursue other opportunities.Mr. Chiba joined Pokémon USA in 2002 when the company's New York office was established, the brand's first corporate headquarters outside of Japan. Mr. Chiba will be replaced by Mr. Kenji Okubo, previously executive vice president and head of Pokémon USA's Seattle office, effective January 1, 2008. Mr. Okubo will manage Pokémon's operations in New York, Seattle and London, and will oversee all Pokémon initiatives outside of Japan including the Pokémon Trading Card Game, the long-running animated TV series, North American and European licensing and the recently launched, Pokémon Trading Figure Game. Prior to joining Pokémon USA in 2004, Mr. Okubo worked at The Pokémon Company headquarters in Tokyo, Japan as director of international business. Cartoon Network New Media has announced that Molly Chase has been named vice president and executive producer for Cartoon Network New Media. In her new role, Chase will oversee several Cartoon Network New Media departments including the design studio, technology group, game studio and the production team. She will be responsible for directing all aspects of production for the industry-leading Web sites CartoonNetwork.com, Awesomehouseparty.com and ToonamiJetstream.com. Her duties also will include allocating Cartoon Network New Media resources across multiple platforms and brands, and working closely with the network's marketing and public relations departments in setting messaging priorities. Cartoon Network New Media is responsible for the production of Cartoon Network's Web sites, which include CartoonNetwork.com, ToonamiJetstream.com, Awesomehouseparty.com and CartoonNetworkYa.com (the Spanish-language site for kids). Cartoon Network has announced that 2007 showed an increase in Adult Swim's ratings. On a month-by-month basis, Adult Swim claimed the #1 delivery of adults 18-34 from January-October, the #1 delivery of adults 18-24 and men 18-24 from January –November, and the #1 delivery of men 18-34 from January-August. Additionally, among adults 18-49 (a secondary demo target for the network), Adult Swim is projected to rank #3 for total day delivery among ad-supported basic cable networks. ADULT SWIM (Monday-Saturday, 11 p.m.-6 a.m.; Sunday, 10 p.m.-6 a.m.) Year-End 2007 vs. 2006:
Adults 18-34 delivery (433,000—new cable record) increased by 8%, and ratings (0.8) by 4%
Adults 18-24 delivery (259,000—new Adult Swim record) improved by 2%, and ratings (1.1) by 17%
Adults 18-49 delivery (553,000) grew by 7%, and ratings (0.5) were unchanged
Men 18-34 delivery (273,000—new cable record) expanded by 13%, and ratings (1.1) declined by 7%
Men 18-24 delivery (164,000—new Adult Swim record) jumped by 4%, and ratings (1.4) by 1%. Among Adult Swim's original programming, Seth Green's Robot Chicken topped the network's 2007 ratings and delivery charts, earning an average delivery of 600,000 adults 18-34. This was followed by Aqua Teen Hunger Force with an average 507,000 viewers, and Harvey Birdman, Attorney at Law with an average 457,000 viewers. Adult Swim's most-watched telecast in its history was achieved in 2007 on Aug. 28 with a telecast of Family Guy (11:30 p.m.), which attracted 1,629,000 adults 18-34. And the Sept. 16 telecast of Robot Chicken (11:30 p.m.) scored as Adult Swim's most-watched original telecast in network history among adults 18-34 (1,423,000) and adults 18-24 (866,000). Imagi International Holdings,has recieved an investiment of HK$406 million in convertible bonds, from firms including the Singapore-based Oxley Capital Group. The convertible bonds will be used to fund Astro Boy and Gatchaman. Anime News Network reports that Digima ceased operations the same day it published the last issue of Comic Gumbo, the first free weekly manga magazine in Japan. Via Anime on DVD, a breakdown of Bandai Visual's finances

More Theatrical Releases Planned From FUNimation

ToonZone reports FUNimation Entertainment announced that they are planning theatrical runs of Vexille, the 8th One Piece movie, The Desert Princess and the Pirates Adventures in Alabasta, and a movie based on the life of Genghis Khan entitled Genghis Khan -- To the Ends of the Earth and Sea. The runs will likely be limited to 100 screens nationwide.

FUNimation Voice Actor Passes Away

An Anime on DVD thread noted that Randy Tallman, an actor who had performed voice work for FUNimation passed away on November 20th at age 67.

Previews of 2008 Udon Releases

From UDON Entertainment, timed for Street Fighter's 20th anniversary (highlighted by the all-new Street Fighter IV video game and the upcoming live action movie) Street Fighter II Turbo from Chamba (Sinbad: Rogue of Mars)

Street Fighter Legends: Chun-Li by Artist Omar Dogan (Sakura, Robotech: The Shadow Chronicles)

Street Fighter III: New Generation from Joe Ng (Red Sonya: Sonya Goes East, Transformers, G.I. Joe VS Transformers)

Capcom Manga including Onimusha: Twilight of Desire and Devil Kings Basara Capcom art books including Onimusha Dawn of Dreams: Official Complete Works and the Darkstalkers Graphic File

Korean Manhwa Daring Students' Association

Dear Waltz

Reading Club

Evyione

Chronicles of the Grim Peddler

The Third Volume 5 Announced

Anime producer and distributor Right Stuf, Inc./Nozomi Entertainment and Kadokawa Pictures USA announced that the release of THE THIRD: THE GIRL WITH THE BLUE EYE, VOL. 5: SHADOWS OF THE PAST is scheduled for March 25, 2008. The volumes features episodes 17-20 of the 24 episode The Third – Aoi Hitomi no Shoujo, based upon a popular series of novels and short stories written by Ryou Hoshino and illustrated by Nao Goto. Spanning more than 16 volumes, the original fiction has appeared in Japan's Dragon Magazine since 1999, alongside the serialized novels that inspired the hit Full Metal Panic! and Slayers anime series. Additionally, a manga adaptation of The Third – which is scheduled for a 2008 North American release by TOKYOPOP – ran in Dragon Age magazine, home to the Full Metal Panic!, Slayers and Chrono Crusade manga. XEBEC (D.N.Angel, Negima!, Fafner, Elemental Gelade) produced the animation for the TV series, which ran on Japan's WOWOW satellite channel – known for original anime programming such as Cowboy Bebop, Ergo Proxy, The Big O and Paranoia Agent – from April through October of 2006. For downloads and more information about The Third: The Girl With the Blue Eye, and the story so far, visit the series site at www.thethirdanime.com

Award Nominations

Nominees for the Golden Globe's Animated film award include Bee Movie Ratatouille The Simpsons Movie Persepolis got the node for Foreign-language film, along with 4 Months, 3 Weeks and 2 Days, The Diving Bell and the Butterfly, The Kite Runner and Lust, Caution. Toon Zones runs down a list of links to article about the Oscar's animated film competition.

Live Action Casting

According to Twitch, Saki Fukuda has been cast as Ai the female lead in the Takashi Miike adaptation of the Tatsunoko anime Yattaman. The male lead, Gan will be played by Arashi member Sho Sakurai. According to Super Hero Hype, "Heroes" actress Eriko Tamura will play Mai in the live action Dragon Ball, and Joon Park will play Yamcha.

Aurora Launches Sites

Aurora Publishing, Inc., the fully-owned U.S. subsidiary Ohzora Publishing Co., has launched three new websites for their three manga imprints ­ Aurora, Luv Luv & Deux. Aurora plans to release a steady stream of Shojo/Josei Manga titles in 2008. Luv Luv, debuting in January 2008, is the Ladies Comics/Josei Manga imprint created by Aurora Publishing, Inc. Deux is the yaoi manga imprint from Aurora Publishing Inc.

Go! Comi Releases Aimee Major Steinberger's Japan Ai, Along With Unique Web Content

Go! Comi today announced the official release of "Japan Ai: A tall girl's adventures in Japan," a manga journal of an otaku trip to Japan by animator Aimee Major Steinberger ("The Simpsons," "Futurama"). The book records Steinberger's trip through the various worlds of Japanese pop culture: anime, manga, maid cafes, cosplay, all-female Takarazuka reviews, ball-jointed dolls, as well as traditional culture such as hot springs resorts and ancient shrines and temples. Go! Comi;s site features an "Omake" (bonus) area containing over 60 pages of drawings not included in the book, as well as dozens of photographs of the actual places, people and events depicted in the book. Explains Go! Comi Creative Director Audry Taylor: "Aimee's drawing style is so appealing that cutting the book down to a manageable length was incredibly painful. When we were done we realized that we had 60 pages of cut drawings – nearly a third of the book's length. We thought, why not make all this material available by putting it online? It's sort of like the bonus material on a DVD. We've got deleted scenes, plus behind the scenes making-of photos. To my knowledge, it's the first time something like this has been attempted in the field of graphic novels."

Murakami News

From Anime News Network Superflat pioneer Takashi Murakami will be featured in the Japanese edition of the Vogue fashion magazine. The February issue (on sale December 26) of Vogue Nippon will feature a DVD of an episode of Murakami's Kaikai & Kiki anime, which was shown as part of his recent © Murakami exhibit. "© MURAKAMI" will move from the Museum of Contemporary Art (MOCA) in Los Angeles to the Brooklyn Museum in New York City for an April 5-July 13 run. Later exhibitions include Museum für Moderne Kunst in Frankfurt, Germany from October 27, 2008 to January 4, 2009, and Guggenheim Museum Bilbao in Spain from February to May 2009.

Worth Checking Out

Anime News Network has posted an Open Letter from GDH International's Arthur Smith Frederick Schodt talks to Newsarama about the impact of Osamu Tezuka comics212 has photos of a visit to the Ghibli Museum Pop Culture Shock's Top Five Manga News Stories from NY Anime Fest 2007 Jog calls attention to the very under appreciated black comedy/horror manga Octopus Girl here ComiPress looks at the work of Suzuki Ryosei ComicsWorkReading looks at Death Note The Beat on Understanding Otaku GameTrailers has footage of the Afro Samurai game Castlevania cosplay here A report on the MIT "live action anime" performance "Madness at Mokuba." Comics212 on yaoi (a drama about homosexual relationships, generally written for a female audience) for gays. 1up on the history of Street Figher Japanator posted photosphoted anime magazine covers here Gundam Cosplay bar. Anime News Network has launched a subscription service. Via MangaBlog, Neil Cohn analyzes the language of manga.