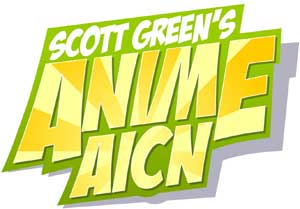 Logo handmade by
Bannister
Column by
Scott Green
Things have been crazy... hopefully some reviews will be posted later this week.
Ponyo News
Ghibli's site for Hayao Miyazaki's upcoming Ponyo on a Cliff. Employing a water color and pastel appearance, the movie will tell the story of a five year old boy and a goldfish princess who wishes to become a human. Ghibli World has again proven to be a great resource for information, including translations of various press conferences and media appearances. Most of the promotion has focused around the movie's music. The theme song being performed.
Bandai Ent to Distribute Girl Who Leapt
Bandai Entertainment has announced they will be working with Kadokawa Pictures USA to bring Mamoru Hosoda's beautifully animated, metaphysical sci-fi The Girl Who Leapt Through Time to the US. The companies intend to theatrically screen the film in limited markets before the DVD release.
Anime Greats on Batman
Wizard reports that a direct to dvd animated Batman anthology is in the work to coincide with Christopher Nolan's next Batman film. In addition of involvement from Bruce Timm, Batman: Gotham Knight will feature work from anime studios Madhouse (Ninja Sroll, The Girl Who Leapt Through Time, Paprika), Studio 4°C (TekkonKinkreet), and Production I.G (Ghost in the Shell). Director Satoshi Kon (Paprika) is likely to work on the project as well.
Code Geass Coming to US
The CLAMP designed, Sunrise animated mecha anime Code Geass: Lelouch of the Rebellion will be airing on Cartoon Network's Adult Swim block in Spring of 2008 with a special sneak peek of Episode 1 on the free streaming venue, Friday Night Fix. Code Geass: Lelouch of the Rebellion features animation studio Sunrise and a story by Goro Taniguchi (s-CRY-ed, Planetes) and Ichiro Okouchi (Eureka Seven, Planetes) and character designs by the legendary manga creators CLAMP. The story is a military drama with intricate plot lines and robotic action about the character Lelouch and his journey to overthrow a totalitarian regime that has invaded Japan. The anime, manga series and light novel. is being distributed in North America by Bandai Entertainment starting in Summer 2008. According to Anime News Network, the case includes Lelouch by Johnny Yong Bosch, CC by Kate Higgins, Suzaku by Yuri Lowenthal, and Shirley by Amy Kincaid. The Japanese edition of NewType magazine has indicated that a second season of Code Geass will start on Japanese TV in Spring 2008.
Previews
The site for Macross F shows more of the Spring 2008 anime. The Japanese site for Kite: Liberator, the Media Blasters co-produced sequel to Yasuomi Umetsu's action tragedy Kite has posted a trailer 1Mbps A clip that is packaged with the Japanese re-release of the original Kite can be seen here Production I.G has posted trailers of their Tokyo Marble Chocolate OVA here and here The Japanese site for the upcoming Persona -trinity soul-, a follow-up to the Shin Megami Tensei/Persona 3 Playstation 2 RPG has a trailer here A trailer for the sci-fi Mnemosyne can be seen here A trailer for Allison to Lillia, Madhouse's adaptation of the Keiichi Sigsawa (Kino's Journey) light novels can be seen here Trailers for the live action adaptation of chest pounding high school fighting series Sakigake!! Otoko Juku here and here On the North American side of business, ADV Films has posted a trailer of Project Blue Earth SOS here A trailer of Kobun Shizuno's Cross Climb Bandai Visual USA has launched a site for the upcoming release of Super Robot Wars: OG - Divine Wars, the TV series follow-up to the OVA, that features a trailer of the series. A trailer for the third episode of sci-fi OVA Freedom, which features design work by Akira's Katsuhiro Otomo can be seen Bandai Visual's here. A new gift set of the first three episodes, released on hybrid DVD/HD DVD disc and a Takeru & Vehicle figure is selling for $150 here MediaBlasters notes that a trailer for the live action film THE MACHINE GIRL is online here. Danny Choo has more media here Warner Video has launched a Justice League: New Frontier site. The animated film will be released on February 26th in a single disc edition ( $19.98 ) and a two disc special edition ($24.98 )
Genshiken 2 Licensed
At the New York Anime Festival, MediaBlasters announced that their Anime Works label will be releasing the second series based on geek comedy Genshiken in North America. The series follows the later adventures of the Society for the Study of Modern Visual Culture, a college club for anime/manga/video game fans, as news member join and older members graduate. Unlike the first Genshiken series, which was animated by Palm Studio (Tree of Palme, the 2004 Tetsujin 28th), Genshiken 2 was animated by ARMS, the animators of Kite, Elfen Lied, and a number of pornographic titles.
Go! Comi Announces New Manga Licenses
North American manga localizer/distributor Go Comi! announced that new licenses that the company will be distributing include Bogle by Shino Taira and Yuko Ichiju Kurogane Communication by Tomomasa Takuma Song of the Hanging Sky by Toriko Gin Three in Love by Shioko Mizuki Ultimate Venus by Takako Shigematsu Yggdrasil by Lay Mutsukia
More Gekiga From D&Q
Drawn and Quarterly has announced that they will be releasing the third volume of gekiga pioneer Yoshihiro Tatsumi's bleak work in May, entitled "Good", and featuring his work created between 1971 and 1972.
Planned Del Rey Releases
Del Rey has announced that releases include manga titles Papillon by Miwa Ueda Kamichama Karin -chu- by Koge Donbo Gankutsuou by Maeda & Arihara Yura Mao-chan by Ran & Akamatsu Ken Prose releases include XXXHOLiC short story and Kubikiri Cycle by NisiOisin, and light novel Zaregoto
Anime in HD
Satoshi Kon's Perfect Blue is scheduled to be released on Blu-ray in Japan on February 22 Appleseed: Ex Machina will be released on Blu Ray and HD DVD in North America on March 11th. Anime on DVD notes that that FUNimation responded to questions about releasing further Blu ray titles, "we haven't announced more, but with the way [Dragon Ball Z: Broly Double Feature] is trending,... probably more will come out.. its definitely doing well for us."
Upcoming in Japan
Broccoli notes on their blog that a live action adaptation of Juvenile Orion is in the works. Juvenile Orion is a bishonen (cute guy) spin-off of the Aquarian Age collectable card game/multi-media franchise Anime News Network, Moegaku*5, a hybrid anime/live-action television series based on the Moegaku language-learning software, will premiere on Japanese satellite channel BS-Fuji on January 14. Aya Hirano (The Melancholy of Haruhi Suzumiya's Haruhi, Lucky Star's Konata) will play a new character named Megami-sama ("Goddess"). The series will air every weekday from 5:00 to 5:15 p.m. and cover a different language each day (Monday: English, Tuesday: Korean, Wednesday: Spanish, Thursday: Chinese, Friday: French).
Lucky Stars Cast
Anime on DVD reports that the English language dub cast for cute girls/geek Lucky Star will be Konata Izumi - Wendee Lee Tsukasa Hiiragi - Michelle Ruff Kagami Hiiragi - Kari Wahlgren Miyuki Takara - Karen Strassman Akira - Stephanie Sheh Minoru - Sam Regal Kuroi-sensei - Kate Higgins The comedy will be released across 6 volumes in a format like the one used for the Melochology of Haruhi Suzumiya
Upcoming in Japan
AnimeNation reports Gekkan Shonen Gan Gan Magazine confirms that Bones will animate a TV series adaptation of Atsushi Ookubo's Soul Eater manga series, directed by Takuya Igarashi. The site for the Production I.G anime adaptation of the light novel series Toshokan Sensou has gone online
Buso Renkin Collection
VIZ Media has announced that Buso Renkin, the anime adaptation of Nobuhiro Watsuki's (Rurouni Kenshin) alchemy, action manga will be release is a 13 episode set. The collection is schedule to release on April 29, 2008, priced at $49.98
Anime Industry Divorces
From Anime News Network: Voice actress Minami Takayama (Detective Conan's Conan, Kiki's Delivery Service's Kiki and Ursula) and manga creator Gosho Aoyama (Detective Conan/Case Closed) have divorced. The pair married in 2005. Sankei Sports learned that Kouichi Yamadera (Cowboy Bebop's Spike, Donald Duck's Japanese voice) and Mika Kanai (Galaxy Angel's Vanilla) have been divorced, actually since 2006.
Figures News
Yamato USA is adding to their Ikkitousen line with Ryofu Housen, 1/7 Special Color Version. The Special Color Version is limited to 300 pieces in North America, and available exclusively through Yamato USA's Online Shop at www.YamatoToysUSA.com for $55 (regularly $68) now through December 31. Cool Japanese Toys has photos of upcoming Revoltech figures, scheduled for Japanese release, including a Hokuto no Ken/ Fist of the North Star line the continuing Fraulein line with Rei Ayanami (Evangelion, scheduled for January) Rin Tosaka (Fate/stay night, scheduled for February) Soryu Asuka Langley (Evangelion, scheduled for March) Pocco (Sweet Dreams, scheduled for April) Haruka Amami (The Idol Master, scheduled for May) Ami Futami (The Idol Master, scheduled for June) Katsuhisa Yamaguchi designed mecha release February - Black Ox and Griffon [Aqua Unit Equipped] March - Transformers Hot Rodimus and Starscream April - Doko Demo Issho's Jun and Full Metal Panic's Laevatein May Doko Demo Issho's Suzuki and Gurren Lagann Kaiyodo's ASSEMBLE BORG line can be seen here and here Bandai's New Movie Realization EVA 01 can be seen here The site also reviews Art of War Guts, The Black Swordsman PVC Statue here Via Clockwork Machina, a PC controlled mini Tachikoma On a released note, via Kotaku Cliffy B's (Gears of War) collection
Tor/Seven Seas to Release Afro Samurai
Tor Books has formed a new manga imprint with Seven Seas Entertainment, LLC, where both companies will work together to jointly acquire and co-publish manga series, light novels, and other fiction. Beginning with books scheduled for publication in early 2008, Tor will also be distributing new Seven Seas titles every month, under the Seven Seas imprint. The light novel line will launch in March 2008 with Ballad of a Shinigami, Pita-Ten, and Strawberry Panic. In August 2008, Tor and Seven Seas will publish their first collaborative venture under the Tor/Seven Seas imprint, the manga Afro Samurai, written and illustrated by Takashi Okazaki. Afro Samurai—created in Japan but releasing here in the US for the first time—was the basis for the popular Spike TV anime series that premiered in 2007 and featured the voices of Samuel L. Jackson, Ron Perlman, and Kelly Hu. The publication of Afro Samurai will kick off a multi-platform promotional campaign, including an Afro Samurai video game by Namco and the launch of Spike TV's second Afro Samurai season, both slated for fall 2008.
ADV's Devil May Cry Plans
ADV announced Volume one of Madhouse Studios's Devil May Cry: The Animated Series will hit store shelves on February 5, the same day that Capcom's Devil May Cry 4 video game is released for the Playstation and Xbox 360 game systems. Capcom is also releasing a special Devil May Cry 4 Collector's Edition on February 5, including both Capcom's new video game and the first volume of ADV's anime series. The Collectors Edition sports an attractive Steelbook case holding the game, the anime DVD, and a bonus DVD including a "making of" feature on the new game and many other cool game-related extras. Fans purchasing the Devil May Cry 4 Collector's Edition will be able to enter their address at the ADV website to receive a volume 1 DVD case plus a coupon for $5 off volume 2 with the limited edition anime Collectors Box. Synopsis: His name is Dante. Half demon and half human, he is charged with ridding the world of the demons that plague it…for the right price. The doors to his business, Devil May Cry, are always open to those with money in pocket, and occasionally to some without. Dante is approached by a man named Morrison to deliver a young heiress Patty to her inheritance. He thinks it's a job not worthy of his time – that is, until a group of demons intent on killing Patty crash the party. With guns drawn and sword ready by his side, Dante will have to mow down the opposition to delivery the mark and discover just who is behind the series of attacks. It's only the beginning for this iconic character, as familiar faces and foes test their mettle against the crew of the Devil May Cry. Volume 1 of 3 will be released for $26.96
TOKYOPOP To Translate The Gothic & Lolita Bible
TOKYOPOP will be releasing the Gothic & Lolita Bible, a quarterly mook (magazine/book hybrid) that is a combination fashion magazine, culture guide, and art book. A translation will be released in Februar 2007, featuring an extensive guide to Gothic and Lolita fashion, as well as behind-the-scenes interviews with top Lolita fashionistas, including Doll creator Mitsukazu Mihara and J-pop princess Nana Kitade. Primarily devoted to the season's fashions, the Gothic & Lolita Bible dedicates full-color spreads to new wares by Japanese designers, and the U.S. version also includes designs by burgeoning brands in the States. Styled photo shoots with Lolita celebrities such as Mana, formerly of Malice Mizer and currently of Moi Dix Mois, are a regular feature, as are articles on beauty products, hair and makeup styles, feminine or goth-looking products, recipes, music, movies, and books. Interviews with Lolita-loving illustrators, designers, novelists, musicians, and stylists are included in every issue, as is coverage of events where Lolitas commune.
New TOKYOPOP Manga
TOKYOPOP announced that the New York Anime Fest that the company will be releasing the manga version of Fate/stay night and Kyo Kara Maoh. The anime version of each was released in North America by Geneon.
Japanese Serialization News
From Anime News Network and ComiPress After a recent hiatus from March 2006 to October 2007, Issue #2 for 2008 (on sale December 10, 2007) of Shueisha's Weekly Shonen Jump magazine has announced that Yoshihiro Togashi's Hunter X Hunter adventure manga will go on hiatus in Japan again. Though the anthology says that the new break is planned, a the point at which the manga has been resumed has not been announced. Ai Yazawa has announced that their health has recovered and that she will be resuming her hit shoujo manga Nana. The manga has halt between August and November while Yazawa recovered from an illness and an operation. According to ComiPress, a new medical manga titled Saijou no Meii by Takashi Hashiguchi, mangaka of Yakitate!! Japan, will begin serialization in Weekly Shounen Sunday No.1 (12/5). Takeshi Obata (Death Note) has begun illustrating Hello Baby, written by Masanori Morita.
Vertical's Black Jack Plans
According to ICV2, Vertical will begin releasing Osamu Tezuka's medical adventure Black Jack starting in September 2008 with a 400 page hard cover collection for $24.95. The second book is scheduled for November. Each volume in the Vertical Black Jack series will contain 20 of the 20-page stories
Vuze To Distribute Anime
Vuze, a BitTorrent based content delivery service, has begin offering a the anime series NEKO Rahmen for worldwide download. The company will subtitle the series in English and make the entire 13-episode series available free through advertising support. NEKO Rahmen marks the first time that an online video platform has secured exclusive rights for anime content directly from the Japanese producers, with the option to create original subtitles in multiple languages. The series is based on Sonishi Kenji's manga. Vuze will offer subtitles in French, German and Spanish for NEKO Rahmen by early 2008.
Upcoming Viz Releases?
Anime on DVD forum posts indicate that SimonSays.com lists the following releases from VIZ Media. The publisher has yet to announced the license of listed titles Black Lagoon by Rei Hiroe (August 12, 2008) COWA!, by Akira Toriyama (July 1, 2008) Cat Eyed Boy, by Kazuo Umezu (June 10, 2008, $24.99 for the collection) Mixed Vegetables by Ayumi Komura (September 2, 2008) Wanted by Matsuri Hino (September 2, 2008) Sugar Princess: Skating To Win, Vol. 1 by Hisaya Nakajo (August 5, 2008) Gimmick! by Youzaburou Kanari and Kuroko Yabuguchi (June 10, 2008)
Street Fighter Releases
Manga Entertainment has released a Special Edition of Street Fighter Alpha and Street Fighter Alpha Generations for $29.97 These feature the story of the popular fighting game protagonist Ryu's trip to the dark side. Street Fighter Alpha Generations in particular features some interesting anime UDON Entertainment announced that in time for Street Fighter's 20th anniversary (highlighted by the all-new Street Fighter IV video game and the upcoming live action movie), the publisher plans to release three pulse-pounding Street Fighter comic book series in 2008. Street Fighter II Turbo will be a 12 issue maxi-series continuing the core story of UDON's Street Fighter universe. Featuring the dynamic and energetic artwork of Chamba (Sinbad: Rogue of Mars), this latest arc pits the World Warriors against each other in an epic tournament-style slugfest. Artist Omar Dogan (Sakura, Robotech: The Shadow Chronicles) follows up his run on the popular Sakura mini-series with Street Fighter Legends: Chun-Li. This new 4 issue mini-series focuses on a young Chun-Li, revealing how she grew up to become the world's most famous female fighter. Joe Ng (Red Sonya: Sonya Goes East, Transformers, G.I. Joe VS Transformers) brings his skilled line work to the pages of Street Fighter III: New Generation. This 6-issue series will not only explore the new characters introduced in the Street Fighter III video games, it will also show fans for the first time what classic characters like Guile, Sakura and others are up to during the SF3 era. The studio will also be expanding their successful Capcom Manga line with several new titles including Onimusha: Twilight of Desire and Devil Kings Basara. Fans can also look forward to more Capcom art books including Onimusha Dawn of Dreams: Official Complete Works and the Darkstalkers Graphic File. UDON is also kicking its Korean Manhwa line into high gear with new titles including Daring Students' Association Dear Waltz Reading Club Evyione Chronicles of the Grim Peddler.
Viz Sponsor's Ping Pong Tournament
VIZ Pictures has announced that it will join with Miami Dolphins' star defensive end, Jason Taylor, to support his annual charity table tennis event – JT's Ping Pong Smash 4 – taking place Monday, December 17 at the Seminole Hard Rock Live Arena in Hollywood, Florida. The popular event is a unique tournament in which athletes and celebrities are paired with charity donors for an exciting night of doubles ping pong matches. Other celebrities scheduled to attend and participate include Dolphins linebacker Zach Thomas and former Montreal Expos and Chicago Cubs great Andre Dawson. All proceeds raised will benefit the Jason Taylor Foundation, which supports South Florida's children in need. Earlier this year, VIZ Pictures released the critically acclaimed film PING PONG, from director Sori Fumihiko, which explores friendship and the nature of competition and rivalry against the backdrop of a middle school table tennis team. As part of its sponsorship, VIZ Pictures will supply PING PONG DVD's and posters for the gift bags to be given away to celebrities and tournament attendees.
Marvel Entertainment And Del Rey Manga Announce Collaboration
Marvel Entertainment and Del Rey Manga announced plans to publish two new manga series based on Marvel Entertainment's X-Men series. The manga will feature the X-Men team as a shôjo school. The first project, scripted by the husband-and-wife team of Raina Telgemeier (writer and illustrator of The Babysitter's Club graphic novels) and Dave Roman (creator of the comic Agnes Quill). Indonesian artist Anzu will illustrate the two-volume series, which will go on sale in Spring 2009. This series will feature Kitty Pryde, a mutant with phasing abilities as the only girl in the all-boys School for Gifted Youngster. A second manga series, to be published in Spring 2009, follows the adventures of Wolverine.
Anime on North American TV
According to B&C, The Independent Film Channel is adding the FUNimation distributed Witchblade, Speed Grapher and Hell Girl to its anime programming in 2008. This year, the network broadcast Samurai 7, Basilisk and Gunslinger Girl. According to Broadcasting and Cable, Anime has yielded ratings success for other cable networks, such as Cartoon Network and, most recently, NBC Universal's Sci Fi Channel. Sci Fi is looking to fold more anime into its primetime schedule after the "Animonday" block of late-night fare it debuted earlier this year brought it a ratings increase of 70% over last year with the men 18-34 demo. On Starz, film critic and author Richard Roeper will host a look at anime in special Anime: Drawing a Revolution Dec. 17. Animation Insider reviews it here Kanon, a romantic fantasy series from the creators of Air TV, will make its North American television debut December 28, on Anime Network. ADV will be releasing the first DVD of the anime on January 1, 2008 Animated by Kyoto Animation (Melancholy of Haruhi Suzumiya), Kanon first aired on Japanese television in 2006. Its whimsical plot follows the story of a boy who returns to finish high school in a town he called home seven years ago. While he realizes that much about the place is a blur, his memories are awakened bit by bit through his connections with five mysterious girls. Their antics take him back through the past, unraveling both the town's supernatural undertones and his own buried feelings.
Intermixi Announces New Tours
Intermixi Japan Tours has announced the dates for two independent tours of Japan for the spring season of 2008, the "Kame Hame Kansai" tour and the "Neo Tokyo" tour. Kame Hame Kansai (March 24-30) will visit Kyoto, Osaka and Tokyo. Neo-Tokyo (March 27-April 2) will visit Tokyo for the Tokyo Anime Fair. Packages include roundtrip airfare, hotel accommodation, transfers, sightseeing excursions, and admission to special events. Prices and additional information will be available at intermixi.com
Live Interest Cast in Dragon Ball
According to Hollywood Reporter, Jamie Chung (Samurai Girl) has been cast as Chi Chi in Fox's Dragonball adaptation. Stephen Chow will produce the film, which will feature Justin Chatwin as Goku and James Marsters Piccolo.
Kravitz on Death Note
Lenny Kravitz's "I'll Be Waiting" will be the theme song for Hideo Nakata's (Ring) Death Note spinoff film L change the WorLd. The film, featuring the detective antagonist of the popular manga/anime/movies will open in Japan on February 9th.
Yen Press Developing Maximum Ride Manga
Hachette Book Group USA announced today that its graphic novel imprint, Yen Press, has acquired world rights to a graphic edition of James Patterson's young adult series Maximum Ride. The #1 New York Times bestselling series about fourteen-year-old Maximum Ride and her "flock" will be adapted into 30-page manga installments for monthly inclusion in Yen Press' new manga anthology, Yen Plus. The first episode in Patterson's first Maximum Ride title, The Angel Experiment, appears in the inaugural Yen Plus issue scheduled to release in summer 2008. Available through subscription and at major bookstores and comic book retailers across the country, each 460-page issue of Yen Plus will cost $8.99 at retail.
Shonen Jump Features Nartuo Jump
VIZ Media, LLC (VIZ Media) has announced that the SHONEN JUMP Magazine, on sale December 4th, marks the 5th anniversary of the anthology, and it features a story/plot leap in most popular title, Naruto. The January issue of SHONEN JUMP, marks an important turn in the development of anime and manga's most popular series, the ninja epic, NARUTO. The serialized NARUTO returns to the magazine after a two-month hiatus with a whole new story arc that picks up two full years after the disappearance of one of the manga's central characters. SHONEN JUMP recently introduced the BLEACH manga to its lineup, and this issue features three full manga chapters, plus news on the related animation, which airs on Cartoon Network, and the card game. The issue will also feature a first look at the new One Piece: Unlimited Adventure video game for the Nintendo Wii from NAMCO BANDAI Games America and an interview with the directors of the long-running ONE PIECE animated series.
Special Ninja Nonsense Box Available
Right Stuf is evidently working hard to producing more empty art boxes/bonus material for those purchased Ninja Nonsense before their release of the complete set. This features
The Ninja Nonsense art box that is designed to house all four volumes of the series you already have
An exclusive mini-manga by series creator Ryoichi Koga.
An Onsokumaru squeeze toy.
Shinobu's headband Check it out here
Awards
The nominees have been announced for the 2007 Annie Award . The anime free list includes PRODUCTION CATEGORIES Best Animated Feature
Bee Movie – DreamWorks Animation
Persepolis – Sony Pictures Classics
Ratatouille – Pixar Animation Studios
Surf's Up – Sony Pictures Animation
The Simpsons Movie – Twentieth Century Fox Best Home Entertainment Production
Doctor Strange – MLG Productions
Futurama "Bender's Big Score" – The Curiosity Company in association with 20th Century Fox Television Best Animated Short Subject
Everything Will Be OK – Bitter Films
How to Hook Up Your Home Theater – Walt Disney Feature Animation
Shorty McShorts' Shorts "Mascot Prep" – Walt Disney Television Animation
The Chestnut Tree – Picnic Pictures
Your Friend the Rat – Pixar Animation Studios Best Animated Television Commercial
CVS Watering Can – Acme Filmworks
Esurance "Homeowners" – Wild Brain
Idaho Lottery: Twister – Acme Filmworks
Oregon Lottery "Alaska" – Laika/house
Power Shares Escape Average – Acme Filmworks Best Animated Television Production
Jane and the Dragon – Weta Productions Limited & Nelvana Limited
Creature Comforts America – Aardman Animations
Moral Orel – ShadowMachine
Robot Chicken Star Wars- ShadowMachine
Kim Possible – Walt Disney Television Animation Best Animated Television Production for Children
Chowder – Cartoon Network Studios
El Tigre – Nickelodeon
Little Einsteins – Disney Channel
Peep and the Big Wide World – Discovery Kids
The Backyardigans – Nickelodeon Best Animated Video Game
Avatar: The Last Airbender "The Burning Earth" – THQ, Inc.
Bee Movie Game – Activision
Ratatouille – THQ, Inc.
Transformers: The Game – Blur Studios INDIVIDUAL ACHIEVEMENT CATEGORIES Animated Effects
Gary Bruins – "Ratatouille" – Pixar Animation Studios
Deborah Carlson – "Surf's Up" – Sony Pictures Animation
Ryan Laney – "Spider-Man 3" – Sony Pictures Imageworks
James Mansfield – "How to Hook Up Your Home Theater" – Walt Disney Feature Animation
Jon Reisch – "Ratatouille" – Pixar Animation Studios Animation Production Artist
John Clark – "Surf's Up" – Sony Pictures Animation
Michael Isaak – "Bee Movie" – DreamWorks Animation
Hyun-Min Lee – "The Chestnut Tree" – Picnic Pictures
Natasha Liberman – "Growing Up Creepie "Creepie & The Candy Factory" – Taffy Entertainment LLC, Telegrael Teoranta, Discovery Communications Inc., SunWoo Entertainment, Peach Blossom Media
Jim Worthy – My Gym Partner's A Monkey "Meet the Spidermonkeys" – Cartoon Network Studios Character Animation in a Feature Production
Dave Hardin – "Surf's Up" – Sony Pictures Animation
Alan Hawkins – "Surf's Up" – Sony Pictures Animation
Michal Makarewicz – "Ratatouille" – Pixar Animation Studios Character Animation in a Television Production
Elizabeth Harvatine - Moral Orel "Nature 2" – ShadowMachine
Monica Kennedy – El Tigre – Nickelodeon
Eric Towner – Robot Chicken – ShadowMachine Character Design in an Animated Feature Production
Sylvain Deboissy – "Surf's Up" – Sony Pictures Animation
Carter Goodrich – "Ratatouille" – Pixar Animation Studios Character Design in an Animated Television Production
Jorge R. Gutierrez – El Tigre "Fistful of Collars" - Nickelodeon Directing in an Animated Feature Production
Brad Bird "Ratatouille" – Pixar Animation Studios
Ash Brannon & Chris Buck "Surf's Up" – Sony Pictures Animation
Chris Miller & Raman Hui – "Shrek The Third" – DreamWorks Animation
Vincent Paronnaud & Marjane Satrapi – "Persepolis" – Sony Pictures Classics
David Silverman – "The Simpsons Movie" – Twentieth Century Fox Directing in an Animated Television Production
Seth Green "Robot Chicken Star Wars" – ShadowMachine
David Hartman - Tigger & Pooh "Turtles Need for Speed" – Walt Disney Television Animation
Raymie Muzquiz - Squirrel Boy "Gumfight at the S'Okay Corral" – Cartoon Network Studios
Howy Parkins – The Emperor's New School "Emperor's New Musical" - Walt Disney Television Animation
Gary Trousdale "Shrek The Halls" – DreamWorks Animation Music in an Animated Feature Production
Olivier Bernet – "Persepolis" – Sony Pictures Classics
Danny Elfman, Rufus Wainwright & Rob Thomas – "Meet The Robinsons" – Walt Disney Feature Animation
Michael Giacchino – "Ratatouille" – Pixar Animation Studios
Rupert Gregson-Williams – "Bee Movie" – DreamWorks Animation
Amy Powers, Russ DeSalvo & Jeff Danna – "Disney Princess Enchanted Tales" – DisneyToon Studios/Walt Disney Video/Disney Enterprises, Inc. Music in an Animated Television Production
Alf Clausen & Michael Price – The Simpsons "Yokel Chords" – Gracie Films in association with 20th Century Fox
Evan Lurie, Robert Scull & Steven Bernstein – The Backyardigans "International Super Spy" – Nickelodeon
Drew Neumann & Gregory Hinde – Billy & Mandy's Big Boogey Adventure – Cartoon Network Studios
Shawn Patterson – El Tigre "Yellow Pantera" – Nickelodeon
James L. Venable & Jennifer Kes Remington – Foster's Home For Imaginary Friends "The Bloo Superdude and the Magic Potato Power" – Cartoon Network Studios Production Design in an Animated Feature Production
Doug Chiang – "Beowulf" – Paramount Pictures
Harley Jessup – "Ratatouille" – Pixar Animation Studios
Marcelo Vignali – "Surf's Up" – Sony Pictures Animation Storyboarding in an Animated Feature Production
Don Hall – 'Meet The Robinsons' – Walt Disney Feature Animation
Denise Koyama – "Surf's Up" – Sony Pictures Animation
Ted Mathot – "Ratatouille" – Pixar Animation Studios
Sean Song – "Teenage Mutant Ninja Turtles" – IMAGI Animation Studios
Nassos Vakalis – "Bee Movie" – DreamWorks Animation Storyboarding in an Animated Television Production
Ben Balistreri – Danny Phantom "Torrent of Terror" – Nickelodeon
Aldin Baroza – The Replacements "London Calling" – Walt Disney Television Animation
Dave Bennett – Tom and Jerry Tales – Warner Bros. Animation
Steve Fonti – Family Guy "No Chris Left Behind" – Fox TV Animation/Fuzzy Door Productions
Roy Meurin – My Friends Tigger and Pooh "Good Night to Pooh" – Walt Disney Television Animation Voice Acting in an Animated Feature Production
Janeane Garofalo – Voice of Collette – "Ratatouille" – Pixar Animation Studios
Ian Holm – Voice of Skinner – "Ratatouille" – Pixar Animation Studios
Julie Kavner – Voice of Marge Simpson – "The Simpsons Movie" – Twentieth Century Fox
Patton Oswalt – Voice of Remy – "Ratatouille" – Pixar Animation Studios
Patrick Warburton – Voice of Ken – "Bee Movie" – DreamWorks Animation Voice Acting in an Animated Television Production
Scott Adsit – Voice of Clay Puppington – "Moral Orel" – ShadowMachine
Madison Davenport – Voice of Sophianna – "Christmas is Here Again!" – Easy To Dream Entertainment
Tom Kenny – Voice of SpongeBob – SpongeBob SquarePants "Spy Buddies" – Nickelodeon
Eartha Kitt – Voice of Yzma – The Emperor's New School "Emperor's New Musical" – Walt Disney Television Animation
Eddie Murphy – Voice of Donkey – "Shrek The Halls" - DreamWorks Animation Writing in an Animated Feature Production
Brad Bird – "Ratatouille" – Pixar Animation Studios
James L. Brooks, Matt Groening, Al Jean, Ian Maxtone-Graham, George Meyer, David, Mirkin, Mike Reiss, Mike Scully, Matt Selman, John Swartzwelder & Jon Vitti – "The Simpsons Movie" – Twentieth Century Fox
Don Rhymer and Ash Brannon & Chris Buck & Christopher Jenkins – "Surf's Up" – Sony Pictures Animation
Marjane Satrapi & Vincent Paronnaud – "Persepolis" – Sony Pictures Classics Writing in an Animated Television Production
C.H. Greenblatt & William Reiss – Chowder "Burple Nurples" – Cartoon Network Studios
Gene Grillo – Back at the Barnyard "Cowman and Ratboy" – Nickelodeon
Ian Maxtone-Graham & Billy Kimball – The Simpsons "24 Minutes" – Gracie Films
Christopher Painter – Squirrel Boy "I Only Have Eye For You" – Cartoon Network Studios
Tom Sheppard – My Gym Partner's A Monkey "The Butt of the Jake" – Cartoon Network Studios WINSOR McCAY AWARD WINNERS (career contributions to the art of animation)
John Canemaker
Glen Keane
John Kricfalusi JUNE FORAY (significant and benevolent or charitable impact on the art and industry of animation)
Jerry Beck UB IWERKS (technical achievement)
Jonathan Gay, Gary Grossman and Robert Tatsumi – the creators of FLASH computer software SPECIAL ACHIEVEMENT ANNIE AWARD
Edwin R. Leonard - promoting the Linux open system for animation in animation studios and gaming software development CERTIFICATE OF MERIT
Marcus Adams
Joseph Batista
Steve Gattuso
Jon Reeves
Gemma Ross
Woodbury University The Japanese Ministry of Cultural Affairs has announced the winners of the 2007 (11th) Japan Media Arts Festival Awards. Anime News Network reports that the winners include Animation Division Grand Prize Summer Days with Coo (Keiichi Hara) Excellence Prize Ukkari Pénélope (Jun Takagi) Tengen Toppa Gurren-Lagann (Hiroyuki Imaishi) Denno Coil (Mitsuo Iso) "Franz Kafka's A Country Doctor" (Koji Yamamura) Encouragement Prize "ushi-nichi" (Hiroco Ichinose) Manga Division Grand Prize Mori No Asagao (Mamora Goda) Excellence Prize umimachi diary (Akimi Yoshida) Suzuki Sensei (Kenzi Taketomi) Takemitu Zamurai (Taiyo Matsumoto/Issei Eifuku) Pride (Yukari Ichijo) Encouragement Prize Tenken-sai (Yumiko Shirai) Young Adult Library Service Association graphic novel nominations are online here The I Castelli Animati animation festival in Rome also recognized Koji Yamamura's Franz Kafka's A Country Doctor with the Grand Prize in its international competition this year New York Magazi's 2007 Culture Awards named Osamu Tezuka's Apollo's Song and Fumiyo Kono's Town of Evening Calm, Country of Cherry Blossoms in their Best Comic category.
Worth Checking Out
AniPages Daily looks at the work of Korean animator Kang Won Young here and Denno Coil epilogue here Anime News Networks' coverage of the New York Anime Fest can be read here CPM has some interesting comments about their health and the Libre suit. MediaBlasters had comments about their plans for mecha anime. Apparently, there were some sparks at the ICv2 Conference on Anime and Manga regarding the comments of Al Kahn, CEO of 4Kids Entertainment. ANN's account is here. A Geek By Any Other Name live-blogged the event. Del Rey and The Beat have photo coverage. ComicBookResources recounts the translator roundtable here The Ninja Consultants podcast interviewed Jason Thompson, author of Manga; The Complete Guide. Speaking on Podcasts, translator Neil Nadelman is guest starring on Anime World Order for a conversation on bad anime. Episode 55 of Right Stuf's Anime Today podcast (find it on iTunes) spoke to actor, writer and director Mr. Peter Fernandez – the voice "Speed" and "Racer X" in the classic 1960s Speed Racer anime. Bandai Visual USA president Tatsunori Konno blogged a response to Justin Sevakis' open letter to the anime industry here About.Manga interviews Takehiko Inoue (Slam Dunk, Vagabond). Publisher's Weekly has the second part of their interview here. Publisher's Weekly also interview Faust's Katsushi Ota Imagi spoke to Tezuka scholar Frederik L. Schodt about Astro Boy in preparation for their CGI movie. Production I.G posted a Q&A with Chevalier d'Eon episode director Hideki Ito here and Takayuki Hamana (Sisters of Wellber) here Patrick Macias talks Otaku USA issue four here. Speaking of Macias, he evidently has a hand in doing work for Japanese fashion and department store Marui. MARUIONE.JP has launched Matt Alt on The Secret Lives of Kawaii Characters Let's Anime looks at Anime on CED (Capacitance Electronic Disc) here. From ComiPress, Kaze Shinobu: your guide to beyond spacetime, A natural high and George Akiyama: the unstoppable King of Trauma Manga Translations of the Otoko Ippiki Gurren-Lagann Drama CD at Otakuism Screenshots of the "Baka Rangers" gag from the live action version of Ken Akumatsu's Negima here Norton Fighter, the anti-virus sentai ToonZone looks at color in Avatar: The Last Airbender here and here Via Blog@Newsarma, Venture Bros. storyboards Comic212 looks at at Peanuts, Tintin, and Moomin merchandise in Japan 1up Interviews Naruto: Clash of Ninja Revolution Via Majoria's... hmm... Falcoon The King of Fighters Maximum Impact Regulation A art Also, a Empowered by Adam Warren is on Dark Horse Presents myspace.