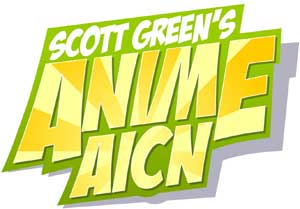 Logo handmade by
Bannister
Column by
Scott Green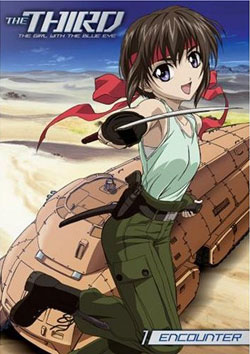 Anime Preview: The Third: Girl with the Blue Eye Based on English language dub of Volume 1 Distributed by The Right Stuf International Volume 1 to be released July 31st Official Site www.TheThirdAnime.com
If the elements showcased in its first episode are an accurate indication, the attraction to The Third is going to be how it deals with sci-fi threats through kinetic samurai style swordplay, coupled with mechanized warfare. Beyond the action, this series has all the markings of a worthy variation on a familiar theme. A past war has nuked the landscape, leaving harsh living conditions in its wake. While the majority of humanity scrapes by with less resources and less technology, a ruling (three eyed) elite manages the species from a high-tech stronghold. Presumably the young 'jack-of-all-trades" mercenary protagonist Honoka and her AI tank Bogey have some role to play preserving human destiny. Off the shelf, a post war desert waste is far from novel. The recent attention to "The Road" has been a reminder that post apocalyptic fiction does have something to offer. Still, given that the more exciting elements of the episode have been a bit giant insect 50's, a bit Mad Max/Fist of the North Star 80's and a bit of anime style mecha, the Third seems more interested in the genre elements than the implications. While there has been no solid, distinctive hook this brief distance into the anime, with a 24 episode run to work with, the light novel based series has some room to develop depth. The Xebec (Nadesico, Stellvia, Love Hina), animated series does leverage the landscape to produce some attractive visual flourishes. Illuminated under a night sky, dust and blowing sand or the tracks and wind driven furrows on the ground do have a haunting, lonely quality to them. Honoka appears to be the centerpiece of The Third. The setting might be inescapably notable, and undoubtedly the anime is going to go back and explain the particular's of its world, but far more time and speech has been dedicated to discussing Honoka's mindset. On the surface, she is a spunky professional. Given that Shinichi Yamaoka's character design isn't anything out of the ordinary for mainstream anime, and a bit simplistic at that, she has the casual attractiveness of a default level of idealized form. Beyond that, she is not expressly sexy or especially cute. While there is still some sense that the creators would rather be looking at (or originally, reading about) an easy on the eyes female character than a male one, for the most part, she seems like an action protagonist that just happens to be a young woman. On the other hand, it is slightly troubling that the episode did pull out the immensely tired joking treatment of a woman's breast size. A machine tech does not feel properly respected by Honoka, so he retorts by saying she has small breasts. She reacts with one of the episode's handful of big-faced cartoonish expressions. Not only does this bring gender into the equation when it isn't needed or wanted, it uses it to call back to a particularly bankrupt joke.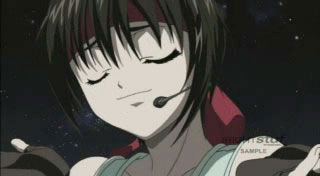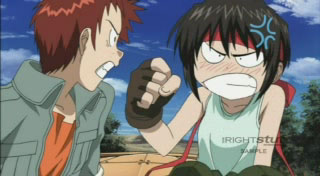 In that independent military woman capacity, she has the Meryl Silverburgh look: camos and sleeveless athletic top. More notably, she sports a not very hachimaki-esque head band that is part Rambo, part bow. Deducing that this has a plot function does not require Sherlock Holmes' skills. While the fact hasn't been addressed explicitly, it is pretty clear this band hides a third eye akin to the ones on the heads of the hidden puppet masters briefly seen in the episode's prologue. Despite some bothersome persistence, the episode is effective in establishing Honoka as a character that is both strong and sensitive. As a jack of all trades, she is not quite a warrior poet. She does appreciate art, but she is not an artist herself. And, she does quote a lot of poetry. This is an almost incessantly vocal anime. It is a show AND tell approach that calls director Jun Kamiya's self confidence into question. Exposition dialogue is frequently employed. When Honoka relates to Bogie why she must fight the giant desert spiders with a specifics strategy, the information is plainly evident without spelling it out and the speech itself should be known to all parties of the conversation. This is a competently animated work, and it is possible to read a character's state of mind from their physical disposition. The poetry is an interesting mechanism for providing additional depth. The twee narration isn't. Inserting flowery descriptions of Honoka's thoughts lowers her and the series itself by making the proceedings that much more syrupy. After a mission, curled up in a ball sleeping as Bogie drives through the wastes towards civilization on the horizon, a narrator chimes in with: She would do anything but take a human life. That was Honoka's policy. Her emotions were as numerous as the jobs she accepted. There were times when she took satisfaction in her work... And time when she did not. Even when there was an ache in her heart... Honoka left it alone... The way one waits for a wound to heal... In its own time Post "Stranger Than Fiction", that sort of omniscient narration is a bit laughable. Soon after, deep thought on the implications of killing spiders overstates a point a bit too.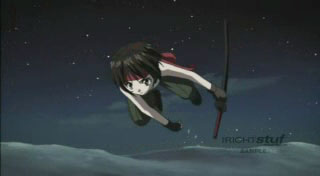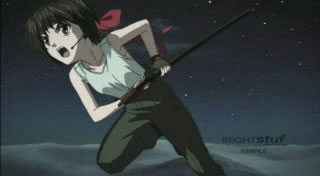 A tendency towards sentimentality is reinforced by the introduction of what seems to be a supporting character at the end of the episode. Honoka rescuing a guy with long blonde hair from giant ants after he wanders into the desert to watch fireflies is a fine gender role reversal. When he starts exuding preternatural calm, heals a bump on her head by laying on hands, and reveals that he clutched a firefly in his palm through the fight without crushing the insect, the preciousness is a bit too much. The demeanor pushes the action sci-fi into bubble-gum territory, not just because of the pop emotions, but because it is more than a bit indigestible.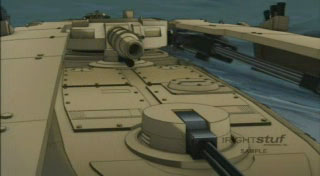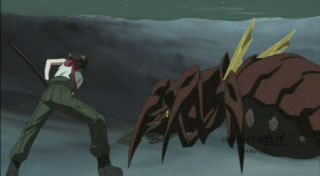 Honoka proves to be an exciting vehicle for Kawajiri style Ninja Scroll/anime samurai action. At its most minimalist, it offers flashes of light sword slashes, then as she sheaths her sword, a field erupts in green spider blood. More often, the action utilizes the character's sprightly frame for dynamic sequences of the swordswoman dashing over the desert sands, gymnastically vaulting over the bugs, and slashing the creatures on the way down. Bogie is used well, but sparingly. The CG tank is near seamlessly integrated into the 2D elements of the image. The beetle like crawler slowly transforms into battle mode, and a turret fires shells or a mini-gun fires bursts that hit giant anthropoids maybe feet away from Honoka. While the real feasibility is not entirely convincing, the anime demonstrates a welcome handle on military mecha. Designer Naohiro Washio balances armament, mechanism, and some graceful order to the arrangement, making the tank a promising presence in the anime. This episode demonstrates plenty of competence, but few outstanding selling points. The subject matter and elements are very conventional anime. Xebec has put some interesting twists on the familiar before. While the animation isn't especially specular here, the quality of sword work, and even the sentimentally does demonstrate some effort to see what can be derived from the elements that are present.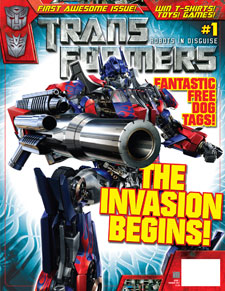 Transformers Preview Art
Titans will begin releasing a new Transforms UK comic starting on July 19th. The publisher has sent a pair of preview images from artist Geoff Senior.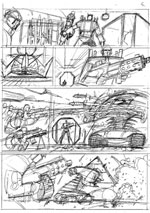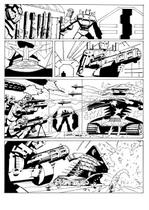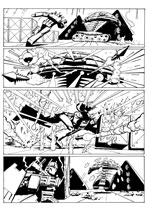 Hideyuki Kikuchi's Vampire Hunter D Website
Digital Manga Publishing has launched a site to promote their upcoming release of Hideyuki Kikuchi's Vampire Hunter D at Vampire-D.com. The site feature up to date information on the manga, scheduled for release November 2007, and bonus content for subscribers to an update newsletter.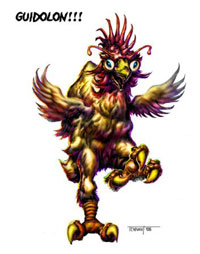 Kaiju Chicken YouTubed
Guidolon The Giant Space Chicken Director's Cut is now on YouTube For more information on the project, see www.guidolon.com