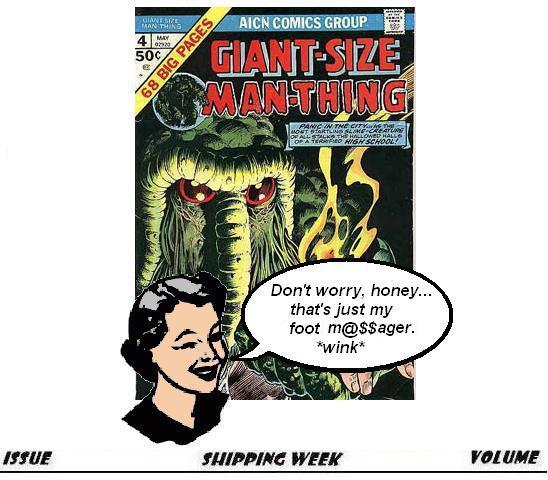 ---
The Pull List (Click title to go directly to the review) 28 DAYS LATER: THE AFTERMATH Contest & Review ALL STAR SUPERMAN #7 SPIDER-MAN & THE FANTASTIC FOUR #1 GREEN ARROW #73 HALF DEAD TPB A look at Wildstorm's FRIDAY THE 13th, A NIGHTMARE ON ELM STREET, and TEXAS CHAINSAW MASSACRE comics SHE-HULK #17 DETECTIVE COMICS #831 THE LONERS #1 WONDER WOMAN #7 CHEAP SHOTS!
---
Howdy Faithful Readers, Ambush Bug here from AICN Comics. Fox Atomic Comics is kicking off production of funny books with 28 DAYS LATER: THE AFTERMATH, an original graphic novel by Steve Niles. This book fills in the gaps between the film 28 DAYS LATER and the sequel set to be released next month. I'd like to give you noble readers the opportunity to win a copy of this very comic sent straight from @$$Hole HQ to your doorstep. But everything has its price.
See the GIANT SIZE MAN-THING header at the top of this column? I try to crank out a few of those headers every month or two, but The Bug can only do so much. So when Fox Atomic Comics dropped off a few extra copies of 28 DAYS LATER: THE AFTERMATH on my doorstep, I thought this would be a good opportunity to share the wealth and make the column look pretty spiffy as well.
Here's what you've gotta do. Think up a clever header image for the top of the column incorporating AICN Comics or the @$$Holes in some way. It can be original artwork or a manipulated comic book cover image (it doesn't have to be related to 28 DAYS LATER in any way). The top five submissions will receive their very own copy of 28 DAYS LATER: THE AFTERMATH and have their header appear at the top of the AICN Comics column. Send your submissions here. Winners will be announced in the next column.
Now, check out my review of the book to see what you're working for.
28 DAYS LATER: THE AFTERMATH #1
Wrtier: Steve Niles Artists: Dennis Calero, Diego Olmos, Ken Branck, & Nat Jones Publisher: Fox Atomic Comics Reviewer: Ambush Bug
Without a doubt, if it wasn't for the movie 28 DAYS LATER, there would be no comics like THE WALKING DEAD or ZOMBIES VS. ROBOTS or BLACK GAS or any of the other billion and one zombie comics out there today. It was a movie that took the genre seriously and propelled it back into the spotlight. Studio bigwigs were taken by surprise that a living dead movie could be done so well and rake in so much cash-ola. With the much anticipated sequel, 28 WEEKS LATER, coming to a theater near you next month, Fox Atomic Studios has released 28 DAYS LATER: THE AFTERMATH to fill in the holes between the two stories and offer a little backstory as well.
To begin with, this comic is very slickly produced with a cardstock cover with raised images. The 28 DAYS LATER logo makes the cover pop. This is a girthy 106 page comic featuring four full stories written by comic book horror-meister Steve Niles. As an added bonus, the script and writer's notes appear as an extra in the back of the book. The pages are of high quality. It seems like Fox is sparing no expense to make this book one of the best produced out there on the shelves.
So you may be saying, "OK, the book looks pretty, but is the story any good, @$$hole?"
And the answer is, "Yes."
Being a fan of the movie, I took great joy in following the Rage virus from conception to outbreak to full on contamination of the entire world. I was iffy about the origin story at first, knowing that in the past, these stories that fill in the gaps either have nothing really new to offer or squelch the mystique of the threat by over-explaining it. I am happy to say that this book does neither.
In "Development", we find out the reason why the scientists were futzing around with the Rage virus in the first place and why they decided to test it on monkeys. In "Outbreak", the story of the first victims of the virus is told as the monkey from the beginning of the movie escapes and spreads the disease. "Decimation" takes place during the movie 28 DAYS LATER, but tells a story from a new perspective, while the final chapter takes us beyond the end of the film and teases us with that will be showing up next month in theaters when 28 MONTHS LATER hits. I found all of these stories to be entertaining reads which add to the 28 DAYS LATER mythos rather than detract from it.
Steve Niles does a great job of not only filling in the holes between discovery of the virus to outbreak to 28 DAYS LATER and beyond, but adds new layers to the story. Any zombie story, at its core, is a tale of humanity. Niles does a great job of introducing new characters in each of these stories. At first these characters seem to stand alone, but I was delighted to see the characters show up in each others' stories. Paths cross, lives intersect, and fates entwine in this book. Although at times I have found that Niles seems to overextend himself as a comic book writer, trying to give his version of just about every horror property out there, I didn't see any of that strain with this story. Niles clearly loves this material and it shows in the extra effort he puts into this book.
Artwise we've got a winner too. Dennis Calero supplies the art for the first and last stories. His work reminds me of a gritty Charlie Adlard style crossed with a bit of Ben Templesmith. His sections set the dire tone of the book. Diego Olmos and Ken Branch provide a cleaner, more straightforward story, but this style matches the tone of the story which revolves around a family. This art in this story lulls you in with the its clean look and makes you feel comfortable, then yanks the rug right out from under you with the subject matter. Nat Jones has impressed me before with GIANT MONSTER and does a great job here as well providing a nicely paced action story with highly detailed corpses and splatter.
This is a solid first effort at comic book making by Fox Atomic Comics and a great issue on its own. As far as zombie comics go, 28 DAYS LATER: THE AFTERMATH is definitely ahead of the shambling, brain-eating pack.
---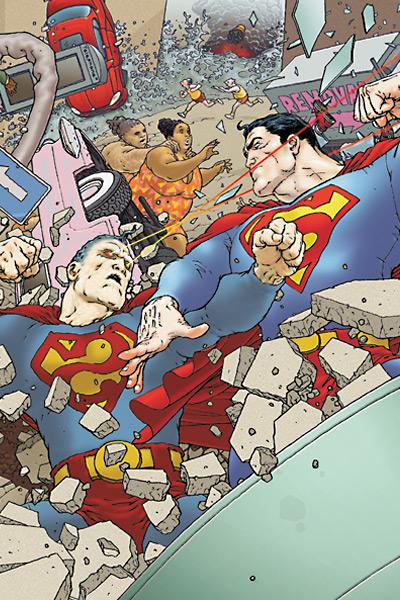 ALL STAR SUPERMAN #7
Writer: Grant Morrison Artists: Frank Quitely (pencils) and Jamie Grant (digital inks & colors) Publisher: DC Comics Reviewer: Bizarro Prof. Challenger
"Suppperman--me am no Bizarro! Me am be you friend!"
-- Bizarro No. 1
Hurm. Me am no reading this horrible comic and me hate it much. Me am wondering how come other Superman comics are so much better than this one. It am so dreadful me want to kill cats. Me am love cats.
Writer am Grant Morrison who am super-dumb. Him am writing Superman releasing Sun Eater but then greeted by happy Bizarros who am inviting him not visit tiny cube Bizarro World that am not floating towards Earth. Artist Frank Quitely am drawring boring two-page spread of that scene that so exciting me am asleep.
Awful characterization of super-smart sportscaster Steve Lombard who am not pumped full of steroids when he am faced with funny zombie-like baby Bizarros swarming Earth. Perry White not look Sicilian and Jimmy Olsen not clever at all when he am killing all his friends. Glorious look at how Earth not am but could be when Bizarros no am in charge. We hate our favorite restaurant lcdnolDaM's and scene with Bizarro Santa Claus not remind me at all of 2005 Christmas Episode of Dr. Who.
Bizarro love being beaten up by Superman and losing teeth. That am no his favorite fun time. Superman am so dumb he think of brilliant idea to destroy Earth and save all his friends. Now he am no happy stuck on Bizarro World where Superman am so happy he want to die. We no am care what happens to Superman now that he am on Bizarro World where everyone happy and normal.
Bizarro World no am interesting at all. It am have normal houses with normal impossible architecture and they am no burn furniture to keep cold under red cube sun. But my most hated moment come when Superman no am meeting one in every 5 billion Bizarros that am no perfect but disgustingly self-aware. Him am beyond happy and satisfied as the only insane being on a planet no am perfect and sane. Him am so happy to be sad. Him am known as Zibarro and him and Superman not similar at all. Me am no happy at all that there is second part to this story. Me hate it so much me want to wait for next issue to see what no happen.
What am going through DC Comics' mind to publish such wonderful crap? Don't they know me am only one no buying this comic? Me totally confused by how this series am won Eisner Award. It am so bad it make latest AQUAMAN seem worse. It not interesting at all how Quitely's art has gotten so much awfuller over last 7 issues that his Superman now better than ever. Whatever happens, Morrison should stop writing all comics because him am awful writer who completely misunderstand Bizarro so much me want to hug him. Him not a conundrum to me at all at how hot and cold he can be as writer. All me am no know is that he am doing a terrible job writing ALL STAR SUPERMAN and he am should be punished with a raise.
---

SPIDER-MAN & THE FANTASTIC FOUR #1 (of 4)
Writer: Jeff Parker Art: Mike Wieringo & Wade von Grawbadger Publisher: Marvel Comics Reviewer: Ambush Bug
Hear me now and believe me later, folks. Jeff Parker is going to be a big name in comics. He seems to be on a mission to save Old School Marvel. Writers Jeff Parker, Dan Slott, and Zeb Wells are the Holy Trinity at Marvel striking up a last ditch jihad to save us all from Marvel's current grim and hero-free editorial staff and philosophies (how's that for a mixed metaphor!?!). Parker has been turning in some pretty amazing stuff in MARVEL ADVENTURES: THE AVENGERS and AGENTS OF ATLAS, and although I wasn't thrilled with X-MEN: FIRST CLASS (mostly because of my complete distaste for mutants right now, not because of the writing), it is clear that Parker has a fondness for Old School Marvel. This issue seals it. It utilizes character and science in fun and imaginative ways and there's nary a whiff of CIVIL WAR awfulness present at all.
To start out, Parker writes a fun Peter Parker. It is great to see him written in this way. No black suit dreariness here, folks. This is the Spidey who quips like Conan O'Brien as he beats the stuffin' out of criminals' Egg McMuffins. That is, until the Impossible Man shows up.
That's right. I said Impossible Man. Marvel's Ambush Bug equivalent literally "POP!"'s up in this book and it is great to see writer Parker shift Peter Parker's personality to fit and interact with Impy in this story. Whereas Spidey is always the smartass frustrating his opponents all to hell whilst duking it out, Spidey is immediately placed into the straight man spot when the more illogical Impossible Man makes an appearance. This was a new way of showing Spidey's character and is a testament to Parker's writing ability. He not only understands the characters, he challenges what we know about the characters and plays that out in an entertaining manner.
As the title clearly states, the FF show up…or actually Spidey shows up on the FF's doorstep for help. Writer Parker once again shows his skill and understanding of all of the toys that Marvel has to offer. New subtle uses of Invisible Woman and the Human Torch's powers show that Parker has been paying attention through the years and has been thinking up new ways of highlighting those powers in ways that are fun and interesting.
The story itself is packed with goodness. This issue is brim-filled. There's the initial meeting of Spidey & Impy (which is so old school, but rich like the richest of pudding), the initial fight with the invading aliens (you know there had to be aliens), then the Human Torch and the Thing's tussle with said aliens (which is where the nicest part of the story happens).
One of the things that I used to love about Marvel is the fun science behind the stories--especially the FF stories. Yes, FF has always been about family, but like many of Marvel's earliest creations, that is just the tip of the iceberg when it comes to the wedding cake of layers these characters have (boy, I can't stay away from those mixed metaphors). The Four also represent the elements of the earth. Their very nature of power (earth/Ben, air/Sue, fire/Johnny, & water/Reed) show a scientific core. Old FF stories were abundant in kooky, fun science--new ways to throw the team into harm's way in a scientifically imaginative manner. Parker channels those old stories by coming up with a fairly new scenario: a race of aliens aren't here for domination; they want to merge with the entire human race to create a super-race. "The Herald" of this destruction uses some cool time powers too to ward off Ben and Johnny, and the carnage-laden fight between Ben, Johnny, and the alien must be seen to be believed. The action itself is representative of the FF's character, a detail that so few writers forget to incorporate. Without Reed and Sue's brains and common sense, Ben and Johnny cause more harm than good. Definitely a fun scene.
Mike Wieringo and Wade von Grawbadger provide some crisp clean art. This is like an old MARVEL TEAM-UP done right. It highlights the best parts of the characters involved and is filled with something new and fun, even for this crusty old reader. A few years ago, the @$$Holes touted Dan Slott's SPIDER-MAN & THE HUMAN TORCH as an instant classic. If this first issue is any indication, this miniseries is a worthy successor and proof that Jeff Parker needs more work at Marvel. Scratch that. At this point, Marvel NEEDS writers like Jeff Parker. This is Marvel the way it should be. In continuity. In character. It's the perfect book for both old schoolers and newbs who may be looking forward to the release of the SPIDER-MAN and FANTASTIC FOUR movies this year, but aren't familiar with comics. If I had a kid who wanted to read Marvel stories that matter, this is a book that I would use to show him how cool those stories can be.
---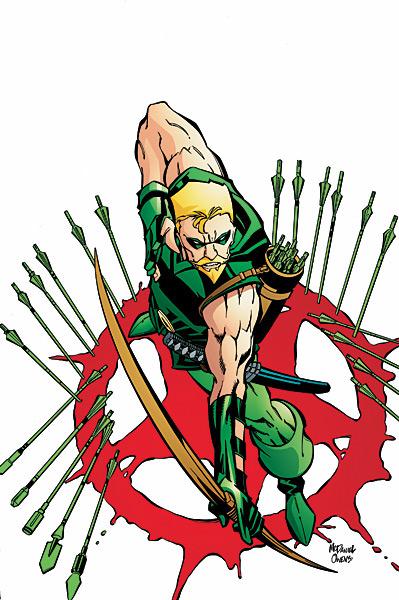 GREEN ARROW #73
Writer: Judd Winick Penciler: Scott McDaniel Inker: Andy Owens Publisher: DC Comics Reviewer: Jinxo
Okay, to review GREEN ARROW #73 when just last month I reviewed #72 and when the comic itself has been cancelled anyway might seem, well, stupid. But having read it, I just couldn't help myself.
Thinking about this issue I kept flashing to an episode of MYSTERY SCIENCE THEATER 3000 (if you think that's already a bad sign…well, yeah). Specifically the episode "Attack Of The Eye Creatures" where after the film Joel and the bots went through pointing out the million obvious and horrible flaws in the film, such as most of the eye monsters' costumes being heads only and being dressed in dark clothes and sneakers from the neck down. As each inexcusable flaw was counted off they would repeat that this was more proof from the filmmakers that "they just didn't care."
With GREEN ARROW cancelled, issue #73 is filled with proof that "they just didn't care"--in particular in the art. The book opens with Green Arrow's son Connor throwing down with a bad guy. Page 3 is a full page image with Connor in the foreground and the villain in the back. Connor should be bigger. Only…he's not. He's teeny and the villain is huge. The villain is so big I actually thought maybe the bad guy had growth powers or something. But then it becomes very clear he doesn't. There is also weird perspective going on too. We are looking down on Connor a bit but the villain behind him we are looking up at from a very low POV. It is just…weird. Sign one that they just didn't care.
On with the fight. Midway through the fight, more baddies drive up in a car and attack. Then Green Arrow shows up. So that makes two good guys and three bad guys. Or…no… wait…Arrow and son are hugging. So I guess…the bad guys just left? Oh wait, yes, we do have the shot of a car driving away. But the other guy is still…nope, he's gone. He's gone? What the…?!?! Okay, uhhhh, apparently he jumped in the car with his friends? Only we didn't see that at all. You kind of have to figure it out. And then Arrow and Connor just let them get away because they're too busy hugging and, much like everyone else involved, they just didn't care.
After that things actually start to make more sense because after that there isn't any action to confuse things. Allll talking. Usually that would be bad, usually don't like comics to be heavy on the talking and light on the action. But with action like the start of this issue, yay, talking!
Now here is a weird bit of luck. With the end coming, Winick just not caring actually kinda helps. He's not setting up and setting up for later. He just wants to get in, throw on the page everything he needs to so he can get to "The End" and get out. And that actually works. That's what he needed to be doing all along. If he had written all the past issues like each plot would be the last and like he just didn't care, we might have had a better and wilder ride all along. Seriously, Judd, Mr. Winick, or if I may address you as such, Bubbles, more writing in the future like this. Write like ya just don't care.
But then, just when I've recovered from the confus-a-thon that opened the issue and I'm on track with the writing, bam, I get to the final splash page and I'm slapped in the face again by the fact that…they just didn't care. Again with the wonky crazy perspective. In this case it's just bad forced perspective but it's forced pretty hard. Forced at gunpoint even. One character up high, the others a little lower. Looking at it I thought, okay, the big figure must be a twelve inch action figure and the other three lower down must be the Star Wars sized action figures. Then I had an image in my head of the artist actually setting up action figures as models so he could draw the shot. Killed any sort of positive vibe for the issue I had remotely salvaged. I too just didn't…well, you know.
---

HALF DEAD TPB
Writers: Barb Lien-Cooper and Park Cooper Artist: Jimmy Bott Publisher: Marvel/Dabel Brothers Reviewer: Dan Grendell
"Actually, under British law, the half dead are considered to be deceased. And the dead don't have any rights to violate."
This bit of coolness slipped past my radar initially. The recent glut of horror comics of all types has made it easy to miss some of the better ones if you're like me and feeling kind of overloaded, but I'm glad a friend saw fit to let me know what I was missing. The creators have put together a solid story here, one that takes standard vampire tropes and mixes them with looks at terrorism and fear and bigotry.
The basic idea of HALF DEAD is that there have always been vampires, but that until the Iron Curtain fell they were stuck in Eastern Europe. After that, they migrated ever westward, finally landing in Great Britain, where they became a big enough problem that there was a secret war with them. As part of that war's peace agreement, the vampires agreed to subsist on blood given them by the government and most were rendered sterile in order to work for the government. Only the blood the vampires are given is tainted, and they aren't happy...
To retaliate, vampire scientists have created a gas that spreads the vampire toxin. Any normal human exposed to it is converted into what is known as half dead, a vampire half as powerful as normal but twice as angry. Now vampire terrorists have begun releasing the gas on subways, in crowded buildings, anywhere they think it will do damage. Romany Petrovna is a ballerina who gets caught in the gas and caught up in the fight, recruited by Britain's Bureau of Parahuman and Supernatural Affairs to fight other vampires. There's just one problem--PASA members hate vampires, including Romany, and they aren't afraid to show it.
Inviting comparisons as interesting as HELLSING, HALF DEAD is a cool story with dynamic characters. The Coopers use vampires to tell a very modern story about terrorism, betrayal, and fear and hatred overwhelming the rights of the individual. If I had any complaint, it would be that the hatred seems almost too overpowering--I actually have a hard time seeing Romany or her main supporter Ian working with PASA instead of going rogue. Artist Bott does a good job of delivering action, and his storytelling is strong, though at times I had a hard time telling what was going on during fast-moving fight scenes. His facial expressions could stand improvement as well, as it could sometimes be difficult to see what exactly characters were feeling.
Overall, HALF DEAD is a strong entry into the horror genre, though the horror comes less from the vampires and more from the twisted people that hunt them. It's a good reminder that there isn't always a good and bad guy; sometimes it's a bad and a worse guy.
---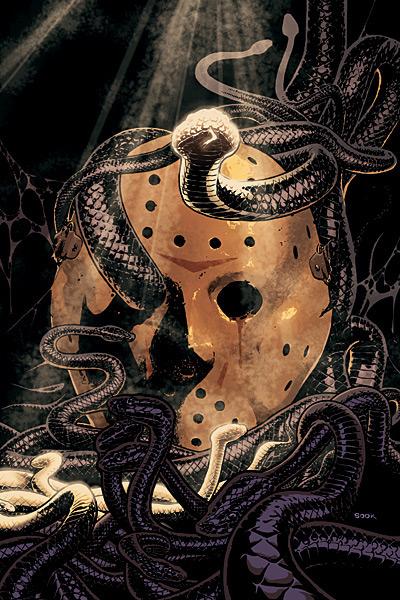 A NIGHTMARE ON ELM STREET
Writer: Chuck Dixon Art: Kevin West & Bob Almond
TEXAS CHAINSAW MASSACRE
Writers: Dan Abnett & Andy Lanning Art: Wes Craig
FRIDAY THE 13th
Writer: Jimmy Palmiotti & Justin Gray Art: Adam Archer & Peter Guzman Publisher: DC WildStorm Reviewer: Ambush Bug
Your feelings about slasher films are going to be the final indicator of whether or not you like these series. WildStorm is trying to do what so many movie studios have failed to do in recent years…make a cool slasher flick starring Jason Voorhees, Freddy Krueger, or Leatherface. Me? I'm a huge fan of the movie series. I understand that they are lowest of the low in exploitative and schlocky fare, but I can't help but love them in the same way I love the old Hammer or Universal Monster films. Maybe it was the thrill I had as a kid being able to watch such "edgy" and "taboo" films when my grandparents allowed my brother and I to watch them when I would stay at their house. Yes, nostalgia may be a strong factor here in that I actually even gave these comics a shot.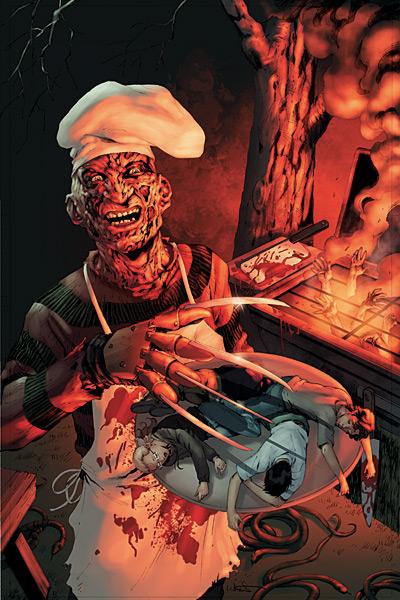 But to tell you the truth, none of them are that bad. Some are quite good, actually. Not all, but some. I decided to pick up the first few issues of each of these Wildstorm series and give them a shot to see if they were worth my time.
I'll start with A NIGHTMARE ON ELM STREET. This is my least favorite movie series in the slasher trifecta and my least favorite of the three comic book adaptations. Again, my distaste for the NIGHTMARE series may be a strong factor here. I find Freddy to be pretty draining as a character. His awful one-liners, his near omnipotence in the films, even the fact that a child molester/murderer can become a gigantic cultural icon as big as Freddy was in the eighties, all put a bad taste in my mouth. In the end, Freddy was just brought into the light too much and that's not a place for a real monster. Freddy became a cartoon. Back to the comic: I usually like writer Chuck Dixon's work, but Dixon is always best with real life, down-to-earth action stories. Dixon does a decent job utilizing the dream world vs. the real, but the true problem with this series is the art. I believe I stressed this when I first covered this series, but Kevin West, whose style I usually like, just isn't fitting for this series. Not only does he fail at the most important thing (that is, scare the reader), but he also fails in creating and maintaining mood. Superhero fare is perfect for West, but a panel featuring an overly detailed and well lit Freddy just doesn't hack it. Dixon is currently in the middle of a story arc pitting Freddy against an ancient dream demon. An interesting concept, but again, with West at the penciling helm, I can't take it anymore. A NIGHTMARE ON ELM STREET is officially off my list for the same reason I don't like the movies: it just ain't scary.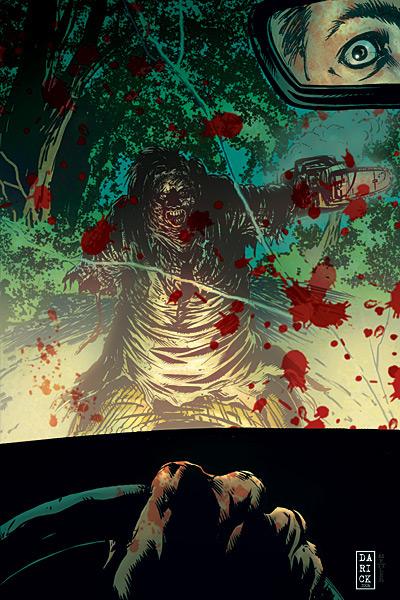 TEXAS CHAINSAW MASSACRE, on the other hand, remains tentatively on my list. It is faithful enough to the remakes which, if you like the remakes, may please you. Myself, I love the first three films in the TCM series. The new movies, although slickly put together, lack the icky, gritty feel of the first few films. The comic, however, exudes gritty and dirty. Artist Wes Craig does a great job at filling the panels with graphically jarring angles and wicked imagery. Characters ooze out of panel and seep into the alleys between. This is a really moody book. The problem is that the writing team of Abnett & Lanning don't really seem interested in taking this book any further than what was already seen in the films. At the end of issue five, we already are back to the tired scene with a girl tied to a chair at a dinner table. Fans of the movie series will roll their eyes at this overused scene. It's in every film and I found myself disappointed that the series went into such familiar territory so soon. So although the art is good and moody, the overly-familiar scenarios are moving this series onto the very edge of my pull list.
The best of the three titles is Jimmy Palmiotti and Justin Gray's FRIDAY THE 13TH series. I have to admit, out of the murderous three, Jason is my favorite of the bunch. I have been disappointed, though, not only by the last few entries in the movie series, but by the last few attempts at comic book adaptation. Palmiotti and Gray seem to be taking what is probably the least inventive of the three horror series and adding layers of scares and enough hip and self-conscious flavor to be entertaining and not overtly annoying.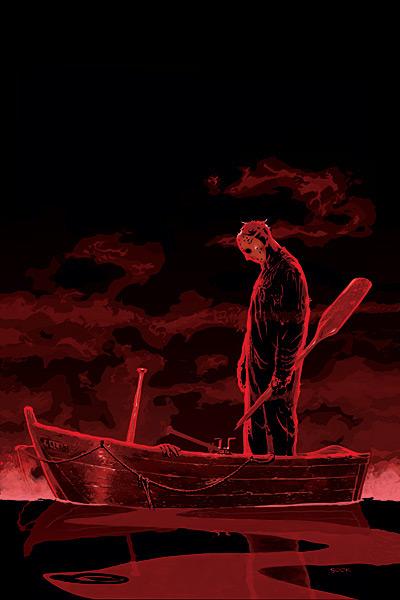 This first FRIDAY arc is just about coming to a close, and although it starts out typically for a F13 yarn with a group of kids showing up to fix up the campground at Camp Crystal Lake, the writers add new details like the ghosts of children haunting the lake, haunted forests, and a cast that you actually give a shit about. Whereas the other series are retreading old material, F13 is building off of past material in creative and surprising ways. I like the way the characters decide to stay in a group because the body count in every slasher movie they have ever seen is due to the fact that people split up and go off alone. Then Jason counters that by brazenly picking them off in the group one by one anyway. It's fun to see that, despite the knowledge gained from fireside stories and movieplexes, the kids still seem to fall for the same old tricks. As an added bonus, penciller Adam Archer and inker Peter Guzman convey a nice amount of mood in their panel placement and angles and dark shots. And of course, this being a F13 book, there are lots and lots of boobies. In fact, one girl spends most of the time completely naked. Although T&A is always welcome, the true highlight of this book is the fact that it appears that Palmiotti and Gray are not slumming it with this series. They are talented writers and seem to be giving it their all. It is much appreciated by this F13 fan and as long as this team is on the book, I will be picking it up.
Looking back on these series makes me realize how important art is in horror comics. Stories are important, but a story told in the bright of day at a table by the pool lacks the punch of the same story told at midnight by a campfire. It's something people putting together comics should pay attention to and it seems to be the deciding factor here in how much I enjoy these comic book series. In the end, if you hate slasher films, I'm betting you won't even bat an eye at these books. Hell, you probably won't even read this review. But as a fan of the genre, I'm just glad to see these properties taken seriously by some pretty nice talent. All are well produced comics, but out of the three, FRIDAY THE 13TH stands out as the best of the bunch.
---
SHE-HULK #17
Writer: Dan Slott Artist: Rick Burchett Publisher: Marvel Comics Reviewer: Squashua
I've been reading Dan Slott's entire SHE-HULK run since the beginning and this had to be the most disappointing issue for me. Somewhere along the line, Slott started phoning it in, and it really shows with this issue. Sure, the guy knows his history and can relate each Helicarrier loss suffered by S.H.I.E.L.D., and he certainly seems to have Hulk's foes and his multiple running plotlines handled (we even get a good couple reprieves back to Shulkie's law offices), but something here just felt off. She-Hulk gets Stark into bed, which seems a bit forced, and with a single line, Dan Slott completely invalidates a lot of fun from a recent PUNISHER: WAR JOURNAL (you know the issue...)
It's not just the story that seems off, the interior art is extremely cartoon-y, especially considering that the cover to this book is yet another beautiful painting by Greg Horn. Burchett draws this as if it's SHE-HULK ADVENTURES, which though this is probably one of the most humorous books in Marvel's line, feels inappropriate. Many of the characters look "off". Burchett can't seem to draw a face unless it's a side or front profile; any angled or tilted faces appear strange, and risking going into juvenile male territory (when haven't I?). The animated look fails miserably when portraying a She-Hulk who fights for the second half of the issue clad solely in purple panties. I feel like that was a missed opportunity.
Or maybe Slott knew what he was getting into and decided to be as risqué & cute as possible.
Either way, I feel that the quality of this series has gone down with this very issue, but in a series of home runs, Dan is allowed a couple strikes. I'll still maintain SHE-HULK on my pull list.
---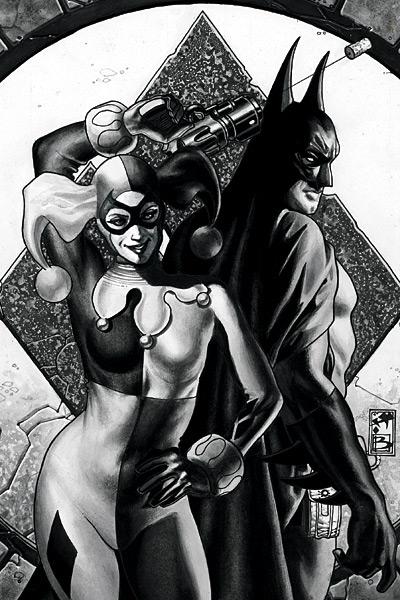 DETECTIVE COMICS #831
Writer: Paul Dini Artists: Don Kramer (pencils) and Jamie Grant (digital inks & colors) Publisher: DC Comics Reviewer: Prof. Challenger
"I want to vomit."
-- Harleen Quinzel
Harley Quinn is Paul Dini's most glorious contribution to Batman continuity and now she gets the DETECTIVE treatment in this outstanding stand-alone story.
There seems to be a bit of a debate going on among online fandom as to whether Dini's single-issue stories on DETECTIVE are winners or losers. Personally, I come down on the winners side. Essentially, Dini is adopting the storytelling format of his old BATMAN: THE ANIMATED SERIES but adapting it for comic books and I think this issue is a particularly spectacular example.
One of the benefits of an issue like this is that Harley is so forever defined by the voice performance of the amazing Arleen Sorkin that each and every line of Harley's dialogue in this comic "sounds" like Sorkin herself is uttering them. The other benefit here is that there's more freedom for Dini to explore character moments than when he's forced to fit within the rigid commercial format of TV animation.
This issue's plot revolves around Harley's earnest attempt to go straight. And as with all good stories involving Harley, this plan goes awry. I won't spoil the story but I will say that it ties into earlier issues in Dini's run that involve the new Scarface. Dini also continues a recurring theme throughout his run on DETECTIVE (a holdover from B:TAS) whereby he clonks the reader over the head a little in an attempt to make even the worst of villains somewhat sympathetic. I doubt very much that Dini is a Rand-ian objectivist. In the murky environment of Gotham City, Dini clearly wants to add a dimension of humanity to even the most deadly of Batman's rogues gallery. I'll hold out judgment on whether that's a good thing or a bad thing, because I'm generally the sort who doesn't particularly see the need for every villain to have an aura of sympathy around him. But, so far, Dini has hooked and reeled me in on these stories and I'm thoroughly enjoying what he's doing.
Don Kramer is doing his absolute best work yet on this title. In fact, in a perfect world, I'd own that beautiful splash page right now and have it hanging on my office wall. Kramer impressed me with his work on JSA, but the leaps he's made in his art and storytelling from JSA to DETECTIVE is exponential. In the last year, Kramer's leapfrogged up to one of my favorite modern comic book artists. This issue also sports another knockout graytoned cover by Simone Bianchi.
Editor Pete Tomasi has a great team on this book right now. Just stop with the fill-ins. I'd rather have just 10 issues a year by this team than a forced 12 issues padded out by lesser fill-in teams. This issue, for me, is on par with the earlier Riddler issue. If you haven't read that one, that's a huge compliment. This is good stuff. It ain't "written for the trade" but it's perfectly written for the monthly newsstand.
---
THE LONERS #1
Writer: C.B. Cebulski Penciler: Karl Moline Publisher: Marvel Comics Reviewed by Humphrey Lee
So Marvel actually saw fit to print a book starring a former New Warrior, a former Power Packer, a guy who was on a team called the Slingers, an ex-Green Goblin, and motherfucking Darkhawk? Honestly, if I wasn't already into the premise of this book after it spun out of RUNAWAYS, I might have bought it on the sheer balls behind its existence anyways.
The short version for those of you who don't know where this book comes from: About a year ago BKV, in a moment of brilliance, introduced a team of former teenage and child superheroes on the mend to the point where they even started a "recovery group" about their time in the tights and boots. And now the team is back, and still doing the old superhero 12-step, and even with a former Spider-Woman (Mattie Franklin) in their midst. But how long before one of these ex-heroes falls off the spandex bandwagon? Come on, that's too obvious.
I really did end up enjoying this book, though, I have to admit. I wasn't going to buy this at first because as much as I think the premise is a very innovative one I wasn't too sure how far you can stretch it out. Once I realized this was only a mini and not an ongoing I was willing to oblige and it turned out to be worth my while despite some flaws on the overall. It was a breath of fresh air to see some characters actually talking about the world of the superhero. The ups and downs of it all, from the adrenaline high the mask brings to the eventual fall and dark side of it, especially in Mattie's case as the last time we saw her as pointed out here in THE LONERS (hey, continuity! Imagine that!) she was constantly drugged up and bits of her were being used to process a drug called Mutant Growth Hormone (as seen in ALIAS).
And there's some good old fashioned superhero slugfesting in here too, of course, as we see at least a couple of our recoverees actually go after some of the MGHers that used to ruin Mattie's life back when and Cebulski and Co. whip out another obscure Marvel denizen, Nekra the Living Vampire. So for the most part this is good, mostly tongue in cheek, but with some genuine heart behind it fun. And yeah, it does have its little flaws: sometimes there's too much exposition for my liking in here, and honestly, while Cebulski does a good job getting you behind Mattie, Darkhawk, and Lightspeed with their pasts and how its affected their lives, there isn't as much due being paid to the others of the group as far as face time and that doesn't really help when you're already dealing with a pretty D-list crowd. If you're going to have a book about characters as obscure as this you really need to make your audience sympathize with them as much as possible, and so far they've only half succeeded.
But when THE LONERS is good it's really pretty entertaining and does have a story that does make you care at least a little bit about these former teenage misfits. Plus the art job is really pretty solid, the main action sequence in the last third of the book is very kinetic, and hey, someone actually made good note of a nice chunk of Marvel continuity from the past five years or so. Not too shabby when you look at it. This isn't a book that I would recommend you rush to your shop to pick up or anything, but if you happen to have an extra three bones at the shop at some point you can really do worse than to try THE LONERS out and see if you dig what you find. You just never know. Cheers...
---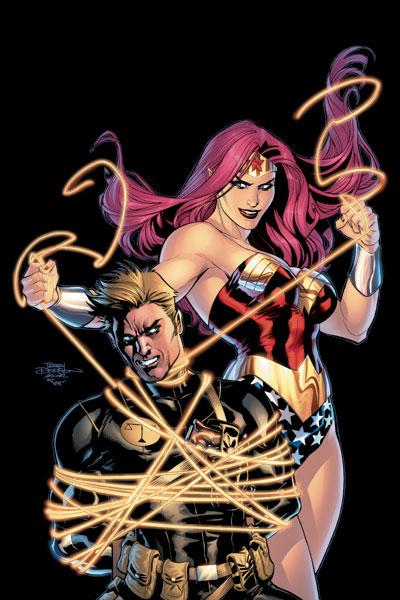 WONDER WOMAN #7
Writer: Jodi Picoult Artist: Drew Johnson Publisher: DC Comics Reviewer: Squashua
Hey! Circe! Again! Didn't someone just forget to complete a storyline with you and here you are again? Wow! What a surprise! Imagination abounds!
Maybe that's not fair of me. Circe is, pretty much, one of the premiere Wonder Woman villains alongside Cheetah and Giganta, but with those two so recently exposed in the previous storyline, it'd make sense to use someone underutilized like Circe.
Oh, wait. Scratch that. I forget again.
So anyway, let's talk about Wonder Woman's ally, Nemesis. I don't understand this guy. He shows up at least a decade ago during the Eclipso thing, appears for a couple cameos in "Justice League Unlimited", and now he's Diana's partner. Which is cool because he's like, what, a premiere super-spy who can disguise himself almost along the lines of Marvel's Chameleon. Plus he's one of Sarge Steel's best men, probably up for being included in Checkmate, and yet for the last two Picoult issues, he's come off like a complete amateur douche-bag fan-boy. I can understand being a fan-boy around Wonder Woman. Just look at that broad. But honestly, can the guy manage a mere moment of professionalism?
This storyline is silly, pointless, and not worth my time or yours. Thank the powers that be that Gail Simone is coming on. Much like I dropped FIRESTORM until McDuffie was given the reins, WONDER WOMAN is going to sit there on the shelf until Simone gets her hands on the book. Don't buy this book until then.
---

NEW AVENGERS #29 Marvel Comics
Someone in last week's Talkbacks mentioned that supervillains are passé in modern Marvel comics and I have to agree. NEW AVENGERS is the perfect example of this. In this issue, the ancient ninja crime organization known as the Hand aren't the real bad guys, it's Iron Man and his lackeys (AKA the Mighty Avengers). If you've had enough of heroes fighting heroes and making everyone look bad, don't pick up this book. The already tired CIVIL WAR storyline continues as The New Avengers play hide and seek with the Mighty Avengers throughout this entire issue. The verbal back & forthings that are Bendis' forte are ham-fisted and sloppy. The chase grows old because Bendis chooses to pop back and forth throughout the timeline of the story for no real reason other than to give artist Leinil Yu the opportunity to draw another full page group shot. And Bendis proves once again that he should have a restraining order put on him to stay at least one hundred yards from any characters that use magic. In this issue, the New Avengers want to sneak into Japan to rescue Echo from the Hand. When Dr. Strange is asked if he can teleport the team into Japan, he simply states, "No." and the rest of the Avengers move on as if they haven't seen Strange pop back and forth between mystical planes like the Dark Dimension for years. No, Bendis' Stephen Strange, Sorcerer Supreme, resorts to parlor trick "Dani Moonstar" powers like pulling their foes' greatest fears out of their heads and cloaking them to be invisible to mechanical sensors. Sounds like the Master of the Mystic Arts we all know and love, right?
On top of it all, Matt Murdock sends a message to the Avengers to ask them to rescue Echo for him…without giving a single reason why he can't get off his @$$ and do it himself. I tell ya, Bendis wrote DD as an ineffectual boob in his own comic and continues the trend here without even having the schlub show up on panel. This book is the flip side, the evil opposite, the Bizarro-verse alternative of the surprisingly good MIGHTY AVENGERS which Bendis writes as well. -
Bug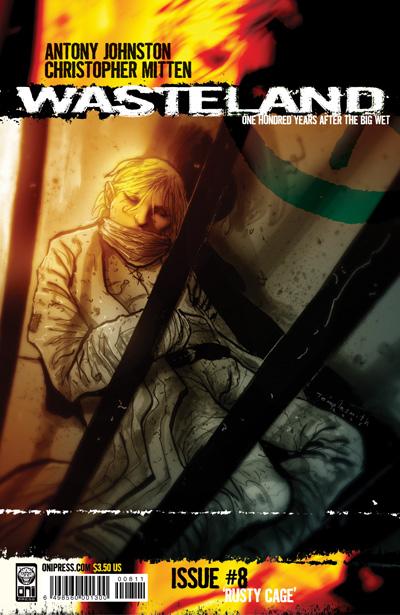 WASTELAND #8 Oni Press
So checking in on this title after a good half year or so since I last did, I have to say this book is still rockin'. Johnston and Mitten are really creating a very authentic and very relevant post-apocalyptic world in these pages, and with each issue the story is getting much more dense and socially conscious in the topics it deals with. And now that we've gotten a bit more familiar with our cast of nomads and gone through all the ordeals that we have with them this book is starting to draw me in in the "oh no, not such and such!" way whenever something actually happens to one of them. If there was any flaw in this book to begin with I'd have to say it was a little bit too many concepts and characters and aspects of this amazingly deep story were being thrown at us to truly care, but now that it's all had a bit of time to soak in this is a title I can fully get behind and recommend. There's a lot here to love and now that there's a trade out there to get started with I think it's time a lot of you get off your keisters and delve into the world of WASTELAND because this book is going to be very interesting to watch unfold. -
Humphrey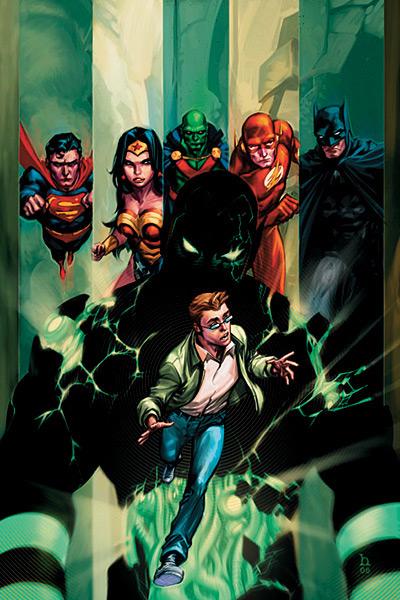 JLA CLASSIFIED #37 DC Comics
I can't seem to shake this book from my pull list. Every time I think of books to cull from my monthly pull, JLA CLASSIFIED comes up. I always tell myself, let's see what if the next story is good. If not, I'm walking away. I was about to do it when Slott teamed with Jurgens in the last arc, but I found it to be an endearing, old timey read. And I said it again as I leafed through this issue, but I was sucked in again by the nice artwork and the peculiar premise. Peter Milligan does a good job of introducing Kid Amazo and making him stand out from your normal youthful knockoff-type that clutters the DCU these days, setting up an interesting life for the Kid and an interesting situation that endangers that life. This is a fun read that actually plays off of the more unapproachable aspects of the icons in the Magnificent Seven JLA, something that has been a detriment to this title from the beginning. -
Bug

NOVA #1 Marvel Comics
Like the header on cover says, "Rising From ANNIHILATION" is the next chapter in the life of Richard Rider, aka "The Human Rocket", aka NOVA. And as genuinely impressed as I was with the developments in his life from that Marvel event, I really can't say the same for this issue. I just found myself so bored and even frustrated with this book it's not even funny. Firstly, it's like the pairing of Abnett & Lanning (two guys who I respect a lot and even really liked on the NOVA mini they did for ANNIHILATION) both had seizures and forgot how to write in non-cliches and lay off the exposition. Yes, I know that Richard is supposed to have the Nova Corps Worldmind in his head now, but he still goes on more monologues than Jay Leno can pull down in a year. That's all that happens here. He talks and talks, and then transports from planet to planet fucking shit up to the point where he exhausts himself. Why? Because he feels angry and overwhelmed by the loss of the Nova Corps. Really? I didn't know that after hearing about that EVERY OTHER PAGE in ANNIHILATION itself!! I really hope this is just the equivalent of a really bad pilot that was trying too hard and too needlessly to show everyone why this book exists. Usually I give a new title a whole arc to sell me, but after this performance the next issue is going to be all or nothing for me.
Humphrey
Check out the @$$oles' ComicSpace AICN Comics page here for an archive and more @$$y goodness.