Greetings humans, Monki here finally launching a contest I've been working on for a couple of months.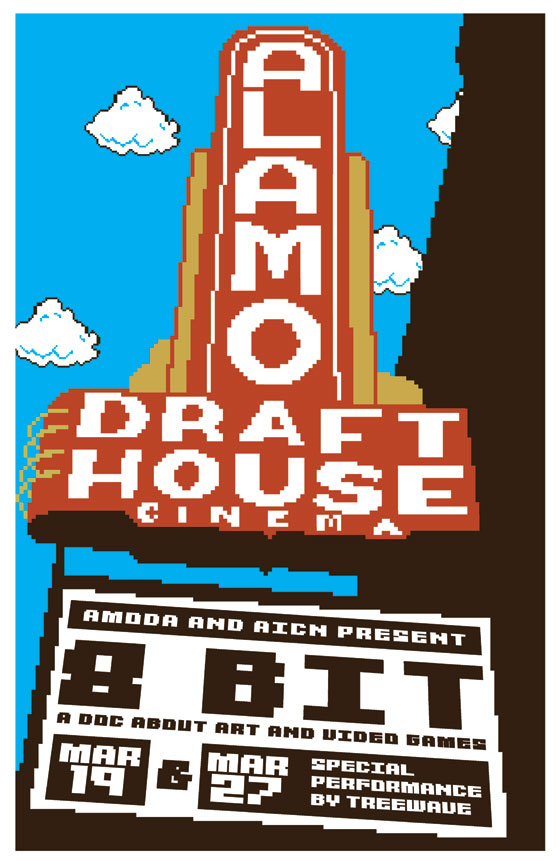 AICN Games and the Austin Museum of Digital Art are proud to present 8 Bit, a documentary about art and video games screening at the Alamo Drafthouse this March. The trailer:
I've seen the movie and I really loved it. I'm proud to get this screening all set up at the Alamo Downtown, the coolest theater in the world. There are two screenings of the film, one on Monday, March 19th (TICKETS ARE ONLY $2!!) and another screening on the 27th. The 27th screening is super-special though, we have a band featured in the movie actually performing before the screening of 8 Bit. Tree Wave is a kickass band that makes their music with 70's and 80's computer and video game gear. Check out their website for a downloadable track or two.
Both of the directors of 8 Bit will be down for the screening on the 27th and I'm sure we can wrangle some kind of Q&A out of them.
And now for the contest part of this whole she-bang. Last year I received a book called I Am 8-Bit featuring art inspired by video games. The book is incredible. I've since purchased two prints of art that were featured in the book and would have bought more if I could have tracked them down.
The contest is this. Produce video game inspired art. Any kind of art. Paint on canvas, digital prints, photography, clay sculptures, knitted pillows...anything. I want art inspired by video games. Did playing as Sub-Zero for the first time rock your world? Paint that emotion and send it in.
I've seen some of the work you guys have done on previous contests and I hope the artful spark is alive and well in your hands. Here's what you are playing for.
Since art is very subjective, there will be five prizes given away to the five coolest pieces I receive. Those five winners will receive a copy of I Am 8-Bit along with a limited edition shirt and a copy of Tree Wave's album Cabana Ep+.
Here's the coolest part. After talking with Jon Gibson, the curator of I Am 8-Bit, I've managed to convince him to take a look at the top entries for possible inclusion in his next I Am 8-Bit show in Los Angeles. Have you ever wanted your art hanging in a gallery? Here is your big chance. Send in that lifelike Mario painting and we'll get something rolling.
If you plan on submitting an entry please do so BEFORE MARCH 15th! Deadline is March 14th at Midnight CST. That gives you a little over a month to put together your best work.
Submit your entry as a digital photo of your art. Take as many pictures as you need to. Send those pictures along with a description of your piece and whatever game(s) it is inspired by to:
Send it with the subject "8-BIT ART" so I can tell them all apart from the Cial1s and Viagra spam I get.
If you have any questions, feel free to email them my way, I'll answer as best I can. From talking with Jon about this contest, 1up.com ran a similar contest with them last year and quite a few of the entries actually made it into the gallery show of I Am 8-Bit, so there is plenty of hope for those of you out there. Let's see some fresh talent emerge!
Special thanks go out to Justin Strawhand, director of 8 Bit, Kier-La over at the Drafthouse, Tree Wave and Jon and Kevin with I Am 8-Bit for all the support and the cool stuff to give away.
Stay tuned for updates on the contest in my weekly columns. Don't forget to BUY YOUR TICKETS NOW! Until then though, back up the tree I go!