Greetings humans, Monki here yet again with your weekly dose of all that is video games.
So, today is the day. The PLAYSTATION 3 will have streeted by the time this article hits. While I write this there are thousands of eBayers sitting in front of Best Buys, Targets, Wal-Marts and various other establishments just waiting to get their greedy hands on their ticket to a good Winter. Let me repeat that. Thousands of EBAYERS. I can't stress how much that bugs the shit out of me. But this is just the intro, there will be plenty of ranting space further down.
I need something to calm me before I go nuts and can't complete the article. Ahh, my Mean Girls DVD! MMMmmmm...Lacey Chabert in her Mrs. Claus outfit. Much better.
Ahem...
Press Releases of the Week!
So, one of my questions I asked the Call of Duty 3 guy was about trying out different settings in future historic shooter titles. (Future historic?) It looks like someone may have beaten me to the punch.
Minneapolis, MN - November 10, 2006 - Get ready to experience the intensity and chaos of the war that divided a nation in THE HISTORY CHANNELR Civil War from Activision Publishing, Inc., a wholly owned subsidiary of Activision, Inc. Gamers can relive history through the eyes of a Confederate or Union soldier and experience such famous battles as Gettysburg, Bull Run and Antietam. THE HISTORY CHANNEL Civil War has been rated "T" (Teen) by the ESRB and is currently available for the Xbox 360 video game and entertainment system from Microsoft for $49.99, the PlayStation 2 computer entertainment system for a suggested retail price of $39.99 and the PC for $29.99.

"THE HISTORY CHANNEL Civil War gives gamers the chance to experience the defining moment in our nation's history," said David Oxford, Activision Publishing, Inc. "We utilized reference materials from THE HISTORY CHANNEL like topographical maps and photographs, and did extensive research on combat methods, weaponry and more to ensure that players would have a unique and authentic Civil War experience."

"THE HISTORY CHANNEL is always looking for ways to make history experiential for our viewers, and gaming is a fantastic way to do that," said Carrie Trimmer, Director of Licensing, A&E Television Networks. "Activision has taken great care in recreating the wartime conditions that both Confederate and Union soldiers faced, and I think the game will deliver the type of authentic experience viewers expect from THE HISTORY CHANNEL brand."

THE HISTORY CHANNEL Civil War casts players in the role of a Confederate or Union soldier battling through 12 of the most famous battles in U.S. history. Each mission is introduced with a documentary video describing the historic moments in a battle, movements of armies, local fights, historical photos and battle statistics. Gamers will experience the intense conflicts of the Civil War in famous locations like Little Round Top and Lookout Mountain to the diverse landscapes of train yards, saw mills and military forts while using bayonets, sabers, the butt of a gun and even their fists to take down the enemy. A wide arsenal of rifles, multiple types of grenades, exploding artillery, revolvers, muskets and more are at the soldier's disposal to set charges, place explosives, sabotage enemy lines, destroy buildings and more to complete mission objectives.
Hmmmm...I'm not to sure on this one. Are we looking for a title that will pit us against other American soldiers? Will this sell well overseas? (Better than U.S. and A.) Is there a bonus level where you get to assassinate Lincoln if you are playing as the South? Oh, I'm sorry. Too soon?
So, if you aren't in the mood to kill some God-Damn Yankees, maybe you can work your brain a bit more. It seems that everyone is jumping on the Brain Age bandwagon and here are two more examples:
EDISON, N.J., Nov. 15 -- Majesco Entertainment Company, an innovative provider of digital entertainment products and content, today announced that Brain Boost: Beta Wave and Brain Boost: Gamma Wave for the Nintendo DS have shipped to retailers nationwide. Both games were developed under the consultation of renowned author and creator of the Right Brain Development Theory, Dr. Makoto Shichida.

"Each Brain Boost game is specifically designed to improve a player's cognitive thinking skills in a fun yet challenging way," said Ken Gold, vice president of Marketing, Majesco Entertainment. "We believe this type of game will appeal to the growing Nintendo DS audience looking for edutainment experiences that can develop mental perception."

Both games focus on improving memory, concentration and judgment through progressively difficult brain training games where speed and accuracy count. Brain Boost: Beta Wave stimulates parts of the right brain that are often associated with active concentration and busy thinking. Brain Boost: Beta Wave includes Find a Match, Shape Recognition, Addition, Remember Sequence and Moving Dots training games.

The brain's gamma waves appear to be involved in higher mental activity, including perception and problem solving. As such, Brain Boost: Gamma Wave includes training games for remembering Circumstances, Faces, Images, Numbers and Colors.

Developed by Interchannel-Holon Inc, both Brain Boost: Beta Wave and Brain Boost: Gamma Wave are now available for a suggested retail price of $19.99. For more information, please visit http://www.majescoentertainment.com.
Don't for a moment think that I'm going to let the fact that this press release came from EDISON, NJ slip past. Get it? Edison! Hah! You think Bruce Banner played Brain Boost: Gamma Wave? Hah! Another one! I'll be here all night folks.
Pretty Images of the Week!
What I am about to bestow upon you lucky readers are the most beautiful images you will see of a game based on a TV show this week!
Mtv and Activision are releasing PIMP MY RIDE for the XBox 360. Totally rad. Check out excerpt from the fact sheet I found.
Enter Pimp City, where bling is king and speed is everything. On these streets, if your car isn't fully pimped out, you'd be better off walking. You and Xzibit will take on the challenge of hooking up your homies and transforming their hoopties, buckets and beaters into the hottest whips on the street, while redlining through the streets and alleyways of Pimp City. You choose the mods, you choose the route, but pimpin' ain't easy. It will take speed and style to hook them up. Do you have what it takes to Pimp their Ride?
True dat. Pimpin' sure as hell ain't easy. The game includes you driving around in the vehicle you are pimping, getting it pimped, and also competing against a rival "pimper" (would that be the correct term?) you have to woo your client over to ultimately win. That's totally pimpin'. Oh, and there is a "ghost ride the whip" mini-game. I have no idea what the hell that means. Pimp. Pimp. Pimp.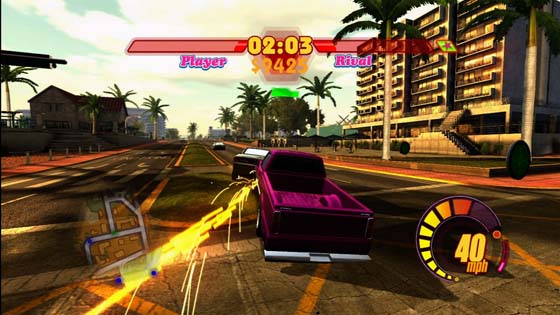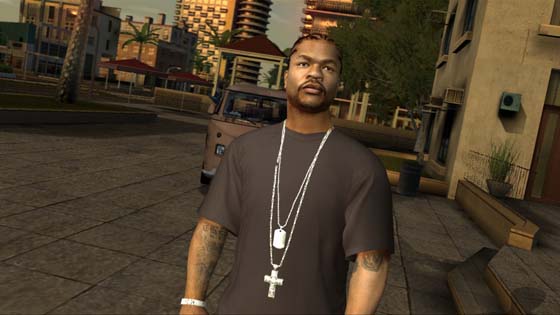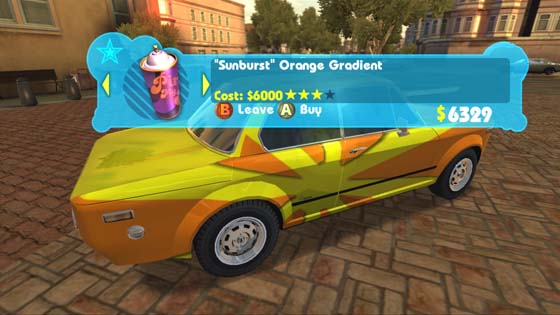 Damn dogg, homey, G-Money. Who wants to pimp my Monki-Mobile?
Totally Insane Ebaying PS3 Nutjob Douchebags of the Week!
I've said it before, and I'll say it again. I hate the fact that 99% of PS3s going out tonight at Midnight are going to be put on Ebay. The damn thing costs enough as it is without having to shell out an extra $600 to $14,000 on top of the $599 you are going to drop on it in the first place.
There are lines of idiots all over the country freezing their asses off all planning on putting this $600 Elmo Doll up on eBay immediately. Fuck that.
I personally hope that there are so many damn PS3s up on eBay that the price gets driven down somewhere around $900. Was it worth freezing your balls off for $300? Did taking a day or two off from work and sitting in a Wal-Mart justify your 50% profit?
Because Sony has decided to launch with so few consoles, they are responsible for the riots that will ensue when person #11 doesn't get his hands on Best Buy's shipment of only 10.
As much as it pains me to say it, Sony should have pushed back launch until the Spring when they could have a respectable amount of consoles on the shelves. Even pushing it back a month may have helped ease some of the pain. Instead reports are coming from all over the country of fights breaking out over line positioning.
In Kindergarten one of the first things you learn is how to stand in a line. Wait your turn. Way to go humanity.
The Wii is hitting this weekend too. Expect it to sell out as well, but don't bother going crazy trying to get to Circuit City before anyone else. Nintendo will be shipping out more consoles quickly. By Christmas you'll most likely be able to walk into a store and find one on a shelf without much hassle. At least, there will be less punching and BB gun attacks.
Begun this console war has.
I'm Getting the Hell Out of Dodge Wrap-Up of the Week!
Another week, another trip for my furry ass. As I mentioned last time, I'll be heading to New York City searching for bananas in the concrete jungle. I'll also be making a stop in Philadelphia to visit a friend and see Vince Young in person (Titans vs. Eagles) since I saw him at his last home game at The University of Texas.
I just wanted to say, if you haven't yet, check out Gears of War. That game is so insanely good that it will make you forget the fact that your hands won't touch a PS3 until April. Also, Project 8 is the absolute perfect eightquel of a series you could ever hope for. Sick graphics and a challenge for long time players.
I'll have my trusty DS Lite with me for the journey into the city of apples and I'll be keeping on the look out for other handhelds in the airport and on the plane.
Nostalgia is what I have for you to end this wrap-up. Remember May? Remember E3? Remember when everything started spiraling downward? Good times.
So, remember, when killing someone to take their PS3, flip them over on their back and attack their weak point for MASSIVE DAMAGE.
Beware of giant enemy crabs, I'll do my best to avoid crabs in NYC. Ahem. Until then, back up the tree I go!