Greetings, Faithful Talkbackers. I'm the Moderator, the omniscient and lonely voice of reason haunting the halls of @$$hole HQ. No regular column this week, folks. But that doesn't mean the @$$holes aren't keeping busy. The flavor of the day in comics, it seems, is crossover. We've got CIVIL WAR, ANNIHILATION, and HOUSE OF M over at Marvel competing with 52, ONE YEAR LATER, and INFINITE CRISIS at DC. Much has been said individually by the @$$holes in many a review about comics' love affair with the crossover, but it's been a while since the 'Holes have gathered together to gab ad nauseum about something, so they thought that this would be a good occasion to do so. MODERATOR: Let's talk specifics first. Most of you have been following a few of these crossovers. Let's get the ball rolling and talk CIVIL WAR...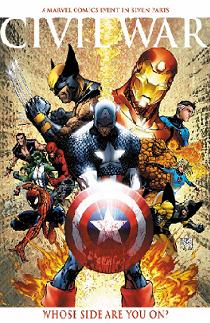 HUMPHREY LEE: Well, the problem I immediately noticed about this whole CIVIL WAR nonsense is that, quite frankly, there's only three African Americans in sight, and hell, one of them is dead already!! That seems like a rather small amount of people to be going about liberating them...or wait, am I mixing that up with the other "Lets criticize American politics using classic American superhero types acting horribly out of character" riff that Millar always likes to use when he writes his comics? SQUASHUA: To toss something out on the giant pile of burning books, I have NOT been actively reading CIVIL WAR. I've been following it, but the only books I've bought (aside from the uninvolved SHE-HULK and NEXTWAVE issues) are NEW AVENGERS and (wait for it), FRONTLINE. I'm loving FRONTLINE. It's all the stories I'd want to read from CIVIL WAR, and they're paying some massively overdue attention to Speedball. Yes, I read NEW WARRIORS back in the day, what of it? BAYTOR: The one positive thing I'll say about CIVIL WAR is that it perhaps has one of the more coherent through-lines I've seen in a major crossover event. I've never been a Marvel fan and I know zilch about any of the characters except the main ones, and I can follow it easily enough. I'm not catching loads of references to 20 year old stories (I know enough about Marvel to catch a fair number of those when they happen), so it's a fairly "new reader friendly" event. PROFFESSOR CHALLENGER: I really do not believe the issue here involves one generation's definition of "good" versus a younger generation's definition of "good." The entire issue here has to do with the complete de-emphasis on character and elevation of plot to the level that there is no emotional impact other than the extreme disgust or extreme orgasm. Those going orgasmic over it are doing so because they literally do not give a shit about the individual characters. BAYTOR: You've even admitted to liking Millar doing virtually the same thing on THE ULTIMATES. The very clear division line you've made is that you don't like him doing it in an established continuity, but for the fans who aren't well-versed in that continuity, they're going to accept CW as readily as they accept THE ULTIMATES. They don't see the betrayal. Maybe Marvel should…but they see the dollars and chase the successes. If more traditional takes on their characters were selling better, they'd be chasing those bucks. SUPERHERO: Maybe we're seeing a trend where the big two just start doing one big event after another to keep the machine going. But what happens then? The fans get wise and fed up and leave and then we're looking at another comics implosion down the line. AMBUSH BUG: I think that HAS been a trend for a long time now. It's just that the hype machine is bigger than ever. It started with CRISIS and the yearly X-Crossovers (MUTANT MASSACRE, INFERNO, et al). It's just that now you read about it on the internet, see it on G4, read about it in NEWSWEEK and ENTERTAINMENT WEEKLY. BAYTOR: I don't think there's a single thing Marvel can do to tarnish these characters. If they screw up, someone will just come behind them and undo it. The movies and video games have become far more important in this regard than the comics are likely to ever be again. SUPERHERO: You're absolutely right about that but the problem becomes when the characters become just brands to sell product. The characters will always be around in one form or another...but will they still be comic-book characters? PROF: For the last 4 or 5 years, Spider-Man and X-Men only exist for me as movie characters. The movies are the only place where the characters feel right to me. BUZZ MAVERIK: Other media do superheroes better than comic books. Fans of ULTIMATE GALACTUS think the original Galactus is ridiculous, but he's pretty cool even when he's spoofed in FAIRLY ODDPARENTS. SUPERHERO: Yeah, you're actually right about that. The Timm Batman/Superman/JLA cartoons were some of the best representations of the characters out there. It seems that other media seem to know what to do with the characters more than a lot of the comic book writers because they stick to what the core of the characters were about all along.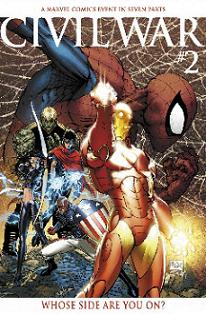 PROF: Just because the fans are ignorant of the betrayal doesn't make it right on the part of Marvel. And neither does it make it wrong for those of us who recognize it to shout it from the rooftops so that the newer readers realize what's happening. If just a handful of newer fans rethink their positions and recognize the long-term implications in a publishing field that serializes characters (not plots), maybe the next generation of comics professionals will come from that pool as well brining some respect and balance back into the editorial leadership in a few years. BUZZ: When I first got seriously into comics, I was excited about finding back issues and learning what had happened before. Old events and characters were just more cool comics to read and it was all new to me. SUPERHERO: Hear, hear! But you might not be able to do that today like you were able to in the past. So many shops don't even carry back issues anymore. BAYTOR: Marvel and DC are on a course of diminishing returns, and a major part of that is that they've becoming virtually irrelevant in shaping the public opinion of their characters. No one aside from comic readers care that Reed Richards created a murderous clone of a Norse God… and even fewer people care that Black Goliath got killed. In five years time, the microscopic impact of CW will have completely vanished. BUZZ: But the same people would buy the comics no matter what went on. Comics are addictive. I steer clear of most of this shit, but damned if I wasn't in that store last Wednesday getting my copy of ESSENTIAL TALES OF THE ZOMBIE. In one form or another, comic fans end up hooked for life. PROF: I wish that were true. Unfortunately, once the company embraces the "new" characterizations, then that becomes the status quo and then in 5 years time we have Peter Parker finally having enough of J. Jonah Jameson and breaking his neck or some other twisted event to "shake up" the status quo. The bar keeps getting moved. Like Barry Farber has said for years: "Crime expands to fill our willingness to accept it." In other words, if we just keep allowing the wanton degeneration of heroic characters, then before long we have no heroes. BAYTOR: TIME Magazine called this during Superman's 50th anniversary, criticizing the recent reboot for its adultification of juvenile fiction, noting that the average age of comic readers had already risen into the 20s. Until the day DC and/or Marvel decide to angle the product back toward the kids, the only thing I can really do is not buy this crap…and if they angle it back toward kids, I probably wouldn't even be tempted to buy it. So, lose/lose. SUPERHERO: Lose, lose if DC and Marvel is all there is to read. Or if you're only interested in their core books. But honestly there's so much stuff out there right now...Vertigo, Manga, Dark Horse, Indies...that I don't feel that need to just read DC and Marvel anymore. BAYTOR: The entire mentality behind the crossover event is just more of the entrenching of the super-hero genre. The fanbase has been shrinking for a good long time, and it's a tent-pole moment, trying to get them to buy (or, at least, get comic shops to order) as many books possible. Long-term, I've long thought it did more harm than good… but I can't deny that I got off on the concept for three or four years. BUZZ: Well, these kind of comics aren't for kids, but they really aren't for adults either. BUG: I learned right and wrong from comics. SUPERHERO: Yeah, me too...oh, and the odd episode of DIFF'RENT STROKES helped as well. What? I was a latch-key kid...leave me alone! DAN GRENDEL: Yeah, comics taught me that you can hit people all you want and they won't really get hurt, and DIFF'RENT STROKES taught me that old men in bicycle shops want to rape you…ALWAYS!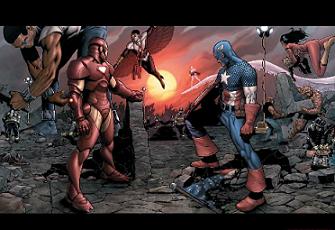 BUG: I think I became the somewhat moral person I am today because the heroes I read about in my youth WERE heroes and acted the part. SLEAZY G: Please note that Bug often uses the word "somewhat" when he actually means "slightly." I've been working on it, but every time I tell him to look them up in a dictionary he just snickers at me for saying "dictionary". HUMPHREY: When I was in my pre-adolescence and then early teens I had some influence from guys like Spidey and Cap and so on rub off on me. But then later towards my twenties I would actually say that it was comics more like Gaiman's SANDMAN and BLACK ORCHID, Moore's TOP TEN, SWAMP THING, and WATCHMEN, and a slew of others that influenced my life. Spidey and them helped teach me right from wrong, but the others made me think and expand my mind…and, y'know, get me all fucking amped up so I'd start jumping around and banging my head and kicking stuff. Ahhh... kicking stuff. VROOM SOCKO: The comic that shaped and influenced me the most as a kid was probably either TINTIN (which taught me that one should stick up for your friends, question your surroundings, and that opium can be smuggled successfully in tin cans) or GI JOE (which taught me that loyalty and honor matter above all else and that ninjas garbed in black are cooler than anything you can think of.) BUG: The difference between Stan & Jack and today's writers is that today, heroism is something in need of deconstruction, dissassemblage. We have to ground our heroes these days. Stan & Jack gave the Marvel heroes weaknesses and humanity, but never forgot that they stood for a greater good. Today's writers seem to only see the chinks in the armor and neglect to notice how heroic and interesting these characters can be. BUZZ: It could be that comic heroes are going the way of the pulp heroes, into that murky moral ambiguity. The pulps did this close to 80 years ago. Of course, pulp writers and fans were less pretentious than we comic book aficionados. PROF: Except the Shadow never shot Doc Savage through the chest because they happened to be in a philosophical disagreement. DAN: Really? Aw, man, and I thought he was hardcore... PROF: It is possible to raise the maturity level in story-telling and still appeal to both kids and adults, but there has to be an awareness that cartoon pamphlets featuring idealized men and women dressed in circus outfits trying to make the world a better place is always going to be seen by most people as juvenile fiction. DAN: Out of all the crossovers I've read, this one strikes me as the one with the worst mischaracterization. You pretty much always get some characters acting kinda off in these things, but this shit is alternate universe-level bad. It's like a What If that Marvel decided they were gonna turn into a mini-series, but they forgot to tag it like that and won't admit their mistake. PROF: Exactly. If this were THE ULTIMATES? More power to 'em. If it were WHAT IF...? More power to 'em. It ain't and it was a flip of the finger to the longtime fans. SLEAZY: This has bugged the hell outta me too. Since the Ultimate Universe was first announced we've been told it was the place to do things they could never do in the 616 Universe. If Spidey had unmasked there I would have thought "wow, they weren't kidding--I can't believe they did that! That's cool as hell!" Instead, the minute fans got pissed about the unmasking we were told to go to the Ultimate Universe if we wanted to see the old-school wisecrackin' hidden secret identity version of Spider-Man. Whatta load of horseshit.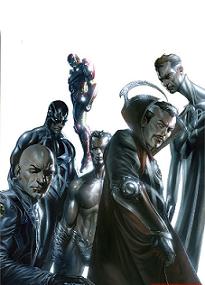 SUPERHERO: I feel CIVIL WAR is cheap shock value. I've felt that since I read THE ILLUMINATI special that Bendis wrote. That's what initially set me against it. As soon as I read that I said to myself, "I am NOT spending one more dime on this event" and I've been able to stick to that despite my comic book addiction. BUG: I wish I were that strong. PROF: It takes willpower.....and a wife who won't give you comic money. VROOM: I think I've mentioned this before, but I just can't get past CIVIL WAR as an allegory for American politics. Stamford = 9/11, Iron Man = Bush, The Negative Zone = Secret CIA prisons, Sally Floyd = Keith Olbermann, Spider-Man = Valerie Plame, etc. etc... The story is just too close to the current political schism in the U.S. for me to enjoy any of it. SUPERHERO: See, I have no problem with comic books addressing current events or political issues. My problem is with, like you just said, when writers try and make existing characters "fit" roles so that they can tell the story they want to tell. VROOM: Exactly. I mean, DARK KNIGHT RETURNS was all about Reaganomics, but it was about Batman first and foremost. BUG: CIVIL WAR, in theory, interests me. I want to see these characters interact and acknowledge that they share the same space. The problem is that the main challenge these heroes are facing isn't really that big. All it is is a rehash of the end of the KREE-SKRULL WAR battle from the late eighties where Cap and Iron Man split due to the fact that one section of the Avengers thought it was a good idea to kill the Kree Supreme Intelligence and the other side disagreed, resulting in AVENGERS WEST and EAST COAST. PROF: Which makes more sense that beating each other into bloody pulps and killing Bill Foster. DAN: That's a good point. I was already somewhat blasé about the story in CIVIL WAR because we've seen the Mutant Registration Act before and DC has done the superhero identity thing in its JSA stories in addition to pitting people versus heroes in LEGENDS, but I hadn't considered the KREE-SKRULL WAR aspect. What I was hoping to see in CIVIL WAR was some new take on all of this that would keep my interest, and unfortunately what I got was characters acting way off kilter so they could be easily identifiable adversaries or make easy shock points. SUPERHERO: You're right Bug…the Cap and Iron Man split has been done before. Not only that it's been done twice that I can remember, the second time being in the 90's when Iron Man took it into his own hands to kill an enemy which actually ended up disbanding the Avengers for a while if I remember correctly. HUMPHREY: INFINITE CRISIS was great with keeping their people acting like they should, almost too much so in fact that the story suffered and felt terribly retreaded. CIVIL WAR on the other hand is actually a pretty high concept idea but telling it out of total concept with how the major player should be acting in this event. SUPERHERO: How is CIVIL WAR a high-concept idea? HUMPHREY: I think it is one from a fallout perspective. It's the concept of the registration side actually trying to turn this into a police force. It's not just a little spat, we're talking an entire army of registered and ranked superheroes patrolling the planet if the Reg-side gets its way. But this point is horribly understated in the overall story because we keep getting lost in "Iron Man and Cap hit each other cause they angry!!"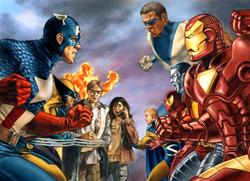 PROF: Personally, I think it's a low concept idea. Two factions of heroes squaring off over a political disagreement just smacks of appealing to the lowest common denominator. Imagine instead what would'a happened if all the Marvel Heroes gathered on the lawn at the Capitol Building and basically said, this act is unconstitutional on its face and we choose not to abide by it. Cross us at your own risk. A combined and united front of super-powered force facing down a corrupt government trying to control the people through fostering fear of the heroes. THAT'S high-concept. BAYTOR: Millar characters feel a bit flat to me, but that's a common failing in all of the work by him I've read. Lord knows Ellis' AUTHORITY wasn't filled with deep characterization, but Miller turned them into cartoon cut-outs of themselves, and nothing in WANTED ever made me feel the slightest bit sympathetic or interested in *who* those people were. I'm not terribly surprised to see Millar shoe-horning existing characters into the character types he needs to tell his big story. Even though I don't care one whit about any of these people, I do find the central plot reasonably engaging, although at times totally laughable, such as Invisible Woman's letter to Reed, which is completely devoid of any emotional outrage. The emotional stakes just aren't there. It's just pieces moving around on a chess board. BUG: And that's why I dislike this series so much. Millar has made it so that NO ONE can NOT be on one side or the other. You are either pro registration or not. All of a sudden, these characters are killing each other with little or no development at all. They're just fighting it out and not in a "heroes fight, then team up to fight a common foe" type of fight. They're fighting it out and making both sides look bad. When I put down CIVIL WAR #4, I didn't know who to root for or if I cared to do so because Millar is writing both sides as truly ugly people. Iron Man's a fascist. Cap's a stubborn brute. Hell, even Spider-Man is looking like a spineless lackey. If this was your first experience reading a Marvel comic, you'd think there truly are no heroes left in the Marvel U. SUPERHERO: I think that's the inherent problem with CIVIL WAR and Millar and/or Bendis writing in the mainstream Marvel U. They bring their Ultimate sensibilities into the game without realizing that they just don't fit into the history. BUG: Yeah, it's ego. Cap's comment in the latest CIVIL WAR is pure Ultimate Cap, not the real Cap. But since Ultimate Cap is the only Cap Millar knows, he writes him that way. BUZZ: None of the ramifications of CIVIL WAR are unthinkable, but their impact would be greater without the crossover. I want things to constantly be shaken up in each comic. If Peter Parker had decided to go public with his identity for personal reasons as part of an AMAZING SPIDER-MAN story, I might have given that a Keanuish "Whoa!" If Sue left Reed because he was tampering with the forces of unnature in THE FANTASTIC FOUR, I'd say the same thing. And if an issue of the FF had Reed cloning Thor, I'd say...that's pretty fucking stupid even by comic book standards. But the thing is, current Marvel wants to go grand and glorious with the whole universe, when they don't really put out interesting individual issues of individual comics. Work on one issue at a time, guys. SUPERHERO: Yup. You nailed it on the head. Maybe they should focus on making the core books interesting instead of using a mini-series to be the catalyst that causes change which ends up seeming forced anyway. In a regular book it might come across as a natural progression of things given time and would cause just as big a stir. BUG: Exactly. It's all about these major changes and status quo shake-ups. Spidey's unmasking. The New Warriors are dying. Iron Man's making Sentinels. Sue Storm's leaving Reed. All the while, someone forgot to put an interesting story in there somewhere. When all you have are shake-ups and cliffhangers, you don't have much of a story. DAN: That's pretty much what I was getting at with my comments about the small crossovers that used to happen between a few books. In small crossovers, each shaking of the tree can have the exploration it deserves in the forum that best suits it, and the inclusion of some other characters can still serve to stimulate sales in other books and draw new readership to books they may not have been aware of or just didn't care about. The vast majority of the Marvel Universe was introduced to me through guest appearances in other books or team-up stuff. The problem with massive crossovers is that you lose the impact of each important changeup or shocker because they fly at you too quickly, you get overloaded, and often the really important stuff gets lost behind cosmic fights and blasting. BUG: And kicking. HUMPHREY: Ahhh…kicking. PROF: Oh and don't get me started on the illogic of the cloning of a freakin' GOD! There are a couple of things I deliberately left out of the review and one of them was the utter stupidity of that idea based on a "hair" that was captured by Tony way back in AVENGERS #1. Guh! DAN; Come on, Prof, don't be an old man. Odin the All-Father went to Earth, and had sex with Jord, an avatar of Gaea, just to give birth to a son who combined the powers of Asgard and Midgard. Out popped Thor. Big deal, modern science can copy that shit no problem.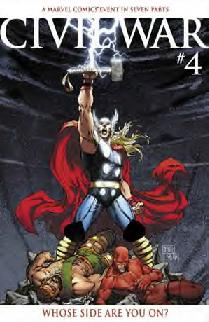 BUG: Yeah, I did something similar in 9th grade chemistry with a bunsen burner and some Pop Rocks. SLEAZY: I disagree. VROOOM: About the Pop Rocks/Bunsen burner thing being the key to cloning a god? SLEAZY: No. I think that cloning Thor is the most brilliant stroke of all. Now that it's happened, we can safely extrapolate that Genius Fascist Tony and Genius Fascist Reed have an interdimensional breeding tank full of multiple duplicates of anybody they've ever been in a three-mile radius of. This means that Bill Foster can come back whenever they want. Gwen Stacy? Back! Her old man? Back! Every single Norse god to die underwhelmingly at the end of the last THOR run? BACK! BACK! BACK! Oh man, is Hulk gonna be PISSED when he comes back to Earth and finds out he's already here! BUZZ: They may get into this, I dunno, and they should work Dr. Strange into this kinda story. But if they're cloning a god, they are invoking a magickal entity which is very dangerous without the proper protections, binding and banishing rituals. In witchy circles, Odin (Wotan) frequently shows up... The forces at work in this story would be incredible, which may give them a way out of all the crap they've slung. As much as I'm against some of Marvel's decisions, I think that since they're out there, they should explore them to the limit. PROF: One thing that Stan definitely got right was his ability to recognize the value of a "shared" universe but not to the point of absurdity where heroes are literally tripping over each other throughout the various titles. It was just little things like if Spider-Man needed a lawyer, Matt Murdock would show up and maybe just a blurb pointing out to the reader that Matt's secretly Daredevil (in case the reader didn't already know). Which Stan also knew MIGHT get that previously uninformed reader to pick up the Daredevil title and try it out. BUG: Yeah, my first crossover was CONTEST OF CHAMPIONS. That series showcased the characters strengths and made me want to seek out the books of other characters in the Marvel U. So far, CIVIL WAR has highlighted all of the characters weaknesses, not strengths. It makes me want to drop titles rather than pick them up. PROF: Nah. CIVIL WAR is maybe more of a fanboy orgy than anything else. No way no how does some pedestrian off the street pick this thing up and like it. He or she'd wonder where the heroes are because it reads like a world taken over by super-villains. BAYTOR: I've never been much of a Marvel reader and don't even know who half these characters are (first time I ever encountered Black Goliath), and I've got a clear sense of things…although Spider-Man's new costume and Thor are mild questions in my mind. Perhaps because I don't have such a deep knowledge of Iron Man and Captain America and Mr. Fantastic, I can accept these imperfect people without thinking that they're super-villains. If anything, I find the notion that super-heroes should have the right to act as unlicensed vigilantes to be a completely morally dubious position, and that's entirely dependent on accepting the genre conceit that vigilantism is just good, clean fun. BUZZ: That's the archetype. Thinking too much about what superheroes do in the real world leads you back to the fact that there aren't any superheroes in the real world. BAYTOR: I think the shared universe thing is more of a young man's game. When I was in my early 20s, I just couldn't get enough of the interconnectedness of the DCU and was buying all manner of crap just to keep up. At some point, I just had that moment of realization that I wasn't liking most of those interconnected titles and came a couple of titles from quitting comics altogether (SANDMAN and PREACHER). CW isn't terribly good, channeling a lot of better comics from the 80s and 90s, but for folks who haven't experienced those earlier books or cross-over events, CW is probably really exciting. They can be enthusiastic about it, because they don't see the Invisible Giant Rubber Band that's going to return everything back to normal within a couple of years. SUPERHERO: You seem to think that CIVIL WAR is bringing in all these new readers, but is it really? I'll tell ya, when I go to my shop...it's not a young crowd that's picking up the comics in shops these days. The guys who are picking up stacks of books are all around my age. You wanna know where I see kids reading comics? In the manga isle at Borders. BUZZ: Maybe Marvel editorial
wants
to be young and hip again. PROF: And thin. BUG: We're our own worst enemies. We complain about this and that. We piss and moan, but at the end of the day, I'm going to finish out this CIVIL WAR miniseries. Am I going to like it? Will I want to read ANY Marvel books after it's over? Will I even recognize any of the characters I grew up knowing and loving? All signs point to "NO" at this point, but who knows?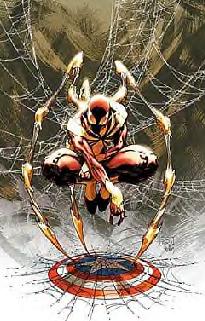 BAYTOR: I doubt
anything
superhero based is bringing in *that* many fans these days, much less the cross-over events. But just looking at the reaction on various message boards, the newer fans *are* enjoying these things a lot more than the Old Farts. At one time, I thought ARMAGEDDON 2001 #1 was one of the best comics I had ever read… I just never saw this sort of thing before. Super-heroes were acting in ways they never did when I was a kid. Superman was executing people, for god's sake. Heroes were being killed off by the truckload. I didn't know what was going to happen next and I loved it. But that love didn't last, and within five years I started seeing the patterns. Within a handful of months I went from collecting the great bulk of the DCU (and this was the mid-90s, so that was a *lot* of books) to two or three DCU books. I was done with mediocrity and I would never find myself enthused by a crossover event again. And I think that's the path a lot of today's fans are on. CW is shiny and new to them and they dig it… and four or five years from now, they'll either be out of comics completely or focusing on better quality titles. BUG: Or using it as a punch line like we use HEROES REBORN or THE CLONE SAGA, which if you all remember, were pretty big hits when they first came out. BUZZ: I think the shared universe faded a little when it became clear that current Marvel editors and writers don't read Marvel comics that they weren't personally involved in making. HUMPHREY: I dunno, these are characters have been around seemingly forever and simply put, they get stagnant from time to time. Sometimes you need that little kick in the @$$ to get things going and give something for the characters and the readers to chomp on. And I see why they do it, because it seems like you can't sell a book on quality alone. It's all about hype. You can't convince people they should be buying something synonymous with quality (FABLES, EX MACHINA, THE WALKING DEAD, etc.). BUG: The real problem is that the wrong people are writing these event books. I just read the latest issues of Brubaker's CAPTAIN AMERICA and Straczynski's AMAZING SPIDER-MAN comics and after reading their takes on the events in this crossover, I'm convinced THAT'S who should be writing these things. SUPERHERO: Marvel just needs to rein their writers in a bit. Not too much but it seems like no one at Marvel Editorial ever heard the word "NO" before. BUG: Marvel has capable writers who don't go for flash or shortcut character for story. They have Ed Brubaker, Brian K. Vaughan, Zeb Wells, Dan Slott, Jeff Parker, Dwayne McDuffie in their stable. They just aren't using them for these things because they aren't in this little ILLUMINATI of their own consisting of Quesada, Bendis, Millar, Bendis, Jenkins, Bendis and Quesada. It's a shame. HUMPHREY: Honestly, what I think is going on with the writers can be broken down into three parts. On the one side you have these writers that think they're bigger than the characters. What they say goes and it doesn't matter if their voice fits the characters because the characters are just toys for them furthering their hair-brained ideas. What Millar is doing with CIVIL WAR is a prime example of this. Then you have guys that show way too much respect and take such a "we're not worthy" approach to these guys to the point where they try to make their favorite character the coolest guy in the yard like it'll re-affirm their childhood or something. And then lastly you have the guys in between the other two. The guys that know, love, and respect these characters, but they also know how to write damn good stories that actually *gasp* take these characters down a few new avenues and show a little evolution on their part. And we're seeing this through Brubaker's runs on books like DAREDEVIL and what Slott has been doing with SHE-HULK and THING. We really need more guys in the middle. BUZZ: It takes caring about what you do. Maybe they do, but it doesn't seem like it. Every editor should be required to read each of the house's books (and they'd be smart if they read the other guy's, too). It would seem smart for a comic book writer to read as many comics as possible. DAN: I'm actually not against crossovers in general, or even CIVIL WAR in particular. I'm a proponent of whacking the beehive every few years. What I disagree with is the idea that to create new interest a company has to change characters intrinsically, or reshape the universe. Some of the most effective crossovers I've seen took place within the pages of only two or maybe three books, where a challenge was presented and a host of characters reacted to it and learned from it and were affected by it. BUZZ: Crossovers are becoming today's polybagged, variant foil bagged covers with trading cards.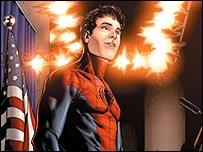 MODERATOR: What do you guys think of some of the decisions Marvel editorial has made about their flagship characters such as Spider-Man's unmasking, another disassembly of Avengers, the break-up of Reed and Sue?
DAN: More out of character bullshit, for the most part. As far as the Avengers falling apart again, I didn't even notice. They haven't even been back together long enough for them to register as a team yet. CIVIL WAR came way to hard on the heels of DISASSEMBLED for me to care if the Avengers fell apart again right now. Reed and Sue have a history of arguing over minor crap but agreeing on the big ideas. Occasionally, Reed gets caught up in something and Sue points out that he needs to get his head out of his ass- AND HE DOES. She's even bailed on Reed before, when he shut down Franklin without talking to her about it. Guess what? I'm thinking Reed has learned to pay pretty damn close attention to Sue. She's his conscience. But Spidey's spent literally decades hiding his identity specifically to protect his family from the hordes of freaks who hate him. The whole Aunt May marrying Doc Ock thing was all about that, and any time anyone learned Peter's identity it was a huge deal because of how intrinsic that secret identity is to the idea of the character. BUG: I think all of this is just a continuation of the unmasking of DAREDEVIL arcs in his own series. There we had a status quo shattering event that could never be fixed without disappointing the fans who stuck through it. SUPERHERO: I do have to say though that Bendis made that work for me. It's always seemed like they'd figure out a way to clear Murdock's name which seems to be the direction Brubaker's headed right now anyway. Spidey unmasked in front of the whole world on television. That's a goof that's gonna be hard to fix. BUG: Spidey unmasked is wrong on so many levels. It screams of short-sightedness past whenever this regime at Marvel is over. The only way any of these characters can redeem themselves after CIVIL WAR is to have Iron Man and Cap captured in some bunker with the Taskmaster and the Hate Monger wearing Cap and Shellhead's costumes manipulating the whole thing. And that shit won't fly with today's audience. Sooner or later, Scarlet Witch will swoop in or the Cosmic Cube or the Beyonder will be utilized because the writers have painted themselves into such a corner by mischaracterizing them and a return to status quo will be necessary. VROOM: The thing is, even that won't be satisfying. Now that we're where we're at, to have this all be the fault of some single super villain would be a massive storytelling copout. SUPERHERO: I'm fine with change. I really have no problem with it. With CIVIL WAR, though, the whole thing is completely forced. Everything every character is doing comes across as being done because of a desired final result, not because of how the story is flowing on its own.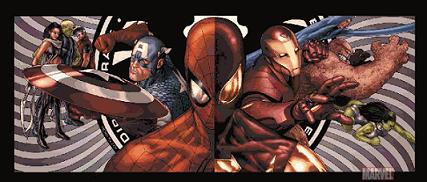 MODERATOR: You guys have been pretty vocal about your dislike of CIVIL WAR and a lot of decisions Marvel editorial has been making recently, yet reports indicate that Marvel is still top of the heap when it comes to sales with high spikes coinciding with the release of CIVIL WAR. Why do you think CIVIL WAR is so popular with the readers?
SUPERHERO: Hype. In the words of Public Enemy, "Don't believe the ..." PROF: I think it's because there's a good 30,000 or so short-sighted dumbasses out there who get some sort of personal satisfaction by flushing their money down the toilet and arguing that it entertains them. Then there's about an equal number of folks out there who buy anything with the name Marvel on it whether they enjoy it or not. Then there's about an equal number of people who buy it because they are the slow-motion-train wreck type of people. The rest are probably fans who buy each issue hoping against hope that it's all gonna get "better." Add that up and you have a successful sales number. The problem with that is there's no factoring in of "new" readers and nobody factors in the number of customers who finish the series and then give up on Marvel because of the bad taste left in their mouths. Short-term gain = long-term loss. HUMPHREY: I don't know if I'd be that broad. New readers that don't know much about these kinds of "events" see that there's this HUGE shakeup going and they become giddy about them. They haven't gone through a dozen or however many of these events as we have so they don't know they usually just end in much wailing and gnashing of teeth. BUG: I can't rip on the readers that much. I'm still reading this stuff and I don't like it. I guess it has a lot to do with the fact that I grew up with these characters. Even though I dislike the direction Marvel is taking them right now, I'm still around. I think the reason readers are buying this in droves is that they too desperately want to believe in these heroes. I think we as reviewers are harder on this stuff because we have to wade through hype and fandom to look at the thing objectively. And I have looked at CIVIL WAR objectively. I bought it with my own money. I read it. And hell, there were some little details like the little umbrellas Sue and Johnny make for themselves as they leave the Baxter Building in the rain, that I enjoyed. The art is top notch, so at least they're making the uglification of all of my childhood heroes look pretty. PROF: I don't think it's a "rip" on the readers so much as recognizing how the corporate mind manipulates the "fan base." They understand the reality. The readers should recognize and understand it too. You surely remember your own teen years when you ran into total Marvel Zombies...excuse me...Zuvembies. Or the DC Geeks. Or the title nuts - those that obsessively collect only X-MEN comics or something. DAN: Well, whether Millar's characterization blows or not, his writing is technically solid, and the books have been fairly exciting. The art is gorgeous. Plenty is happening that has widespread effects in the Marvel universe, as advertised. BUZZ: McNiven's art is excellent, at least technically. Millar is a fine writer, as well as coming across as a genuinely cool guy with a message board where you can get a sense of community. Some of the action is quite good. And comic books are an addictive drug. What if heroin addicts had to take another drug for the H to continue being effective? CIVIL WAR isn't for new readers or old readers. It's specifically for readers at that stage where they buy, read, and love it all because it's a comic book. Call me weird, if I was Marvel, I'd want
everyone's
money. But, guys, if CW is cutting edge change, what does that say about monthly Marvel Comics? As a fan, I want things shaken up...in each book, all the time. It shouldn't be a marketing gimmick. It should be standard operating procedure.
MODERATOR: And what about Marvel's other big crossover/event that's going on, the intergalactic space-opera ANNIHILATION?
VROOM: ANNIHILATION? Never heard of it. DAN: Is that the one where the Hulk got shot into space cuz he was a dick and landed on Rome and became Spartacus and is gonna come back with gladiator worshippers to beat the fuck out of Reed for being a douche?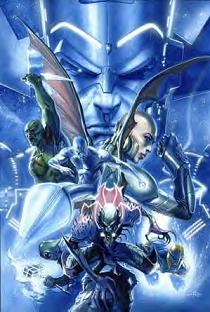 PROF: Hmm. I read the ANNIHILATION prologue, all four issues of SUPER-SKRULL, the first issue of NOVA, and two issues of SILVER SURFER. What I read was decent. I thought it was an "event" that smartly broke up into individual characters to move the story. The threat in ANNIHILATION was one that could affect the entire Marvel Universe, but they allowed the main titles to cruise along without having to tie into the events. It was smartly planned and I thought well put together. BUG: For the most part, I've been pleased with ANNIHILATION simply because it is being handled by Marvel editorial in the exact opposite way they are handling CIVIL WAR. Little hype. Few crossovers into other titles. Strong storytelling using characters to tell a story, not bending them to fit a means to and end. The way the whole thing built up these characters in each miniseries first, then threw them all together for the big war was a clever way for me to get invested in some characters that otherwise I wouldn't have given a shit about. But look who's writing it, Keith Giffen. An old schooler who understands the medium, its possibilities and limitations. SUPERHERO: Haven't read ANNIHILATION at all. By the time I was done with HOUSE OF M Marvel expected me to get into TWO crossovers??? WTF??? Man, those guys have got some nerve. I've heard it's interesting though. Figures that the crossover with less hype would be the one that I might enjoy. But I won't pick it up because I'm soured on the whole crossover thing as it is. BUG: ANNIHILATION is not a perfect story at all, but it appeals to me because in that it respects these characters and takes them in directions I've never seen. These guys may not be the ones on the lunchboxes, but they've been stagnant characters for years. This series is keeping them recognizable, but evolving them to the next level. Super Skrull - a reluctant hero. Silver Surfer - rekindles his allegiance to Galactus. Drax looks over a young girl because he was never able to do so with his daughter Moondragon. Nova - no longer a dimwitted teen hero, but now a seasoned battle-proven warrior. BUZZ: I'm sorry, Bug, but Nova will always be a dim witted teen hero. We're talkin' Ashton Kutcher in THAT 70's SHOW as a Human Rocket! BUG: These are changes in character, but they are natural evolutions that occur in the face of a war. They aren't divvied up to one side or another without consideration for their character as in CIVIL WAR. The writer's understanding of the character guides the hero or villain down his path and a good story comes out of it. HUMPHREY: See, ANNIHILATION I actually enjoy. Firstly, because it wasn't beaten into my head that "YOU MUST BUY THIS OR ELSE WE'LL SHOOT YOUR KITTEN!" It was put out there, it's a fun story albeit not very unique, and is actually handled somewhat tightly by the guys doing it. The characters are behaving exactly like I'd expect them too, and are showing a little bit of growth here and there, it's action-packed, has some decent drama, and you never really know who's going to make it or not.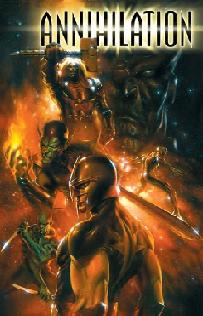 BUZZ: And is Marvel supporting it? Cynical comic book company hypes cynical comic for cynical fans. HUMPHREY: It's getting a fair share of support, but it's more of the variety of occasionally Joe Q in a Joe Friday's or whatever will drop the occasional "Oh, and ANNIHILATION is heating up this week, make sure you check it out." SQUASHUA: Notice what Reed Richards and Tony Stark are doing with the Negative Zone prison? I think we're going to see CIVIL WAR tie into ANNIHILATION from this angle. SLEAZY: I just don't see why we needed Reed to devise a Negative Zone prison for his friends (yet another example of how poorly characterized he is) when they already had the miniature prison Hank Pym devised over in SHE-HULK. They already had a perfect, in-continuity metaprison, and it was designed by somebody we already knew was a total douche. Using that option would have left Reed's reputation partially intact and reinforced the douchenozzlyness of Yellowjerkass all in one swell foop. That's how you maintain continuity and characterization while telling the same general storyline: bend the story to fit the characters and the existing Marvel Universe, but don't warp the characters and the Marvel U to cram them into the constraints of the story you've decided to tell. BUZZ: Could it be possible that Millar and whomever it editing CIVIL WAR don't read SHE-HULK? Nah, comics are their business so they're up on these things! SQUASHUA: They didn't use the excellent Pym Prison because (1) Reed needed to invent something besides Clor and (2) using the Negative Zone will eventually tie this to ANNIHILATION. Mark my words; all three events (CIVIL WAR, ANNIHILATION, and PLANET HULK) will tie together. SUPERHERO: Really...if the Hulk comes back to kick everyone's ass...that may be the coolest freaking thing ever. Seriously. Just so long as he actually does it and doesn't hold back...Tony, Reed, and all those jackasses deserve to have their skulls punched off for what they did to him. SQUASHUA: I'm tellin' ya. Hulk is going to get sucked into Annihilus' army and into the Negative Zone, come crashing through that prison, free everyone, and step out onto Four Freedom's plaza and drop kick Stark right through Reed's flexible asscheeks. Full circle, baby.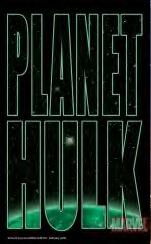 DAVE FARABEE: Hey @$$holes, just passing through and thought I'd throw out a cent or two. BUG: Hey guys, it's Dave! All: DAVE!!!! DAVE: I've heard your sentiment about the Hulk expressed from a number of readers, and even if tossed out partially in jest, to me it indicates Marvel has
won
. See, while some fans might be
consciously
aware of the fact that all the gross mischaracterizations of Reed, Tony, et al. stem from cheap, shock-tactic writing, on a
subconscious
level they're starting to accept those characterizations. Suddenly, it's not Millar and Bendis who need to be reigned in for eroding the heroic ethos, but the
characters themselves
who need to be punished for their bad behavior. Victory for Marvel! Hulk's gonna come back and probably WILL kick the asses of his fellow heroes as never before, and now instead of readers wondering at how unpleasant it is that a one-time hero like the Hulk has become a full-fledged villain (I bet we'll finally get some overt killing this time), they'll be thinking, "The heroes brought this on themselves." And they'll probably be excited to watch them get their "just desserts." It's very clever, very insidious, though honestly, it may well be the smartest way for Marvel to maintain an adult readership that makes a crap audience for the genre's conceits of heroism. I guess the new level of heroism will be when Reed or Tony have the *courage* to admit that, oops, yeah, they *did* became Gestapo fuckwads for a while there. Readers will nod, teary-eyed and touched. "It's SO true. Acknowledging that you're a scumbag is the bravest thing a person can do in a world of shit." SLEAZY: That's some cent he tossed out. BUG: Smells like victory with a hint of fanboy. BUZZ: I think that the problem is that Mark Millar, a smart guy, writes very much what his audience wants. You're absolutely right. We fans get into debating the moral decisions of fictional characters, forgetting that they make whatever decisions the creative team chooses.
MODERATOR: We've heard plenty about what Marvel has done wrong with CIVIL WAR, but the truth is we're all still reading Marvel titles and we're all still enjoying Marvel titles. So even if we're not on board with CIVIL WAR, what Marvel comics are you digging right now, and what about them makes them worth checking out if somebody's looking for an alternative to crossover fever?
VROOM: My favorite right now, is Fabian Nicieza's THUNDERBOLTS. I love, love LOVE redemption stories, (and I hope to read one about Wanda soon. Yes, I'm still bitter.) The path that Nicieza has given to Helmut Zemo is nothing short of enthralling.
HUMPHREY: CABLE/DEADPOOL is always fun. And pretty much all the main X-team's titles are pretty stellar now (which is the first time in a long time). Ennis' run on the MAX PUNISHER series is fantastic. It's funny what you can do when you just let writers write and don't try and make everything out to be some giant "must read" event.
BUZZ: ESSENTIAL TALES OF THE ZOMBIE VOL. 1. The fact that the current Marvel regime reprinted these horror mags redeems everything they've ever done wrong. Taking a cue from the DC SHOWCASES, this one reprints articles, ads, promos, prose pieces and reviews as well.
SQUASHUA: You picking up AGENTS OF ATLAS? I know I'm going to get some shit for saying this, but AGENTS is like NEXTWAVE - EXTREME!!! - CATCHPHRASE!!! + HIP + ACTUAL CONTENT.
PROF: The MIGHTY MARVEL WESTERNS this summer were beyond fantastic -- they made me feel like a Marvel Fanboy again as I read them.
SUPERHERO: Well...everyone knows of my unabashed love for SPIDER-MAN LOVES MARY JANE but that may change after Miyazawa leaves the book. Everything Brubaker is doing is just gold for me. DAREDEVIL, CAPTAIN AMERICA, and his X-book are just great. I just love Brubaker.
BUG: I'm loving the miniseries BEYOND! It's like a crossover but without any characters that have their own series. Writer Dwayne McDuffie is really kicking ass and making some obscure Marvel characters cool all over again. Marvel really has been doing a great job with a lot of their miniseries this year. ARES is another mini that rocked my socks off.
MODERATOR: Well, there you have it and if you made it to the end of this lengthy meeting of the minds and are itching for more, the @$$Holes are planning another discussion focusing on DC's crossovers/events coming soon. Until then, how about you all keep the roundtable rolling in the Talkbacks?