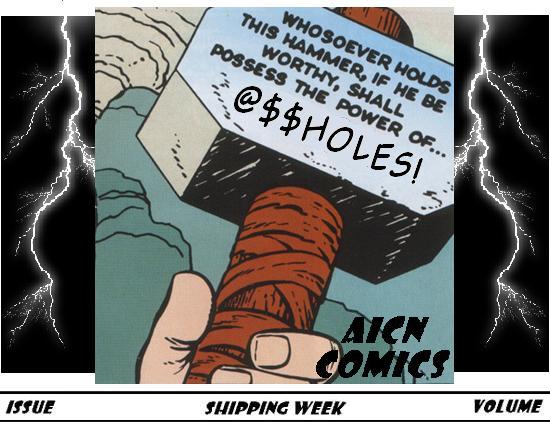 Hey folks, it's your old pal Ambush Bug here. Change takes time and here at AICN, we're going through quite a few changes lately. Stick with us though. We've got more fun reviews, in-yo-face interveiws, and wanton jack@$$ery for you all very soon. Hopefully we can get back onto a steady schedule shortly. Us @$$Holes haven't been snoozin' in the job, though. Last week's column was a bit delayed, but it was a personal favorite of mine. And earlier in the week I talked with writer Raven Gregory about his new comic SE7EN: GLUTTONY. So bear with us, folks. Times they are a changin'. In the meantime, here are some more reviews.
---
The Pull List
(Click title to go directly to the review)
ESSENTIAL MARVEL TEAM UP VOL. 2
THE BATMAN STRIKES! #25
ROKKIN # 3
PRIDE OF BAGHDAD HC
Big Eyes For the Cape Guy presents CLAYMORE VOL. 1
Indie Jones STRANGE KILLINGS: NECROMANCER TPB
Indie Jones presents PS238
Indie Jones presents…
---
ESSENTIAL MARVEL TEAM UP VOL. 2
Written by Bill Mantlo, Gerry Conway, Len Wein
Art by Sal Buscema, Jim Mooney, Ron Wilson
Published by Marvel Comics
Stream of altered consciousness by Buzz Maverik
In John Irving's novel THE WORLD ACCORDING TO GARP, young T.S. Garp loses his virginity to the daughter of a prep school teacher of a class about his personal experiences in World War II. This makes perfect sense to me...the narcissism of the course and the virginity losing. Welcome to Professor Maverik's Experiences With MARVEL TEAM UP.
All good reviews contain detailed plot summaries, so hold onto your nads: either Spider-Man or the Human Torch meets another Marvel hero of the late Bronze Age. Sometimes they fight, then they join forces against an often disposable villain. Such plots are metaphors for a comic book company that wanted to make money and for Marvel Zombies who bought every book the company published. Man against man; man against nature; fanboys against their wallets.
MTU was often a throwaway book. Not by us fanboys, but by Marvel. It seemed to be a way that new writers made their bones and reliable bullpen artists supplemented their income. The great Spidey artist Gil Kane did many of the covers.
With nominal references to the continuity of AMAZING SPIDER-MAN, we usually had Spidey with no hint of Peter Parker, pointlessly webslinging until the team up started. We might get some mention of the other hero's book or previous adventures. In Volume Two here, we get Spidey with Daredevil, the Hulk, Hercules, the Falcon, Iron Fist, Nighthawk, the Valkyrie, the Frankenstein Monster, Man Wolf, the Beast, the Human Torch, the Sons of the Tiger, the Scarlet Witch, the Vision, Dr. Doom, Moondragon, Killraven, Deathlok the Demolisher, the Thing (in a MARVEL TWO-IN-ONE crossover), Iron Man and Dr. Strange. We get the Torch with Thor, Iron Man, Son of Satan, and Dr. Strange.
When writer Bill Mantlo took over the book, some consistency and focus was added. Continued stories with more significant threats were introduced, including a time travel thread with Spidey, several then-Avengers and Dr. Doom at the Salem Witch trials before Spidey was flung into the future for encounters with Marvel's future-shock heroes. Mr. Mantlo even tried to give Spidey a separate MTU supporting cast with police captain Jean De Wolff, who would star in the PETER PARKER, THE SPECTACULAR SPIDER-MAN arc THE DEATH OF JEAN DE WOLFF (with a title like that, she should have seen things coming...).
This review is really MARVEL TEAM UP's fault. MTU made me a Marvel Zombie. Sure, I'd always read comics, but sporadically, never much differentiating one company from another (sort of the way I am now). Comics were okay but I was interested in monsters and horror, until damned if I didn't see the Frankenstein monster fighting Spider-Man on a cover in one of those contemptible sealed three-packs they used to sell in supermarkets (this one also had ASM # 148). After that, screw the monsters, it's Marvel superheroes from now on!
And MTU got me shoplifting comics. Another supermarket let their comics rot on the spinner, and when you tried to buy an issue that was too old, they wouldn't sell it to you. When I saw MTU # 33, with Nighthawk -- a hero I'd never seen before--sucker punching Spidey, I had to have it, even though it was five months old. There was no such thing as back issues, no comic shops. E-bay was where Elvis anchored his boat. That hump at the checkstand may have confiscated the DAREDEVIL issue where DD first fought Copperhead, but he wasn't getting Spidey and Nighthawk vs. the Meteor Man! Down the hoodie, into the top of the waistband it went.
Yes, MTU is probably the single most important series that Marvel ever published.
---
THE BATMAN STRIKES! #25
Writer: Jai Nitz
Art: Christopher Jones (Pencils), Terry Beatty (Inks)
Publisher: DC Comics
Reviewer: Ambush Bug
I really had an aversion to the new THE BATMAN STRIKES! cartoon. First and foremost, it annoyed the hell out of me that he was being referred to as THE Batman. It's just simply Batman, okay? What's up with all of this formality bullshit? Secondly, I thought the designs were off, not only for THE Batman, but for his various villains. I'm also not too keen on the whole let's de-age our hero so he can be young and hip. I also found the series to be redundant because it wasn't long ago that a cartoon based Bat-series introduced Batman to a whole lotta villains for the first time and this series seemed to be doing the same thing all over again. Lastly, Paul Dini and Co.'s BATMAN cartoon cannot and will never be topped in my book as one of the best animated superhero series ever. I watched the first episode of this new series, wasn't too impressed, and forgot about it soon after.
But fate dropped a copy of THE BATMAN STRIKES! #25 into my lap and I decided, what the hell, I'd take a gander at what I've been missing.
Turns out I may have judged this sereis a bit too soon.
I really liked this issue of THE BATMAN STRIKES! It's one of those stories you've read a million times. Batman takes on a villain he's faced before. At this point, Batman has faced so many of his foes so many times that it usually takes something gigantic or completely continuity-shattering to give the story some heft. Writer Jai Nitz doesn't go this route, though. He doesn't try to change the status quo or crack the internet in half. He just tells a straight up super hero story pitting Batman against Killer Croc and makes it seem fresh and interesting.
How does the writer do this?
Well, he relies on what we know about Killer Croc and frames a story smartly around those attribuites. Nitz deftly deconstructs what makes Croc tick, what makes up his motivations and history, and where his weaknesses lie. And he frames this clever deconstruction with your typical "villain escapes prison" story. Nitz seems to be the type of writer who is completely comfortable with the single issue format. Halfway through this issue, I stepped back and consciously realized that, despite the fact this this was a 22 page story, it was quite dense, with a definite story arc going on in a single issue. Much like Paul Dini's BATMAN stories of old, Nitz seems fully capable of making a story fit within the single issue format without making it seem either scrunched or stretched.
Nitz also ignores the annoying aspects of THE BATMAN STRIKES! that turned me off of the series to begin with. This Batman is young, but that's not central to the story. This isn't the first time Croc and Batman have faced each other. And despite the youthful look of Bruce Wayne, Nitz keeps the bulk of the story centralized around Batman in costume. Plus he adds some pretty cool quirky perks thanks to Wayne technology in the form of a Batwave radio which serves as communication between Bats and Commissioner Gordon and Alfred and a nifty techno-solution to Killer Croc's annoying habit of breaking out of every prison he's been placed into.
All in all, this was a satusfying read throughout. I'm like a lot of people who think that Dini's BATMAN series based on the cartoon was the end all be all in adaptations of superhero cartoons in comics. But writer Jai Nitz shows an understanding of the single issue format and a gift for telling interesting stories that leads me to believe that there may be other writers capable of doing so. Check out THE BATMAN STRIKES! #25. It's kid-friendly, but this 34 year old kid liked it too.
---
ROKKIN # 3 (3 of a 6 issue mini-series which they only announced this issue)
Written by: Andy Hartnell
Pencilled by: Nick Bradshaw
Published by: WildStorm Comics
Reviewed by: superhero
ROKKIN presents another all around entertaining issue of fantasy fun and action but…there's something different here. Oh, I know what it is…the coloring! Jim Charalampidis is apparently no longer coloring the book and has been relegated to additional digital inks. What the…? The result is still a really nice looking book but there is a noticeable difference between the appearance of the first two issues and this one. Mostly that the WildStorm FX team, who have apparently replaced Charalampidis as colorist, have exchanged his wondrous palette with a less saturated one and, quite frankly, the results are less impressive than Charalampidis's work. So it took a whole team to replace the previous colorist and they couldn't even match his skills? This Charalampidis must be some sort of superhuman digital wunderkind if the whole WildStorm FX team couldn't match his abilities!
Still, the book is better looking than a lot of stuff out there so I shouldn't complain too much. ROKKIN is a fun read and reminds me of how much I loved reading some of those Buscema Conan books back in the day. There's monsters and magic swords and scantily-clad overly-endowed warrior women…what more could a comic fan want? ROKKIN'S still great stuff even if the change in the look of the book is a bit jarring.
What I am pissed about is the fact that this issue's now touting the book as a miniseries instead of an ongoing book! Again I must say, "What the…?" Seriously, I was all psyched that I'd have an ongoing fantasy series to get into and now I'm finding out that it's only a limited run??? What's going on? Is it just not selling enough? Was it always a mini and I just didn't pay attention enough to the postings on Newsarama or Comic Book Resources? Either way it's a pretty dirty trick to not let fans know that it wasn't a mini from the first issue. I would have just picked up the trade if I knew it was just going to be a mini! Crap!
OK, so now I have to pick up the rest of the series and sell 'em on E-Bay so I can go and buy the trade for my bookshelf. Oh, well. I guess if that's the worst complaint I can have about the book then the creators of ROKKIN must be doing something right. I just wish they'd bring back Charalampidis so I can have that crazy old fashioned Disney looking fantasy book I was so psyched to be reading in the first place!
---
PRIDE OF BAGHDAD HC
Writer: Brian K. Vaughan
Penciler: Niko Henrichon
Publisher: Vertigo/DC Comics
Reviewed by Humphrey Lee
If anyone out there has ever bothered to pay attention to my reviews (and I have it on good authority not a bloody one of you does... ah well) then you would know that I'm not exactly one to mince my words. If something is truly good/great and deserving of praise and accolades all around, I'll do my best to try and make sure the good word gets spread and hopefully encourage some new readers to give said book(s) a fair chance. But if something doesn't jive with me, or in some occasional cases even offends me, I'll also do my best to let people know to avoid said book like the goddamn plague, or that one cheerleader that did the entire football team. You know the one and why. Thus is the power of the press.
With that all said, I'm here now to let anyone reading this in on a little bit of information: Brian K. Vaughan's PRIDE OF BAGHDAD is easily amongst the finest pieces of comic book literature I have ever read and is also the best comic I have read, and probably will read, all year. Maybe even this decade.
If you don't know by now, PRIDE OF BAGHDAD is an Original Graphic Novel (OGN) based on the true story of a group of lions that escaped the confines of a Baghdad zoo during the beginning of the bombing of Iraq in 2003. Now, this book isn't going to revolutionize the genre. This isn't the second coming of WATCHMEN, this isn't going to kick off an entire era of mimicking trends and ripped-off storytelling to the point where even the source material seems trivial like we seem to be glancing at today. What PRIDE OF BAGHDAD is, is some of the tightest story-telling I've ever seen, combined with some absolutely jaw-dropping art, and that tells a tale that is at times joyful and smile-inducing but will also tear your goddamn heart right out with some truly tragic affairs.
There's so many elements of PRIDE that make it the experience that it is. One is that you instantly fall in love with the characters and actually care what happens to them on their journey. That had to be an especially difficult task for BKV, as they're not human so obviously to draw emotions to these characters is going to take a little bit of effort since you have to humanize them and give the reader something to identify with, and BKV pulls it off beautifully. But there's also some unfairly drawn comparisons thanks to works like, primarily, Disney's "The Lion King" that will cause some readers to question this book's "legitimacy" as a work of art as with a glance they will dismiss it simply as "kid's stuff". But I assure you, yes, the book has at times a light-hearted and playful air around it, but there are some very mature themes in this work, handled very deftly and subtly, but always packing a great deal of meaning that is a testament to BKV's skill as a writer and storyteller. No panel is wasted, there are no throwaway scenes, there's no "padding", this is simply just an exhibition of how comics can, could, and should be written.
And the visuals, oh my the visuals. For a couple years now I've been touting artists such as J.H. Williams III and Tony Harris and Darrick Robertson and a small handful of others as some my personal favorite comic book artists. These men, and men like them, in my opinion have some of the greatest eyes (and hands of course) in the industry when it comes to the art of visual storytelling in the medium of comics. Well, with PRIDE here one Mr. Niko Henrichon has now risen high up on that list. The art in this work is absolutely brilliant. Everything has such a vibrancy to it, it's uncanny. There is just so much detail, and articulation, and energy in each and every panel, it's just unbelievable. The panel transitions are perfect, the story has such a great flow and is so kinetic, and there are some single and double page splashes in here that are just breath-taking. The art of PRIDE OF BAGHDAD is as equally responsible for the amazing experience reading this comic was (and will be over and over again) as the writing was.
This book should be on everybody's shelf. It's that simple. If you in any way consider yourself a true fan of the "art" of comic books, then this is a must own. If you are constantly on the look out for material that exemplifies what comics can and should aspire to be, this is one of the biggest no-brainers when it comes to spending $20 of your hard earned cash on the medium. This book will win awards, and if there is any justice in the world it will win a whole slew of them and be talked about for years to come. Don't wait for the word of mouth to spread and the nominations to (hopefully) start coming in. Get in now and start spreading the word to your peers. You owe it to your love of comics and yourselves. Cheers...
---
CLAYMORE: VOLUME 1
Written and Illustrated by: Norihiro Yagi
Published by: Viz Media
Reviewed by: superhero
Let's face it. We've all seen plenty of the warrior-girl demon slayers throughout popular fiction and that's exactly what CLAYMORE is. So when I picked up this manga I wasn't really expecting anything special. The premise sounded interesting enough and I wanted something to read for a flight I was about to take that afternoon so I picked it up. If anything I figured it'd provide me with enough entertainment to relieve some of the boredom of a two and a half hour plane ride. In the end I'm actually glad I grabbed this book because it ended up being a more engaging read than I expected it to be.
CLAYMORE takes place in a medieval like world where monsters called Yoma stalk the countryside for human prey. In order to defend against them the human race has created a breed of humans called Claymores. The Claymore is a human female who has been bonded to the blood of a Yoma so that she can become something more than both human and Yoma. See, pretty standard stuff right? And in the beginning of the book that's what it pretty much is. But it's Norihiro Yagi's art and strong storytelling sense that allow the book to become more than just an average demon-slaying-chick book.
Yagi's art isn't really anything spectacular to tell the truth. If anything it's pretty much average for a manga book. Maybe "average" is unfair as Yagi definitely has a flair that stands out from the cookie cutter style that tends to infect much of the manga out there. As a matter of fact there were some instances in the book where I though much of his line work reminded me a bit of Carlos Pacheco's art even if Yagi is the anti-Pacheco when it comes to background art. What really makes the book stand out is the artist's storytelling ability. More often than not in manga I often find it harder to follow the panel progression than the Western comics I read. Maybe it's the fact that I'm reading from left to right in a lot of these books but I tend to think that many manga artists get too caught up in over detailing their pages instead of getting the story to flow coherently. I didn't have any problems understanding the panel progression in CLAYMORE. This book really flows and once the action gets moving it's a really fast paced piece of work.
As far as manga goes you could do a lot worse. Hell, as far as comics go you could do a lot worse. But you could do a bit better too. But not much. If anything CLAYMORE is just like the porridge that Goldilocks ate: just right. It's a book that seems like it could get even better with subsequent volumes and I'm planning to pick up the next one whenever I come across it in my local bookstore.
---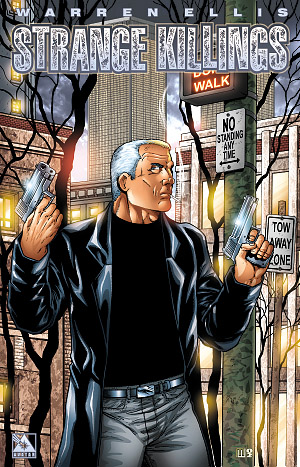 STRANGE KILLINGS: NECROMANCER TPB
Writer: Warren Ellis, Mike Wolfer
Artist: Mike Wolfer
Publisher: Avatar
Reviewer: Baytor
There's a common opinion that comics that aspire to be movies are a bad thing. The notion is comics are their own special thing and it's insane to try to emulate film, when movies can do that much better than comics ever can.
Only thing is, there's a gigantic hole in that theory: the amount of money it takes to make a movie makes it enormously difficult to do justice to certain types of stories. Take NECROMANCER, the latest in cinematic comics from Warren Ellis and Mike Wolfer. It's the modern equivalent of what they used to call Exploitation Movies, filled with guns, tits, and gore. The problem is, movie executives tend to get nervous shelling out tens of millions of dollars doing this sort of thing, and even a movie like SNAKES ON A PLANE was originally shot with a PG-13 rating in mind, before someone upstairs got half a brain and decided to go back and re-shoot for the R it so desperately craved. And given its relatively meager ticket sales, Hollywood probably isn't too keen to throw that sort of money at a script like that again.
On the flip side, they'd shoe-string it, release it direct-to-DVD, and you'd laugh as some over-the-hill former-pretty-boy TV actor and a few big-breasted wannabe starlets run around a poorly dressed jungle set, while cannibalistic zombies had sex with each other. And that, my friends, is a fate worse than death. I really don't need to see Jason Priestly pretending he's a hardcore combat magician, while an actress who hasn't quite mastered tying her own shoes pretends to be a smart, capable reporter.
No, I'd rather see this sort of thing play out in comics, where we can at least get an A-lister or two on the book, and it has a fighting chance to be properly chilling without the risk of Coke shooting out my nose from laughing at the utter absurdity of it all.
The plot: William Gravel is a combat magician (think John Constantine as a member of the SAS) who has to find a reporter who is out to uncover a story about the military use of zombies. Lots of nudity, sex, cannibalism, explosions, and gun fights ensue, before Gravel emerges victorious a hundred or so pages later. That's it in a nut-shell. There's no life lesson to be learned here, no hidden depths, and it can only be called intelligent in the sense that it's not mind-numbingly stupid. It's a nasty little action movie, the sort Hollywood would never properly make, but Ellis and Wolfer manage to pull off with a fair amount of style in comics.
If you're looking for the next evolution of the comic medium, keep looking cuz this ain't it; but if you looking for a high-octane thrill ride with some creeps and chills, then this is the sort of book you want. And if you've never read any of the books in the STRANGE KISS/KILLINGS series, don't worry, there's not much back story necessary to understand this, and it takes them all of about two panels to tell you what you need to know.
---
PS238
Writer/Artist: Aaron Williams
Publisher: Henchman Publishing/Dorkstorm Distributing
Reviewer: Prof. Challenger
My Metaprodigy Saved Your Honor Roll Student at PS238
- bumper sticker
First time I ever heard of PS238 was years ago in a conversation with our own (and ComicPants') Dave Farabee. He recommended that I track it down when we were chatting about a press release for one of the movie rip-offs that were announced, SKY HIGH or ZOOM'S ACADEMY (ZOOM). I can't remember which rip-off it was - probably SKY HIGH though, since it's the most blatant rip-off of PS238. ZOOM'S ACADEMY, the comic that ZOOM was based on, looks more like a rip-off of X-MEN than PS238. And you may be wondering just what I'm babbling about? Well, PS238 is an independent comic book series that's been running for over two years now and spent some time as a back-up gag strip in NODWICK, DORK TOWER, and PvP before that. The premise is very simple: Public School 238 is the top-secret "School for Meta-Prodigy Children." The focus is on elementary to middle-school aged kids rather than high schoolers and the school is located underground rather than floating on a cloud. Other than that, I'd say this is the comic book that SKY HIGH was based on (even if they won't admit it).
What I did recently was sat down and read through all three trade paperback volumes (PS238: WITH LIBERTY AND RECESS FOR ALL, PS238: TO THE CAFETERIA FOR JUSTICE!, and PS238: NO CHILD LEFT BEHIND!) and came away charmed. The first volume begins with the back-up gag strips, and they were amusing little bits with lots of clever spoofs of popular Marvel and DC characters. Probably the funniest character introduced there and carried over into the main sequential series is "Murphy," who is obviously supposed to be Neil Gaiman's Sandman character as a kid (Li'l Morpheus?). Throughout the entire series, there are spoofs galore running the gamut from Green Lantern to the Hulk to Spawn to MODOK, yes, MODOK!
When the series started, the focus was on Ron/Capt. Clarinet, who was afraid to use his powers. But by midway through the first TPB (Issue #3), the focus shifts to the non-powered Tyler, who is the son of Ultima and Sovereign, basically the Superman and Wonder Woman of this world. Even though Tyler does not have any powers, his parents have enough political clout to get him into PS238 and he becomes the character that the readers can relate to. What they don't know is that Tyler has taken on the
Robin
role of
Moon Shadow
to PS238's resident
Batman
pastiche,
Revenant
.
To sit down and read straight through all three trades, that's issues #0-15, makes the growth in storytelling and character development all the more pronounced. What began as a simple little gag strip spoofing super-hero clichés has grown into its own little world of nice and nasty characters, adults and kids, who have cosmic and mundane adventures while always maintaining a refreshing sense of fun and naiveté. Like BANANA SUNDAY and POLLY AND THE PIRATES, PS238 is one of those comic book series that I would not hesitate to put into the hands of a child of any age but is enjoyable by kids of any age - even those of us over the age of twelve.
The adults are not played as stupid, and the kids make mistakes and misjudgments like all kids do. But at their core, the heroes are heroes by their moral character not by their powers. The cartooning by Williams is stylish and clean black and white with tones and textures added by computer. His style is not a harsh, anarchist bent or Manga, just simple smooth outlines with restrained linework on the details. The kids are cute big-feet/big-head cartoons who just happen to wear tights or armor. The humor comes mostly from the little things, such as ZODON's profanity chip that keeps the villainous child's language hilariously and nonsensically G-rated (against his will of course), the lumbering pea-brained Hulk-parody, Bernard, and the megalomaniacal Victor Von Fogg!
PS238 is based on a concept that goes all the way back to the original X-MEN - that of a school for super-hero children. But as far as I know, this is the first that dealt with it at the grade-school level. And that makes PS238 unique in unfolding comic book history. It also gives it that extra level of niceness and fun that makes it a stand out in a marketplace literally inundated by intense blood, gore, and profanity (which has its place, mind you). Comic books, super-hero comic books especially, need to remember that an aging fanbase is a declining fanbase and unless new kids can get drawn into it, the field itself is soon to disappear. More books like PS238 might be a great way to bring in new readers while also entertaining the longtime fans as well.
Ask for it by name, readers. Issue #17 just came out at the tail end of the summer and #18 is coming up. And note to the publishers: Get these trades into the children's sections of the major bookstore chains. Thanks for the entertainment.
---
LAI WAN: TALES OF THE DREAMWALKER
Moonstone
LAI WAN was at the bottom of my stack to read. For some reason, I set it aside and let other things take precedence. Too bad, too, because once I read it, I found myself really liking it. This book kind of reminds me of the TV shows MEDIUM or MILLENNIUM where a person with super-human powers helps cops catch real life killers. This issue is a stand alone mystery that deals with some pretty heavy themes. The character of Lai Wan is nicely developed, yet shrouded in mystery. Her motives and actions are never fully explained. She sort of appears, helps the police find a murderer, and then moves on. Writer C.J. Henderson paces this issue well. It doesn't seem rushed or forced to fit within one issue. I plan on seeking out more issues of LAI WAN. -
Ambush Bug
Those who know me know I try my damndest to stay out of political discussions. Nothing turns me off more than one person or party trying to prove another person or party wrong while ignoring the actual problems and the little people like you and I. That's why my bristles automatically went up when I crossed paths with this comic. Touted as a religious comic for the liberal left, my little hamster brain struggled to come up with a picture of what that would be like and why would someone make a comic about it, so I dove in between the covers to find out. Turns out this is another propaganda tool masquerading as a comic book and I'm kind of in the business of reviewing comics, not something that illustrates dissertations and factoids of why one political party is better than another with about as much vitality and flair as Steven Wright reading an income tax report. The concept is interesting and the book starts out with promise: set in the near future, where the war in Iraq is still going on, there's still a Bush in the White House, the air is unbreathable and all land uninhabitable. Forced to live inside a super mall, America's survivors press on, listening to televised speeches touting victory over terrorism and shoving Christianity down our collective throats. I liked the set-up, although it's a bit too literal for my tastes. But soon this book simply devolves from trying to tell an honest to gosh story to trying to see how many barbs at the current administration they can shove into one issue. If you're a Liberal, you'll most likely read this book and agree with these factoids. If you're a Conservative, you'll be annoyed. Me, I'm a comic reviewer, and had enough attention been given to story structure and creativity and a little less effort trying to shove an angry middle finger and an accusatory index finger towards a political party, I may have had better things to say about this book. In the end, I found the ideas to be interesting, but the presentation turned me off because while they were planning what aspects of the Bush administration to criticize, the creators of this book forgot to make it into an actual story worth reading. -
Ambush Bug
Indie Jones founder Lizzybeth touted this series as the second coming of the Fonz back in the day, but I never really took a look at FINDER until this first issue which starts off the arc FIVE CRAZY WOMEN. It's one of those slice of life books. It's really just some bo-hunk gabbing it up with a friend about all of the crazy women he's been with. But something about the way writer Carla Speed McNeil turns a phrase and layers her scenes that really appealed to me. As far as sittin' and talkin' stories are concerned, this one is tops, as it goes into great details how the most interesting stories don't always have to have capes and slugfests. Some of the really good stuff happens right outside our window. This book illustrates that pretty well. I don't know if the stuff going on in this issue is representational of what's been going on in this entire series, but I have to say the story I read here has me itching to look for more issues to find out. -
Ambush Bug
Wow. Sometimes a comic comes along and impresses the hell out of me. PAPER MUSEUM is such a comic. I liked the back up features "Devil in the Gears" a nicely paced and moodily drawn Faustian tale by Mark Smith and Jim Pezzetti, and the comical cleverness in Jai Nitz and Kelley Seda's "The Woods", but it was the main story "Saxon the Swordsman" that let me know that I was reading something really special. The tale is about a swordsman hired to protect a royal lady from an assasin. It starts out as your typical sword and sorcery tale with a valiant hero busy battling dragons and beasts and being dragged into servitude to the local royalty. But this story turns into something much more complex and flipped my expectations on its ear. What impressed me the most were the clever transitions between one scene and the next. This is something that is not paid much attention to in comics, but the focus on said transitions are evident here. In the epilogue, writer Jai Nitz explains his background in film and how the movie PULP FICTION wa a major influence on the way he viewed storytelling. Nitz cleverly translates this knowledge of scene to scene transition to this comic. PAPER MUSEUM is one of those compilations put together to showcase talent. This issue does so very nicely. Writer Jai Nitz is one to watch. He brings an atypical brand of storytelling to this typical comic book story. Seek this issue out and enjoy it as I did. -
Ambush Bug
Remember, if you have an Indie book you'd like one of the @$$holes to take a look at, click on your favorite reviewer's link and drop us an email.