Movie News
Spy pics from JUMPER! See Anakin signing! See Sam Jackson's mega-cool new look!
Ahoy, squirts! Quint here. We got sent a few spy pics from the set of JUMPER, the flick about teleporting teenagers and Sam Jackson chasing them down as some Government official. And boy does he look bizarre, in a good way. Thanks to "ZeekyBookyLord" for the glimpse!
Main unit shooting has been going on here in Peterborough, Ontario CANADA for 5 days and will be wrapping up tomorrow. Certain locations have been recreated in Toronto soundstages for 2nd Unit effects shooting - mainly a recreation of our main library so they can blow the shit out of it!
Doug Liman has been working almost around the clock with late nite pick ups in various locations around the city that aren't the main locales - library, coffee shop, school.
All the crew and cast have been quite nice, so I feel kinda bad for posting pics. Hayden especially - he doesn't put off people who want his autograph or a pic with him. Kudos to him. Sam on the other hand... well, no meet and greet and strictly no pics. Boooo to unfriendly superstars!
Anyhow, take a peek and look for it when Jumper hits theaters next year!
I have video clips of a few scenes as well that I'm willing to share if everybody plays nice in my sandbox... ha ha.
When using my pics, please refer to me as ZeekyBookyLord!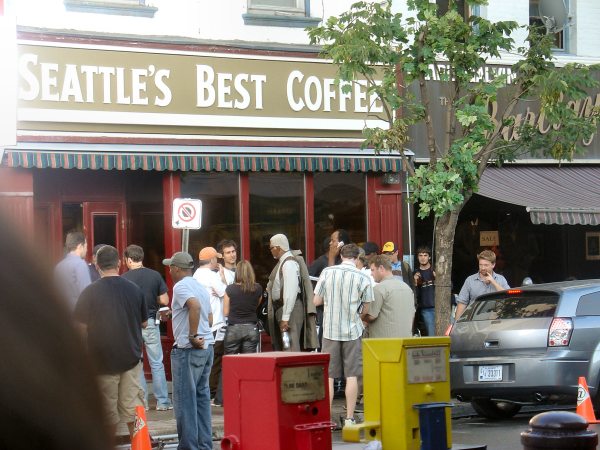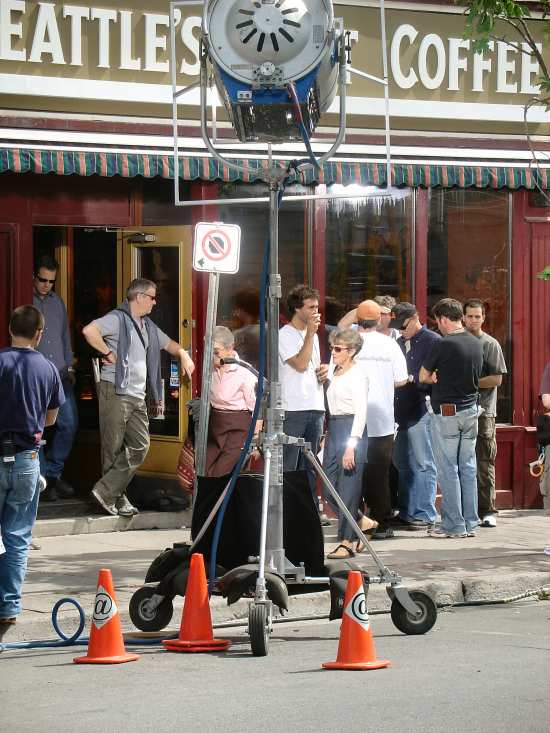 + Expand All

Sept. 11, 2006, 6:58 p.m. CST

by MaxThrust

Honestly, the dude is in it for the money. Just like the rest of you with you McJobs and office b/s. He's a regular human being that works for people who are at times no-talent idiots. All of you who say he's a whore 'cuz of some cinematic turd you saw him in once really need to have a reality check. The man isn't in it for the art. He's in it so he can pay for his nice house, car, and parties. The fact that he makes millions per movie is just a reflection of his job: Movies make millions of dollars! If every Big Mac sold for a thousand bucks a pop, your McJob would pay much, much better. Some of the coolest actors/actresses in Hollywood have worked for Uwe Boll! They're working people. If you'd watch a movie being made like Zeeky and the rest of us, you'd see they don't exactly have it easy... 23 takes of a 15 second scene in hot spot lights has to really suck! Who here wouldn't eat a phone book for $1,500? If you say you wouldn't at least consider it, you're a goddamn liar.

Sept. 11, 2006, 8:14 p.m. CST

by MaxThrust

We are ALL whores if taking money in exchange for doing a job is your only criteria. IndustryKiller, do you have an income of any sort? Or do you strictly volunteer? 'Cuz by your criteria, that would make you a whore. Do you own a house, a car? Do you eat or entertain friends? Income is relative to the product you make. Sometimes, in ensemble movies, million dollar actors take purely union scale wages - that is when they are doing it for the art. However, generally speaking, every actor/actress in Hollywood is in it for the money - otherwise, they would be producing direct-to-internet movies with a webcam for zero cash. Yes, Freedomland sucked dog balls. The story plain-out sucked. But Sam was at least interesting to watch. Sam Jackson is an actor which we pay to watch. Does that makes us all "johns"? Hmmmm...