Ahoy, squirts! Quint here. For the longest time I've had this box set of DVDs in my ever growing "To Watch" DVD pile. It's a compilation of British War Films that Anchor Bay put out a while ago. I've been looking at it for a year now and every time I get close to finally picking it up I either get sent some DVDs to review or I go on a binge in the used DVD section of CD Warehouse.
Yesterday morning I finally popped in the 1954 film THE DAM BUSTERS, the first of 5 movies in this set. I had only ever seen clips before, mostly in other movies like PINK FLOYD'S THE WALL. The story always intrigued me... That of a select group of Allied forces in WW2 who are brought together to target Germany's steel industry, most notably by destroying heavily defended dams. British scientists figured out a new bomb that, when dropped at low altitude, would skip across the water's surface and hit the dam wall. Theoretically. They needed the best of the best of the air corps to fly so low (less than 100 ft) and under such heavy resistance. And, of course, Robert M'fing Shaw was one of the tough bastards sticking it to those Nazi bastards. They didn't stand a chance.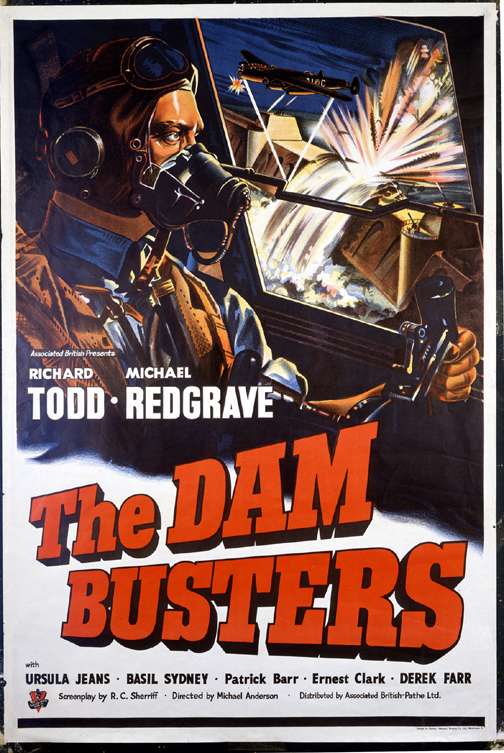 Now it has been announced that Peter Jackson has signed a deal with Universal to produce a remake of the classic war flick, with his long time collaborator, Christian Rivers, making his directorial debut. Of course, Weta Workshop and Weta Digital will step up to make sure the movie looks great and, hopefully, provide us some of the best goddamn air combat visuals we've seen on the silver screen since STAR WARS. In fact, one of the reasons the original jumped so high up on my "want to see" list was the bit of trivia that Lucas based much of the attack on the Death Star sequence on THE DAM BUSTERS.
Here's the press release as well as a photo of Jackson and Rivers (credit to Grant Maiden) in the cockpit of a real Lancaster aircraft, the exact type of plane used in the bombing runs by the 617 Squadron, and a great piece of art by Robert Taylor depicting the bombing run :
UNIVERSAL CITY, CA, August 31, 2006 — Production will soon begin on DAMBUSTERS, an inspirational story of heroism and one of the most daring missions in aeronautic military history, it was announced today by Universal Pictures and StudioCanal.
Christian Rivers will direct the film, which is inspired by actual events and based on the book The Dam Busters by Paul Brickhill and the 1955 Associated British Picture Corporation motion picture. The WingNut Films production is produced by Jan Blenkin, Carolynne Cunningham and Peter Jackson, with Sir David Frost and Ken Kamins serving as executive producers.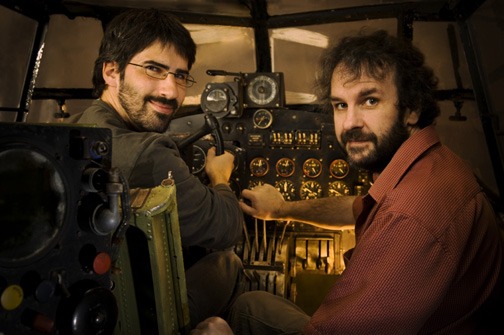 A Universal Pictures presentation in association with StudioCanal, DAMBUSTERS chronicles the story of Operation Chastise, a top-secret Royal Air Force bombing mission designed to strike a decisive blow against the seemingly invincible Nazi war machine at the height of its aggression.
In March 1943, a group of airmen drawn from across the ranks of the RAF were assembled and trained for an unprecedented and potentially deadly assignment whose complete nature was not revealed to them. This largely hand-picked group, known as 617 Squadron—including pilots from Britain, Canada, Australia, New Zealand and the USA—were led by Wing Cmdr. Guy Gibson. They had only seven weeks to train with exercises that imitated, but never revealed, their ultimate intent: to fly deep within well-armed Germany at tree top level and destroy three dams that were essential to the Nazi steel industry. A revolutionary "bouncing" bomb that could skip across water had been developed by a visionary scientist, Barnes Wallis, but to be effective, the bomb had to be dropped from a terrifyingly close range and at very low altitude. In specially-modified Lancaster aircraft, the airmen trained for a single mission, the likes of which had never been undertaken and whose potential for success was small.
"This is one of the most remarkable true stories to come out of World War II," stated Jackson. "When Michael Anderson made his thrilling version of this story in 1955, many details of the dams raid were still a closely guarded secret. It has since been declassified by the British Government, making the dynamics of the story and the people involved even more intriguing. That, combined with our ability to harness state-of-the-art computer generated visual effects, will enable us to bring the events of these desperate days of 1943 to life in a very visceral way. This is an astonishing story that continues to be revered in British Commonwealth history, and our hope is to make their exploits known to more of the world and extend their legacy to a generation that might not otherwise recognize their inspiration and sacrifice."
"Peter Jackson is the ideal producer for a remake of DAMBUSTERS," said Sir David Frost. "Not only because of his film-making genius, but also because of his aeronautical expertise and his unique understanding of the human pressures wrought by war."
DAMBUSTERS marks the feature film directorial debut of Christian Rivers, who has worked with Jackson for over 17 years—first as a storyboard artist while still at school, then as an animator, pre-vis supervisor, second unit director—culminating in his work as animation director on Jackson's King Kong, which won him a 2006 Academy Award® for Best Visual Effects (an honor Rivers shared with Joe Letteri, Brian Van't Hul and Richard Taylor).
"The bravery of these young pilots, some of whom were only 20 years old, inspired the whole Allied world not just to resist, but to strike back against Nazi Germany," said Rivers. "I grew up with the Dambusters mythology as part of my heritage. I remember seeing it for the first time on television in England with my grandfather. I'll never forget marveling at the image of the bouncing bomb punching across the water. This is one of the most revered stories of British ingenuity and heroism. We intend to be true to the values of the era in which these events took place."
The Oscar®-winning artists at Weta Digital, Ltd. and Weta Workshop, Ltd. will create the visual effects and miniatures necessary to fully realize DAMBUSTERS for the motion picture screen.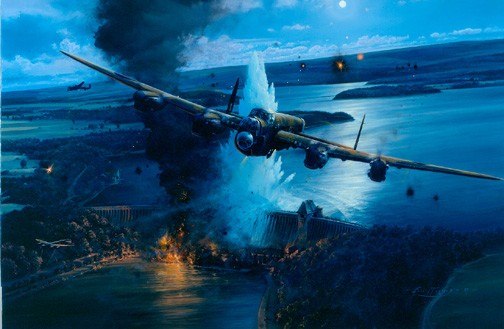 I should have some more info on this project shortly, straight from the horse's mouth, plus a major update on all things Wingnut. Keep your eyes on the site, squirts!!!