Ahoy, squirts! Quint here typing live from Comic-Con. It is just at 8pm as I type this. My trusty photobug... erm... photoseamonster, Kraken, is loading the pics we've taken in the first two hours of Preview Night.
I remember when Preview Night was really a behind the curtain peek. 4 Day badge holders could not only pick their badges up a day early, they can walk the floor as the exhibitors set up for the first day of the Con, sometimes working out a good deal pre-show. You could easily walk around without the stop and go geek traffic jams of the full on Con.
Those days are long gone. Now the exhibitors are set up and ready to sell and the hallways are just as packed as they are on a light day of Con. They might as well make Preview Night an official day of the Con.
This year was rather light on the cool stuff. However, there were some badass posters for Robert Rodriguez and Quentin Tarantino's GRINDHOUSE. One, for Tarantino's DEATH PROOF has been online in a script-cover scan form, the other, for Rodriguez's PLANET TERROR hasn't. Here are the posters: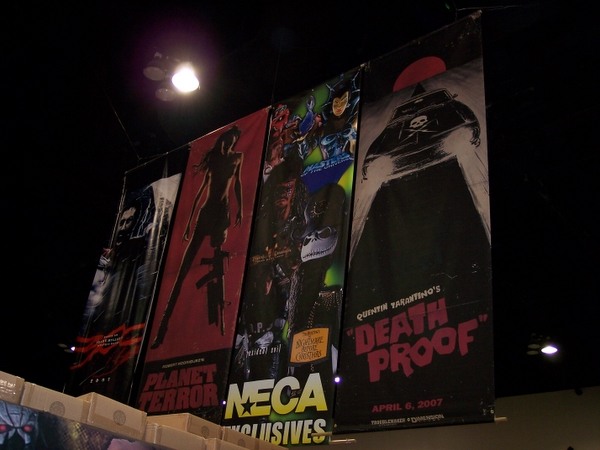 A little blurry, but closer look at PLANET TERROR!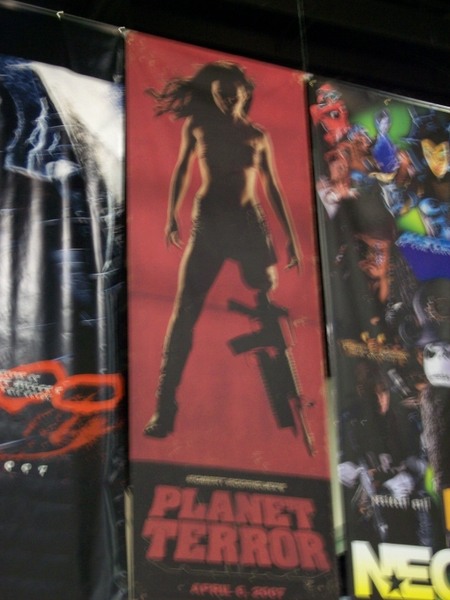 There wasn't much else to see movie-wise except for a great booth by New Line, who are heavily heavily heavily heavily pimping SNAKES ON A PLANE. Their booth is a giant snake head with roped off screen used costumes and props in its belly.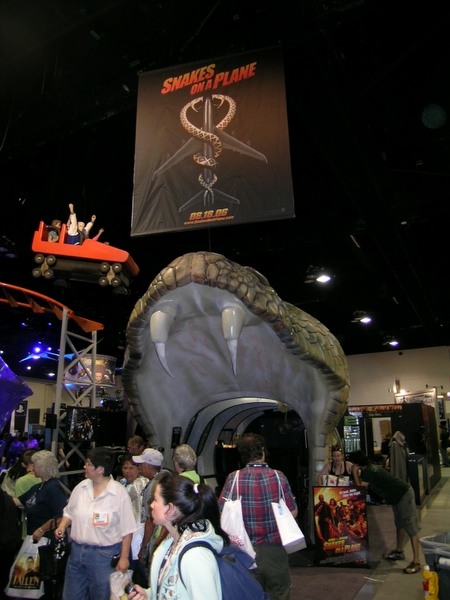 Also on display was the title character for Charles Band's newest Full Moon opus, THE EVIL BONG... Here is... the killer bong: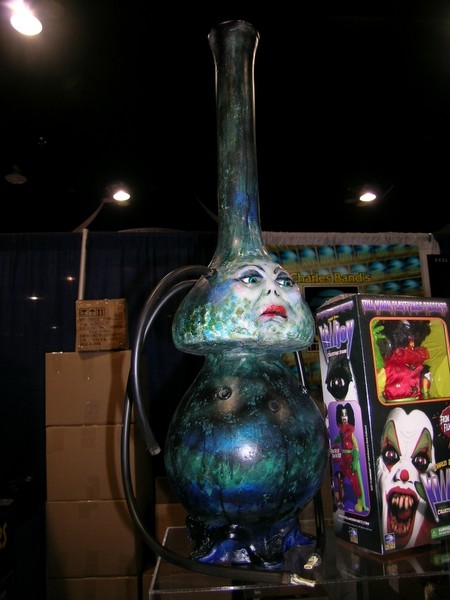 Now for the toys. Each year I find the toy previews to be cooler and cooler. We got great stuff from NECA, McFarlane, Weta, Sota... Let's get to it, shall we?
WETA ORIGINALS
Weta's got a new line of collectibles coming soon, including a line of deluxe early sci-fi inspired ray guns and a polystone statue line of original sculpts. Up close the ray guns look really geeky cool. I don't know how much they'll end up selling them for, but if they keep it cheap enough I think there'll be more than a few hardcore sci-fi geeks that will proudly display them. Here are some of those: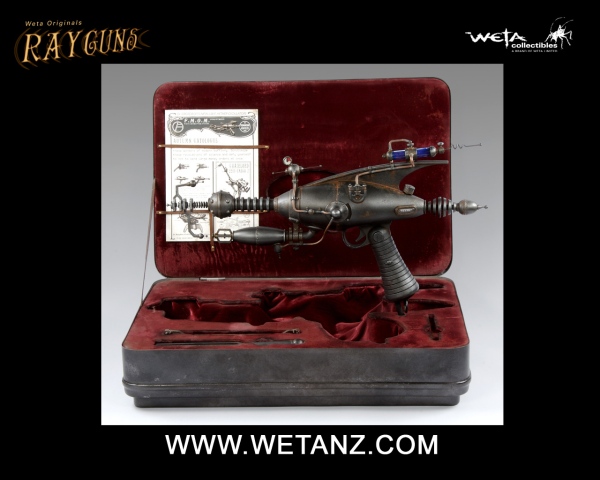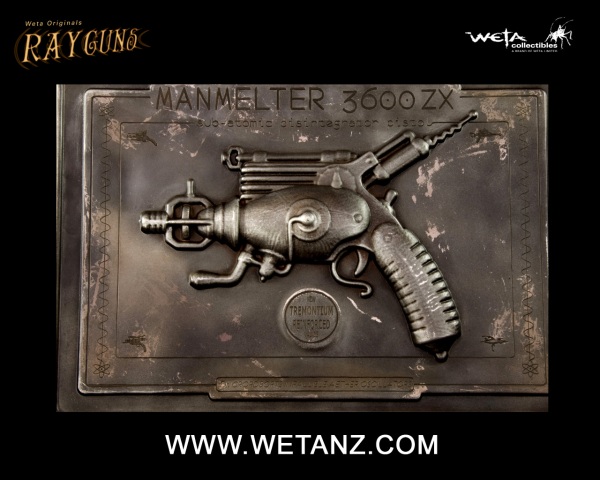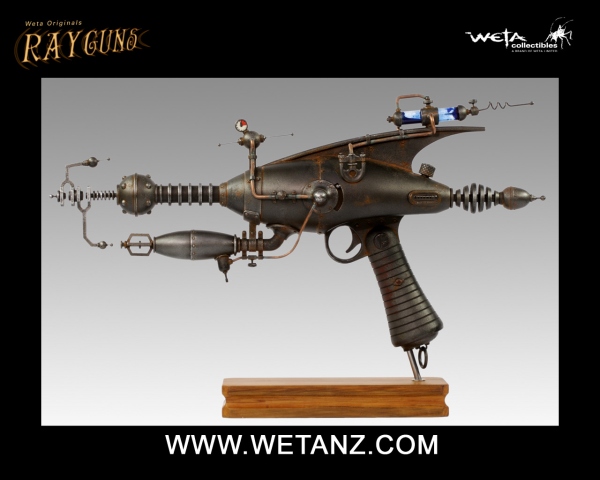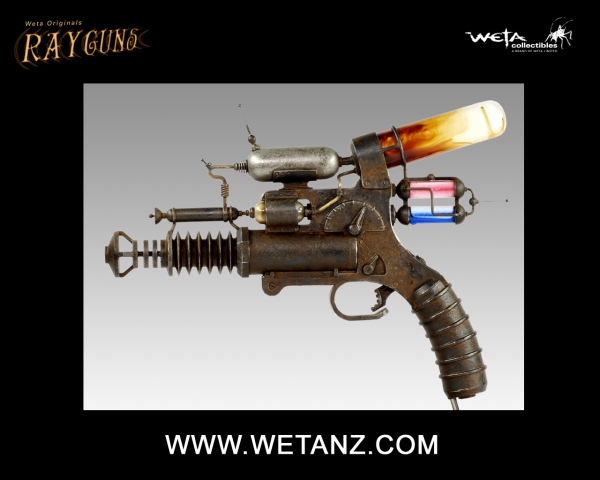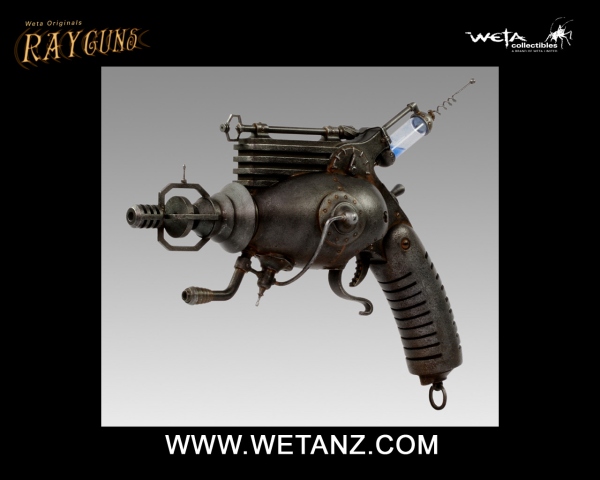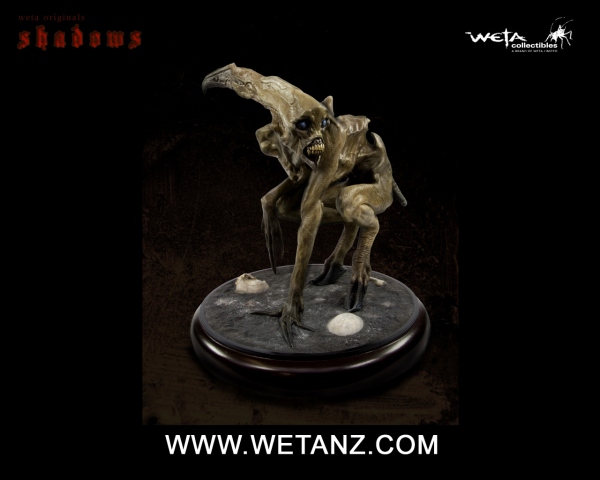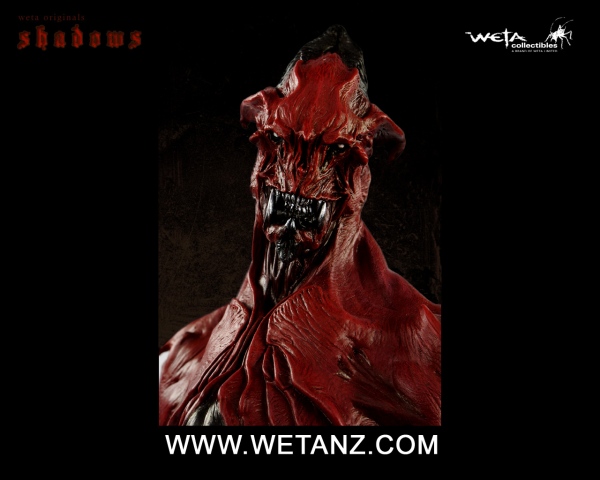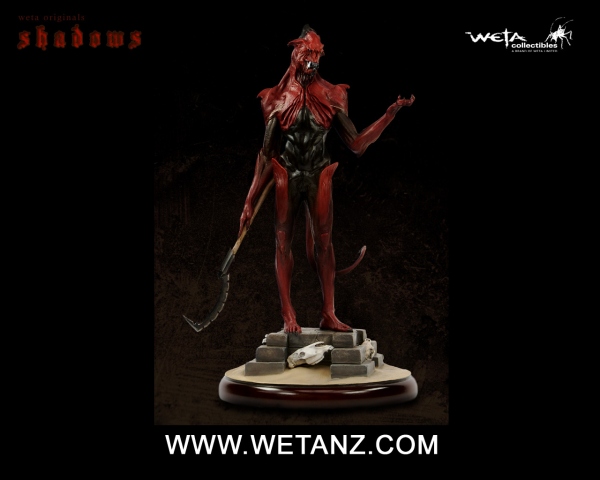 SHAUN OF THE DEAD
Neca revealed some of their secret treasures today, including The Winchester SHAUN OF THE DEAD two-pack, featuring Shaun complete with DEER HUNTER head band and Zombie Ed. Too badass. They will be mine. Give 'em a look!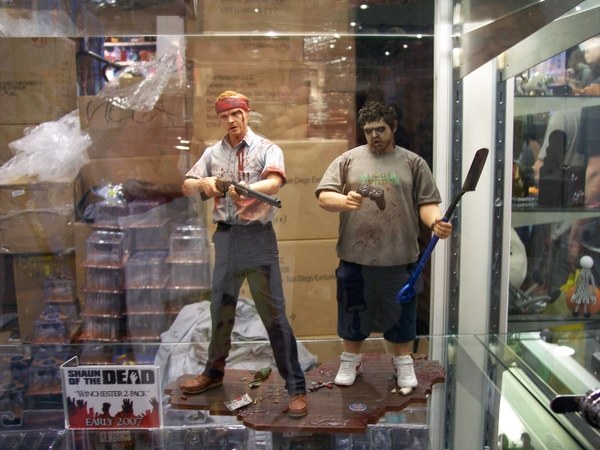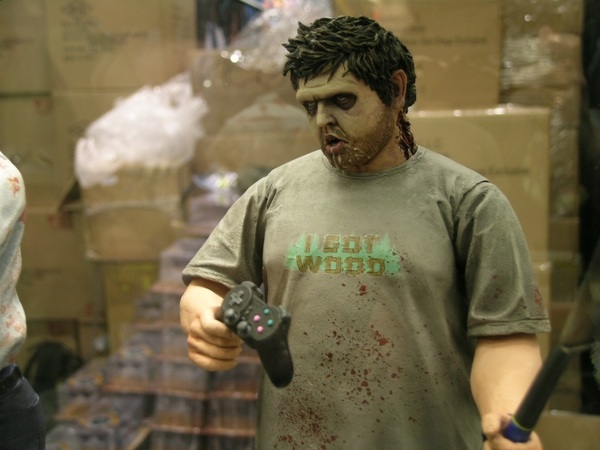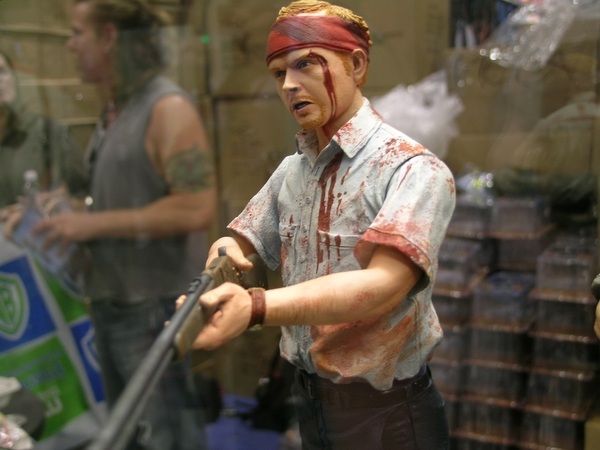 TEXAS CHAINSAW MASSACRE: THE BEGINNING
They also have a look at the TEXAS CHAINSAW MASSACRE: THE BEGINNING toys they're doing, featuring Leatherface not being really nice to a poor dude strapped to a table. They should have given him some salt...