The nice lady's list reads:
Jack Shepard
Kate Austen
Hugo Reyes
James Ford
Not:
Claire Littleton
Sayid Jarrah
Charlie Pace
John Locke
Why the fuck did they pick those four? What the fuck could they want with fucking Sawyer?? (Are they having trouble coming up with catchy nicknames for each other??)
These are the questions that keep us coming back to ABC Wednesday nights. Here's another. Why can't Zeke Friendly be bothered to grow a real beard?
Also? What if hatch-boy Desmond is on that boat out there? What if Desmond is just back from Honolulu and didn't like what he found there AT ALL? Why doesn't Walt use his superpowers to escape his captors? What if Libby was employed by the Hanso Foundation? What if John Locke made sure Mr. Eko didn't type the numbers and something REALLY FUCKING HUGE happened? What if Ian Somerhalter and Maggie Grace were not the only season-one regulars not destined to make it to season three?
What. If.
"They're pretending!"
"You know him as 'Sawyer'."
8 p.m. Wednesday. ABC.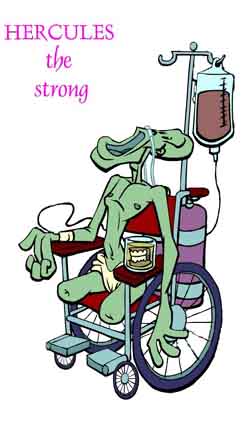 Ahoy, squirts! Quint here from New Mexico. I'm on a last minute secret mission, but I made damn sure my plane landed with enough time to get me to a TV for tonight's Season Finale. I'm a LOST superfan, if you haven't gathered. I'll leave all talk about the big 2 hour finale to the talkbacks below, but I wanted to share some LOST related news with ya'.
Today, McFarlane Toys announced they have the LOST license and will be releasing a series of LOST toys, hitting stores late Fall. I will own every single one, especially if they look as good as Charlie here: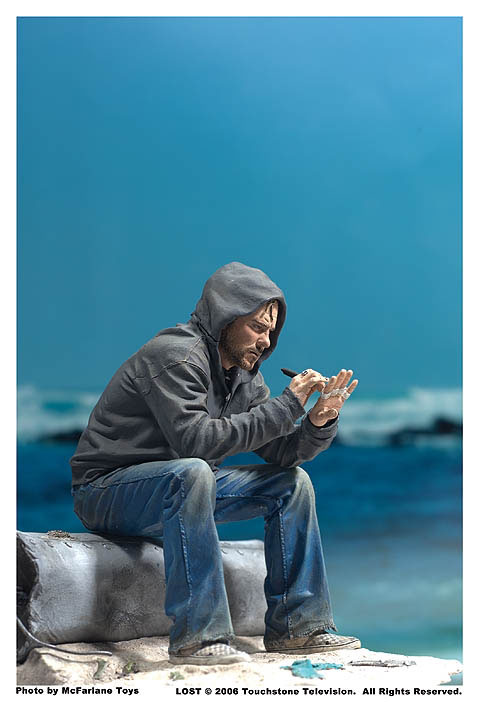 The first line has these figures from Season 1 of the show: Hurley (yay!), Jack, Kate, John Locke (yay!), Charlie (above) and Shannon (grrrrooowwwlll). Don't worry, Saywer and Mr. Eko appear in Series 2. Much like McFarlane did with the MATRIX toys, they will also release dioramas featuring key sequences from the show, including the hatch. So, finally McFarlane isn't just putting out random Dragons, Nascar drivers and Baseball players. Looks great so far... Now, back to your regularly schedule programming...