"Lost" star Daniel Dae Kim is no comic book geek. When I asked him last summer which character he was playing on "Justice League," he couldn't remember that he was lending voice to no less an icon than Metron! Metron, I say!
Next week's episode is the last ever for poor "Justice League." "Drunken Irishman" provides the FAQ:
What's this episode called?
"Alive"
Is it about a South American Rugby team?
No.
Who's responsible?
Matt Wayne for the writing and Dan Riba directed.
Who from the League appears?
Actually, the League only has a brief cameo in the episode at the very end.
Ok, so who is involved?
The episode revolves around the Secret Society of Super Villains. Luthor is still trying to retrieve Brainiac's program and Grodd is still being held prisoner.
Cool. So do we learn of some nefarious plot to destroy the League and rule Earth?
Nope. But we do see something almost as good. Grodd manages (with a little help from ex-girlfriend Tala who is quite disillusioned with her Hairless Sweetheart) to escape and stage a mutiny and try to kill Luthor.
So who backs him?
The aforementioned Tala, Killer Frost, Rampage, Sinestro and a bunch of others. Bizarro, Toyman, Giganta and the rest maintain their loyalty to Luthor.
So it's like a giant fight for control the whole episode?
Pretty much, and Christ on a bike are the fights good. They also take place entirely in outer space.
How did they get out there?
Luthor managed to convert Grodd's cloaking field into a hyper-space drive. He plans on going across space to retrieve a part of Brainiac's program.
How does he know where to go?
Before Tala turns on him, she uses her magic to unlock the history of the rock that holds the Brainiac program. Luthor and Tala see what happened when Brainiac was destroyed all those years ago. He uses the position of the surrounding stars to plot a course for where a part of Brainiac may be.
Does he ever get the chance to see if he was right or does Grodd succeed in regaining control of the Society?
Grodd is ultimately unsuccessful and Luthor gives him a taste of revenge served Klingon style. He uses now ex-wench Tala to retrieve Brainiac by hooking her up to a giant machine that sends her magic through space.
Ah, I see what they're doing. Luthor gets Brainiac back and that sets up a kick ass series finale where the SSoSV battle the League?
That's a nice theory. It's also incredibly wrong. Tala does succeed in bringing back an old foe of a founding League member, but it isn't Brainiac. A guy named Metron (a scientist and chronicler from the future) appears to Luthor to warn him that the consequences of his actions will be significant. But Luthor doesn't listen and tries to bring Brainiac back; unsuccessfully.
So who does Tala bring back?
That would be telling.
Give us some hint?
The entity that is brought back is searching for the anti-life equation to restore balance to the universe. Big enough for you?
How does it end?
Luthor: "We have a little problem."
What's good?
The magnificent plot twist. Tala finally getting to use her magics. Luthor telling Tala exactly what he thinks of their relationship. "Don't get grabby thunder thighs." "Twinkle, twinkle, Brainiac, Tala's gonna bring you back." That absolutely fantastic ending.
What's bad?
Only one more episode left.
Rating: ***** out of Five.
10:30 p.m. Saturday. Cartoon Netwook.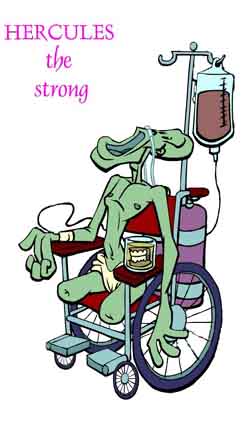 "Justice League Unlimited" may end next week, but its universe continues next month with "Superman: Brainiac Attacks"!!