---
The Pull List
(Click title to go directly to the review)
BLUE BEETLE #1
DAREDEVIL #83
MANHUNTER #20
ARES #3
HAWKGIRL #50
Big Eyes for the Cape Guy presents SCARY BOOK V.1: REFLECTIONS
Indie Jones presents…
CHEAP SHOTS!
Casting Couch: EX MACHINA
---
BLUE BEETLE #1
Writers: Keith Giffen and John Rogers
Artist: Cully Hamner
Publisher: DC Comics
Reviewer: Sleazy G
BLUE BEETLE is the first ongoing title to spin out of the INFINITE CRISIS hoo-ha at DC. It's also the one most likely to face some resistance from the fans considering the outcry when the previous holder of the name, Ted Kord, bit it hard to kick off IC. A lot of us really started to care about Ted after the way he was developed over in BIRDS OF PREY, or from his old "wacky hijinks" days in the JLA, and took the guy getting domed a bit hard. Still, knowing Beetle is a legacy character and Ted wasn't the original mitigated things a bit, so I figured I'd give the new kid a chance. I decided to read it like it was a first issue for a brand new character (which technically it is), setting aside any Kord-related issues.
So how did it turn out? Pretty well, actually. This issue has pretty much everything you want out of a comic book: action, drama, mystery, and some light-hearted stuff to cut the tension once in a while. It moves along at a steady clip instead of getting too bogged down in one place, and it's a dense read—there's a lot to take in here. The issue is the first One Year Later title to cut between the present day and the events just before or during IC, and it's definitely to the book's benefit. The issue starts with Guy Gardner trying to kick the crap outta Blue Beetle in the middle of the desert. (Sidebar: I'm sad to report that even in the exciting unknown that is One Year Later, Guy still dresses like a complete fucking moron, making him typically come off as more dumbass than badass.) A couple of interesting discoveries are made along the way: Gardner finds out the new Blue Beetle is just a high school kid while our new protagonist, Jaime, learns a bit more about what he's capable of now that he's taken possession of the Blue Beetle Scarab…or, y'know, it's taken possession of him, which is what it seems more like. Periodically, we get breaks in the action and catch glimpses of Jaime as he first discovers the scarab, takes it home with him, and ends up having it crawl inside him, burying itself along his upper spine right between his shoulder blades (ick!).
The scenes where we cut to a year ago and get to meet Jaime's family and friends are deftly handled. Refreshingly enough, his two best friends, his parents and his sister seem completely normal: a bunch of average, middle-class, hardworking people who get along well and genuinely care about each other—something we don't see enough of in comic books any more. These scenes are a nice counterpoint to the rest of the issue. We all know it's tough being a teenager, so I'm sure these scenes won't always be this upbeat, but I really hope Giffen and Rogers go for a decent balance of the good and bad here, because the scenes really do a great job of making the characters feel three-dimensional instead of serving as placeholder characters. The stuff with Gardner is great, too. We see Jaime discover a couple of new abilities, we see him brought to tears because he's scared crapless at the thought of a Green Lantern beating on him, and we see Guy freak when he suddenly realizes how young—and oddly powered--the new Beetle is. We also learn the new Blue Beetle helped take down OMAC some time over the last year. That's not as positive a thing as it sounds, though, as it appears as if the heroes we're already familiar with all want to knock the tar outta this poor kid. That's a huge mystery to throw our way, and it's not the only one we see in this issue, so Giffen and Rogers are definitely laying a lot of groundwork for the first year or two of the series.
Last week I gave a less than positive review to Keith Giffen's ANNIHILATION PROLOGUE. This issue stands as a clear indicator that Giffen is still capable of great stuff and just happens to miss now and again, just like the rest of us. The smaller cast in BLUE BEETLE allows for more time to get to know and care about the characters, the action is at a more personal level, and the dialogue rings more true. Perhaps it's simply a matter of Giffen working better with a co-writer, something he's done for years. If that's the case, Rogers seems like a good match for Giffen. There are moments where John Rogers' sensibilities can definitely be felt in the pacing and conversation, and there's no question it adds to the experience. I think I initially felt the same trepidation as a lot of fans out there, but this issue convinced me the character and title have a lot of potential. If Giffen and Rogers can continue to do this well at meshing their ideas and approaches, the new Blue Beetle is in good hands. Give the first issue a shot and you'll be pleasantly surprised.
---
DAREDEVIL # 83
Written by: Ed Brubaker
Pencilled by: Michael Lark
Published by: Marvel Comics
Reviewed by: superhero
This review contains
major
spoilers. It you haven't read this issue yet, read no further.
Seriously, now's your chance. Turn away now if you don't want stuff spoiled.
OK, it's your funeral. Here goes…
Foggy Nelson's dead.
All right, so maybe it wasn't that big of a spoiler. So what if we all knew it was coming. So what if the writing was on the wall for our dear, beloved Foggy several months ago.
That doesn't mean this issue didn't kick all kinds of ass.
What's truly amazing to me is how writer Ed Brubaker has provided more thrills in just two issues than a whole arc of Bendis' stuff. Brubaker's pacing is spot on and the story moves at a breathtaking clip. The dialogue is tight, interesting, and to the point. The story never wanders off or loses its focus. Brubaker's particular skill is that his writing comes across as so confident and direct so that I, as a reader, actually feel as if I'm in good hands here. I feel as if this comic is being put together by a writer who's not trying to just cheat me with a cheap stunt tactic, but instead bringing me a well thought out story of which the cheap stunt tactic is but a small part.
But let's face it, killing Foggy is a cheap stunt. The thing is, however, that bringing Bucky back to life in the pages of CAPTAIN AMERICA was a cheap stunt as well, but Brubaker pulled it off beautifully. This is possibly why I have such faith in Brubaker in the pages of DAREDEVIL. Because he's pulled off the crass comic stunt before and made it come off smelling like a rose. I admit, as a longtime fan of these characters, I should probably be more pissed off about the death of Foggy. Just as I should have been more upset with the resurrection of Bucky. But at this point, I think superhero comics have made me completely desensitized to the whole death and re-birth trend in comics that started with the resurrection of Jean Grey all those years ago. Besides, who's to say that another writer in five, ten, or fifteen years doesn't write a story that explains that Foggy wasn't
really
killed but actually survived the attack and was placed into some ultra secret witness protection program? It could happen. You know it and I know it. Which is why the death of Foggy just made me shrug instead of it having any real emotional impact on me.
What makes the death of Foggy as a device so interesting in this issue is how much it ends up affecting the main character. Once Matt Murdock learns of the death of his longtime legal partner and friend all bets are off. Murdock actually relishes the chance to get into the general prison population to extract his vengeance on those who've done him wrong and I got the sense that ol' hornhead's finally lost it. Obviously, the criminals want to get their shot at DD, but as the old adage goes, "Be careful what you wish for, because you just might get it." In this issue it's the Owl who gets it first and it sure isn't pretty. After the Owl gets his petard handed to him I got the sense that it's not Daredevil who's locked in with them but the other way around.
What's truly magnificent in this issue is that I felt that Brubaker actually
gets
Daredevil as a character. He knows his history and his motivations. The core dichotomy of Daredevil has always been his struggle to balance his civilized side with his more primal and brutal crime fighting side. Brubaker and artist Lark provide two beautiful pages of story that address this struggle that Matt Murdock deals with every day and how, thanks to the death of his best friend, the civilized Matt is losing the fight to stay in control. In two pages, Brubaker and Lark lay out what makes Daredevil as a character special and how that quality is being eroded by the losses he's faced during his life as a vigilante. It was a beautiful sequence that really just got to me as a longtime fan of the character.
What it seems like we'll be getting in the next few months is the HBO show OZ by way of the comic DAREDEVIL and it looks like it's going to be some powerful stuff if this issue and the one that preceded it are any indication. Brubaker continually proves to me that he's one of the best writers out there and I wasn't even aware of his work until his run with the star spangled Avenger. From now on, though, he's going to be a writer I keep a lookout for because his stuff is really, really compelling. He's pulling off the Daredevil in jail thing better than I could have expected and it's a story that I'm enjoying immensely. And that actually surprises the hell out of me especially since I was so disappointed with the end of Bendis' run that I was planning on dropping DAREDEVIL altogether after years of enjoying DD's adventures. Brubaker managed to keep me interested and not only that, he's managed to give me the crime/superhero comic I've wanted DAREDEVIL to be all these years. For that I'm thankful and I hope Brubaker stays on the book for a long time to come.
---
MANHUNTER #20
Writer: Marc Andreyko
Penciler: Javier Pina
Publisher: DC Comics
Reviewed by Humphrey Lee
It's One Year Later and yet MANHUNTER is still trucking along just fine. Unlike a lot of the OYL books this book actually hits the ground running and starts progressing with new and old storylines immediately. My main complaint about the majority of the OYL books I've read is that they've either been way too vague as to where the title stands in their new status quo (both the BATMAN titles we've seen), or that they've spent their first issue OYL doing a slow build to introduce a plot "twist" we've known has been coming for months (GREEN ARROW is mayor, CATWOMAN is pregnant, yadda yadda). But I think MANHUNTER has been the best of all these titles so far because it took the smart approach to not only using the jump ahead to create some new floating plotlines but it used that gap to go ahead and advance some of the peripheral aspects of the book to their natural progression, only without drawing it out over an actual year.
This issue starts off immediately with an example of what I meant by that last statement as we see that apparently two of my favorite supporting characters in a comic today, Cameron Chase and Dylan the Tech Wonder, have started hooking up. If you've been reading the book up until this point you know what I mean when I say I always felt that Dylan was gonna have his moment at some point, but it always felt like he'd be getting in our main character Kate's pants in some sort of sick and twisted turn of events. But this works just as well, and I don't feel in anyway ripped off that I didn't see the actual progression of it, because while it's a very fun moment to take in, it's something I doubt would have been the most riveting of material to watch unfold. And that's the kind of stuff I'm talking about and we get a couple more moments like this throughout the book. We see that Kate's ex-husband has found himself a new woman, and has gotten her pregnant to boot, we see that Todd Rice is back in action as Obsidian and is still gay and proud and seeing Kate's co-worker from her law firm, and stuff like that. Plot points that give you a bunch of "oh neat" exclamations, but also fill in more of the overall tapestry that is the world of MANHUNTER. And they make great points to flesh out in the future, and raise the "potential drama" bar a good bit as well.
Another great thing to view in this is how Kate herself has grown. We knew it was only a matter of time before Kate become more skilled in her nighttime profession, and more confident in herself as she continues the good fight. And here it is. And again, I don't feel ripped off that we didn't see this progression as we only knew it was a matter of time before we got there. In fact, it's great to see that she's gone from questioning herself in the heat of battle with guys that are C-list villains at best to now disposing of them like there were more an inconvenience than anything and wanting to take on guys of a higher caliber.
And yes, Andreyko does take the opportunity to use the OYL setup to have Kate reflect on some of the bad stuff that has gone down in DC's missing year. But unlike most of the OYL books where that missing year is just referenced in passing with casual lines of dialogue, we at least get some flashback scenes to give us a little bit of hint, and some abject horror over them coming straight from Kate herself. Is that Doomsday's silhouette we see there behind Dr. Psycho? Interesting... And it sets up that last panel very nicely even though by then it's obvious where we're going with the book by then.
Also, it's One Year Later and Javier Pina is knocking it out of the park with the art chores on this book. When Jesus Saiz left this book for bigger things I was disappointed because glancing over his interiors was one of the main factors in my deciding to try this book in the first place. But Pina picked up the ball and immediately was giving good effort from the start. But now at just a little under a year drawing this book it seems like everything has slid into place much better with his art. Minor hiccups that I would notice before in the facial expressions and action scenes just don't seem to be there anymore, or happening so infrequently that I don't notice. And I'll be damned if that isn't a fine rendition of Obsidian by the man in this book. I haven't seen a version of him looking this impressive since he was last seen in JSA under Stephen Sadowski's pencil. And that's saying something.
I don't know what more I can say about this book and how great it is. It's got one of most intriguing superheroes I've seen in a long while who is backed by one of my favorite supporting casts in a comic book today. The art is great and the stories are very interesting and progressive. The dialogue is very realistic and oft-times humorous. And it's OYL so here we have a great jumping on point for new readers. So just buy it already. Because this is like the fifth time I've reviewed this book here and I'm running out of praise to throw around. Go! Now! Hurry! Sheesh...
---
ARES #3
Writer: Michael Oeming
Pencils: Travel Foreman
Inks: Derek Fridolfs
Publisher: Marvel Comics
Reviewer: Ambush Bug
Cool. It's one of those words that I try to shy away from while writing reviews. It's one of those vague qualifiers that really doesn't say much, but sounds like you're saying a lot. But every now and then something comes along and the only thing you can do is smile and mutter "cool." under your breath. This doesn't happen often while I read comics. Some say that to be truly cool (too cool for the room, to cool for school, et al) is to say that nothing is cool. And if that is the case, then I guess I'm not cool, because I'm about to deem something cool. Damn cool, to be exact. But if saying something is cool is uncool, then call me uncool, because I think with ARES one of the few words to describe this comic miniseries is…cool.
Cool?
cool.
OK, I'll elaborate.
COOL SPOILER FOR THE SHEER SAKE OF COOLNESS!
There's a scene in ARES #3 that is so damn cool, I have to spoil it because after reading it, I'm sure this comic will get the recognition it deserves because this book is filled with such cool moments.
A mysterious army is invading Olympus, destroying everything in its path. Ares has exiled himself to Earth and has been trying to lead a normal life, raising his son as a single father, and trying to ignore his war-like past. In order to get Ares to help save Olympus, Zeus kidnaps Ares' son. Ares is pissed, shaves a Mohawk into his head, loads up with his personal arsenal ranging from battle-axes to machine guns, and heads to Olympus for some serious payback. So after threatening to tear Zeus and the rest of the gods a new @$$hole, Ares realizes that the mysterious army has stolen Ares' son Alexander for equally mysterious reasons. Ares tentatively agrees to help the Olympians beat this army, but he still vows revenge after all of this is over. Basically, Ares has been spurned by the gods. He's looked at as a rabid dog, unfit to sit at the same table with the more civil gods. Ares won't admit it, but he
wants
to be among his godly family, but his pride keeps him from doing so and his uppity family doesn't help. Ares must now work with his family, which he despises, to reclaim the only thing he holds dear, his son.
This leads to that super cool moment that I was jazzing about earlier. As the mysterious army of warriors breaks down the walls of Olympus, Ares douses himself with flames and asks Hercules to throw him into the middle of the invading army. Herc gladly grabs his half-brother and tosses him into the fray. Engulfed in flames, Ares flies through the air, handgun in each hand John Woo-stylee, blasting his way through the army. This scene is orchestrated so well that it made me stand up and say the only word that can be used to describe it…cool!
So far, ARES has been full of moments like this. I don't usually cover three issues in a row of a series, but this series warrants it. It has impressed me more as each issue hits the stands. It's just getting better as it goes along. Michael Oeming has improved with leaps and bounds after his lackluster Marvel debut on THOR a few years back. With this series, Oeming has made me take notice. Travel Foreman also has to be credited for his amazing panels depicting complex action scenes and depicting the elegance and the omnipotence of the godly spectacle of Olympus. The scene in which Hercules has had enough and tosses a gigantic table at the army is yet another jaw-droppingly good scene in this issue.
Cool is the only way to describe it. ARES is the best Marvel miniseries to come out yet this year and it has raised the bar so high that I doubt anyone is going to be able to top it. Cool is cool and ARES is just that. If you haven't picked up this mini, do so.
Cool?
cool.
---
HAWKGIRL #50
Writer: Walt Simonson
Artist: Howard Chaykin
Publisher: DC Comics
Reviewed by Dave Farabee
If I didn't mention the nipples first, this wouldn't be an Ain't-It-Cool-News review.
So, yeah, it's apparently quite
drafty
in St. Roch, Louisiana. That's what happens when Howard Chaykin draws your book – a cold front moves in, nipples get hard. I vaguely want to say, "Stop it, Howie, you sexist old bastard!", but it's just one of those things, isn't it? McFarlane draws a comic, you're gonna get giant, squiggly capes. Paul Pope draws a comic, everyone's gonna have big ol' lips. Howard Chaykin draws a comic…
Hottie-meter goes into redline.
I'll tell you what's cool about Chaykin's women, though: their glam doesn't look like all the traced-from-SPORTS-ILLUSTRATED-and-PLAYBOY pin-ups you see in a lot of comics. Chaykin knows that the right clothes can be as sexy as no clothes at all, and when Hawkgirl's not in her nipply costume – okay, it
is
a little obnoxious – Chaykin gives what I can only describe as lipstick lesbian glamour in her role as the head of St. Roch's Stonechat Museum. She's got a short, slightly butch haircut (think Jamie Lee Curtis in TRUE LIES) and wears a leather jacket with some big, 80s shoulder pads…but when she's in the museum she's sportin' tight capri pants, those lacy tops Chaykin's so good at rendering, and black stiletto pumps. It's seems an odd fit with the decidedly old-school writing tendencies of Walt Simonson, at least until you remember how he drew the Enchantress and Lorelei on his revered THOR run. And hey, Chaykin's guys are all pretty well-dressed studs as counterpoint - less nipply, but well-dressed. I tend to like the physicality behind it all. Former lead Hawkman always flew around bare-chested and brawny, so the Hawks are no stranger to showing off their figures.
Now…the story.
Like all the other "One Year Later" issues debuting this month from DC, HAWKGIRL catapults everything a year past the INFINITE CRISIS crossover to make some notable changes. The biggest, of course, is that Hawkgirl Kendra Saunders has usurped the title from Hawkman. One presumes at least part of the decision was borne out of a desire to play off Hawkgirl's prominence on the JUSTICE LEAGUE cartoons, but whatever the reason, Hawkgirl's got the spotlight. Seems Hawkman has been missing for most of the mystery year, and while Kendra's been having odd dreams about him, she's also moved on. She's the administrator of the museum from which the pair used to operate, and it's out with the reincarnation and destined-love motifs they used to share, in with Kendra as go-getting mystery-solver.
The absolute first thing any modern reader will notice is that the writing has a retro-flavor. Not
deliberate
retro, mind – it's just the effect of having a writer like Simonson onboard, a guy who cut his teeth on writing comics in the 70s and 80s. Note Kendra actually speaking aloud to herself at times, the use of expository thought balloons, or even an action sequence where Kendra has time to exchange a few words with a guy…
while pushing him out of the way of a falling chunk of building
. Even the rapid-fire pacing speaks to an older era of plot-driven stories over character-driven stories.
Net result: you're either going to smile and roll with it because you have a fondness for such stuff or find it hopelessly outdated.
I smiled and rolled with it.
Short version of the plot: something creepy's up at the museum. Kendra's clean-up work on the museum in the wake of hurricane damage (a current-events nod to Katrina, no doubt) has uncovered some troubling clippings left behind by the museum's curator in the 30s. Factor in her strange dreams, some suspicious near-accidents, and the revelation that the cops have been covering up a string of poverty row murderers with cult-like ties…yep, sounds like something's up.
Simonson portrays Kendra herself as capable and adventurous. It's mentioned that the museum's prospered under her administration, and she also seems to've been broadening her knowledge horizon ("…archeology benefits from the fine art of cross-discipline investigation. I've been doing a lot of reading."). Interestingly, she's still not a pure solo hero with Hawkman gone, being backed by Danny Evans, the son of the museum owner. It's almost a flip of gender expectations, with her playing the heroic Indiana Jones to his Marion Ravenwood supporting role, and superhero comics are still whitebread enough that it's nice to see a handsome, intelligent black character in a major role. Can't tell whether the two are destined for romance, but at the very least, some pretty close-knit tomb raiding.
Speaking of all things Indy Jones, it's interesting to see Simonson name-dropping a few movies in the story. Kendra explicitly mentions Indy when she talks Danny into exploring a hidden vault beneath the museum. Also referenced are PSYCHO and GOLDFINGER ("Once is happenstance. Twice is coincidence. Three times is enemy action.") Is this some kind of pop undercurrent intended as a recurring element for the book? Maybe. I kind of liked it.
The book's downsides are pretty minor if you can roll with the basic conceits of Simonson's old-school writing. Sometimes scenes will surge forward rather abruptly. Chaykin's characters too often seem to be gritting their teeth or spitting out their lines with melodramatic verve. And while I liked the visuals on the overlay of documents that Kendra digs up (Simonson's books always have great typography), I actually had trouble reading 'em to see the link that seemed so obvious to Kendra. She says, "They're pretty much all about the same thing," but I couldn't tell what that
thing
was beyond some sort of savage murders. She remarks that maybe it inspired her nightmare, but her nightmare had flying, skeletal men (very creepy looking, by the way), which is a lot more specific than anything I gleaned from the clippings.
As of the first issue, I'd say I'm enjoying the relaunch more for Chaykin's textured, sexied-up pulp art than Simonson's writing. The writing's fine for its approach, and packs a few inspired moments, but Simonson's still gonna need some new twists to make it stand out. It's very approachable, though, so I'd recommend it for anyone with a passing interest in the Hawks – even if it's just on a visual level.
---
SCARY BOOK V.1: REFLECTIONS
Creator: Kazuo Umezu
Publisher: Dark Horse
Reviewer: Dan Grendell
"Stop!! Why are you doing this to me?!"
"Why? The reason is simple... Because I despise you!"
Kazuo Umezu is a big name in the horror manga world. He's one of the early founders of that tradition, one based more on what is psychologically disturbing and actually creepy than on what is gory or what shocks people. Interestingly enough, he's also well-known for his humor and romance manga - the man has depth. Until recently, most of his horror stuff was just plain unavailable in the West. Luckily, Dark Horse has seen the interest people have for movies like THE RING and THE GRUDGE, and decided that more horror manga is a good thing.
SCARY BOOK V.1 reprints two of Umezu's short horror stories,
The Mirror
and
Demon of Vengeance
.
The Mirror
is a classic example of Japanese horror, telling the tale of a vain girl who looks in a large mirror every day until her reflection comes out of it and replaces her in her life. The reflection doesn't stop there, though - it tries to drive her mad by convincing her that she was in fact never beautiful ("You think you're beautiful, but have you actually ever seen yourself? Every time you looked in the mirror, it was me you saw...! I'm the beautiful one...!") and convincing everyone she knows that the real girl is a crazy stalker. This seems pretty straightforward, but then the school nerd, who has a crush on her, enters the picture with his energetic little sister, adding some comedy, and she discovers the secret of the mirror girl, and it takes a complete left turn. The story meanders some, and takes a bit too long to get where it is going, but the basic premise holds it together. It really can be a disturbing thought - how can you be sure what you really look like, since you only see your face in pictures, reflections, and maybe video? What if that really is someone else? Bizarre.
The second story isn't so much a horror tale but it is disturbing nonetheless. Set in feudal Japan, a samurai and his son care for their lord's boy while the castle is under siege. The boy is a horrible guest and treats them like slaves and toys, acting like a brat until the samurai snaps and hits him, accidentally cutting him. In revenge, the lord declares that the samurai have his arms cut off and be thrown in prison, and the samurai's son be made to serve the lord's son, with every wound to the master being made to the servant. When news of the lord's son being killed in battle arrives, the samurai's son is killed as well, and the samurai goes berserk, until his legs are also removed, and he is left to die. Then comes word that the lord's son is actually alive - and the samurai, saved by a friend from prison, prepares his final vengeance. The depths to which people are willing to go to get their vengeance, both the lord and the samurai, are incredible, and beg the question - is vengeance really useful? Given the ending of the story, the answer is in doubt.
Umezu's art works very well with the subject matter (preview
here
), as his characters are realistic but thin, making them look somewhat gaunt and creepy. Faces are large and wide to show emotion with wide eyes, overlarge for the head, again giving the people a creepy look. He uses shadows well on faces, often shadowing half of a face and giving it a strange look or hatching just the eyes and forehead to great effect, but always careful about light placement. Auras around the head in close-ups help convey the mood as well, as does the use of dark hair to frame the pale faces. The art changes for the second story to a stronger, more action-oriented style, but it's a good switch, fitting to the tale being told.
It's good to see Kazuo Umezu getting a release in the West. There is some great horror manga available now, but the early classics shouldn't be forgotten either.
---
THE DEVIL'S PANTIES #1
Jennie Breeden: Creator
Silent Devil
For some strange reason, I always find it hilarious when an online comic sees print. A comic you can read for free is now going to cost you cover price. But still, most of the time it's worth it. The big daddy of these, of course, is
PVP,
which has been in print from Image for years now. Dark Horse also recently put out a comic of
Penny Arcade.
And now there's
The Devil's Panties,
which despite its title has a total lack of devils wearing panties. Now that's just blatant false advertising.
What it does have, however, is some pretty damn funny semi-biographical stories about a young lady who loves clubbing and comics in equal measure. Plus, for those of you who've read the online version, the early strips shown here have been completely redrawn. Purely from an artistic standpoint, this makes it a heck of a lot of fun to go back and forth from the comic to the web, looking at just how the artwork has changed and grown over the years.
The only real concern with a book like this though, is does it make with the funny? Well, yes it does. Just
go to the strip's website
and see for yourself. Now, is it worth paying almost five bucks per issue for something you can already read for free? Personally, I'll have no problem spending my money on a print version, especially if an upcoming issue is devoted solely to strips involving Jennie unleashed at a comic con. Those are comedy gold.
In any case, remember that this strip is still online, so you can
try before you buy.
Me, I enjoy it enough that I've got no problem buying. -
Vroom Socko
Another great issue filled with interesting takes on the zombie genre. From a view of the zombie menace from behind the Vatican walls to a tale of animals banding together against the "savage" human zombies, this compilation series never fails to entertain. If you don't like one take, there's always another just a few pages away. This issue's standout stories: Keith Giffen and Ron Lim's "Deadest Meat" where a lone zombie struggles to maintain his humanity and the aforementioned tale by Johanna Stokes and Cynthia Martin where the animals of a zoo are forced to work together against the zombie menace. The zombie genre is one with limitless possibilities and ZOMBIE TALES tests those limits with every single issue. Highly recommended for those with good taste in stories and human flesh. -
Ambush Bug
Since I found the first issue of this book very interesting, I felt it was worth following up with a review of the second. Also, I figure this is for the best since I'm sure a lot of readers are still somewhat timid about a $4 comic book even with a solid first issue under its belt. Well my friends, I'm glad to say this issue is just as good as the last, if not a little better. While I thought issue one was a great introduction to our main character Pella and carried some great dramatic weight over the death of her parents, this issue is great because it's pretty damned funny. The issue starts with us getting some of the lowdown as to why Pella's parents were murdered in the first issue, and then leads to one of the most surreal chase sequences I've ever seen in a comic as Pella is chased down by members of the Yakuza thru the cityscape and into the Subways where they are met with some resistance... resistance in the form of hot ass Swedish Porn Stars!! With guns!! And it works!! ...oh yea does it work. And also with this issue, Kristian has become one of my favorite artists in comics today. With the first issue he showed me a great attention to detail with his settings, and some great emotional range with the character expressions. This issue he showed me all that and just some genuine badassery in a beautifully illustrated chase sequence and then gunfight. Again, the art alone is worth the price of admission. It just also helps that this book is a genuinely "fun as hell" read to boot. -
Humphrey Lee
GRAY HORSES
Hope Larson: Creator
ONI Press
If GRAY HORSES as a whole doesn't quite live up to the sum of its parts, it can easily be forgiven. Its story of a French exchange student finding friendship and adventure in her new city reads like the typical Oni story, which is another way of saying we've seen this before many a time. It's not a bad story by any means, but it's just a little too familiar. What's interesting, though, is that this familiarity frees up the focus of the reader to look at all the other little touches Hope Larson brings to this book.
It's in those touches that this book really shines.
Photography is a strong element in the story, and Larson plays off on this by using rolls of film next to the old school exposure window as a page count; every 24 pages another roll of film is added to the bottom as the number resets. I just found that charming.
And then there's the artwork, both in the main story and in the dreams of main character Noémie. Even the main story has a dream-like quality to it that can only be described as enchanting. And the dream moments are absolutely poetic, reminiscent of elements from such artists as Eric Drooker and Craig Thompson. Where the book feels familiar as a story, it stands out as an artistic poem. The ending, which ties both the dream world and real world together, certainly plays out like poetry.
Is this a must read? Not quite. But it's damn beautiful to look at. And it's put Hope Larson's name on my radar. Whatever her next project may be, it's going to be worth taking a look at. -
Vroom Socko
Remember, if you have an Indie book you'd like one of the @$$holes to take a look at, click on your favorite reviewer's link and drop us an email.
---
ROBIN #148
DC Comics
I'm digging Robin's new red threads and spikey cape. It's a nice re-design with shades of Ross' Red Robin character from KINGDOM COME. And the mystery set-up in this issue was pretty well done too. Having followed this ROBIN series from the beginning, I've been through the good (Chuck Dixon's hundred plus issues) and the bad (Willingham's misfire in the last year), and this One Year Later issue seems to be starting out on the right foot. I'm interested to find out about who is trying to frame Robin for murder and exactly what went on while Batman, Nightwing, and Robin were in Budapest. The tidbits dropped in this issue hooked me. Add in a pretty well done action scene in the beginning and this is one of the better OYL first issues so far. -
Bug
NEXTWAVE #3
Marvel Comics
*ahem* Second Verse, same as the first...
NEXTWAVE is so good that I pimp-slapped my mother until she forked over the money to buy a dozen more copies...then I pimp-slapped her again for good measure.
NEXTWAVE is so good that it took your virginity just by having read its name. And don't play that "I'm not a virgin!" card. Because NEXTWAVE just went back in time and killed everyone you've ever had sex with before you did it with them. SO THERE!
NEXTWAVE is so devastating that a mere whisper of its name will make the genitalia of anyone within earshot explode. NEXTWAVE encourages you to go out and spread the word.
NEXTWAVE is so malevolent that it has mutilated more cattle than anthrax...it dislikes the way they go MOO.
NEXTWAVE is so awesome that it can impregnate anyone with a glance. And I mean anyone! But good news for you, it would rather lay you down and make sweet loving to you like you've never been made sweet love to before. And then NEXTWAVE will never call you again...because you were a lousy lay and are too needy. Cry for NEXTWAVE!
NEXTWAVE is so awesome that even the mighty Bill Brasky let NEXTWAVE have sex with his wife in the front of a Baptist Church. To NEXTWAVE!! -
Humphrey
NEW AVENGERS #17
Marvel Comics
Another missed-adventure of Brian Michael Bendis' Inactive Avengers. In this inane issue, the Avengers venture into an impoverished neighborhood besieged by crime and just stand there. Then Luke "Doin' Da Butt" Cage goes out of his way to describe the methodology behind "just standing there." Apparently, the team is supposed to come into a neighborhood and their mere presence is supposed to be a kind of pro-active stance to stop crime. Sounds like an appropriate use of the Marvel's mightiest heroes' abilities, right? Yet another notch on the bedpost as Bendis fucks Marvel's heroes into complete ineptitude by having them avoid any and all forms of action at every turn. To add insult to injury, with one distress call from SHIELD, this entire "pro-active" and "revolutionary" operation is scrapped because the cosmic menace that wiped out Alpha Flight in one breath last issue gets closer to the American border. "We
were
in the middle of cleaning up your neighborhood, kiddies, but Generic Glowing Man #54 takes precedence. Good luck with that whole crack and rape thing you guys have going on here. TTFN!" Awful, awful issue. Tack on the fact that, after the cosmic menace destroyed Alpha Flight and everything else in its path, Iron Man chooses to try to negotiate with the alien being and then add in a conversation where one of the heroes literally won't get out of bed to join the fight and you have proof positive that while this may be one of the most recognizable line-ups, it is by far the weakest team of heroes ever to call themselves the Avengers (and weakly written, to boot). Oh, and let's not forget the panel where Wolverine, a former member of Alpha Flight, sees that Alpha Flight has been decimated by the cosmic menace and asks, "Is that Alpha Flight?" as if he's never met them before. Did I mention that this was a bad issue? -
Bug
ACTION COMICS #837
DC Comics
I've never really bought Superman titles for any length of time. I've tried to sample them here and there, but always end up bored. The first two issues of this OYL storyline, though, have caught my attention. Maybe long-time readers will feel they've seen a de-powered Clark Kent before, or won't care for the look of Metallo. I can't speak to that stuff, because I'm not one of them. What I do know is that as somebody who doesn't usually read these titles, these issues are the first time I've found a Superman storyline interesting in the last coupla decades, which is saying something. There are shake-ups all over the place, from Clark's new focus on his reporting career to Lex's fall from power to some updated villains. There's also a scene where Hawkgirl and Hal Jordan show up to help Clark that ends in a final page that made me smile enough to make me want to be back for the next issue—which, after all, is the point of the OYL stuff, right?
Sleazy
SQUADRON SUPREME #1
Marvel Comics
Well, the first issue of this SUPREME POWER re-launch is upon us. I was wondering if the move from Marvel Max to Marvel would neuter this book. And although there is an abundant lack of blood and boobies, the sophisticated level of storytelling is still here. With SUPREME POWER, J M Straczynski did a great job of telling each character's individual stories, only having them graze one another occasionally as the plot advanced. In this issue, we get more of the same, where each member is profiled by those putting this government sponsored super-team together. Only the last panel shows this team intact. Now that all of the pieces are in place, I'm looking forward to seeing how JMS and Gary Frank (who provides some stellarly detailed art) are going to play this one out. Those who followed the old series won't be disappointed and this issue's a good introductory issue for those who didn't. -
Bug
---
Let's face it. It's fanboy-ish, but fun. Casting real life actors in comic book roles is something comics fans have been doing for years. Every now and then, as I read a comic, I visualize how this would look on the big screen and I imagine just who would be the perfect casting choice for that certain hero or villain. Haters, take leave. This is where a fanboy and girl can be just that. Howdy, folks.
Ambush Bug
here and once again I've got the casting bug. This time, I'm making room on the couch for one of the smartest comics on the racks…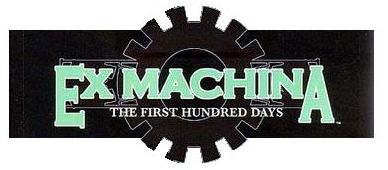 Be sure to click on the pics for larger images. Last summer, the news hit that EX MACHINA is being prepped to be adapted to film by New Line Cinema. Since then, I haven't heard much regarding the adaptation, but since V FOR VENDETTA was such a politically charged comics film and looks to be a pretty successful one, one would think that the powers that be would want to cash in on another comic thriller with sophisticated themes.
EX MACHINA tells the tale of
Mayor Mitchell Hundred
, a civil engineer who becomes the world's first super-hero after a strange encounter with alien technology. Now Hundred has the power to communicate with machines and control them. As the Great Machine, he tried to use these powers for good, but it turns out that he's not cut out for the super hero biz. After saving one of the Twin Towers on 9/11, Hundred retires from super-heroism and runs for Mayor of New York City. Winning by a landslide, Hundred finds that politics is much more challenging than super-heroing ever was. Tackling tough issues such as gay marriage, jury duty, anti-war protests, and legalization of marijuana, EX MACHINA wouldn't be so much of a super-hero film. Rather, it would be a smart film set in a universe not unlike our own world where one man tries his hardest to make the world a better place through politics and personal conviction. You would need an actor who doesn't really look like he would be a super-hero for this role. One who could be charming and funny. Someone with modesty, not afraid to put his foot into his mouth. Mr. FERRIS BEULLER himself,
Matthew Broderick
, is about the right age to play this part.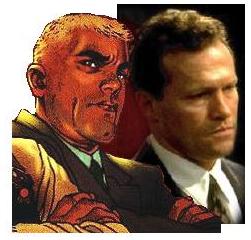 He's a great actor. You could believe this humble guy wasn't able to hack it as a super hero, but you'd still end up cheering him on in the end.
Hundred's dedicated security chief,
Rick Bradbury
, tries his hardest to keep his boss out of trouble. He's not the brightest bulb in the batch, but he completely believes in what Hundred is doing and would do anything to protect him. Actor
Michael Rooker
(HENRY PORTRAIT OF A SERIAL KILLER) played the ever-ready sidekick to Kevin Costner's Jim Garrison in JFK. Every time I see that movie, I think of Bradbury.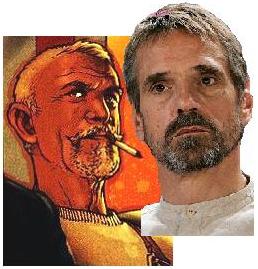 Kremlin
is the closest thing Hundred has to a father. He's the crusty @$$-kicker who works at Coney Island and helped Hundred during his super-hero days. Kremlin is disappointed that Hundred dropped the Great Machine persona in favor of working for "The Man" in politics. He is constantly at odds with Bradbury, who supports Hundred's cause. Kremlin and Bradbury are the devil and angel on Mitchell Hundred's shoulders and provide some of the comic's best bickerings by representing two sides of the political coin. Wizened actor extraordinaire
Jeremy Irons
(LOLITA, DAMAGE, DEAD RINGERS) would be great as this crotchety old hermit.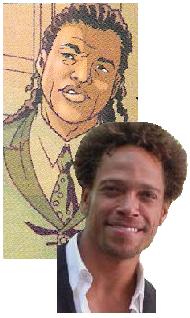 Dave Wylie
is Hundred's Deputy Mayor. He's been in politics for a while and helps guide Hundred on all political matters. He helps keep Hundred's @$$ out of the fire by understanding how politics can work for and against you. CSI actor
Gary Dourdan
(ALIEN: RESURRECTION) used to have a head full of dreadlocks and he ain't a bad actor to boot.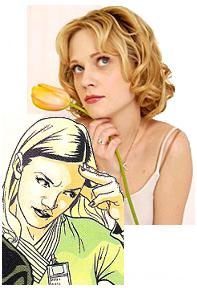 Rounding out the cast is
Journal Moore
, the spirited young intern with big ideas. Hundred is so impressed with this kid's spunkiness that he promotes her to the esteemed position of Special Advisor on Youth Affairs. Now a part of his political team, this headstrong hottie isn't afraid to stand up for what she believes in. There isn't a cuter actress around than
Zooey Deschanel
(ELF, THE HITCHHIKER'S GUIDE TO THE GALAXY). She's spunky enough to play this part.
Politics is the challenge in this flick, not bad guys. This one isn't about spandex and capes. It's about the political hurdles politicians have to go through to get the job done. Doesn't sound like your typical comic book movie, but EX MACHINA isn't your typical comic book. So there's my EX MACHINA casting picks. Self-indulgent? Yup, but a lot of fun to put together nonetheless. Now it's time for you all to agree, disagree, or form your own dream cast in the Talkbacks. Who knows? Hollywood may have their ears open. I know every @$$hole in the Talkbacks has an opinion or three. Let's hear them.