Ahoy, squirts! Quint here from my room in Paris... the hotel, not the city. I spent the morning at a rather dry panel on 4k projection, the much talked about superior digital projection system, as well as walking around the floor of the trade show.
I've noticed something in the scant 24 hours I've been attending this show... There is much talk about the amazing freebies given out and the huge events, but there is a catch. In order to be one of the cool kids you need a ShoWest "passport." These are very literally passports, except that instead of using them to get from one country to another, you use them to gain access to big events and to get these famous goodie bags. You get a stamp each time you pick up a goodie bag. Get it?
I've noticed those with "passports" are having much more fun than those without. Me, I got enough crap, so I really don't need any more, but I'd be lying if I said the curiosity bug didn't bite every time I see someone handing out an overstuffed bag to attendees. I just want to know what's in those things! I've seen full-sized backpacks bulging, some animated cow movie-themed duffel bag, bursting at the seams. What the hell could possibly be in those?
Anyway, other than that the trade show is lame as hell, at least for me. There are about a dozen rows of brand new theater seats, popcorn bags, new and improved popcorn salt in a variety of flavors, concession candy of all sorts, cleaners, ice cream machines... I don't know what I was expecting, but the only frame of reference I had was San Diego's Comic-Con, which is amazingly cool. I didn't expect ShoWest to be as big as Comic-Con, but I guess I had expected more studios to be there pushing their films on these theater owners.
As it was, there was one corner of the building that felt like Comic-Con. It had a ton of pics up on the walls, a secret M:I3 area (I'll get to that in a minute) and a wrestling ring with NACHO LIBRE stuff all around it, including Nacho's transport. Take a look at Nacho's ride here: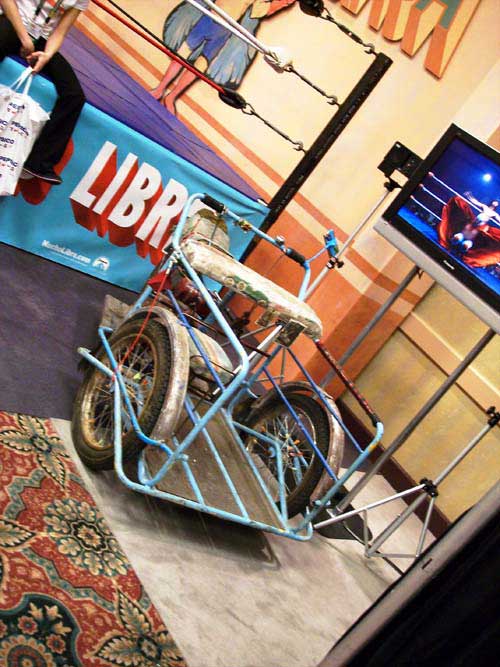 They also had the NACHO LIBRE confessionals running. Have you folks seen the "teaser" yet? Check it here for the teaser glimpse... I've seen a couple of them and they're great... Jack Black had the camera during all his downtime on the NACHO set and just pretty much used it as a confessional during the shoot. The waxing one is funny as hell, yet not a copy of 40 YEAR OLD VIRGIN.
Anyway, there was a wall of movie stills as well. Most of them were old, but I found a few that were new to me, although it's entirely possible they are all out there somewhere. Below you'll find stills from Aardman Studio's FLUSHED AWAY, the live-action CHARLOTTE'S WEB, FLAGS OF OUR FATHERS, PERFUME and ZODIAC.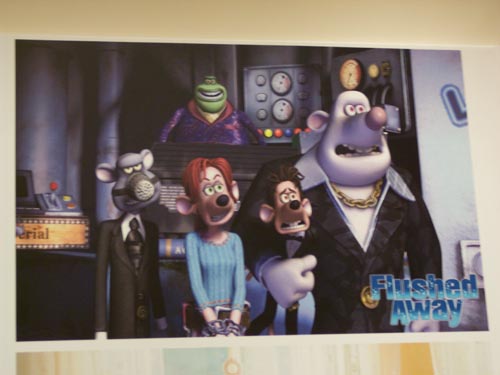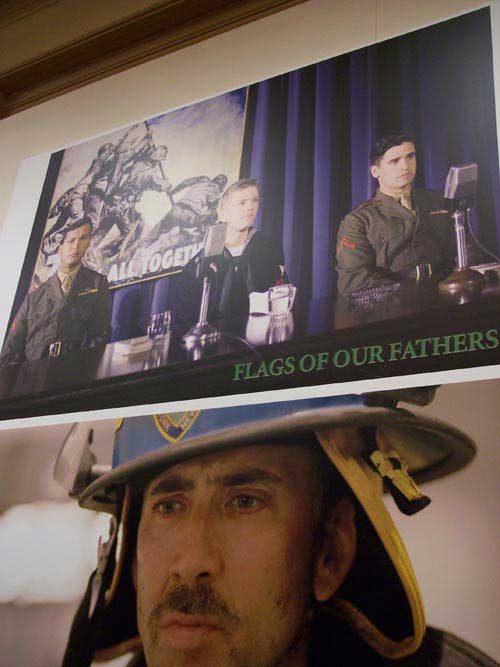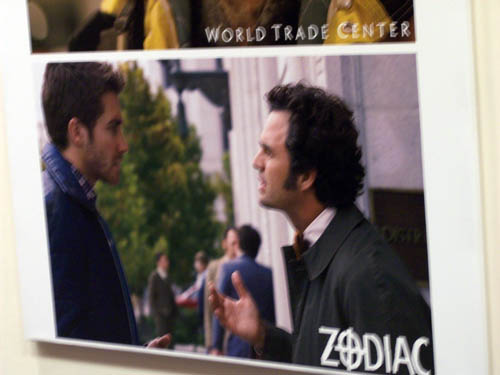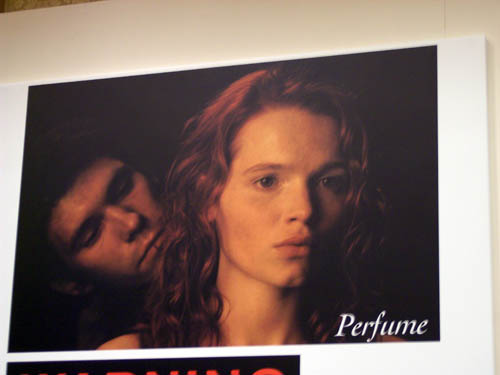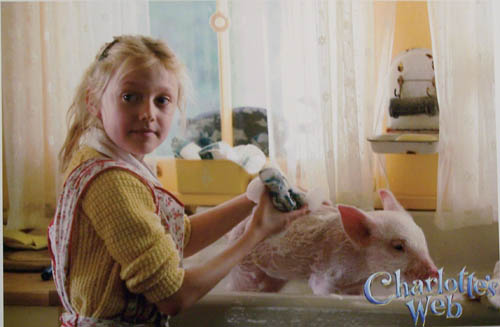 There was one really cool thing there that I was able to enter without a "passport," and that was this set-up that had a 5 minute presentation for MISSION: IMPOSSIBLE 3. Standing guard at the gate to this structure was a big security guard who didn't talk to anyone. In fact an Exhibitor asked him a question and like those dudes with the big, fuzzy hats the security guy didn't even acknowledge this person. It was actually pissing the Exhibitor off. Kinda funny, though.
My group of about 6 people was let in by another, more friendly, security guy who told us we were walking through the underground tunnels directly beneath the Vatican, which had been there for centuries. He led us to a door (this is all enclosed, mind you... think of a really expensive and elaborate haunted house) with a security camera above it. He waved, the camera blinked and then he typed in a code at the keypad next to the door. The door slid open and we were led into a room with monitors and tons of (working) technological equipment as well as 3 guys working them.
We were inspected by the man in command, while world news scrolled on the in the background, Rumsfeld holding a press conference on one of the monitors, flooding on another one. The commanding officer looked at our badges, passed me up and started interrogating the Asian man next to me who didn't really speak much English. "What's your name? Where are you from? Where's your passport?" Satisfied with the broken answers, he turns to another Exhibitor and starts asking him the same questions. "I have 2 theaters in Ohio." Or was it Iowa? Something like that. Anyway, the man in charge grabs this guy and pulls him out of the room. There is a room with a shared window next to the room we were in and we saw the Exhibitor that was taken to and put in that room.
One of the monitors turns on and Tom Cruise is there. "This is Ethan Hunt, reporting in." He's all seriousness, focused in and then he glances up and pauses. He looks back down at the guys sitting at their desks. "Who are those people standing back there? What are they doing here?!? They look like... Exhibitors..." His demeanor cracks gradually and he starts to laugh, then he welcomes us ShoWest attendees to this special footage from MISSION: IMPOSSIBLE 3 and thanked us (by us I mean theater owners) for helping to make M:I3 one of the biggest movies of the year. He also said something like, "By now one of you have been pulled away..."
What they showed was a behind the scenes montage followed by the new trailer. The behind the scene montage was essentially Cruise telling us how great a movie it was going to be and JJ Abrams telling us how Cruise did almost all his own stunts. Then Philip Seymour Hoffman popped up to tell us how important it was that Cruise was doing his own stunts. All this inter-cut with Cruise sliding down the glass face of a building's exterior, running from helicopters firing missiles at him and jumping off buildings.
The new trailer was essentially the old trailer combined with the Japanese Trailer (Click here if you haven't seen that one), but with some added action bits (including Cruise nearing being run-over by a jack-knifing big-rig) and Laurence Fishburne talking to a lady who says something like, "It's Ethan Hunt." Fishburne replies (in that great, cold voice of his), "I know it's Ethan Hunt." Pretty exciting, eh? hehe There was also a little bit of Tom Cruise yelling at Philip Seymour Hoffman, telling him he was NOT going to get what he wanted.
So, that was my day. I have the big day tomorrow with the big WB panel where we'll see footage from SUPERMAN RETURNS, HAPPY FEET, POSEIDON and LADY IN THE WATER. I know I can get into that without a "passport," so no worries there. I also had many interviews fall through on this trip, but I was able to nail one really super interview, so keep an eye out for that one, too.