Don Knotts was a comedy god, and today is a sad, sad day for people who love to laugh. Knotts wasn't just in "The Andy Griffith Show," perhaps the greatest American sitcom of the 1960s; he WAS "The Andy Griffith Show."
Knotts died Friday night at Cedars Sinai in Beverly Hills. He was 81.
Knotts won five Emmys for playing Barney Fife. That was five more than Andy Griffith got for playing Andy Taylor. When Knotts left the show (the circumstances behind his departure are a story in themselves), it was not the same series.
When I was a kid, I never laughed at anything as hard as I laughed at "The Reluctant Astronaut" when it came on TV. Knotts' twitchy, crazed acrophobic demeanor sent me into something approaching respiratory arrest.
I'm convinced the guy who plays President Logan on "24" is thinking about Barney Fife every time he knots up that necktie he's been wearing all season.
From my May 24 review of the "Andy Griffith Show" second-season DVD set:
Though Frances Bavier won her own Emmy during her final season of the show, nobody ever watched "The Andy Griffith Show" for Aunt Bea. The franchise belonged to Don Knotts, who won five Emmys for his epic portrayal of Mayberry's hilariously insecure and high-strung deputy sheriff Barney Fife.
Knotts left the series after season five. It wasn't his idea; Griffith kept telling the network and the studio that he would shut down the series after its fifth year, so Knotts signed a contract to make movies at Universal. When Griffith apparently changed his mind at the last minute, Knotts was already prepping for "The Ghost and Mr. Chicken."
But the "Andy Griffith Show" hatched in Don Knotts and Barney Fife a perfect combination of man and role.
Knotts gone but still immortal. With Barney Fife, he made something that'll be remembered and loved forever.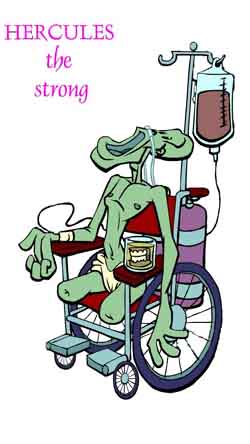 Ahoy, squirts. Quint here. I wanted to chime in a bit on this one as well. I grew up watching Knotts' 60s flicks like THE SHAKIEST GUN IN THE WEST, THE GHOST AND MR. CHICKEN and, my favorite, THE INCREDIBLE MR. LIMPET. Knotts brought a warm-hearted sincerity to every role he played, TV or film. After hearing his voice in the otherwise pretty lame CHICKEN LITTLE I was hoping we'd get one more slew of flicks featuring Mr. Knotts doing what he did best... making audience members of all ages smile. It seems that wasn't in the cards. You will be missed, sir. My thoughts are with his friends, family and fans.