---
The Pull List
(Click title to go directly to the review)
DAREDEVIL #81
STAR WARS: KNIGHTS OF THE OLD REPUBLIC #1
NEXTWAVE #1
GREEN LANTERN CORPS: RECHARGE #4
ULTIMATE EXTINCTION #1
A Special Oni Press Comics Catch-up
Big Eyes for the Cape Guy presents MARK OF THE SUCCUBUS
Big Eyes for the Cape Guy presents RAY Vols 1-3
Tales From the Crevice featuring SOMETHING POSITIVE
CHEAP SHOTS!
---
DAREDEVIL #81
Writer: Brian Michael Bendis
Artist: Alex Maleev
Publisher: Marvel Comics
An @$$hole Two in One with Vroom Socko and Ambush Bug
*Ding, ding, ding*
Ladies and Gentlemen, fanboys and girls of all ages, tonight AICN Comics proudly presents a match-up years in the making! DAREDEVIL #81 marks the end of Brian Michael Bendis' oft debated run on the title. Seemingly since this column began, many a review was written in response to all things Bendis/DD. No two @$$hole reviewers have sounded off about this title, its direction, and its creative team more than these two opponents!
In the blue corner, wearing the jet black zoot suit, weighing in with close to twenty positive reviews, sporting a samurai sword and a silver tongue....Vroom Socko!
And in the red corner, in the lime green Speedo, weighing in with over fifteen schticky and negative reviews, and reeking of Schlitz...Ambush Bug!
Alright guys, I want a clean fight. Nothing below the belt. Touch gloves and come out fighting.
LLLLLET"S GET READY TO RRRRRRRUMMMMBLLLLLLLLLLLLE!!!!!!!!!!!!!!!!!!!
*Ding!*
VROOM:
Now that's a finish! While it's not absolute perfection, (Bendis loses points for repeating himself; compare the structure of this issue with ULTIMATE SPIDER-MAN #44,) this is certainly one hell of a way to go out, and it caps off a year of damn amazing work from both Bendis and Maleev. This final issue is all about who Matt Murdock is as a person and why he does what he does, and anyone who reads this issue and thinks Bendis doesn't get the character of Daredevil is, well... blind.
BUG:
Well, find me my cane and tin cup; because while Bendis got the Matt Murdock he's been giving us throughout his run on the title a lot in this issue, this isn't the Matt Murdock that I'd call Daredevil the hero. Basically, we get an extended courtroom scene with Murdock doing exactly what he's been doing since Bendis started this title: absolutely nothing. If Bendis or his character Murdock had any balls, he wouldn't have copped out and would have had the dream sequence be a reality. Had Murdock made a run for it in the court room, vamoosed to Paris with Blind Girlfriend with the help of Black Widow, witnessed the death of Blind Girlfriend by Bullseye, killed Bullseye, jotted to Japan to shag Elektra, only to realize he had nothing left and nowhere to run and then heroically gave himself up and took responsibility for his actions and trusted the legal system he has spent his life working for, THAT would've been the true character of Daredevil and one hell of a way to leave the title. But what we got in this issue was more of the same, sittin' and mopin' with Matt, the non-heroic, passive schlub.
VROOM:
Honestly, what we got was an homage to AN OCCURRENCE AT OWL CREEK BRIDGE. Really though, what this issue showed was that Daredevil may be fully capable of running, of starting a new life, of just getting away from all this shit. But Matt simply cannot, will not run from the law. He'd rather sit in a cell, surrounded by his enemies, than become a fugitive.
THAT
is the Matt Murdock I know.
BUG:
I know what Bendis was doing. It isn't a bad device to tell a story with. It IS an overused technique (a technique you can see in everything from THE SOPRANOS to SIX FEET UNDER to FAMILY GUY) and salt in the wound to those of us who've been aching for that type of action in this title. Had Bendis given us an ounce of the intensity and excitement that he did in that dream sequence, I wouldn't be so disappointed. The "big action" in this arc involved DD getting shot from many yards away by a sniper (Paladin) and then having his @$$ pulled out of the fire by not one, not two, not even three, but four women. Logo for the last few issues should have read: Black Widow, Elektra, Blind Girlfriend, and Night Nurse: The Chicks Who've Seen the Man Without Fear Without His Pants, not Daredevil: The Man Without Fear.
VROOM:
As I said, it's a device Bendis has used before. Still, it worked here, at least for me. Also, I've got to say that the entire "Murdock Papers" arc, and even going back the past year with "Decalogue", has been Bendis' best work on the title. Each issue had me eager for the next; no "paced for the trade" here. Great build-up, great cliffhangers, and the final issue doesn't compromise. I love that there's no reset button-pushing. To finalize a new status quo, then hand the character off to a new creative team? Now THAT is balls.
And really, Daredevil is the level of character where you can fuck with the status quo and get away with it. Characters like Batman, Superman and Spider-Man are so ingrained into modern culture that there's no way in hell you can change them without alienating the entire known world. Likewise, if you totally reinvent... let's say, Red Wolf, the only person who's going to notice is Fabian Nicieza. But DD is like the Flash and Green Lantern over at DC; these guys are most interesting when their lives are shaken up like a snow globe.
BUG:
True. I agree that you can take more risks with Daredevil than with other heroes. Frank Miller did it. Ann Nocenti did it. Both of them threw out modern superhero conventions and set the standard that DAREDEVIL is about strong storytelling. The difference between Miller and Nocenti and Bendis' runs is that Miller and Nocenti never forgot the Daredevil aspect of the character. Daredevil is not important to Bendis. Matt Murdock is. And you'll notice that when talking about the main character, WE aren't even talking about Daredevil. Daredevil doesn't even exist anymore. It's not important to Bendis.
Think of a strong moment in his entire run and you're not going to name a moment while Matt was in costume. Bendis doesn't seem to like that aspect of the character, so he writes around it. When Matt does suit up, these moments seem as if Bendis HAS to do it. It's like Bendis realizes that he can't go forever without some Daredevil-ing, so he tosses out the obligatory jaunt across a rooftop or tussle with ninjas and then it's right back to Matt moping around or having his fat pulled out of the fire by women.
VROOM:
You say that as if Matt and Daredevil are two different people. While I admit that there's been some over reliance on the eschewing of the costume, I give some allowances to DD, if only because it was the first and it did it the best. Look at what was going on in comics when Bendis and Maleev began this run: Morrison was just starting on NEW X-MEN, same with Strazynski on SPIDEY, and Busiek was only just wrapping up his career and title-defining run on the AVENGERS. For better or worse, Bendis changed Marvel comics. He was a big part of the experimental approach that defined Marvel over the past five years. Now, that doesn't mean that this sort of story would work on every title, or even that it should work. But for this character at this time, it made for an interesting and entertaining story. And it's not like this is the only approach Bendis has in his arsenal. Look at the latest arc on ULTIMATE SPIDER-MAN. That's some straight up costume based storytelling right there.
BUG:
You're right. Bendis DID change the face of storytelling at Marvel. Because of him, Quesada set the standard of trying to make the super heroes and super heroism seem special by taking the spotlight off of them and having them do what they do much less often. Because of the success of DAREDEVIL, we got issues after issues without the main character, issues of build-up to "the big reveal" which was actually not big because it had to do with spotlighting the character actually using his powers or doing a singular action that we've seen a million times in a million other comics in the past. Because of him we had Bruce Jones HULK arcs where Banner and the Hulk MAYBE appeared in the last portion of the story. We had a first issue of the SILVER SURFER where the Surfer only appeared in the last panel. We had a HAWKEYE series that quickly turned into a miniseries where he doesn't even pick up a bow and arrow. I know that Quesada's point was that we were taking what these heroes do for granted and they were trying to make the fantastic part of their characters so special by making their appearances less frequent, but in doing that he produced some boring @$$ comics. Bendis' work is no where near as awful as those other comics creators, but because Quesada was so far up his @$$, he made Bendis' style the rule at Marvel. Problem is, not everyone can write like Bendis. Thank god people like Dan Slott, Zeb Wells, and Brian K. Vaughan are at Marvel. Otherwise, after all of these years, Bendis and his pale comparisons would've castrated Marvel completely.
VROOM:
I can see us starting to argue in agreement here
BUG:
We haven't really talked about the art, have we?
VROOM:
I'm sure any talk about the art here is going to boil down to I liked it and you didn't. Maleev (who is the artist on the new SPIDER-WOMAN book, by the way,) is the finest artist at Marvel right now when it comes to conveying mood and atmosphere. This issue, the middle section especially, was no exception.
Plus, I got a kick out of Captain America's tie!
BUG:
I'll give it to you. Cap's tie was pretty good, but I seriously don't see the appeal of Maleev's art. What frustrates me about Maleev is that there are others out there who use photo-referencing and I have no problem with it. With Maleev, though, he reminds me of that annoying aunt at weddings who has to take pictures of everyone. She tells you to smile, holds the camera, then fiddles with it, and dinks around, and then pauses some more. Meanwhile, the pose you take looks more and more staged and the smile on your face starts to ache. The result is a completely unnatural photograph that pains you every time you see it. When I look at Maleev's art, I feel sorry for his models because they all seem statue-like and unnatural. Maybe if Maleev's panels were more candid looking and less scripted, I wouldn't have that much of a problem with it.
That doesn't take away from the fact that every time I see Maleev's Daredevil, I want to see less of him because he just can't do spandex. The figures are stilted and awkward and any time he draws anything in motion, his work just falls apart. Part of me thinks that Bendis was playing it smart by keeping the spandex quotient low because Maleev just can't make fantastic aspects seem natural and when you have a comic with a guy who can leap from one building to the next, wears a bright red suit, and fights guys with targets on their heads and bands of ninjas on a regular basis, that's a problem.
VROOM:
What do you want to see next from Bendis? I commented a little on this in my wrap-up of SECRET WAR, and I stand by those comments. I'd really like to see Bendis do something totally different, like a fantasy or SF book. Can you imagine what a Bendis-written STARJAMMERS would be like?
BUG:
What I would really like Bendis to do is look back on his run on DD and see the mistakes he made and remade and grow as a writer. I think Bendis should really look at the medium he works in, check out some classic books, do some homework and research. Whatever character he chooses to do next, I hope he tries to respect what has come before. Basically, he's destroyed and remolded the entire Marvel Universe in his own image. And that has alienated and pissed off a lot of people. I'm one of them.
Would I like to see Bendis handle the Starjammers? Sure. But I wouldn't like to see Corsair, Ch'od, Raza, and Hepzibah sittin' and talkin' and mopin' in a spaceship in every issue with an obligatory space battle squeezed in awkwardly and a rushed ending after a slow build-up in every arc. I'd want to see him challenge himself. What I'd love to see is Bendis writing one of those old silent issues of GI JOE where Snake-Eyes would go on a mission and not a word is said. Now that would be a challenge for Bendis.
VROOM:
I'd love nothing else than to see Bendis challenge himself, and your "have him write a mute" sounds just as interesting to me as any SF/Fantasy. Man, I hope Bendis is taking notes here.
Any plans on your part to pick up Bendis and Maleev's new SPIDER-WOMAN book?
BUG:
I'll take a look at SPIDER-WOMAN, but I doubt I'll stick around for more than the first few issues. I already dropped the SPIDER-WOMAN miniseries running right now. I used to love the character for the quirky, bizarre stories in her old series. She fought obscure villains like Needle, Daddy Longlegs, Werewolf By Night, Tatterdemalion, Gypsy Moth, and the Shroud's Night Shift. She was more of a Kolchak character getting into insane predicaments and highlighting the darker corners in the Marvel U. Bendis seems to be focusing on the spy angle of the character and her relationships with SHIELD and Hydra. That's part of her past too, but not a part that makes her stand out from other heroines like Black Widow or Ms. Marvel. I take it you'll be all over the SPIDER-WOMAN?
VROOM:
Are you kidding? FUCK no! I hate the character; I've hated her since 1979. Her costume is hideous, her powers aren't even spider-like, her back story is a convoluted mess that even the current mini can't make sense of, and the sooner the Punisher shoots her in the face, the happier I'll be.
Well then, I think there's only one thing left to address: are you looking forward to Lark and the Bru?
BUG:
I am. I'm glad Bendis and Bru collaborated and talked about where to take DD next. Brubaker seems to understand the history of Marvel a bit better than Bendis, even though I'm not too happy with all of the wanton killing going on over in his CAPTAIN AMERICA arcs. But given Bendis' tone of the book and the fact that Brubaker wrote some of my favorite GOTHAM CENTRAL stories, I really can't wait to see what he is going to do with the title. Lark too. I hope this next run will give all of the DD fans like me what we've been missing for the last few years. What about you? Do you want to meet back here, same place, same time, in a month and two-in-one Brubaker's first issue?
VROOM:
What can I say, except see you here next month!
---
STAR WARS: KNIGHTS OF THE OLD REPUBLIC #1
Writer: John Jackson Miller
Artist: Brian Ching
Publisher: Dark Horse Comics
Reviewed by Dave Farabee
KNIGHTS OF THE OLD REPUBLIC is the opening volley in Dark Horse's revival of the STAR WARS comics line. Seems like a good idea. The prequels have wrapped, so tapping into the "what's gonna happen next?" anticipation they created is pretty much a dry well. Instead, Dark Horse is turning the clock back to the glory days of the Jedi - yes, apparently there was a time when they weren't dawdling, witless bureaucrats! Doubtless inspired by the successful video games of the same name, KNIGHTS OF THE OLD REPUBLIC promises to be action-heavy and more in the tradition of the original trilogy than the angsty prequels.
Sounds good by me.
Now if you're like me, the first thing you might notice about the setting – no less than
4000 years
prior to the movies – is that "a long time ago, in a galaxy far, far away", things apparently didn't change much over the course of millennia. Their lightsabers pretty much look like lightsabers, and not, for instance, caveman clubs. And the landspeeders? Don't look like Ford Pintos at all. In fact, they could pass for alternate ILM designs for the movies.
But hey, it's STAR WARS! I guess the only important point is that
it's in the past
, and since STAR WARS never does anything small, 4000 years ago is more appropriate than 400 years ago. Or something.
And it's not half-bad. Actually, I've enjoyed to varying degrees
most
of the Dark Horse STAR WARS comics I've dabbled in for the last few years, so I'm not too surprised. If I have a complaint, it's that the hero's a little too whitebread typical. His name's Zayne and he's a hunky, brown-haired Padawan Jedi that could probably double as Anakin Skywalker in a wacky, THREE'S COMPANY-style mix-up. As presented, he's a likeable loser. His fellow trainees are all on the verge of attaining the rank of Jedi Knight, and he's this clumsy doofus whose earnestness just isn't quite translating into greatness. His friends assure him he won't flunk out – the need for Jedi is great as the Mandalorian Wars strain the resources of the Republic – but the realization that he might squeak past because of lowered standards is hardly encouraging.
Far more entertaining is Marn Heirogryph, a chubby little alien smuggler whose operation Zayne is trying to bust in the opening sequence. "He's not a Jedi!" Marn shouts to his fleeing customers. "He's just an intern!" Marn also resists Zayne's attempt to pull Obi-Wan's infamous "Jedi mind trick", a bit of table-turning that's gotten way old since the movies have already done it several times. Jabba the Hutt could resist it, the loveable slaver who owned Anakin could resist it, and now some smuggler does the same. Geez, it's not like the Jedi need to be made to look
more
impotent after the prequels! Still, I ended up liking Marn, largely for the reason I liked Joe Pantoliano's character in BOUND: his weasely ability to get out of any situation is surprisingly endearing. That events seem to be conspiring to force him to work alongside Zayne is pretty inspired, and the main reason I'll be keeping an eye on the series. Zayne alone is forgettable, but with a good foil…possibilities.
The art's excellent all around. It's by Brian Ching, who's done a ton of other STAR WARS comics for Dark Horse, and his experience shows. He knows all the STAR WARS aliens, knows how to render those detailed settings and ships we expect of the franchise, and his action sequences are pretty durn good. A definite asset.
I'm a little skeptical on the writing, though. It's from John Jackson Miller, a guy relatively new to writing comics and best known for fairly forgettable Marvel work on a CRIMSON DYNAMO miniseries and an IRON MAN arc. As noted, I'm not wild about his main character, and some of his attempts at humor are pretty hokey. Zayne falls off a ladder and his "Just wait til I…" turns into an "I-yi-yi!" like the second coming of Desi Arnez. There's also a schticky bit where some senators in a hovering car do the whole nonplussed gag as Zayne plummets past them. STAR WARS has never been home to sophisticated humor, but it'd be nice to avoid schtick.
Beyond that…plot's solid, setting seems cool, and I
am
keeping in mind that Miller wrote a very entertaining standalone issue of
STAR WARS: EMPIRE
a month or two back. I also score the book bonus points for its overall "fun" vibe. There's a somewhat dark twist at the end, but the prevailing atmosphere is 'high adventure', and after several years of gritty Clone War stories, it's a nice change of pace. Give 'er a look, STAR WARS dorks.
Preview pages
.
---
NEXTWAVE #1
Writer: Warren Ellis
Penciler: Stuart Immonen
Publisher: Marvel Comics
Reviewed by Humphrey Lee
When I first heard about this book I just Knew I was going to love it. The creative team consists of two men whose work I've always enjoyed. I loved the premise and the unusual assortment of characters picked to star in this title. And I absolutely loved the tagline "Healing America by beating people up." And I do love this book. This first issue of NEXTWAVE is as over-the-top as I was expecting and then some. NEXTWAVE is an unbelievably quirky book. NEXTWAVE is absolutely hilarious at times and has an uncanny sort of energy to it. NEXTWAVE is a book showcasing everything you enjoy about superhero action and a critique on the more absurd things of the genre. But most of all, NEXTWAVE is just plain fun.
If you don't know the premise of the book by now it pretty much goes like this: There's an organization known as H.A.T.E., which stands for the Highest Anti-Terrorism Effort (kinda like SHIELD, only not at all) which is lead by a character that shoulda been Nick Fury (but he am busy right now) known as Dirk Anger. Our little misfits in NEXTWAVE (consisting of Marvel C-listers Monica Rambeau, Elsa Bloodstone, Aaron Stack the Machine Man, Tabitha Smith, and an original creation known just as "The Captain") work for Mr. Anger and H.A.T.E. Well, at least they did.
What we find out right off the bat in this first issue is that there was once a terrorist cell known as S.I.L.E.N.T. that went to ground and became a reputed company known as Beyond Corporation... the same company that funds what H.A.T.E. does. And that isn't good. In fact, it's so not good that NEXTWAVE steals some tech from H.A.T.E. and goes rogue on them. And then Fin Fang Foom shows up... and yes, there are purple underpants. The purplest underpants you have ever seen. Glorious.
But I reiterate, the book is damn fun. And quirky. Oh my is it quirky. And there's the fun. The interaction between the team's characters is great. Everything from Monica's "I lead the Avengers" rants, to Machine Man's tendency to refer to his teammates as "fleshy ones", to The Captain's discussion about what his original title was and also his decision to put on the mask in the first place, which is by far the greatest reason I've ever read in a comic book. Dirk Anger's in your face persona just adds perfectly to the vibe this book was going for, and might actually be preferred to using the "real" Nick Fury since it seems he can get away with more. And shit yea, there's goddamn purple underpants.
All that and we cap it off with fantastic Stuart Immonen art. It perfectly fits this book as it's rough around the edges and smooth as silk all at the same time. The detail is amazing, as are the character designs and the way the action scenes move, but it has an almost extreme/animeish feel to it that pushes it to the level needed to match what the book is going for. It's definitely a perfect match, and just enhances an overly fantastic read. If you like fun comics, then you should own this now. If you don't, you might as well just go out and buy it anyways, otherwise Tabby is just going to steal your wallet.
---
GREEN LANTERN CORPS: RECHARGE #4
Writer: Dave Gibbons and Geoff Johns
Pencils: Patrick Gleason
Inks: Prentis Rollins & Christian Alamy
Publisher: DC Comics
Reviewer: Ambush Bug
Being a sucker for team books, I pick up just about any book that pairs more than one hero together to fight a common foe. I just love seeing the interactions and arguments. The conflict and friendships. No one lives in a vacuum, no hero either. But GREEN LANTERN CORPS: RECHARGE is something a little more than just a team book. It's much bigger than that. It's a book that focuses on the job the heroes have to do and how that job can affect a variety of people.
There are many reasons why I'm liking this title. It stands apart from the entire INFINITE CRISIS hullabaloo and functions on its own, as its own story without seeming like filler.
It stars some of my favorite characters in the DCU who up until now didn't have their own title to hero around in. I mean, a comic featuring Guy Gardner, Kyle Rayner, and Kilowog? Are you kidding me? Just seeing Gardner brazenly piss off anyone who crosses his path is worth the cover price alone.
But what really surprised me was the aspect of every team book that usually pisses me off. There's nothing I hate more than the inclusion of the obligatory "new and original member" of your typical team book. Maggot, Stacy X, Triathlon, Silver Claw, Shift, Thunder, Manitou Raven, Tomorrow Woman, Arrowette, The Secret, the NEW Captain Britain, Ronin, the list goes on. In almost every formation of a team, the creators always feel the urge to add a new and mysterious member to the roster to "spice things up!" You know. It's that member who appears ONLY in that particular arc until the creative team is through with the title and moves on. Then when the next writer comes on board, that character is conveniently written out of the picture in a panel or three. It just annoys me when writers do this. It takes away from my precious time reading about the characters that matter.
The thing is, in GREEN LANTERN CORPS: RECHARGE, Gibbons and Johns have created some interesting characters who may prove to have some kind of life beyond their creative team's run on the title. In the wake of the Rann-Thanagar War, two warriors, one from Rann, one from Thanagar, have joined the Corps and by a cruel twist of fate, they are assigned to be on patrol together. It's your typical buddy cop scenario, where the two partners despise one another, but have to work together to get the job done. Throughout this series, the two have learned to work together and in this issue, the two characters, Vath Sarn and Isamot Kol, start to call each other Rann and Thanagar, nicknames that reflect where they are from, throughout the issue. This was one of those cool little exchanges that made me smile in this book. On top of that, another new GL recruit, Soranik Natu's storyline where she is conflicted with being chosen as a ring-bearer is pretty well written too.
GREEN LANTERN CORPS: RECHARGE #4 gathers all of our favorite GLs together to fight the cosmic menace known as the Spider Guild. The Guild's plan is revealed in this issue and it looks to be especially dangerous to the GL homeworld of Oa. As our heroes come together, they rely on each other's strengths as individuals, not as Green Lanterns, to pull their collective fat out of the fire. There is a real feel of camaraderie in this book. I didn't have that feeling of discord towards the newbies that I've had with past team books. Soranik snubs Guy's brash advances. Vath and Isamot take a time out from their own bickering to turn on Soranik. Kilowog and Kyle hold the entire team together. And did I mention that the Green Lantern hunter Fatality is in the mix to cause all sorts of trouble?
This is a fun book. It's an intergalactic police drama and buddy flick. Those of you who loved GOTHAM CENTRAL for its serialized police feel may want to check this series out. The art is spectacular and full of wide screen energy. GREEN LANTERN CORPS goes ongoing as soon as this miniseries ends and you better bet I plan on picking it up when it does.
---
ULTIMATE EXTINCTION #1
Writer: Warren Ellis
Artists: Brandon Peterson
Publisher: Marvel Comics
Reviewer: Prof. Challenger
So sue my ass, this review's a couple weeks late. Still worth getting a full review because from the cover featuring the scariest looking adult toy ever imagined to the last page with Misty Knight wondering whether she should join The Ultimates, this was a great example of how to play in the Ultimate Sandbox.
Considering that the Triskelion is still alive and well, I'm guessin' this thing takes place before the recent events in THE ULTIMATES comic. Bummer there, considering that this is all about worrying whether mankind's going to be exterminated by the not so shiver-inducing "Gah Lak Tus." Self-defeating title given the fact that it takes place BEFORE the recent events in THE ULTIMATES. Woops. Guess we all know that "Gah Lak Tus" isn't going to succeed. But then again…did anyone really think Marvel was ready to just close up the ULTIMATE line?
I didn't think so.
First, my disappointment and then kind of a recap of the cool stuff. Color me disappointed that Galactus is "Gah Lak Tus." You know, the whole basic concept behind the original Marvel U. Galactus (or Galacticus for that same crowd of folks who always thought Darkseid was pronounced DarkSEED) was that Jack popped out an FF story whereby the FF were going to meet "God." Pretty bold idea for 1960-something. Jack even threw in a little baby Messiah for his "God" character who flew through the cosmos on a shiny silver surfboard. Leave it up to Jack to figure God wore short pants and had a giant English alphabet "G" for a belt buckle. And leave it up to Stan to turn Jack's angry little reluctant Messiah into a Shakespearean lingo-spouting pacifist.
Anyway, I was kind of hoping for something a bit bolder than just the Ultimate crew of superheroes facing an alien machine that kills every living thing on the planet with a super-virus and then sucks all the energy from the planet to move on to the next inhabited planet. I was hoping for something more bold than that. I wanted to see Warren Ellis take the Ultimates and the Fantastic Four and REALLY make them come face-to-face with God who was ready to bring forth Armageddon and the end of time. Now THAT'S a story just itching to be told. Oh well, can't review what could'a been. Gotta review what is. And taking the comic on its own merits, it's good stuff.
Not sure if it's the darker tone throughout the whole Ultimate Universe from conception or what, but Ellis's writing fits better in this continuity than it does in the main Marvel and DC continuities. Similarly, his work on THE AUTHORITY (also from a darker universe shared with his own PLANETARY) just flowed more organically than his recent work on the JUSTICE LEAGUE.
Admittedly, I'm not a wide-spread reader of the Ultimate comics, though THE ULTIMATES has been my guilty pleasure for the last 2 years. Why guilty? 'Cause it flies in the face of everything I claim to want out of my superhero comics, but dammit, I can't stop reading it. I also enjoyed Ellis's run on the ULT. FANTASTIC FOUR.
What I really liked about this issue was that Ellis frontloaded all that the reader needs to know about the "Gah Lak Tus" threat, including introducing the main heroes who will be dealing with it in the form of the FF, Sam Wilson, Ms. Marvel, and Gen. Fury. Then he shifts gears and focuses on one seemingly normal character, gorgeous and tough as nails private detective Misty Knight. Off on an assignment for a rich Lex Luthor-looking guy who needs Misty to recover his wife, who's run off with some weird religious cult. And here's where Ellis starts to shine.
Misty thinks this is just another job, but as the comic unfolds, it is clear that this rather mundane assignment is tied into the coming of "Gah Lak Tus." How do we know? Well, the faith-healing leader of this dangerous cult is obviously supposed to be the Ultimate version of the Silver Surfer and full-on allegorical Messiah. Named Paul Maitreya, this cult leader is a literary nod to the legendary modern New Age Messiah Lord Maitreya who has been prophesied about and alleged to already be in this world for over 10 years. I recall seeing blurry photographs by nutjobbers purporting to be Lord Maitreya wandering around India as far back as the late 80s. So, Ellis takes Maitreya, outfits him in a body coated in shiny other-worldly silver with stiff metal "angel" wings attached to his back (rather than a dorky surfboard naturally). But the big visual reveal is just in time for a successful assassination.
As we all know, though, any "true" Messiah analog must be killed before he can rise from the dead and assume his true position. Neo pulled it off at the end of THE MATRIX and I'm expecting that Paul Maitreya pulls it off next issue or the one after that. And I'm sure his "transfiguration" will be tied into the cosmic hand of "Gah Lak Tus."
The real focus, however, is on Misty Knight. She's our POV throughout and gets into a nasty little catfight with the assassin, some bald chick with a dragon tattoo. As I said, I don't read too much Ultimate stuff, but the dragon tattoo makes me think the "assassin" may be the Ultimate version of Colleen Wing. The big reveal of Misty's bionic arm was nicely done and, I would assume, was a surprise to anyone too young to remember the regular Misty from the 70s Marvel comics.
As usual, I really liked the cinematic story-telling of Ellis and Brandon Peterson knocked it out of the park on the art. Digital coloring was overdone and needs to be lightened up, but otherwise, good all around and recommended.
---
It's one thing to fall behind on a title; it's another to realize you're backlogged on an entire publishing house! Whoops. We're so far behind; it's going to take more than one reviewer to get this column caught up to speed on Oni Press' latest batch of goodies…
LOCAL #1-3
Writer: Brian Wood
Artist: Ryan Kelly
Publisher: Oni Press
Reviewed by Dave Farabee
I haven't followed a lot of Brian Wood material, so I picked up LOCAL with little context but put it down having read one of the most original, most compellingly crafted indies of the last few years. The premise is simple: a series of city-centric standalone stories loosely connected by a young woman named
Megan
. Sometimes, as in the first issue, she's the lead character. Other times, as in the third, she's just got a walk-on role. Each issue takes place roughly a year after the previous, opening in '94 with a 17-year-old Megan, and planned to wrap in our own '06 with her as a well-traveled 30-year-old.
The stories themselves are written to be universal, but for locals in the chosen towns (and those travelers who've passed through 'em) there's a bonus in the effort Wood and artist Ryan Kelly have gone through to capture climate, landmarks, and the general "vibe" of a place.
Issue #1: Portland, OR
First thing that struck me about the opening volley was Kelly's bravura artwork. I'd seen Kelly's work on GIANT ROBOT WARRIORS, and truthfully, it didn't chart on my "artists to watch" list – but the dude has improved. Vastly. Take a
peek
at his evocation of Portland rain coming down on a train station. I'm sensing a lot of Paul Pope artistic influence – never a bad thing – as Kelly douses his work in confidently heavy inks. He's also working up some of Pope's kineticism, giving scenes an energetic quality too often lost in both slice-of-life stories and heavily photo-referenced work. Heck, his dudes even have those big Paul Pope lips!
The story is straightforward and immediate. Outside a pharmacy in Megan's bumper-sticker-dotted car, she's trying to figure out her options as her boyfriend
desperately tries to forge a prescription for the drugs he wants
. He's frantic and pissed, presumably going through withdrawal, and Megan's in the crap position of having to carry out the ruse (she's got the insurance card). The story plays out as a series of "what if" scenarios in Megan's head – I was reminded of RUN LOLA RUN – with Wood and Kelly keenly interested in created a feeling of
nervous paranoia
throughout. They succeed, and pleasantly wrap
not
with high melodrama, but with quiet resolution.
Issue #2: Minneapolis, MN
I think this one's my favorite, largely because it's just such an oddball concept. Megan's moved to more northerly climes – snowy Minneapolis – found a small apartment, and taken a job at a record store. Where things get strange is when we see that, for reasons later explained, she's regularly leaving her key on top of her door frame to let a complete stranger into her apartment while she's at work. He's a nice-lookin' college-age dude who proceeds to take pictures of himself with her Polaroid and leave them for her with little captions, all without ever having met her in person. She, in turn, leaves photos of herself for him. It's a truly bizarre situation – a bit like online dating - but Megan's obviously lonely and finds it charming. Her co-worker, on the other hand, thinks the guy's just as likely to rape and murder her.
It's a terrifically messed-up little love story. The cold weather is palpable, there's a sense of both intimacy and voyeurism in the scenes where the mystery man wanders through Megan's apartment, and several instances of genuine creepiness. Sometimes, though, it's just the mood shots that win the day, like Megan eating macaroni at her window while she watches for her "Polaroid boyfriend."
Issue #3: Richmond, VA
Here's one of the stories where Megan's little more than a walk-on. Opening with a stunning shot of Richmond from the window of an airliner, the issue follows a rock band returning home at the end of its career.
The framework is a phone interview conducted with the lead singer, slightly defensive as the interviewer presses him as to why the band left their hometown of Richmond to live in Europe for several years. The interview bounces around to different topics, touching on craft, artistic growth, and the other band members. And indeed, the story jumpcuts throughout to show what those other members are up to. In short, it's a portrait of a band at the end of its life. There's some natural sadness – we see an awkward rekindling of an old relationship, and at least one member desperately trying to make some quick bucks selling memorabilia. But Wood tempers the down beats with the conviction of the lead and a reminder that music always goes on, whatever paths the players might go.
For all that the story seems meandering, it's actually very tightly constructed around the interview, but I like that
feel
of being meandering. It's a common element throughout the series, with its many visual stopovers on buildings, storefronts, and messy rooms. Nothing's generic, everything's "lived-in," and while the series certainly has its tense moments, that lived-in quality gives the reader a relaxed sense that he's just visiting friends. I can't think of many comics that've given me that feeling, but it sure is nice.
So big ups to Wood and Kelly. They're working in some kind of magical synchronicity, they've got a concept the biz has never seen, and they're at the forefront of the movement to revitalize the standalone issue in comics (see also, JONAH HEX; FELL). Pretty cool stuff. In fact, at three issues in I'm confident enough in the series to start thinking of it as an early frontrunner for best miniseries of '06. Do look into it.
As Dave hands the Catch-up stained baton my way in this Oni Three-Way, this Ambush Bug has to admire the range Oni Press has in its stable of goodness.
From a slice of life jaunt from one locale to the next to a precious fairy tale of fantasy and fun, Oni's imagination and talent knows no bounds. I'm saddened to say that POLLY AND THE PIRATES was the first Oni Press book ever to weigh in my hands, but I'm equally enthusiastic that I hope it's not the last. Lately, there's been a lot of "little girl gets swept away to a fantasy world"-type stories. You know, those ALICE IN WONDERLAND, WIZARD OF OZ, MIRRORMASK, LABYRINTH, ABAZADAD-types where seemingly normal girls fall through the cracks of what they thought was reality into a world of adventure. POLLY AND THE PIRATES is this type of story; one of those universal tales that can interest young and old alike.
POLLY & THE PIRATES #1-3
By Ted Naifeh
Reviewin' Swab: Ambush Bug
I was really swept up in the first three issues of this story. Issue one takes its time introducing us to Polly-Anne Pringle and what makes her tick. Polly is a good girl, a prim and proper, goodie-goodie good girl, so good that her friends use her as bait to try to get away with the tomfoolery that little girls often get into sneaking under the upturned nose of Miss Lovejoy,
the head mistress of Polly's boarding school. But Naifeh writes Polly sympathetically and doesn't cast her as someone to be disliked. Her virtuosity is something that makes her stand out among her classmates and makes this book stand out among the apathetic and jaded books that decorate the shelves of your local comic shore. At first, Naifeh creates a world of innocence around his title character, one that is both intricately delicate and realistic, before plunging her into the world of pirates, hidden treasure, and high sea adventure.
It's not until issue one is more than halfway over that we actually see pirates, but Naifeh paces his issues nicely, filling it with interesting and cute moments. This book has a definite drive – a forward momentum fueled by the wholesomeness that Polly is filled with, the threat to what makes Polly special, and the mystery that Polly is more special than all of us as readers, and Polly herself, may know. Polly may not be as prim and proper as she seems. By the end of issue one, we find out that she may be the daughter of the legendary Pirate Queen. She certainly looks like her, and in issue two she definitely has some swash in her buckles as she makes her escape from the pirates who stole her away from her warm boarding school bunk in the night.
As we cast sails through issues two and three, we're introduced to a swarthy dog pack of a pirate crew without a captain. One of the pirates, Scrimshaw, is one of those crusty rogues with a heart of gold, who weeps when thinking of his lost captain, the Pirate Queen, and whose eyes glisten with hope upon looking at Polly and her potential to lead his crew. But not all of the pirates think Polly is The One. The snaggle-toothed Kutner Naff looks to be nothing but trouble and the devilishly handsome Pirate Prince isn't as nice as he initially seems.
Three issues in and I'm hooked. This is a classically structured story masterfully adapted into comic book form. Every issue seems full of energy and ideas. Ted Naifeh shows great promise as one of those writers that can appeal to all audiences without making things too sophisticated or sophomoric. And the simplistic yet cartoonish art makes everything look as cute as a button on a button. If you're looking for entertainment for children in comics, but can't stand the watered down versions of mainstream properties, check out this book. Kids will love it and so will you.
Now let's pass the mike one last time to Vroom Socko who has a few more Oni books to catch you all up on.
OFF ROAD
Sean Murphy: Creator
Vroom Socko: Four Wheelin'
By all rights, this shouldn't work. A post-adolescent coming of age story centered around three guys in a jeep stuck in the wilderness? Post-adolescent angst is a dime a dozen in independent comics. And yet, this book works great.
The first element in its favor is Sean Murphy's artwork. Most of the book ranges between good and great, but every dozen pages or so, there's a splash page that just knocks you on your ass. There's one of the jeep near the end that would be right at home in the pages of SIN CITY, and that one's not even the best of the bunch.
The second is the fun dialogue, which is both naturalistic and funny as hell. Each of the characters is well nuanced and fleshed out in interesting ways. It's easy to just become absorbed in the plot, which if you ask me is the hallmark of a good story. Besides, this thing has a bunch of Mr. T jokes. Who doesn't love a good Mr. T reference?
PENG
Corey Lewis "The Rey": Creator
Vroom Socko: Always Picked Last
I'll be the first to admit that this book isn't going to be for everyone. "Zany" doesn't do the story justice; it's a wild ride of martial arts mayhem that makes DRAGONBALL Z look like "My Dinner with Andre". What's really great is that the tournament shown in this book isn't a fighting exhibition. No, it's the World Kickball Championship.
Yes, I said Kickball.
This book simply revels in the ridiculous. Each kickball match is a wild display of kinetic fury that sets sparks off the page. Each team has its own psychotic quirks, especially the nutjobs from Canada. There's also the special appearance from Corey Lewis' other character, Sharknife. He's the teenage busboy at the local Chinese restaurant who transforms into a ten foot tall superhero by eating mystic fortune cookies.
I get the distinct impression that "The Rey" lives on a diet of nothing but pixie stix and Jolt cola.
Yes, the whole thing is silly. Everything Corey Lewis does is silly. But if silly is what you're in the mood for, then PENG is the best place to find it.
ARMAGEDDON & SON
John Layman: Writer
Dave Dumeer: Artist
Vroom Socko: Evil Genius
Imagine you find your long-lost father, only to learn he's a major criminal. I mean MAJOR. Blofeld major. And he needs your help to take over the world. How would you handle it?

ARMAGEDDON & SON takes the Dr. Evil/Scott elements from the "Austin Powers" movies and runs with them at top speed. Alphonse Feeney is a criminal mastermind whose minions have turned on him, forcing him to turn to his loser son Doonald to wrest back control of his evil empire. Doon, as he's called, is utterly hopeless. Oh he tries to be evil, but he sucks at it.

Nearly every page has an insane joke at the expense of the Bond franchise. Every time the elder Feeney meets up with someone, he remarks on the fact that he's killed them at some point. Expansive island lairs, vicious henchmen, scantily clad women waiting in lush bedrooms: all are set up to hilarious effect. The best joke in the book involves the other Feeney child, who's the one who actually inherited the evil tendencies of his father. Well, second best, actually. The best is the line one of the evil minions has at the end, which I simply cannot spoil here. Suffice it to say, the ending is a blast.

Like the other comics listed here, fun is the name of the game with this title. Hell, fun is the operating word with pretty much any book you can name from ONI, and you really can't go wrong with anything they publish. Anything.
---
MARK OF THE SUCCUBUS
Writer: Ashly Raiti
Artist: Irene Flores
Publisher: Tokyopop
Reviewer: Dan Grendell


Love...it's a killer!

The European legend of the succubus, a female demon who uses her wiles to lure in a mortal and then kill him, is an old one that probably sprang from some caught-in-the-act man's need for an excuse for his inability to keep it in ye olde pants. Ashly Raiti takes that legend and puts a neat spin on it here, telling the story of Maeve, a young succubus-in-training who travels to Earth to learn human ways get some practice in. Her mentor, Veril, keeps an eye on her, but Sylne, an administrator, is bucking for a promotion, and she thinks the best way to get it is to catch Maeve breaking the Rules - even if she needs a nudge or two to do it. Meanwhile, Maeve has started falling for her human high school companion Aiden, and that can't have a good ending...

Raiti does a good job making you care about Maeve and her goals, despite the fact that she is training to lure people to their doom. Each character has a distinctive, well-written personality, though Maeve seems a bit too naive for a demon, even a young one. I had a hard time believing that someone who had been training to seduce humans in a demon society had so little knowledge of how a boy would react to her or how to deal with a jealous girlfriend. The manipulated imp Junael, however, was the perfect mix of resentful, curious, and proud. An interesting dichotomy.

Irene Flores has a way of using heavy lines on the borders of her figures that gives them an intriguing look, separated from their backgrounds a bit. They 'pop', so to speak, almost like a pop-up book. A penchant for large, almond-shaped eyes and very small lips also defines her style. Backgrounds are rare, with Flores instead relying almost entirely on the characters for storytelling. Panel-to-panel flow is quite clear, even without backgrounds, so I didn't miss them too much. Character design is great, with Maeve looking just the right amount of hot for her age but not overdeveloped, although Sylne is a bit over the top.

All in all, a good revamp of an old legend. This is a romance with an interesting cast and a fun story, and it's a treat to read.


RAY
Creator: Akihito Yoshitomi
Publisher: ADV
Reviewer: Dan Grendell


Overview of Volumes 1-3

Nowadays, civilized people make the standard assumption that a human being has basic rights and blindly believe that this is true all around the world. It isn't, unfortunately - slavery still exists, even in the USA, just below the awareness level. RAY takes that idea a step further, positing a mysterious Organization that runs a body farm, raising children simply to sell their organs to the highest bidder and then conduct scientific experiments on them. Rescued after her eyes were sold, Ray was given x-ray eyes and trained to be a doctor and now she uses her incredible skills in the underground, helping those in need and trying to hunt down the Organization and destroy it. Joined by the bearded, cigar-chomping Director Sawa and his nurses, the inventor Shinoyama, and other escapees from the Organization, she pursues her revenge, but when the Organization starts helping her on cases, what is she to do?

This is a graphic manga. BATTLE ROYALE has extremely graphic scenes of violence and sex, and I could handle that, no problem. RAY has extremely graphic scenes of surgery, and for some reason, that makes me slightly ill. I have no idea what the difference is there, but it is definitely my problem - the art is spectacular, so everything is accurate and has a medical feel to it during the surgeries. There's just something about seeing a woman surgically remove a hand and carry it in a plastic bag to reattach it later that bothers me more than seeing it chopped off. Must be my upbringing.

Yoshitomi's art is very detail-oriented, with full backgrounds common and the intricate surgery scenes extremely well laid out. People tend to be smooth and round, especially in the face, but still quite realistic. The action scenes are easy to follow, but exciting, and the surgeries are paced the same way, making them just as exciting. Yoshitomi has definitely improved since his earlier work on EAT-MAN, and it shows.

Not for the weak of stomach, RAY is a cool read and interesting to boot.


---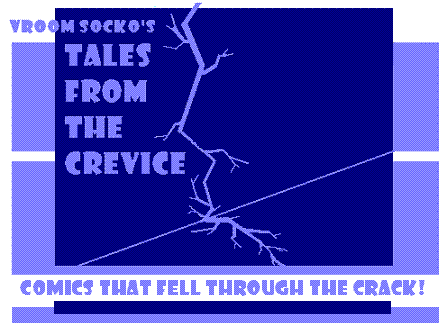 The sharp eyed among you will have noticed that prior to this week I've contributed something like three reviews in as many months. Well, things haven't been exactly happy in the Socko household, and time and my comics budget have suffered because of it. I mention it here because it pertains to the level of involvement I have with the work presented this week, the phenomenally well written web comic called Something Positive.


The first thing you should know about this comic is that the humor is not for everyone. Basically, I say the same thing about this that I do The 40-Year-Old Virgin: if the first joke doesn't offend you, then you should enjoy yourself. While the initial strip is a bit more messed up than a chick fucking a horse, it is a pretty accurate gauge of what writer/artist R.K. Milholland brings to the table. And like the Steve Carell film, underneath the sarcasm and sickness is a story full of warmth and heart.

The main character is Davan MacIntire, a Texan living in the Boston area who works in the local theater scene, as well as the billing department of the local Medicaid center. His best friend since childhood is Aubrey Chorde, a sociopath with a penchant for insane projects that put Davan in harm's way, as well as public outbursts of random insanity; an early strip has her memorably bellowing "I could menstruate a better cup of coffee than this!" while inside a local Starbucks. Her partner in crime is PeeJee Shou. She's the more rational member of this trifecta, despite her constant dating troubles. She somehow manages to fall for men who are sleazy cheaters, gay, or in one case both.

That's how these characters look at first glance, at any rate. What Milholland is so damn good at is peeling back the layers to show you what lies underneath his characters' sarcastic exteriors. Davan, for example, is the sort of self-sacrificing friend most people never have, and those that do are damn lucky. PeeJee has a bit of a maternal instinct for gaming loser Mike, who himself manages to grow from a reprehensible geek stereotype into a three dimensional human being. There is one storyline where at the start you hate Mike with every fiber of your being, and at the end you can't wait to see him again.

And then there are Davan's parents, Fred and Faye. Out of all the supporting cast, they're my favorite, if for no other reason than they remind me of my own mom and dad. Not only is their lovable sniping familiar, but also they just plain look like my parents; my mother is a short, dark-haired lady with a sharp tongue and my dad is an imposing figure with grey hair and glasses. Readers have seen quite a bit of the MacIntire family in the past few months in a storyline that has Fred secretly diagnosed with the early stages of Alzheimer's. The only one in the family who knows is Davan, who has promised to move back to Texas if and when his mother needs help taking care of the old man. This was especially poignant to me, because this storyline began just a scant month after…

Damnit, this should be easier to talk about.

A little over four months ago, on 9/11 of all days, my father suffered what his doctors called a "massive" stroke. He spent six hours in surgery and three days on life support. To the hospital staff, that he even survived the first 48 hours was considered a miracle. I knew the truth; my dad is too damn stubborn to go that easily. To see this fictional character that reminded me so much of my dad going through his own health problems was in many ways a great help to me. Then, this past week's worth of strips hit the web.

The plot is simple enough: Fred and Faye spend the day together just enjoying each other's company, while Fred tries to work up the courage to tell his wife about his illness. It's a simple enough story, and to see these two together is a lot of fun, even with Fred's secret hanging over the whole afternoon. He ends up waiting until the next morning to tell her, not wanting to ruin this perfect day. The next morning went up on January 27th at double size. The second half is just the word "Oh" used three times. That's all that was needed. It broke my heart. Then I showed the story to my mother, whose comics experience begins with Charlie Brown and ends at Get Fuzzy. It broke her heart. I showed it to a friend of mine, who'd never read the strip before, and who didn't have the connection to the characters that I did. It broke HIS heart.

As long as I've been reading this strip I've known that Randy Milholland was a damn funny writer. When he told this story almost two years ago, I knew he was a great writer. It wasn't until this weekend that I finally recognized the fact that he's an exceptional writer, the equal of the top writers in print comics and even surpassing many of the ones at the Big Two. Plenty of people in this business have the ability to make you laugh, fewer can make you cry. The ones that can do both are a real treasure, and Milholland can count himself in their number.


QUESTION FOR DISCUSSION: What comic story has brought you the closest to tears?
(No, Chuck Austen having She-Hulk and the Juggernaut fuck doesn't count.)


Oh, and my dad has improved vastly, thank you very much. He's walking every day, has occupational and speech therapy three times a week, and starting this past Monday he's now back at work for two hours a day. He's not at 100%, but considering he's come back from 1% I'm thankful enough. You just can't keep a Socko down. - Vroom Socko


---
NEW AVENGERS #15
Marvel Comics
So Carol Danvers, aka Warbird, aka Binary, aka Ms. Marvel, aka That-Chick-Whose-Powers-Rogue-Stole-in-the-80s…so Carol Danvers keeps a public blog? Apparently, so according to Bendis, who uses the blog format (right down to a '0 comments' tag below each entry) as Carol's narration for the issue. Does it fit with her ex-military intel background? Not a bit! Does it fit with the standards and practices of Bendis's readership? Ahhhh, that may be closer to his intent. I think I see a MySpace entry in Cap's future, maybe some message board trolling in Wolverine's.

After an opening where Carol Danvers absorbs solid-sound supervillain Klaw the exact same way Dazzler did way back during the Reagan administration, the story fortunately takes a turn for the better. It's a downtime issue, which plays to Bendis's strengths, as Carol crashes Avengers Tower right as the team's about to make their line-up public. There's some great banter between Carol and old friends, especially Cap, and Bendis teases her membership only to put it on hold for awhile (maybe that's why Spider-Girl inexplicably gets the cover spot?). The issue's best bit has the team trying to talk J. Jonah Jameson down from slamming the team for Spider-Man's membership – a good scene in and of itself, with a hilarious pay-off a few pages later. I was also impressed with Frank Cho's art, increasingly more diverse than its LIBERTY MEADOW origins. All told, the issue's the usual Bendis-on-capes mixture of winningly different and frustratingly stupid (ex-intel Carol Danvers talks about getting all her information on Klaw from frickin' websites - gee, were looking up Avengers and S.H.I.E.L.D. profiles too much like grown-up work?)