This I believe is the fourth "Justice League" episode that will hit the Cartoon Network following a long hiatus. These have been rolling out in Ireland and the United Kingdom for a spell now, but we Americans get to start watching the new ones legally starting Feb. 11. Here's "Solo4357" with the episode that probably never would have been made had "Smallville" never aired:
What's it called?
"The Great Brain Robbery"
What's it about?
A mystical accident leads to Lex Luthor and the Flash's minds being swapped into each other's bodies.
Who's responsible?
Dan Riba directs, story by Dwayne McDuffie and Matt Wayne.
More Secret Society?
You bet! Luthor is running the place now, but doesn't exactly inspire confidence.
Any more Cadmus holdovers?
Not this week.
League Roll Call?
Voice parts go to Mr. Terrific, Red Tornado, Green Lantern, Dr. Fate, and Flash.
Society Roll Call?
Luthor, Sinestro, Grodd, Bizarro, Tala, and Dr. Polaris, plus some miscelleanous villians who I don't know and had only one or two lines at the most.
So what happens?
Well since Flash once was in contact with Grodd, the League to tries to use Flash to find Grodd with Dr. Fate's magic just as, wouldn't you know it, THE EXACT SAME TIME Luthor decides to pull info about Brainiac from Grodds brain using super-science. Of course, a brain swap between Luthor and Flash occurs, it's almost to be expected.
Eeesh, I love Lucy/Three's Company plot devices.
Yes, but once the deed is done, it's pretty damn cool. Luthor manages to use Flash's powers better than Flash does, while Wally has to try to lead the Secret Society.
Does Luthor learn everyone's identies?
No, but he does make a try to learn Wally's, with hilarious results.
Waaaaiit a minute, doesn't Rosenbaum play Luthor in Smallville?
Yes, we're expecting a tear in the fabric of the universe at any moment now.
What's good?
Clancy Brown channeling Flash. "No! Cause I'm evil!" Luthor managing to use Flash's powers with impressive results. Flash is waaay more powerful than has been let on. Rosenbaum's channeling of Luthor and managing NOT to seem like Smallville's Luthor. Impressive. "Question the plan at your peril!" "Am you Bizarro's mommy?" Luthor's ability to make sure he's always got the upper hand. "Lex Luthor is pleased!" "Hey, that's not restful."
What's not so good?
The ridiculous coincidence to set up this episode. But everything else is awesome. Just the right mix of humor and tension.
Rating: ***** out of Five.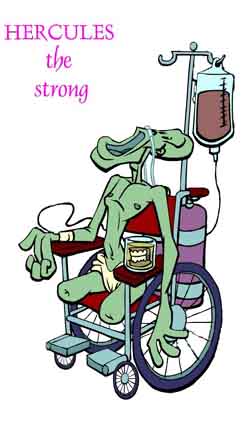 Herc's Favorite DC Universe Tales Ever Collected in one beautiful 309-page $13.59 volume!!! DC Universe: The Stories Of Alan Moore!!