It's a sitcom about four hetero twentysomethings living under the same roof, from "Will & Grace" creators David Kohan & Max Mutchnick.
I hate sitcoms generally, but this season I find myself hating on a bunch of sitcoms starring former "Buffy the Vampire Slayer" players. Every time I see "Kitchen Confidential," "How I Met Your Mother" and now "Four Kings," all I can think about is how much funnier Nick Brendon, Alyson Hannigan and Seth Green were as Xander, Willow and Oz.
"Four Kings" is the last and worst of this season's Buffy-alum projects. Even Kohen & Mutchnick's WB Melanie Griffith project, "Twins," turns out to be more watchable.
But what matters Herc's opinion?
"Four Kings," an NBC sitcom about four single straight men who share an apartment and a disinclination to grow up, sounds awful. It's not. Some of the dialogue is quite funny, and as a posse, the slacker bachelors are appealing. That's mostly because the series was created by Max Mutchnick and David Kohan, the duo behind "Will & Grace," that wicked, madcap look at urban gay life (which could be described as "Breakfront Mountain"). … "Four Kings" is not misogynistic like "Two and a Half Men" on CBS, nor is it as predictable as the mercifully canceled distaff version on ABC, "Hot Properties." The series has grace notes and some wit, but it is also the kind of sitcom that NBC audiences seem to have outgrown. The network must be hoping that viewers will regress right along with the show's characters.
… [by] premiering "Four Kings," a new sitcom from the creators of "Will & Grace," NBC has reestablished another Thursday night tradition: sticking another unfunny, almost unwatchable sitcom at 8:30. … Seth Green, who's almost always reliably entertaining, plays Barry. But he is saddled with such a repugnant character here that, for once, he's no fun to watch. Yet of the four leads - Josh Cooke as Ben, Todd Grinnell as Jason and Shane McRae as Bobby are the others - he's the most entertaining. … Usually, four kings indicate a strong hand. In this case, it's clear this new sitcom was given its post-"Will & Grace" slot as a sweetheart deal to its producers - and that this "Four Kings" is a hand that should be folded. As quickly as possible.
… "Four Kings," premiering tonight and created by the once-hot-now-Arctic-cold production team of David Kohan and Max Mutchnick, was ready to go last spring, but someone at NBC had the good sense to say, "Uh-oh - not so fast." Not so fast, indeed. "Four Kings" was dreadful then, and is dreadful now - the drab sort of Young Urban Sitcom that has provided incentive for millions to turn away from network TV. But why this is moving off the shelf now seems not so much a service to viewers as to the producers. Maybe in flush times, when "Will & Grace" was rockin' along, they nailed one of those deals in which a favored producer gets dibs on a desirable time period. A deal's a deal; NBC probably couldn't hold this one off any longer. That's all speculation. Maybe someone at NBC actually thinks "Kings" is fine. But probably not.
…NBC offers a perfect example of the standard, no-surprise, dumbed-down, artificial, annoying, plastic, formulaic sitcom … They're just the same wandering souls we saw in "Diner" 20 years ago, only not as funny and much more self-conscious. … "Look at where we are," Barry marvels. "This is going to be great!" Oh, no it isn't. It's going to be loud, obvious and horribly predictable. Some of the zingers do have a hint of zing in them, but the fact that the boys mostly enjoy insulting one another, playing tricks on one another and socking one another makes them fairly insufferable as even vicarious companions. …
USA Today gives it two stars (out of four) and says:
… On the plus side, NBC revives one of its best traditions: the four-comedy, reality-free Thursday block that viewers counted on for 20 years. Unfortunately, the network has also fallen back on one of its worst traditions: filling the off-hours with subpar shows from producers of their hits. That bad habit gave us such gems as Veronica's Closet and Good Morning, Miami. And it now brings us Four Kings, which, like Miami, is an inferior product from Will & Grace producers David Kohan and Max Mutchnick. With Kings, the producers follow their sitcom pattern, stressing jokes over character and nonsense over common sense. On Will, that often leads to unexpected twists and big laughs, but a show with that approach needs to be very funny very often, because it can't fall back upon our fondness for the characters. …
…In a preposterous display of misplaced confidence, NBC sent out the first three episodes of its new Thursday night sitcom, "Four Kings." It took an act of kindness to make it to the second episode, and as for episode three tone deaf, desperate and driven to stupidity by demographics. It's clear that NBC wants the young male market to buy into "Four Kings." The series is littered with the type of one-liners seemingly mined from UPN's old "Shasta McNasty" or even NBC's own failed British import "Men Behaving Badly."' …
… paper-thin … the net has dealt itself an uninspired joker when it could desperately use an ace … "Four Kings" isn't a total dud, and as with "Will & Grace," its unrelenting silliness occasionally catches you off guard; nevertheless, it's the kind of nondescript half-hour that won't do much to re-establish NBC's "Must-See" credentials …
8:30 p.m. Thursday. NBC.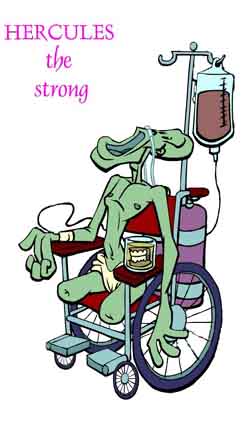 TV series for less than $21 per season!!