Ahoy, squirts! Quint here with a massive Holiday Shopping Guide for the geek in your family. Constant readers will be expecting this about this time year, being that it'll be the 4th Annual Guide I've created for the site.
Below you'll find pictures and links to any and everything that caught my fancy. There are DVDs, CDs, posters, gadgets, robots, prop replicas, high end collectibles, action figures, video games, books and many other things of particular geeky interest. This is by no means an end all be all list. It has been run through a filter (namely me), so it is very much tailored to my tastes and what I am excited about this holiday season. For instance, you'll notice a good amount of KING KONG stuff below because I am at the height of my frenzy for the flick. Strangely enough, Stanley Kubrick pops up more than once throughout the Guide as well...
There will be 4 price levels brightly marked under each category (DVD, toy, etc). These levels are: CHEAP (items $24.99 and under), Moderate (items $25.00-$99.99), Expensive ($100-$499.99) and For The Super Rich Only (items $500 and up).
Just as much as anybody reading this, I love to use this guide to window shop. I can't afford half the shit on here, but there is some fine geek apparel out there (there's a $50,000 item below that is particularly the stuff day dreams are made of) and it's always fun to window shop. There are quite a lot of great moderate and cheap gifts (namely toys, DVDs and books) on the list this year, too. So much so, in fact, that for the first time ever I've had to break this up into 2 articles.
We've been lucky enough to get a rather awesome donation for a contest somewhere within the 2 articles. I'm not going to tell you exactly what or where, but I will give you a hint... you'll have a chance to win a famous director! So, without any further ado, let's kick this mutha off, shall we?
DVDS
Ah, wonderful, wonderful DVDs. For movie geeks, this is the best present. I've got some obvious choices below and a heads up on some really nifty store-exclusives as well as some awesome foreign box sets... This list is so massive that I didn't have time to search all the sites for links. Amazon is always dependable for fair prices and in-stock items, but there are many other online sites to double check if you want to make absolutely sure you're getting the best bargain.
CHEAP ($24.99 and Under)
This Best Buy Exclusive is only $21.99 on the official site, which is a mere $7 more than the regular no-goodies edition. The extra features aren't that great... let's just say it would be a packed DVD in 1997, with a 20 minute-ish documentary and little else. However, this Best Buy Exclusive comes with a red stapler, a Lumbergh coffee mug, a Chotchskie's shirt mousepad, an Initech notepad, magnetic picture frame and Office Space labeled mechanical pencil and pen. I predict this will be one of the most common awesome gifts this Christmas. Lots of goodies, low cost... and who doesn't love OFFICE SPACE?
This is one of the best family films of all time and the 2-discer gives a great insight to the making of the movie plus it has a fantastic documentary on Gregory Peck following the actor as he toured around the country in his later years, speaking to his fans and telling stories about his career. It also comes with a nice packet with large postcard sized prints of all the foreign posters for the film. It's a steal at $17.99.
Is anybody surprised this made my list? The new JAWS DVD is cheap ($16.99), comes with a super sweet high quality booklet with tons of info and stills and has the complete 2 hour documentary from the '90s video set. On top of all that, for a JAWS geek like me, it has the original mono soundtrack, not that cluttered crappy remix that was on the original DVD. For those that have it already, there are enough goodies to update the collection and for those that don't have this film on DVD, that gaping hole must be plugged. It's your duty as a friend/family member.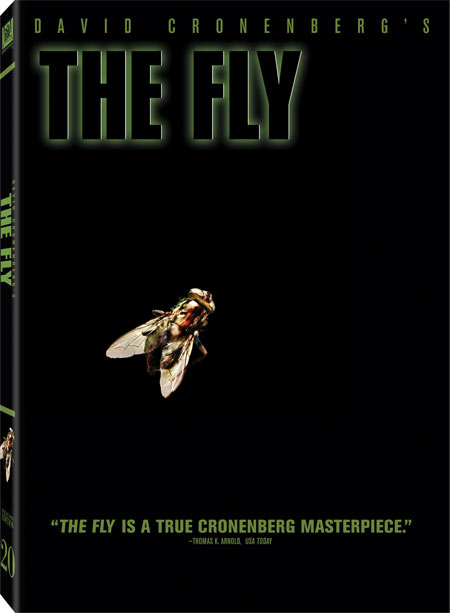 This is one of the best DVDs released this year. Cronenberg's THE FLY is still affecting and you will know every small detail about the production of the film by the time you get through this 2-disc set. $14.99 at Amazon. A bargain.
There are tons of Christmas DVDs out there (A CHRISTMAS STORY, NATIONAL LAMPOON'S CHRISTMAS VACATION, THE MUPPET CHRISTMAS CAROL... all I love), but I have a deep connection to this '80s flick starring Dudley Moore, Burgess Meredith and John Lithgow. Anchor Bay put out a SE for only $9.99. 'Tis the season.
You have no idea the glee I have putting the Grindhouse DVD release of CANNIBAL HOLOCAUST right after SANTA CLAUS: THE MOVIE. This movie is hard to stomach, even for a gorehound like me. There is some real life animal killing that is downright despicable, but luckily for us the DVD makers included an "animal cruelty free" version you can pick to watch. If you have a friend who likes Grindhouse or horror flicks, it's a good bet that they don't have this title. $22.46 and released on the 13th of December... Just in time for Christmas!
Christopher Nolan raises the BATMAN franchise from the dead and made a killer movie. Don't cheap out with the crappy no-extras edition and go for the 2-Disc SE... It's only a couple bucks more than the regular DVD on Amazon, clocking in at $19.99.
Genndy Tartakovsky's filler between EPISODE 2 and EPISODE 3 somehow stands above even the prequels. I won't go on an anti-prequel rant, don't worry. I will say that I wish to God that we had seen the energy and imagination of the Clone Wars cartoons put forth in live action. I can't tell you how much I want to see Anakin's initiation into Jedi Knighthood live action. The longer and even better Clone Wars V. 2 is $13.99 and you can get V.1 for only $12.99. Great stuff for all ages.
For those not familiar with Red Vs. Blue, it's an internet comedy series that uses Halo characters... in weird ways. It's crazy, hilarious and totally geeky. Perfect for this list. You can find the DVDs broken up into 3 seasons that are $20 each by clicking here or on the pic above. If you want a taste of what this is, you can check out some of the episodes at RoosterTeeth.com.
MODERATE ($25.00-$99.99)

Here's another Best Buy Exclusive (sorry for the small pic). They released a few different versions of the original 1933 KING KONG last Tuesday. There was a box-set that had the 2 disc KONG as well as SON OF KONG and the original O'Brien/Harryhausen MIGHTY JOE YOUNG. There was also a Collector's Tin that included reproductions of the KONG posters, the Chinese Theater Premiere program and more. I wanted the box set, but I also wanted the collector's tin with all those goodies. Luckily for me, Best Buy combined them all for a cheap $33.99. If you want just the 2-disc SE, you can get it here for $17.99, or if you want just the Collector's Tin of KING KONG, you can get those here for $25.99. Best deal is the Best Buy combo pack, though. It's stop motion heaven.
I actually was just sent this in preparation for an interview I'm doing with one of the DVD producers and I have to say... it's absolutely beautiful. And massive for a 2-disc set. It's bundled big time. There are 4 beautiful preproduction art prints... the presentation is just awesome. You can see so much more detail in the diaries than you could online and on top of all that you get a bonus production diary exclusive to this set that includes almost 4 minutes of completed footage from the V-Rex fight!!! Yes, it is extremely awesome.The set is released December 14th, but you can preorder it for $27.99. For those giddy about the release of Peter Jackson's KING KONG, this is a must have.
Most any geek wants this set. I saw the extended cuts of each story at Fantastic Fest and while there isn't too much more than the theatrical cuts, we do get great tidbits, my favorites being the glimpse we get at Marv's family life and more Carla Gugino (always a good thing). The set looks like it's designed really well and it also looks like there are tons and tons of goodies that come packaged with it, including commentaries and even some of Frank Miller's original comics. $25.99 on pre-order. Release date is December 13th.
I'm not a fan of this trend that I first noticed with MASTER AND COMMANDER... the simultaneous release of a current film in a cheap, no-extras edition and more expensive edition with some extras. The movie-only WAR OF THE WORLDS is $15.98 and the Special Edition is $25.99. The extras are good, with tons of documentary footage and interviews with Spielberg, but honestly... it's not anything more than what an average SE should be. Still, I love the movie, so here it is. You can also check out George Pal's original, and still awesome, on a super cheap DVD with commentary (something the Spielberg DVD doesn't have) for $9.99 at Amazon.
Another packed collection, this time for family and holiday classic WIZARD OF OZ. This 3-disc collector's edition set is fantastic and would make a great showy gift for only $34.99. It comes with a breathtaking transfer of the film, hours upon hours of documentaries and tons of inserts like premiere program reprint, poster prints and booklets.
I have a few TV box sets here. I don't watch a lot of TV, but I can recommend LOST Season 1 to anyone. Cinematic, intriguing, smartly plotted with some of the best realized characters in any entertainment medium. $37.99 for 6 discs of mystery and bliss.
South Park Season 6 is one of my favorite seasons. Season 5 ($37.99) was great, with Cripple Fight, etc, but Season 6 has the Butters as Ball-Chin Boy, "Fun with Veal", Professor Chaos, "Simpsons Already Did It," (my personally favorite) "Free Hat", the infamous Ah-Tahs/boobs episode, the LOTR spoof, "The Biggest Douche in the Universe" and the immortal Lemmiwinks. $36.98
Ah, this set brought my childhood rushing back. I remember seeing Frog Baseball for the first time and how it became almost a dark secret with the other kids in the apartment complex I lived in. Due to rights issues we're never going to get full complete seasons with all the music video commentary. This 3 disc set is the best we're going to do, with 11 music videos and 40 episodes hand picked by Mike Judge. $25.34.
I've seen this set with my own eyes and for a Hitchcock fan there is no rival. PSYCHO, REAR WINDOW, VERTIGO, THE BIRDS, ROPE, MARNIE, FRENZY, SHADOW OF A DOUBT, THE MAN WHO KNEW TOO MUCH, SABATEUR, TOPAZ, TORN CURTAIN, FAMILY PLOT and THE TROUBLE WITH HARRY, all in a beautiful velvet box with Hitch's famous outline in gold. $89.99... That's less than $6.50 a film. This is an amazing set. Guaranteed handjobs for a year if this is unwrapped this Holiday Season.
No, you're not seeing double. This is a whole different Hitch set with not a single shared title from the one just listed. I haven't seen this package myself, but the titles in this collection seem to make a nice compliment the newer collection listed above. STRANGERS ON A TRAIN, NORTH BY NORTHWEST, DIAL M FOR MURDER, FOREIGN CORRESPONDENT, SUSPICION, THE WRONG MAN, STAGE FRIGHT, I CONFESS and MR. AND MRS. SMITH. I actually might like the titles better in this collection, but you can't deny that if you have both the Masterpiece and Signature collections, you have an amazing Hitchcock collection at your fingertips. $74.99
Criterion has a box set out for $79.99 that includes Akira Kurosawa's four greatest films: SEVEN SAMURAI, YOJIMBO, SANJURO and HIDDEN FORTRESS. I have a large soft spot for THRONE OF BLOOD as well, if you're in a Kurosawa kick I recommend all of the above titles.
Here is one of the coolest sets of this humble Guide. I'm a huge fan of the PHANTASM films and have always been more than a little miffed that Universal won't put out PHANTASM 2 and PHANTASM 3 on DVD (they don't own the rights to PHANTASM and PHANTASM 4, which is why you can find DVDs of those out there). Leave it to the lucky UKers to get the Box Set with SEs of each film all in it's own giant sphere. How cool is that? This one's for the multi-region DVD player owners out there. It's just under 25 quid (roughly $43 US dollars) through Amazon.co.uk and encoded in PAL Region 2. This one's at the top of my Christmas Want List.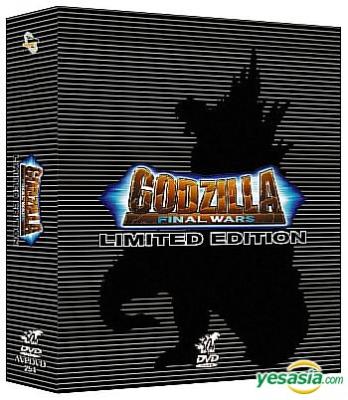 Here's a Region 3 DVD for GODZILLA: FINAL WARS. I've heard great things about this last GODZILLA flick and this isn't out on US DVD yet, so it'd make a great surprise for any GODZILLA fan (with a region-free player, of course). $33.99 at YesAsia.com.
ACTION FIGURES
Wow, we're finally out of the DVD section. To be honest, I found far more collectibles that caught my eye than regular toys, but over the course of the year I picked up some really sweet toys that made me geek out more than just a little bit. Almost everything below I personally bought over the last few months.
CHEAP ($24.99 and Under)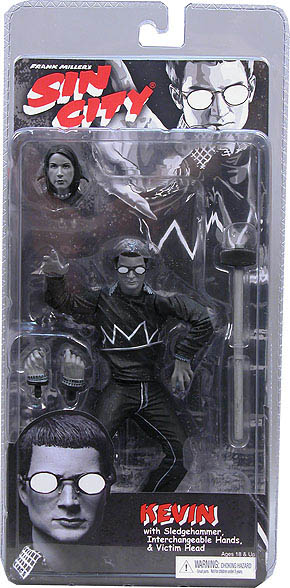 This is probably the best of the best in the action figures category. It's really cool because A) It's a great sculpt from a great character and B) It's a limited edition that varies from the mass produced figures. It is the Convention exclusive Kevin from SIN CITY. You get him with Whited Out Glasses and a whore's head on a wall plaque. Very few people have this limited edition figure and it's only $20. I have mine!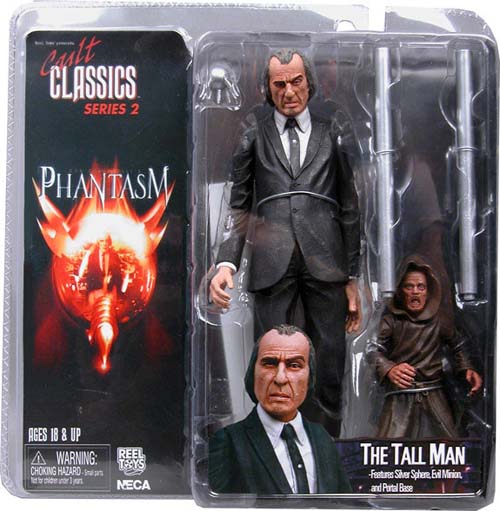 Ever since McFarlane started putting out Movie Maniacs, I've been waiting for a Tall Man figure (see my Phantasm love above with the Region 2 box set). Neca has stepped up to the plate while McFarlane puts out another 38 lines of Nascar/Baseball/AvP figures and released the visage of Angus Scrimm in their Cult Classics line. I have mine sitting next to the computer, holding up the killer sphere in his hand, scowling away. You can find him at Hot Topic, Suncoast, Spencer's... Or you can click here and order him online for $12.99.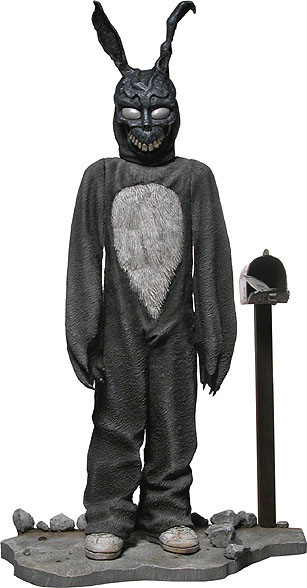 In the same Cult Classics line as The Tall Man is Frank the Bunny from Richard Kelly's DONNIE DARKO. This figure rocks, complete with R. Sparrow Mailbox (with Donnie's letter) and a great sculpt of James Duval's face, eye-wound and all. This figure looks great. For $12.99 it's a bargain.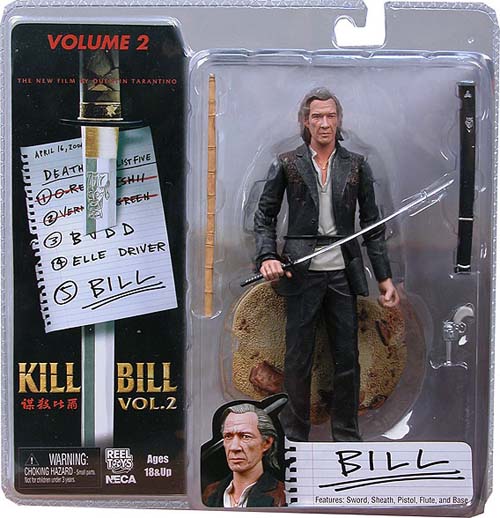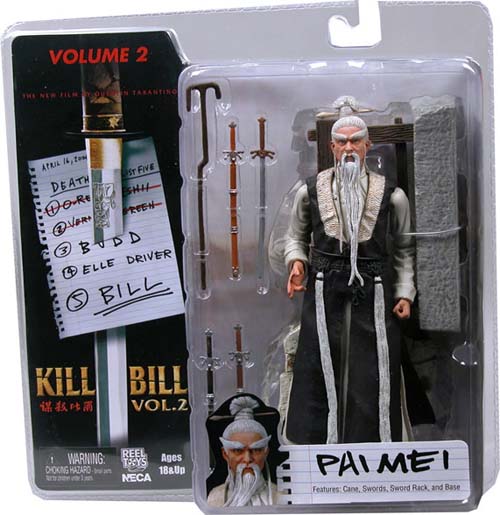 I don't have Bill or Elle yet, but I found Pai Mei at Hot Topic. He's standing in my kitchen, long beard in hand. The Elle Driver looks killer, though. I'll find her... she will be mine! And who would have ever thought we could buy a David Carradine toy?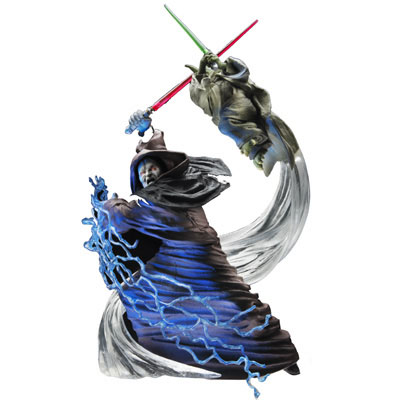 I love the Unleashed Figures. I wish I could point you to Best Buy's exclusive Darth Vader, but you'd have to search eBay as they're not on their website and seem to have disappeared from the stores shortly after Episode 3 came out on DVD. Of the new Unleashed figures, though, Palpatine Vs. Yoda is probably my favorite. If you can find them in store it'll run you around $15.
MODERATE ($25.00-$99.99)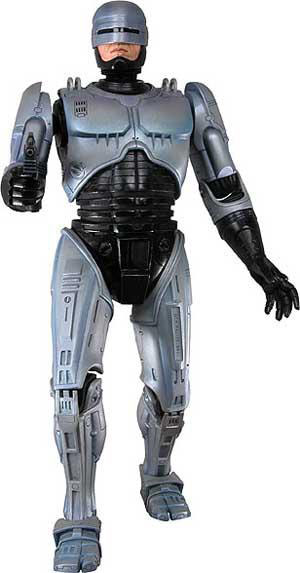 Neca also has out this awesome looking 18" talking RoboCop. I don't have him protecting my home yet, but I want him badly. McFarlane also just put out a smaller 12" version, the difference being McFarlane's is battle damaged (specifically from his tussle with ED-209), which is cool. But I prefer the big talking one, even if he does cost $39.99.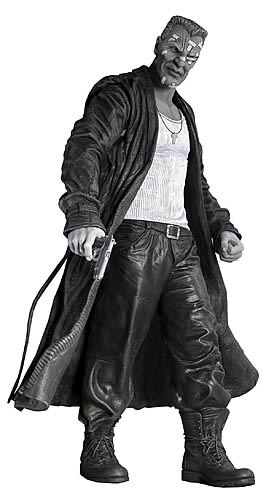 Huge black and white badass Marv with Gladys in hand is sweet as all hell. I have him sitting to the right of my entertainment center. He talks, too. $39.99, but I got mine at Suncoast on clearance 25% off, so you may want to check the local mall before taking the big plunge.
VIDEO GAMES
I love video games, but I've found it increasingly hard to find the time to sit down properly and play a game all the way through like I used to. Most of the games below I've played and some of them I'm dying to try out... strangely enough this holiday guide has kept me from playing some of these (like KONG, which came out yesterday... I've been buried in completing this Guide, so I haven't had any time to play it outside of the 360 demo at Wal-Mart a couple weeks ago). I'm also not a hardcore gamer, so you'll notice that most of these are movie related...
MODERATE ($25.00-$99.99)
I rented this game with the thought that it would be cartoony, but still cool being that it was made by Rockstar Games (Grand Theft Auto). I was so wrong. This game owns my ass and any fan of Walter Hill's THE WARRIORS needs to play this game immediately. Rockstar captures the coolness of the '70s, the coolness of The Warriors and marries it into a Grand Theft Auto type world. This is one of the rare cases where I've rented a game and then decided to buy it.
This one isn't so much for the adults, but for those with little Potterheads in the family. This game is a nice compliment to the tone and feel of HARRY POTTER AND THE GOBLET OF FIRE. The playability is a little weird, but you can always choose who you are playing be it Harry, Ron or Hermione. The kids will love it and at $39.99 it won't break the bank.
This is another casualty of the Holiday Guide crunch. I've played the demo which was all sorts of awesome. With all old school Bond gadgets, a Sean Connery-voiced Bond, vintage cars and a digital Robert Fucking Shaw. This is one I'm dying to play all the way through.
You get to play a giant ape. You get to break Rex jaws and play with 'em. You get to destroy 1933 New York. And you get to shoot at dinosaurs with a tommy gun as the human part of the story. I'm there. Peter Jackson and Philippa Boyens had direct and constant involvement in the creation of the game. I was confused about the button configuration when I played the 360 demo, but I can't wait to dive into this sucker.
I don't have a PSP, but I was loaned one a couple weeks ago to play this zombie game, INFECTED. It's a very addictive game where you blast away big Santa Claus zombies with machine guns, bazookas and shotguns, then finish them off with your own blood, which causes them to explode. The opening cut scene has a kid in a wheelchair turning on the Christmas Tree Lights in Rockefeller Center, illuminating a half dozen zombies. The stunned crowd just stands there, looking at them. The wheel chair kid goes, "Oh, shit..." then the zombies rip the crowd to pieces, eventually taking the wheelchair kid. Pretty badass if I say so myself.
I've played this game for a few hours and it's a lot of fun. You follow Neo through his journey throughout all the films. The hand to hand fighting is phenomenal and the "focus" (slow-mo) powers are great. The weapons usage is a bit subpar, but if you're a fan of the films at all this is a must play.
I love the idea of Western Themed games. I even dug the hell out of Red Dead Revolver from a year or two back. Word is GUN is a really awesome game. I haven't played it yet so I can't vouch for it, but it was recommended by a great number of you. It's certainly on my want list.
Like many of you, I've lost hours to this game and many more to its predecessor. I love the design of the game and the ability to play Rebels, Empire, Separatists or... um... not Separatists... Clones, that's it... and take over the galaxy. The game play isn't 100% on target for me, but the set up is fun as all hell, especially getting to play an assortment of Jedi/Sith. Good fun.
GAMES
MODERATE ($25.00-$99.99)
I'm doing this a little back-assward, but I'm starting with Moderate ($26.99) for Scene It, then moving to Cheap... you'll see why in a second. Scene It is a great movie geek DVD game, set to push the boundaries of your knowledge. This game is a few years old now, but the main reason I am listing it here is for its expansion packs...
CHEAP ($24.99 and Under)
My favorite of the expansion packs (which includes "Sequels") is the one from Turner Classics. For $19.99 you have a whole new DVD set with hours more of play, all focused on classics. This way the makers keep the game fresh, with an expansion pack out every so often...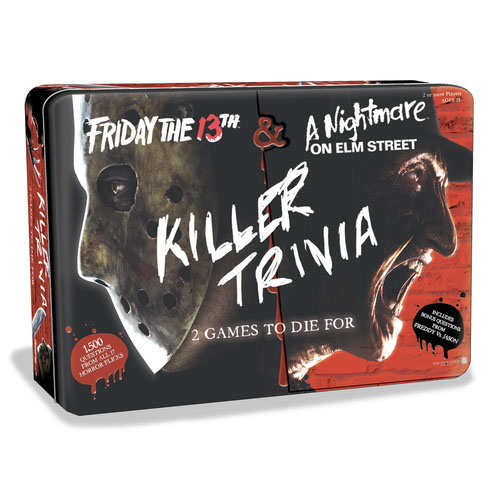 I've seen this for sale at Spencer's (for significantly more than the $19.99 price at etoys.com) but I haven't played it yet... The idea of bundling trivia from the entire NIGHTMARE ON ELM STREET series into a game with trivia on the entire FRIDAY THE 13TH series opens this trivia game up to being one helluva cool addition to any horror geek's household.
EXPENSIVE ($100-$499.99)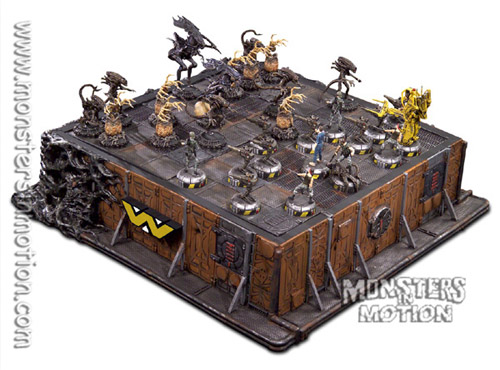 This is from MonstersInMotion.com and is fucking cool as hell. Notice the set-up... all from the designs and characters of James Cameron's ALIENS. In a day where every Aliens toy has to be tied to that abysmal AvP movie, it's so refreshing to see such a geeky piece from a good installment of the ALIEN series. It's $394, which is really damned expensive, but just look at these pieces:


Sweet, huh?