Movie News
Quint's 2005 Holiday Shopping Guide, Part 2!!!
BOOKS
I love books and I think we have some really good picks for you folks below...
CHEAP ($24.99 and Under)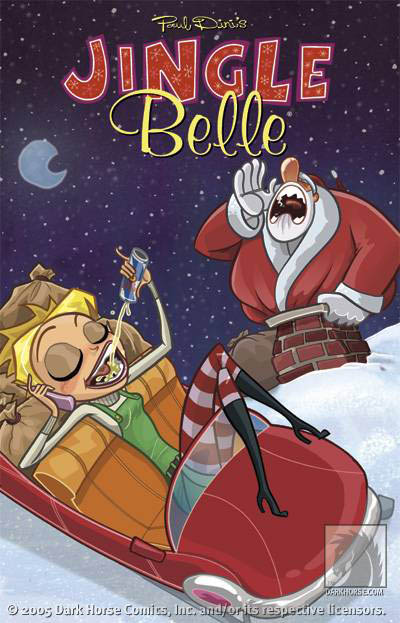 What better way to celebrate the holidays than by spending some time with the adorable little elf sex-pot named Jingle Belle? Paul Dini's pervy creation is available in a Trade Paper Back (above) for $12.95. There's also a brand new comic issue that comes out December 14th ($2.99 at your local comic book store or Dark Horse's website.
This is my Stephen King addition for the Guide. Last year was very Dark Tower centric because of the last two books of the series were released just before the publication of the Guide. This year I want to point at a special release of one of King's best, Salem's Lot. Instead of artwork being included in this new Hardcover release, there is photography. This edition is $23.10 and a great gift for the Stephen King fan in your house... also throw in a copy of his original work of THE COLORADO KID as well. It's a Hard Case Crime paperback that you can get for real cheap: $2.99!!!
Bruce Campbell's fictional story about working on a Mike Nichols' romantic comedy is a real fun read and for fans of Campbell's trademarked smart-ass wit it's a delight. The book can be had for $16.29. But something fans might not think of is picking up the audio book version which is actually acted out (vocally) by Campbell himself ($23.98). Highly recommended.
I'm a big Daily Show and Jon Stewart fan, however I haven't picked up his new book, Naked Pictures of Famous People. This one's on here because of many recommendations I got from the readers who have read it. Not just "It's pretty good," but I was literally getting emails saying it was one of the funniest books they've ever read. With Jon Stewart holding the pen, I don't doubt them.
This book rocks. It acts like an Anarchist's Cookbook for those who are willing to fight the undead invasion. Max Brooks' (Mel's son) book is surprisingly well thought out and scientific (for instance, the undead can only infect living beings because when you die, your blood stops pumping to your brain, so the virus that makes one a zombie can not be transmitted to your brain). This is a really damn funny book that always plays things for serious. I highly recommend it, especially at the cheap, cheap $11.16 price tag.
I got early glimpses at this book during my last visit to New Zealand. As a companion to what you're seeing in the film, this is a really fun read. It plays like a child's educational book, filled with artwork of animals living and extinct. I actually had a group of dinosaur books back when I was a kid that looked a lot like this. I love that they play it so seriously. I haven't seen a final edition of this yet, but it's high on my "to get" list. It's $23.10.
Sure to be an interesting read. The level of detail on a Peter Jackson/Weta Workshop film is intense and will always be interesting to read about. This one's only $13.57, but it doesn't come out until December 13th.
Those careful readers out there will have been looking for this, Alan Lee's LORD OF THE RINGS SKETCHBOOK, after I mentioned its inclusion in my interview with Mr. Lee a few weeks ago. This book is sharp and a beautiful collection of Lee's pencil sketches used to help visually create the LORD OF THE RINGS films. $19.80 and perfect for the LOTR super fan who is going through withdrawals after the release of the ROTK EE last year.
This is another I haven't seen with my own eyes yet, but it's one of my most anticipate purchases of the season. FULL METAL JACKET is one of my favorite movies and knowing how difficult Kubrick was as a director and how stressful the shooting must have been one can deduce that Modine's diary is going to not only be enlightening, but also full of all sorts of drama... Now if Carrie Fisher would hurry up and get her STAR WARS diaries up and out like she promised!
MODERATE ($25.00-$99.99)
This is a must own for any FRIDAY THE 13TH fan. Crystal Lake Memories is a massive coffee-table sized hardcover book filled with behind the scenes photos and first person accounts on the production of all the FRIDAY films. Beautifully put together. $26.37.
Of the suggestions I was sent, the top two most mentioned fall into the book category. The Watchmen Anniversary Hardbound edition is the second most requested (the first is coming up). This looks absolutely killer, don't you think? It's a bit pricey at $47.25, but it'll be a much prized possession for any Alan Moore fan. One of the emails I got suggesting this book for the Guide called it the CITIZEN KANE of comic books. Whether you believe that or not, this is a really damn handsome edition.
For another handsome comic book edition, this Sin City collection looks pimp. Leather bound and promised as the high end "archival" edition of Frank Miller's work. 4 of Frank Miller's SIN CITY series, including THAT YELLOW BASTARD, THE HARD GOODBYE, BIG FAT KILL and A DAME TO KILL FOR. It's quite pricey at $94.50, but damn if it wouldn't look pretty on the shelf, eh? Volume 2 has FAMILY VALUES, HELL AND BACK, BOOZE, BROADS AND BULLETS and that great ART OF SIN CITY book for the same price as Volume one.
Kubrick books will span all the price levels in the books list. We had Modine's FULL METAL JACKET diary in the Cheap section and we have one following this entry in the Expensive area and Kubrick: Drama & Shadows here. This one fascinates me. I hadn't heard of it until it was brought up to me in the mysterious Phantom Zone. Before Kubrick became a filmmaker he was a photographer for hire, a teenager photographing 1940s New York. This book is a compilation of his photographs. I can't wait to look at this stuff.
EXPENSIVE ($100-$499.99)
And the expensive Kubrick edition. I don't own this, but Moriarty does and I got to look at it. This is a massive, massive book that chronicles the making of each and every film Kubrick made, with unique, never-before-seen behind the scenes photos from each production. Even more fascinating is the section on his unmade works. You also get a snippet of 70mm film from Kubrick's personal print of 2001. $200... yikes, but goddamn... this is probably one of the coolest things on this list. You might be able to find it cheaper in the "used" section of Amazon, but I can't guarantee condition there, so I'm not gonna recommend it.
This one is by far the most requested item from the readers. I'd say out of the 150 or so email I got responding to my call to arms, at least 1/3 of them said "The Complete Calvin and Hobbs." I've flipped through this set at a local book store and as a young adult who grew up in the heyday of Calvin and Hobbs it really did stir up some fond memories. This one is every single Calvin and Hobbs strip done all in 3 giant tomes. Very high class and high quality. Beautiful books.
COLLECTIBLES
This is by far my favorite section of the Guide. This is where most of us will just sit back and observe the coolness out there, the big window shopping section... Actually, thinking about it, the final category, Gadgets, is the biggest window shopping portion of the Guide, but this is definitely the most colorful. It's also the first time the "FOR THE SUPER RICH ONLY" category has shown its head this year. That being said, I did find a couple little pieces that fall below the "Expensive" price line.
And this is where you will find the giveaway I teased you with in the intro!!! Sideshow/Weta has provided a limited edition, sold out... director?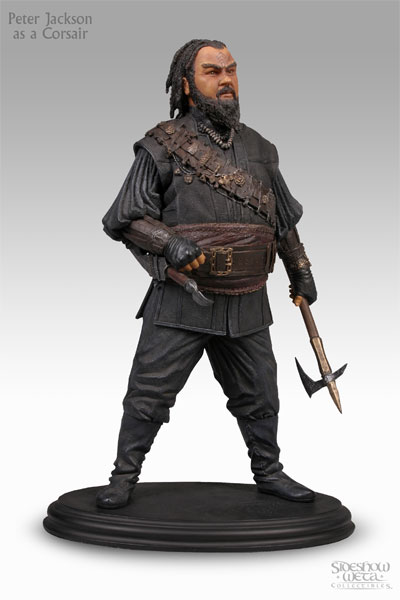 Mr. Peter Jackson's very own (pre-weight loss) visage in statue form from his cameo in RETURN OF THE KING. This was made as a limited edition item that originally cost $125 to purchase. But it has recently sold out. Who knows how much this will be worth in the future. How much is the Jorge Sacul Lucas toy selling for? And that's just a tiny toy, not a high end collectible!
Updated! We have a winner... Many entered and some got really close, but Chris Wojcik was the first to email me with the right answers! Congrats Chris! The answers were: 1) Skull Island, 2) Newtown and 3) Jackson was the Mortician's assistant who botched the embalming job on Lionell's mum! Thanks for all who entered!
To win this you need to email me at quint@aintitcool.com with the subject line "I WILL OWN PETER JACKSON", your mailing address and the correct answers to these three Peter Jackson related questions:
1) Where did the New Zealand explorer capture the Rat Monkey in BRAINDEAD/DEAD-ALIVE?
2) Which New Zealand city/suburb Zoo was the Rat Monkey sent?
3) Jackson had a cameo in BRAINDEAD/DEAD-ALIVE. In this role he botched a job. What did he mess up and who did he play?
The winner will be the first one to email me with the correct answers to those questions. Before I continue, I have some legalese to post from the folks at Sideshow:
Delivery for the contest winner:
The winner must allow 4-6 weeks after announcement of win to receive the product. To get the latest news from Sideshow Collectibles, join our Newsletter!
Delivery time & Restrictions:
All continental US orders are shipped FedEx ground service. Because FedEx cannot provide tracking numbers for P.O. Boxes, Sideshow Collectibles will no longer ship to a P.O. Box. Please provide your street address or your shipment will be delayed. For FedEx Ground deliveries, please allow up to 6 business days for delivery from the date your order is shipped.
International Shipping Restrictions:
At this time we are unable to make shipments to Mexico, Venezuela or Nigeria. Please Click Here for further interenational shipping information and restrictions.
All taxes are the responsibility of the winner. All prizes are non-transferable, with no cash redemptions and/or substitutions except at Sponsor's sole discretion. All international winners will be responsible for any duties, tariffs, taxes or import fees assessed to their prize. Further some countries outside of the U.S. do not have reliable mail services. In the event that a prize has been stolen or mishandled during shipment to an international destination, Sideshow may not be able to replace the specific item and will substitute a prize at its own discretion. If the winner prefers a specific quicker shipping method, they are responsible to notify us immediately and will also be responsible to cover the additional costs if any.
Alright, let's move on with the list shall we?
MODERATE ($25.00-$99.99)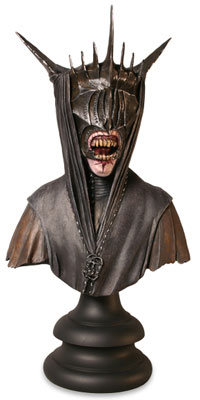 This is one of my favorites from the Sideshow/Weta LOTR line. For $60 you get one of Weta's nastiest designs from the whole 3 movies. In the time since I bookmarked this mini-bust (checked as recently as Thanksgiving morning), it sold out. However, that would mean those who get on the waiting list now might stand a decent chance of getting one.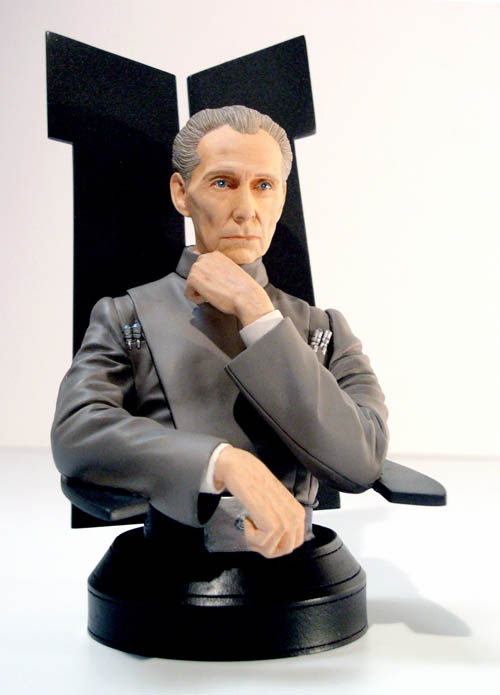 How cool is this? Gentle Giant's incredibly detailed Peter Cushing as Grand Moff Tarkin mini-bust is only $45. I want this. Tarkin is high up on my X-Mas list.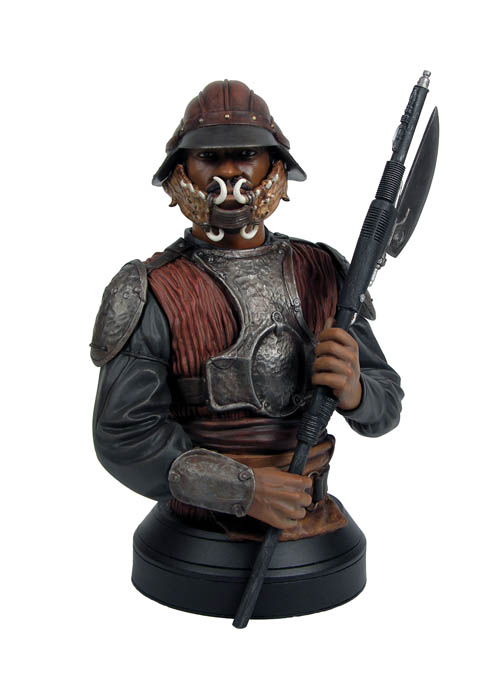 LANDO!!! Does that Skiff Guard Lando mini-bust from Gentle Giant look sharp as all hell or what? Too cool and only $50.

I was sent one of these from Master Replicas. I've never been into letter openers, but I have to admit that since getting this piece I've used it quite a bit. It's also an eye catcher, with the bright shiny gold and silver all sticking sharply out of a heavy Aslan head... Of the Narnia stuff out this year, this looks the best for the money, only $39.00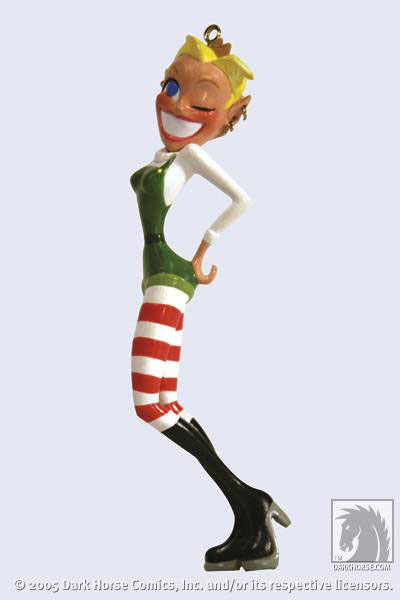 Who doesn't want a hot Elf hanging off their Christmas tree this year? On November 30th you can order your own Jingle Belle for only $14.99!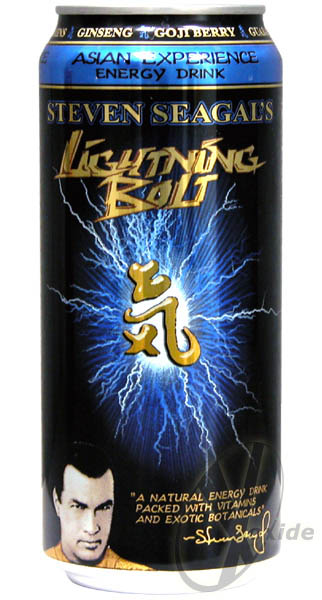 This is probably the best thing on the list, bar none. $2.99. I know it'll be Vern's favorite. "100% Steven Seagal Juice"... you know you want it.
EXPENSIVE ($100-$499.99)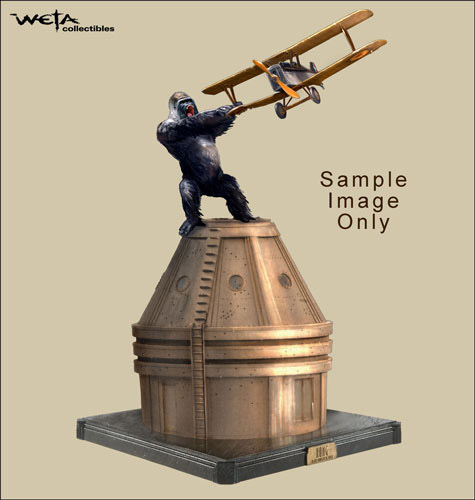 At $200, this is my favorite of the mid-level KONG stuff from Weta Collectibles called Kong's Last Stand. Love the action of the piece, which isn't even final yet.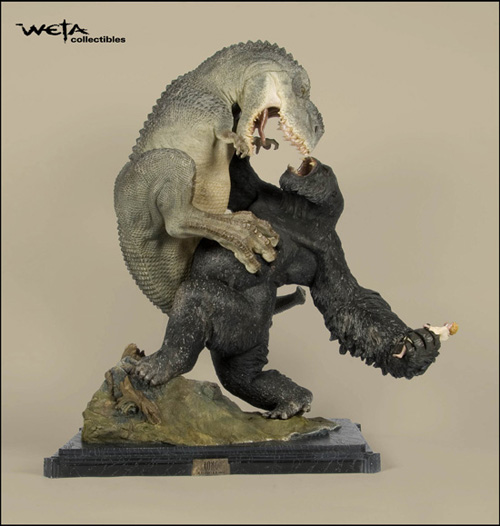 This is just a jewel. I'm giving one of these away with that stop motion contest (click here to go to that contest!). Just look at it. $495.00, but you can find it for $350 through resellers (eBay) if you're lucky. Surely a perfect centerpiece to almost any collectibles collection.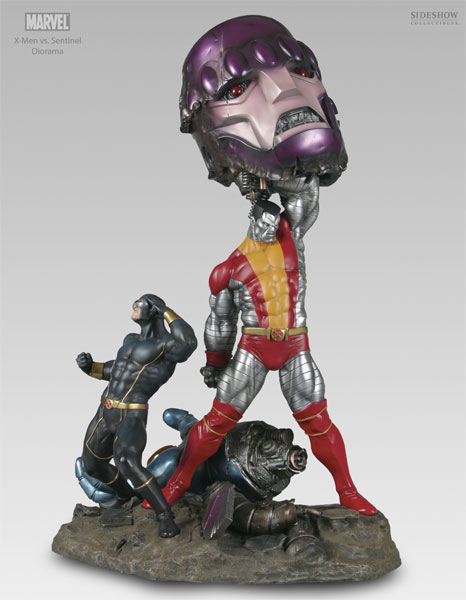 This one's just plain cool. I saw it with my own eyes at Comic-Con last summer. Of the Versus X-Men figures, this is the nicest, with Colossus and Cyclops playing with a scrap pile that used to be a Sentinel. What's really nice is the Sideshow Exclusive version is wired so the Sentinel's eyes stutter on and off and Cyclops' visor glows red. $330.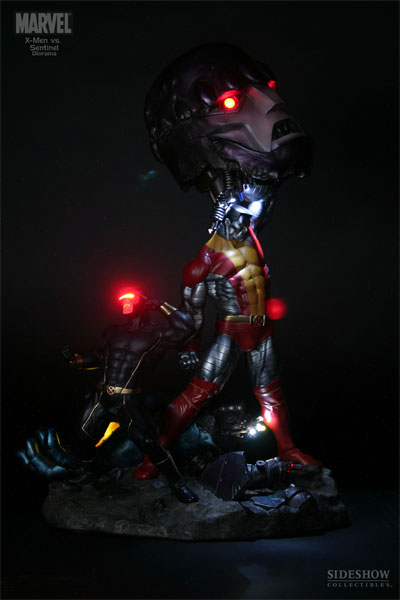 Cool, huh?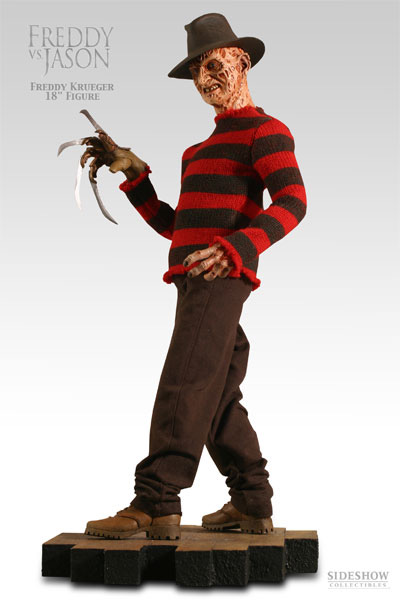 As a child of the '80s, I have a deep love for the NIGHTMARE ON ELM STREET series. This old school Freddy 1/4 inch figure from Sideshow rocks real damn hard. I want one so bad. It's one of the cheaper Sideshow statues at $225. Great for any horror geek.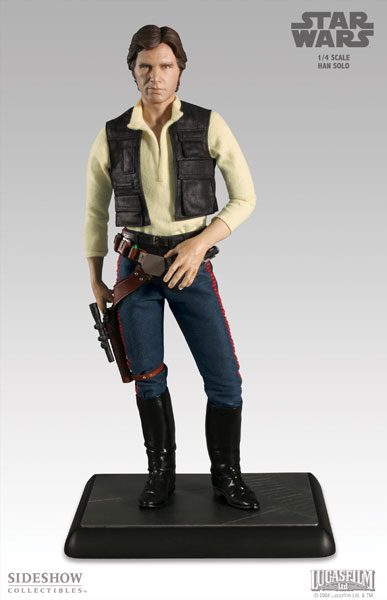 This is by far my favorite STAR WARS item on this list this year. Sideshow's $250 1/4 scale Han Solo statue is one of the hand's down best sculpts of Harrison Ford as Han Solo I've ever seen. The figure captures the swagger of Solo, the cockiness and the detail of his iconic look. Unfortunately, the statue is sold out, but there is a waiting list and I'm told that if you put your name on the waiting list very quickly you stand a good chance of snapping one of these up. Sucks for me, I can't afford it this month, but I'm happy to give you Star Wars geeks a chance at picking this awesome piece up.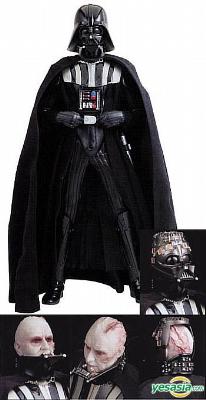 I'm not too familiar with the Real Action figures, but damn do these Japanese imports look awesome. If Solo is my favorite Star Wars piece in the Guide, the Real Action Vader is a close second. I love the removable helmet with Sebastian Shaw underneath (so scoop it up before the next SE where Shaw is replaced by a CGI-aged Hayden Christensen). For those that missed out on the Unleashed variant, this is a really nice piece on sale for $165.99 at YesAsia.com.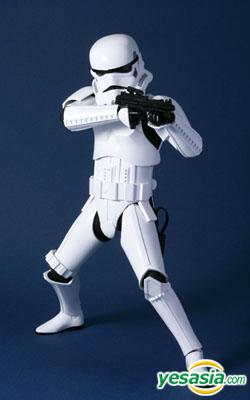 This is the second Star Wars Real Action figure I saw that put a smile on my face. I love the simple and iconic design of the Stormtrooper. This one looks to be designed so you can strike some classic Trooper poses. It's a bit pricier than Vader, strangely enough, at $189.99. Not sure if it's worth that much, but it's still cool nonetheless.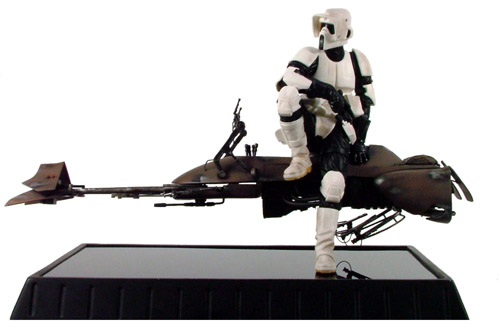 Gentle Giant has the above statue for sale at $200. I always loved the design of the JEDI Scout Troopers, with the cool visor things. And who doesn't love those speeder bikes?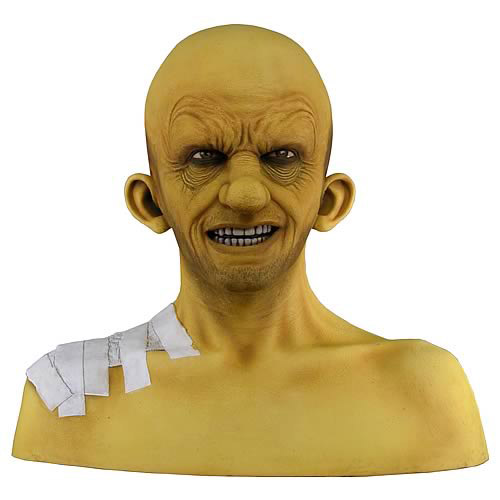 Now this is really cool. $239.99 brings you That Yellow Bastard himself for the mantel. I don't know if he smells like he oughtta, but just picture that ugly fucker on top of your TV or something, sneering at ya' while you're watching your soaps.
FOR THE SUPER RICH ONLY ($500 and up)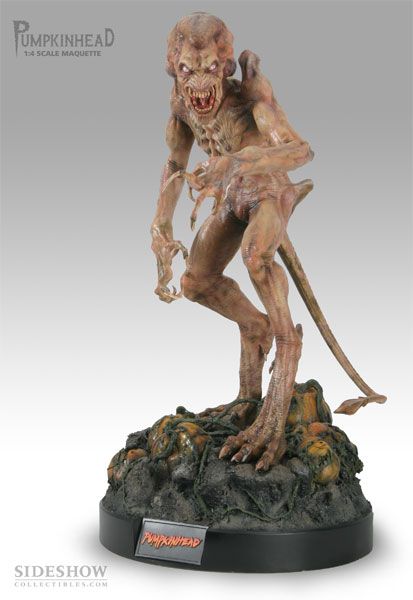 My God, what a gorgeous (well, ugly, but gorgeously made) piece from Sideshow and Stan Winston. It's just a shade under 28 inches tall, immaculately detailed and just an all around amazing piece. It should cost $850. Ain't she pretty? Like you, I will never have this in my house (even with Flex-Pay), but some of you more well off readers can have a brilliant piece of geek furniture.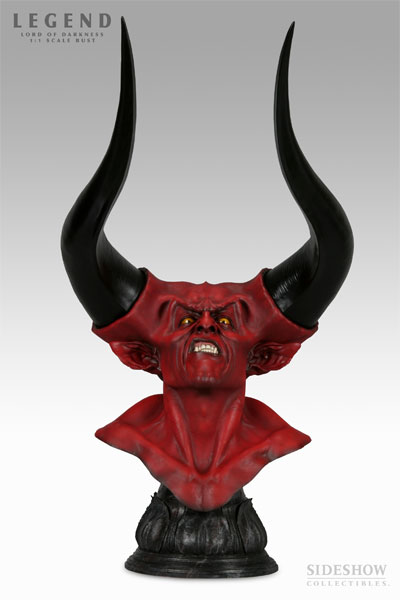 I know I've picked a handful of favorites already, but if I could pick on item from this list to appear on my front porch tomorrow morning, it'd be this. I love LEGEND, grew up loving the movie. Tim Curry is amazing in the movie and Rob Bottin's design of Darkness is brilliant. Sideshow's 1:1 bust of is no less than breathtaking. I saw it in person at Comic-Con and I'm not exaggerating (too much) when I say it brought a tear to my eye. This would be my pick because there's no way I could ever justify spending $899.00 on it, but at the same time I think it's worth every penny. God, this thing looks great, doesn't it?
ART
This isn't a huge section this year, but there were a few pieces of art that caught my eye...
CHEAP ($24.99 and Under)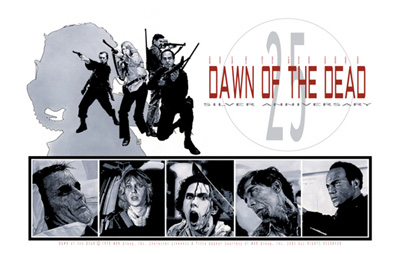 Tim Bradstreet's a great artist who is best known for his photoreal Hellblazer covers and his Punisher work (you can get art from both Hellblazer and Punisher at his site, timbradstreet.com), but one piece of his really stood out to me as being unique and geeky-cool... The above DAWN OF THE DEAD art. That image is a bit tiny, but just remember... none of that is photography. It's only $22.99.
EXPENSIVE ($100-$499.99)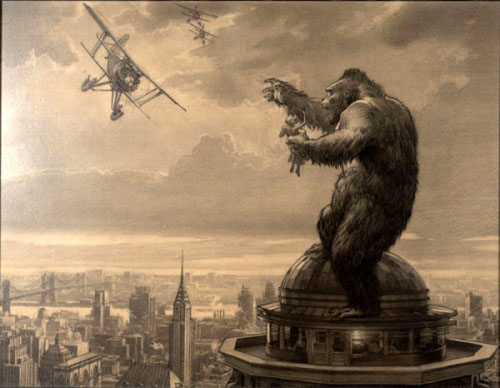 God, these are lovely. Limited edition prints of Willis O'Brien's pre-production sketches for the original 1933 KING KONG. There are a half dozen prints available at $175 each... The above sketch and the one below are my personal favorites... God, I love that sketch of Kong on top of the Empire State Building.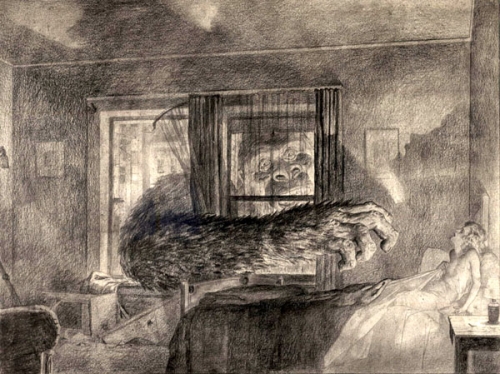 GADGETS
We've come to the final category. Gadgets. Some good stuff here, including the top two highest priced items of the list. Don't worry, I got some cheaper goodies for ya', too. We're in the final stretch! Just 8 more items to go!
CHEAP ($24.99 and Under)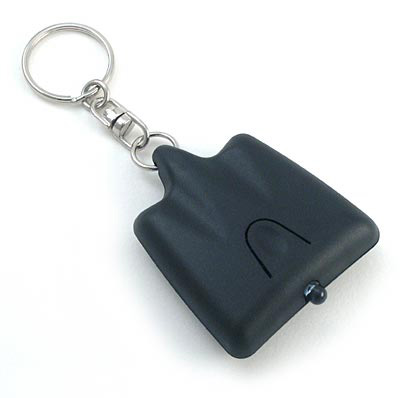 This little bugger is called a TV Killer and will cost you between $15.99 and $17.99, but you'll get thousands of dollars worth of entertainment out of it. Imagine... going into a sports bar during a big game... the rowdy crowd is watching the game... the score is tied. The quarterback throws a TD Bomb, the ball is sailing in the air, the drunks are holding their breath and then BLINK. The TVs go out. Okay, you probably don't want to do that. That could cause a riot, but this thing will, with a single click, search all regular TV frequencies, giving the "turn off" command. I've seen this used at video stores, malls and theater lobbies to turn off TVs. For the pranksters out there.
MODERATE ($25.00-$99.99)
Now this is fuckin' cool. For under $30 you get a little mini-Atari console with 40 games and two old style controllers. This is the new Atari Flashback (model 2) with Pitfall, Adventure, Arcade Pong, Missile Command and dozens and dozens more. Too much fun. I forgot how damn hard those games were! If the idea of feeling that old, familiar palm ache from manning that awkward joystick sounds like a good time to you, then this is a sure fire worthy purchase.
Last year RoboSapien was recommended to me by many people. This year the home robot of choice was RoboRaptor. I'm told that, depending on how you pet it, it will nuzzle your palm affectionately or snap at your fingers. That, to me, doesn't sound like something I want around the house, however the people really love it. If you got a RoboSapien, who can perform Kung-Fu, I hear, you may need a RoboRaptor on your side when the RoboSapien tries to strike back at you for making it pick up all your shit. $99.99.

This will be the most popular of any of the "Moderate" level gifts. I guarantee it. Normally, the Force FX Lightsabers sell for around $120, but Best Buy has the Anakin and Darth Vader sabers on sale for $99.99. Not bad, eh? These things will bring out the geek in anyone. From an all around Star Wars lover, to those who have grown cynical with the series since 1999, they'll all turn into a kid again when holding one of these beauties in their sweaty little hands.
EXPENSIVE ($100-$499.99)
I had the chance to borrow one of these for a few days a week or so back and damn... it sure puts the original Gameboy and Sega Game Gear from my childhood to shame. This must be a lifesaver on planes... the graphics and image better than a lot of console systems. You don't need a recommendation at this point, but it's certainly a big geek toy. $249.99 almost anywhere electronics or games are sold.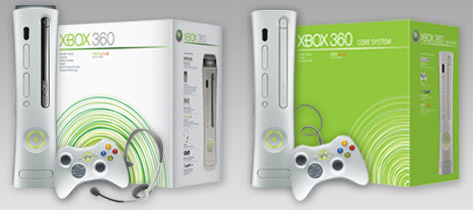 Without a doubt the hottest Christmas item this year. Good luck finding one of these systems around. The geeks snapped them up in pre-orders and Microsoft claims they won't send out the next shipment until January (although I'm hearing whispers that there'll be another wave pre-X-mas). The core system is $299, but you get almost $200 worth of goodies with the regular edition, including the 20 gig hard drive and a wireless controller. That edition is $399. I want one, but will probably have to wait until January when A) I can find one and B) I can afford the damn thing.
FOR THE SUPER RICH ONLY ($500 and up)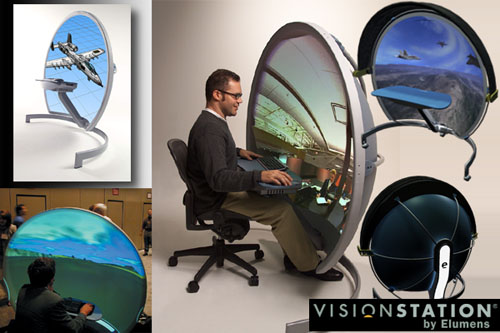 Cool looking, isn't it? But what the fuck is it? It is a "3-D immersive viewing system," that can be used for gaming, home video entertainment and more. At a low, low cost of only $19,995.00 you can have one in your home! Hehe Seriously, this may not be geared at the home market yet (the military use it as a simulation tool), I wouldn't be surprised to see these pop up in a much cheaper, home version in 5 years time. Can you imagine surfing the net and having it surround you? Imagine being immersed in AICN... that's quite a frightening thought, actually. Forget I mentioned it!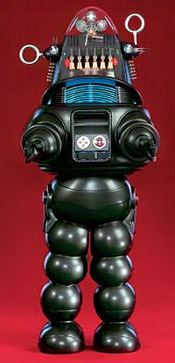 And finally... Robby the Robot. For measly $49,999.00 you can have your very own Robby the Robot. A place called Hammacher Schlemmer has put out this high end geek toy. It's really a life-size, fully animatronic remote controlled version of Robby The Robot! The thing is made from the original blueprints, molds and templates used to create the original sci-fi icon. It is preprogramed to shout it's famous lines and you can control what he says, move his servos and fiddle with his computer additions. Not to mention, you can also project your own voice through the robot, which will cause the neon tube lights to illuminate in synch with your voice. It's made from machine grade metals. All info can be found at the Hammacher Schlemmer website!
Thanks so much for following me through this year's Holiday Guide. This sucker damned near killed me. I'm going to go slip into a small coma now. But before I go, I have to thank everybody who sent in suggestions. I couldn't have made this list without you. If you have any suggestions, feel free to talk about it below. Like I've said, this isn't an end all be all list, just shit that made this geek smile. Catch ya' later!
+ Expand All

Nov. 25, 2005, 12:24 p.m. CST

by seppukudkurosawa

Nov. 25, 2005, 12:27 p.m. CST

by FNORDcinco1

Far Superior to the PSP...About half the price to, ELECTROPLANTUN (sp, dont care you know what it is!)

Nov. 25, 2005, 12:33 p.m. CST

by DanielKurland

I have a book on Kubrick that is pretty awesome (it has the "eye shot" from 2001 on the cover). They've done books on other big directors (and they have one out on Verhoeven, which I really find confusing/surprising). This book seems to trump that in every way though. Don't have that kind of money to spend at this point, but I'm sure I'll definitely upgrade at some point.

Nov. 25, 2005, 12:41 p.m. CST

by havocSchultz

ya... i have that same book that DanielKurland is talking about - was quite impressed by it - girlfriend gave it to me for my b-day last year... was very impressed by that... good thing she works in a book store and gets things cheap... just wndering if anybody has had a chance yet to compare the 2... the afore mentioned one that i have was pretty thorough... wondering what more is added and how much more in-depth it could be... ie: is it worth getting that one as well (well of course - it's kubrick) but u know what i mean... and i need those hitchcock box sets... and that empire state building kong painting... hmm.... i think i just messed myself... take care... wreak it well... havoc out... p.s. very well done quint...

Nov. 25, 2005, 12:44 p.m. CST

by seppukudkurosawa

Hell I come from Gambia and here is my Holiday list of things I can do for $24.99: Vaccinate my family against Winter's extra-prevalent yellow fever epidemic; buy the tools I need to dig myself a well; pay-off the local Gambian rude-boys to save me and my family from their Anual Christmas Pillaging Event '05 (kind of like when you Westerners have Fates and Bazaars etc); Reinforce my roof to stop it from collapsing in on us and killing our pet cockroach again like last year; buy a thousand seeds to help stave-off the starvation blues for a few months; Get the surgery done on poor ol' Mumbando, my eldest son, who has a bad case of stomach swelling (caused through lack of vitamin E); lastly, and most importantly of all, I can buy the control pad for the soon-to-be-released XBOX 360! Pity I can't afford the actual console though. Ah well, maybe if I plough the field a few more times I might harvest enough grain to buy a game for the console I can't afford.

Nov. 25, 2005, 1:10 p.m. CST

by NerdHooligan

Didn't that book come out about seven years ago? Or did he write another book with the same title?

Nov. 25, 2005, 1:15 p.m. CST

by Some Dude

More games, more innovation, more fun. But here is the real deal... Despite what the geeks say about the PSP being "sexier" I find that there is no shortage of hot, legal teen girls that walk up to me and bother me when I am playing the DS. I prefer the definition of "sexier" that includes hot, easily-available poon and excludes playing GTA with fat guys and shut-ins.

Nov. 25, 2005, 1:18 p.m. CST

by Some Dude

I have a feeling that our Gambian friends have things with which to keep busy other than cool movie news and product guides. Don't be a bitch.

Nov. 25, 2005, 1:19 p.m. CST

by Big Bad Clone

Nov. 25, 2005, 1:25 p.m. CST

by John-Locke

I often get my hotmail e-mails to you sent back buddy, I hope you got this one, I WILL OWN PETER JACKSON.

Nov. 25, 2005, 1:28 p.m. CST

by Enigma Boy

But not too late to perhaps post the review of THE PRODUCERS remake I sent a couple days ago. If there's a problem, just let me know. I go crazy with silent treatments. Not that you moderators are giving that to me, I just have paranoia issues. It's a good review!

Nov. 25, 2005, 1:29 p.m. CST

by seppukudkurosawa

Nov. 25, 2005, 1:48 p.m. CST

by hallmitchell

Great suggestions. I liked the book guide. Awesome titles quite a few I've never heard of. The immersion screen. Wow. Imagine going to a friends place and the robot starts walking around the room. Ahh the visions of wealth.

Nov. 25, 2005, 2:55 p.m. CST

by cromulent

the books are esp cool. thanks for the recommendations.

Nov. 25, 2005, 2:59 p.m. CST

by Ribbons

Not sure why, but it just looks really cool.

Nov. 25, 2005, 3:07 p.m. CST

by ReDWasK

i'm guessing you were joking... but, the picture says 18", quint must have screwed up

Nov. 25, 2005, 3:13 p.m. CST

by Hercules

I bought my copy of "Naked Pictures" back in 1998.

Nov. 25, 2005, 3:16 p.m. CST

by indiephantom

just called the bookstore around the corner and they've got 7 copies. Must. Buy. Now.

Nov. 25, 2005, 3:32 p.m. CST

by JAGUART

I've gotten the "For the Super Rich" submission two years running now. Last years was the private submarine submission. Isn't there some kind of award for that?

Nov. 25, 2005, 3:53 p.m. CST

by John-Locke

Way cheaper from Amazon UK, it's got a pink cover but it's the same book as far as I can tell. It's

Nov. 25, 2005, 4:15 p.m. CST

by Citizen Arcane

If only they had those when I was a kid. Well I guess technically they do. So the TV turner off thing. They found a replacement for the laser pointer for the cheap gadget to get your ass kicked spot. Finally, that surround screen thing looks like ass. But someone had to buy the first $5,000 15k home computer too.

Nov. 25, 2005, 4:18 p.m. CST

by Flummage

...agghhhhhaHAGHghagha, keep trying to say humbug... keep trying to tell myself that posessions don't matter.... keep trying to tell myself that I don't have any money, BUT IT'S NO GOOD DAMNIT!! I WANT. I WANT. I WANT! I like the Kubrick books, I had no idea they existed tbh, and the Calvin and Hobbs bound set looks perfect for my tastes too. I'll be damned if I'm not getting that The Fly DVD aswell. I wish the Hitchcock sets were combined...but I could aways by both...mmmm. I think there's something that really adds to a gift, if you know it's definitive. Oh, but there's to much to take in, I'm gonna have to re-read it with a notepad, to get all the good (and affordable) stuff down on paper. Thanks for the work Quint, I appriciate it, even if my wallet doesn't!

Quint, I won the Incredibles contest last year, but I still have not recieved the game. I am just wondering if I should just forget about recieving it. Please, let me know. Thanks

Nov. 25, 2005, 5:15 p.m. CST

by Screwdriver

I know because I've got one.

Nov. 25, 2005, 5:52 p.m. CST

by I Dunno

I mean it looks nice. Like an updated graphics card nice but it's not revolutionary. It's not like the jump from the Nintendo 64 to the Gamecube kind of improvement. $400, I don't know. I'll stick with the XBox until I can check out the PS3.

Nov. 25, 2005, 6:28 p.m. CST

by joeydoo

What's with the exclamation and question marks which coat the front page? Everything can't be exclamated because then nothing is, IS IT!

Nov. 25, 2005, 6:36 p.m. CST

by Gheorghe Zamfir

And plus if you're gonna pick one up you oughta grab the book Stewart and the Daily Show writers put together last year, America (The Book): A Citizen's Guide to Democracy Inaction.

Nov. 25, 2005, 7 p.m. CST

by jaxnnux

LoL. I'm having all sorts of fun w/ this shit on Amazon.

Nov. 25, 2005, 7:36 p.m. CST

by photoboy

No way is the PSP worth it, I've got a PSP and a DS and the PSP gets virtually no play time these days. The DS has loads of great games, the PSP has about 3 and they're all racing games. Don't let the shiny black plastic fool you, it's not a smart buy.

Nov. 25, 2005, 7:58 p.m. CST

by ShadowSorkin07

Bullshit, it's worth it. I own one, and let me tell you, it rocks. I got grand theft auto, coded arms, nba street showdown, and twisted metal head on for it. They all rock as games, and I"m looking forward to getting burnout, star wards battlefront and prince of persia for it on christmas gifts. Also, you pay seventy more bucks, get a 1 gig memory card, and then you can also watch your own dvds on the damn thing. That's cool.

Nov. 25, 2005, 8:15 p.m. CST

by Shermdawg

Ridley could make a kickass sequel or remake, because Tom Cruise and the elf guy have some uncanny dopplegangers out there. There was a kid on the underrated "Life AS WE Know It" that looked just like him, I think he's on that "Reunion" show on Fox. Also a Fox alum, Mr. Frankie Muniz IS the elf guy, he looks so much like him, it maykes you wonder if he has a long lost big brother out there.

Nov. 25, 2005, 8:17 p.m. CST

by Shermdawg

Nov. 25, 2005, 9:55 p.m. CST

by fiester

I thought he did but her name is nowhere to be seen on the cover now.

Nov. 25, 2005, 9:55 p.m. CST

by conchetumare

you aren't gonna compare the little DS screen with the ultra hiper high quality of the PSP... and it plays mp3, video files, has a snes emulator, you can copy games and download them etc etc... The touch pad of the DS is it's only advantage

Nov. 25, 2005, 9:59 p.m. CST

by Bass Ackwards

Stiller and Garofalo penned a book together, "Feel This Book : An Essential Guide to Self-Empowerment, Spiritual Supremacy, and Sexual Satisfaction."

Nov. 25, 2005, 10:04 p.m. CST

by Darth Thoth

As always. I hope this tradition continues at AICN. Great stuff and thanks!

Nov. 25, 2005, 11:01 p.m. CST

by JudgeNXcutioner

thats all u need to know to run out and buy a DS!!!

Nov. 25, 2005, 11:13 p.m. CST

by Orionsangels

They might just be mimicking the boxart from the 80's. no one can take those reactions seriously, especially from the little kid, who's grown up with overbloated 3D graphics. WOW FOUR COLORS! A SQUARE DOT! BLEEP! BLOP! WOW!!!!!!!

Nov. 25, 2005, 11:22 p.m. CST

by FNORDcinco1

You buy the M3 Perfect Cart. and you can play anything like a memory stick on the ds... Oh and the DS has a TV Tuner!!!!

Nov. 25, 2005, 11:23 p.m. CST

by Flaparoo

Yeah of course the PSP puts Game Gear to shame, anything in the last 10 years would. The DS is easily a better gaming system than the PSP, and microsoft just wants you to believe the 360 is the "must have" gift of the year by shipping so few that it is guaranteed to sell out and make idiots believe it's the must have item of the year.

Nov. 25, 2005, 11:29 p.m. CST

by methical

I mean DAMN!?!?! Tell me, honestly, that TEAM AMERICA isn't funnier when you're fucked up, and I'll eat an Arby's sub.

Nov. 25, 2005, 11:31 p.m. CST

by methical

Nov. 25, 2005, 11:46 p.m. CST

by Neo Zeed

No way. I'd tear my eyes out.

Nov. 25, 2005, 11:56 p.m. CST

by IAmJack'sUserID

I would so buy that in a second. Metal Gear, Rygar, Ninja Gaiden 1 and 2, Mega Man, Metroid, Bionic Commando, Castlevania (esp. Simon's Quest), Punch-Out, and many, many others. Oh, and I'll also take a Genesis and SNES Flashback system.

Nov. 26, 2005, 12:14 a.m. CST

by sith-vol

Great list Quint...Crystal Lake Memories is at the top of my list...here that Santa, you big fat bastard?

Nov. 26, 2005, 12:15 a.m. CST

by sith-vol

...thats why I misspelled "hear".

Nov. 26, 2005, 12:18 a.m. CST

by ChickenGeorgeVII

Another year....another disappointing list from Quint. Ya know what Quint? I'm tired of asking you to put it on there every year only to get snubbed....so THAT'S IT!!! YOU ARE OFF MY CHRISTMAS CARD LIST!!! THAT'S RIGHT! NO CHRISTMAS CARD FOR OL' QUINTY THIS YEAR!!! AND YOU BETTER NOT GO LOOKING AT ANYONE ELSE'S EITHER!!! YOU JUST PUT YOURSELF OUT OF LUCK!!! YOU GET NO CHRISTMAS CARD AND NO CHRISTMAS CARD PHOTO!!! ...And thus, I even showed nipple! - - - George, The 7th Chicken!!!!

Nov. 26, 2005, 2:50 a.m. CST

by Lenny Nero

It doesn't come out for another month. Isn't this cool news?

Nov. 26, 2005, 4:37 a.m. CST

by Lenny Nero

Forgive my abrasiveness. Or delete the last two posts. Either way, c'est tout bon!

Nov. 26, 2005, 4:41 a.m. CST

by RobinP

Otherwise I'd have mentioned the awesome radio remote controlled Daleks available in the UK. They stand about 12 inches high, and have a variety of iconic phrases to scream as they trundle along. I have one on my wish list - my wife's being coy whenever it's mentioned. As long as she doesn't hide the batteries when I get on her nerves.

Nov. 26, 2005, 7:45 a.m. CST

by buster00

ROBBIE THE ROBOT! Shut UP! Only 50 grand? Guess I need a paper route. Or a no-bid Halliburton contract.

Nov. 26, 2005, 8:35 a.m. CST

by photoboy

"Bullshit, it's worth it. I own one, and let me tell you, it rocks." Uh, like I said I own both and the PSP doesn't hold a candle to the DS when it comes to games. It's *not* worth it. Most of the games you listed are just cut down versions of console games, there's nothing original out for the PSP at all. And putting DVDs on the PSP? It takes 2 hours for a fast computer to convert the DVD, it's a huge time waster having to convert a DVD everytime you might want to put it on your PSP. And given the limited space of the 1Gig memory stick that means keeping loads of movie files on your hard drive. And then there's the rip-off UMDs, don't get me started on those...

Nov. 26, 2005, 9:04 a.m. CST

by Gilkuliehe

Nov. 26, 2005, 9:59 a.m. CST

by dr_buggerlugs

...or is the constant King Kong pimpage on this site starting to get seriously tiring?

Nov. 26, 2005, 10:33 a.m. CST

by IAmLegolas

That's ok, I sent a link in to Terry Gilliam's TIDELAND trailer 2 weeks ago and they still haven't posted anything about that either (and I even posted in several threads about it).

Nov. 26, 2005, 10:52 a.m. CST

by Pacino86845

I really like your list and all Quint, but I must strongly advise against reading Bruce Campbell's newest book, "Make Love..." Now I really enjoyed If Chins Could Kill, and am a huge Bruce Campbell fan, but his latest effort was highly disappointing to me, and I'm surprised at its inclusion here.

Nov. 26, 2005, 11 a.m. CST

by IAmJack'sUserID

I think the PSP is too expensive and the game selection really lacking right now, but the DS isn't much better. Too many kids titles, which IS the age group the DS is aimed at. The PSP clearly kicks the DS's ass, and I laugh at the fanboys who say otherwise.

Nov. 26, 2005, 11:51 a.m. CST

by photoboy

... who think all DS games are for kids and that better graphics means better games.

Nov. 26, 2005, 12:09 p.m. CST

by Kung Fu Hustler

Do I ask for the PSP for Christmas, or the Mario Kart DS bundle?

Nov. 26, 2005, 12:10 p.m. CST

by Kung Fu Hustler

And I can read a book on the road, so watching handheld movies isn't important to me at all.

Nov. 26, 2005, 12:12 p.m. CST

by JudgeNXcutioner

You can play pokemon AND Nintendogs! On the DS! Rite now even cause you didn't camp out in the rain and cold for a defective first gen xbox 360! Oh & where may I find the gaming link on this site, I don't wanna upset the geeks by posting off topic on this here movie forum

Nov. 26, 2005, 1:59 p.m. CST

by Citizen Arcane

Nov. 26, 2005, 3:49 p.m. CST

by Blacket-Man

go to http://shop.lego.com/product.asp?p=10143 and you will see true bliss for $299.00. Why must you forsake Lego Herc? WHY???

Nov. 26, 2005, 4:35 p.m. CST

by Some Dude

DS/MarioKart bundle all the way.

Nov. 26, 2005, 5:41 p.m. CST

by Missing Dink

It costs $5800. Check out the pics on http://www.thehma.net/phpBB/viewtopic.php?t=70

Nov. 26, 2005, 5:55 p.m. CST

by Mel Garga

That was cool. And for the record, I haven't played video games in years but I would purchase a mini-Nintendo system similar to that Atari one if it actually existed. While in Hong Kong, my Chinese friend purchased a Nintendo 64-based system that had 50 original Nintendo games packed in. The controller plugged directly into the tv. Bad to the bone...Where can I get one in the U.S.?

Nov. 26, 2005, 6:13 p.m. CST

by buster00

but he just STANDS there. I can't command him to do my bidding. Like f'rinstance, "Robby, go fetch me a blond dame like the one in the 'Forbidden Planet' one-sheet."

Nov. 26, 2005, 7:33 p.m. CST

by HappyHamster

I know AICN has bills to pay, but come on. It'd look bad even if Quit had actually read half the books he lists or used any of the garbage being plugged, but the fact that he's probably never touched or seen most of this stuff outside of a webpage makes it worse. You can do better, guys. Yes I know I can click over the story and read something else, but I figured I'd throw my thoughts out here anyway.

Nov. 26, 2005, 10:01 p.m. CST

by Citizen Arcane

Anyone remember that Friends box set advertisement last week? He deleted all the posts that criticized it but I saw 4:00AM infomercials that seemed more natural and sincere. Whenever I look at Herc's section of the site now, I feel like I feel whenever I look at that girl who let me pee on her. I still like her and she's still cool but I just don't feel the same way. But that's what this site is. The news isn't all that cutting edge any more, no one really values anyone's reviews and we know that they sell stuff. But it's the conversation that keeps everyone coming back. The algonquin roundtable that is the TalkBack. Loved by all who participate and reviled by those who provide it.

Nov. 26, 2005, 10:24 p.m. CST

by buster00

Where did you dig up a girl who let you piss on her? Did it cost money? Is this the kind of Algonquin Round Table you mean?

Nov. 26, 2005, 10:42 p.m. CST

by Lenny Nero

And when are you going to fix the mail server, AICN, so we can get some good scoops! Like mine! WHEEEEEEEEEEEEEEEE...

Nov. 26, 2005, 11:10 p.m. CST

by buster00

But, as is so often observed, sarcasm doesn't translate quite as well into print. Besides, Len, why not just post a big, rambling, half-page diatribe of a scoop? It doesn't seem to stop the goons who are still Krazy Glued to the Kevin Smith TalkBack...Jesus fuckin' Christ...

Nov. 26, 2005, 11:20 p.m. CST

by buster00

Edna Ferber used to BEG Alexander Woollcott to piss in her mouth. Not so much Dorothy Parker, though. She was into scat like her name was Cab Calloway. She would smear her own feces all over husband Alan Campbell while he slept, then masturbate herself with her own shit-stained fingers while admiring her brown handiwork. That's probably what turned him gay.

Nov. 26, 2005, 11:28 p.m. CST

by Sir Loin

Seriously...he has the same, smirky expression and you feel hip for buying his crap. In reality, you're being taken for a ride while fattening his wallet. Congrats!

Nov. 26, 2005, 11:35 p.m. CST

by Lenny Nero

And the scoop is a review.

Nov. 27, 2005, 12:22 a.m. CST

by buster00

And no, I'm NOT being sarcastic. I'd like to see your "Producers" review. Tell ya what...I'll put in a good word with Harry if you let me pee on you.

Nov. 27, 2005, 1:05 a.m. CST

by DOGSOUP

Nice to see her on the list

Nov. 27, 2005, 1:48 a.m. CST

by Lenny Nero

Nov. 27, 2005, 11:49 a.m. CST

by proper

Mate chimpin aint easy(Groan)...sorry everybody http://tinyurl.com/b94zr.I'd like Gunstar Future heroes and Shaolin Kung-Fu Master Collection: The Shaw Brothers Collection for x mas please,I've been a good kid this year I deserve Pwesents(ohhh)http://tinyurl.com/eyazq.I'm not here all week,sorry.

Nov. 28, 2005, 1:12 a.m. CST

by Lezbo Milk

Nov. 28, 2005, 6:55 a.m. CST

by Halloween68

I've got the "Zombie Survival Guide", the "Salem's Lot Illustrated Edition", "Make Love The Bruce Campbell Way" and the Alan Lee "Lord of the Rings Sketchbook". All highly recomended except the "Salem's Lot Illustrated Edition". What a rip that is. There's 2 random photographs in the entire book. And neither has anything to do with the story. They're just artsy fartsy photos...random objects superimposed over other random objects. I think King just took some photos he had lying around the house, scanned them, and then cut them together in really stupid montages using Photoshop. Trust me, stay away from that one. If you feel the need, check it out at the book store before purchasing it. Don't purchase it online (which is what i did; the dunderhead i am) before physically seeing it first. As for the other stuff listed, I'm keen on that Sin City set and that Calvin & Hobbes set. Movie-wise, I'd love to get my hands on that UK Phantasm set from the other post. Anybody know if multi-region means it'll play on US standard dvd players?

Nov. 28, 2005, 7:25 a.m. CST

by Cottonwood

For another year and for another great, geeky list, pls keep up the wonderful work. One thing though, and I hate to say it, but I've been playing KING KONG The Game on my PS2 and it, ehm, sucks. Graphics are poor, so is gameplay, and it's all way too straight forward - keep ypur money for THE WARRIORS, 007 or GUN, all way better options. Still, can't wait to see Kong on the silver screen.

Nov. 28, 2005, 12:16 p.m. CST

by Roguewriter

Really, really astoundingly good sword-and-sorcery fantasy, with the best mythic universe and cast of characters since Tolkien. Okay, I know that's reaching, but for this fan, only Glen Cook's BLACK COMPANY series has comfortably eased my LOTR jones in the past decade or so -- til I stumbled across Martin's phenomenal series. No lie, guys -- if you dig great, epic fantasy with smart, compelling, exhilarating characters, this series is for you. A GAME OF THRONES is the first volume. Check it out today...

Nov. 28, 2005, 1:26 p.m. CST

by Vern

the rich fucker who likes Pumpkinhead enough to buy an $850 statue of it. Of course, that guy doesn't exist, but if he did I would do experiments on him or something. Also Quint, thanks for including Lightning Bolt, it is loaded with goji berries.

Nov. 28, 2005, 4:22 p.m. CST

by the M'hael

if you haven't, check out Robert Jordan's Wheel of Time series. it's pretty cool.

Nov. 29, 2005, 10:44 a.m. CST

by midwat

Sorry about this, but it's "Calvin and Hobbes," not "Calvin and Hobbs." As in Thomas Hobbes, the philosopher.

Nov. 29, 2005, 5:59 p.m. CST

by psychedelic

No one has mentioned that this edition has additional material previously unreleased. At the end of the book, in addition to two Lot related stories found in Night Shift, are deleted scenes and alternate chapters and other pieces King is releasing for the first time. I hope one of them is the scene where rats eat/kill somebody. King's publisher made him take it out back in the 70s. There's more to this edition then a bunch of photographs.

Dec. 2, 2005, 12:11 p.m. CST

by Doom II

But at least I have an army of robots to keep me company. Can't afford the other stuff though. KIDDING! I couldn't afford that robot's right arm! The X-Box 360 is SELLING (yes, they all have bids)at around 700.00 right now for the upgraded version on Ebay. FUCK THAT.