Coaxial
SOUTH PARK Gives The 'Mormon Treatment' To Scientology!!
"I've been waiting 42 years for this day."
"That's John Travolta and Tom Cruise, our big Scientologists. Do you believe me now?"
"You're not Gene Hackman or that guy who played Napoleon Dynamite, but you're okay."
"But. But. I'm not in here."
"Hey. It's really nice in here."
"You are SO sued, kid!"
Stick around for the credits. And take up valuable bandwidth with your predictions and reactions.
10 p.m. Wednesday. Comedy Central.
Dum dum dum dum dum.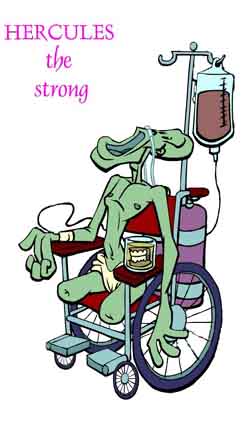 Did you miss that window when everyone was pre-selling the new 40-disc seven-season "Buffy The Vampire Slayer: Chosen Collection" for $129.99 instead of 169.99?? Want to buy it NOW for just $114.98?? Head Over To Buy.com and order it for $139.98. Then sign up for the no-annual-fee Buy.com Visa card and they'll knock off another $25!!
+ Expand All

Nov. 16, 2005, 9:33 p.m. CST

by MartinBlank

Written and directed by John Smith. Great stuff. I wonder if Isaac Hayes even still WATCHES the show.

Nov. 16, 2005, 9:34 p.m. CST

by DanielKurland

The second half of South Park this season has been all right, nothing too fantastic yet, however the Ginger Kids episode last week was pretty good. I love how ridiculously funny this show has consistently been throughout the years, and this episode has the potential to be great, haven't seen it yet, as I am in Canada, but soon enough. I may not be the FIRST to see it, but you'll hear my comments eventually.

Nov. 16, 2005, 9:37 p.m. CST

by tbransonlives

That was great even the credits were funny.

Nov. 16, 2005, 9:39 p.m. CST

by Zoidberg

Nov. 16, 2005, 9:41 p.m. CST

by ErnieAnderson

NORDLING! COME OUT OF THE CLOSET!

Nov. 16, 2005, 9:44 p.m. CST

by mrgreentheplant

they will probably get sued, if not by scientologists then by tommy. he sued a TABLOID for printing a FALSE STORY.

Nov. 16, 2005, 9:48 p.m. CST

by Citizen Arcane

I applaud you sirs. And I apologize. I really thought they would kind of wimp out a little but...no. I hope you guys have some kick ass attorneys and some money hidden away in offshore accounts.

Nov. 16, 2005, 9:53 p.m. CST

by MartinBlank

'This is what Scientologists actually believe.' Superimposed over several minutes of fucked-up fantasy and comedy. Only IT IS ACTUALLY WHAT THEY BELIEVE.

If anyone wants a really good laugh look up "Xenu" on wikipedia. Unless the Scientologists have already sued them.

Nov. 16, 2005, 9:55 p.m. CST

by SnowDogs

And Tom Cruise even got off easy! Loved the THIS IS WHAT SCIENTOLOGISTS ACTUALLY BELIEVE sequence!!! And "L. Ron Hubbard was a science fiction writer who lived with young boys and was busted by the feds tons of times!" You know the Scientologists would love to sue Comedy Central, but even they wouldn't be stupid enough to draw that kind of attention to themselves. Want to see how litigious they are? Read this 1991 Time Magazine cover story exposing them: http://www.xenu.net/archive/media/time910605.html Fascinating stuff!

Nov. 16, 2005, 10 p.m. CST

by Citizen Arcane

When Tom Cruise wasn't in Team America I actually thought those guys were afraid of him and his litigious nature. Again, I was wrong.

Nov. 16, 2005, 10:01 p.m. CST

by SnowDogs

So...they named everybody John Smith on the credits so the Scientologists wouldn't know who to sue, right? Ha haaaaaa!

Nov. 16, 2005, 10:05 p.m. CST

by YouInRawbIns?

But South Park wins tonight. The credits were fantastic, and that banner at the bottom for several minutes wins the award for funniest/best comedy moment of the year. South park's best episode.

Nov. 16, 2005, 10:09 p.m. CST

by The Tao of Joe

I never knew how hard Jane and John Smith worked until I saw this episode. Hilarious, but probably not to be seen ever again. For some reason, I thought South Park would be too afraid to attack Scientology. Guess Parker had bigger balls that I thought.

Nov. 16, 2005, 10:28 p.m. CST

by mattw

If I put in this little effort at my job I would have been fired long ago. And to think, advertisers actually paid money to be on this page.

Nov. 16, 2005, 10:31 p.m. CST

by dirkcalloway

I hate Tom Cruise. It is about time for him to come out of the closet. And the 'THis is actually what Scientologists believe' was a master stroke. Great work fellas!

Nov. 16, 2005, 10:34 p.m. CST

by ErnieAnderson

No matter what Nordling tells you, I LOVE KATIE HOLMES!!!

Nov. 16, 2005, 10:53 p.m. CST

by Whedon

I totally forgot about South Park but I'll check the repeat on at 12:30. Sounds great, never get tired of scientology jokes.

Nov. 16, 2005, 10:54 p.m. CST

by splungiest

Nov. 16, 2005, 10:55 p.m. CST

by ErnieAnderson

But thanks for telling me. While you're watching South Park, I'll be greased up and looking at pictures of Wolf Blitzer in a thong. YAHTZEE!!!

Nov. 16, 2005, 11:09 p.m. CST

by Toe Jam

isn't he a scientologist? i wonder if he'll be pissed or if he'll take it in stride. those scientologists, generally speaking, don't seem to have a sense of humor. it'd be a shame if they had to retire the chef character.

Nov. 16, 2005, 11:35 p.m. CST

by ErnieAnderson

Time to go jerk off! Whoohooo!

Nov. 17, 2005, 12:02 a.m. CST

by Banky the Hack

By far the best episode ever. God, please let this be the end of this organization. Matt and Trey, you have gigantic fucking balls, and bless you for it.

Nov. 17, 2005, 12:04 a.m. CST

by ErnieAnderson

Nov. 17, 2005, 12:14 a.m. CST

by Whedon

Loved the Travolta voice, "Its really nice in here, I feel really safe OH my God" "...and I pull out my Gun!!" "1...I'm gonna shoot you both..." "2...I'm gonna cap some bitch..." "3...Now I'm in the closet too..."

Nov. 17, 2005, 12:21 a.m. CST

by Banky the Hack

Around your dead yadda yadda! But seriously, how bizarre is it that I have this screen name, hate scientology, and Jason Lee is a scientologist? Shame on me...

Nov. 17, 2005, 12:24 a.m. CST

by WickedMonster

I was waiting for this episode...for forever now. But I was abit sad that they didnt make fun of Tom Cruise long enough, expecially taking from his life experiences, such as that fiasco with him and that reporter on that day.... Oh well. Thanks John Smith and Jane Smith...your secret is safe with us.

Nov. 17, 2005, 12:27 a.m. CST

by reinhold

Hats off to Trey and Matt! I'm a little shocked that Comedy Central wasn't a little gunshy considering that it took Time Magazine ten years to fight off a libel lawsuit from the Scientologists after publishing that article that's linked to above.

Nov. 17, 2005, 12:32 a.m. CST

by Banky the Hack

Maybe this will be covered by parody under the law in a way that Time magazine's journalism wasn't? I fully expect them to attempt a lawsuit regardless.

Nov. 17, 2005, 12:37 a.m. CST

by SifoDyasJr.

Er... I mean John and John... I mean, really? How brilliant are these guys who shock us, make us laugh hard, and get a common sense point across (all at the same time), week after week, year after year? South Park will never jump the shark.

Nov. 17, 2005, 12:38 a.m. CST

by Rindain

As others have said, Trey and the staff have balls. I too wish that they made fun of Cruise's Oprah couch hopping and how he "interviewed" a bunch of hollywood actresses before settling on Katie Holmes as the most brainwashable--but that would be enough material for another entire episode.

Nov. 17, 2005, 12:46 a.m. CST

by Alen Smithee

YOU GOT BALLS! I hope Comedy Central recognizes your talents and lets you do your own show. I can't waitto see what Trey and Matt do when they come back next week.

Nov. 17, 2005, 3:23 a.m. CST

by L.H.Puttgrass

"But I'm not in here." Easily one of the funniest episodes of this season. Scientology's lawyers will get no sleep tonight. They have to prepare their case against the Smiths.

Nov. 17, 2005, 6:10 a.m. CST

by jig98

the thing with tom cruise and r.kelly was kind of funny.

Nov. 17, 2005, 7:08 a.m. CST

by Citizen Arcane

Everyone's already talked about his Oprah appearence and his fake marriage to death. Making fun of that shit would be like shooting fish in a barrel. They just went straight for the jugular. Name one other TV show that was "holy shit" edgy after 8 years. SNL? HA! Matt and Trey don't give a fuck.

Nov. 17, 2005, 8:17 a.m. CST

by slone13

Why does "eh" need an 'm' in front of it? "Eh" conveys the same sentiment as "meh" but doesn't include an extra letter for no reason and doesn't sound as retarded. Great South Park though.

Nov. 17, 2005, 8:26 a.m. CST

by JustBen

Tom Cruise? Okay. Fine. John Travolta? Sure, why not. They both seem like the kind of tools who would believe such nonsense. But Jason Lee? Man, that sucks. Do me a favor and don't tell me any more names of people who have bought into this cult. I can't take it anymore.

Nov. 17, 2005, 8:42 a.m. CST

by Citizen Arcane

Wow. And yeah, Lee is a Scientologist. I think that's the worst one, most of the others I know of are choads anyway. Scientology seems to be second only to Judaism in benefits to a career in Hollywood, maybe he's just playing them to get ahead, in which case I applaud him.

Nov. 17, 2005, 8:46 a.m. CST

by DocPazuzu

...Check it out: http://www.adherents.com/adh_fam.html

Nov. 17, 2005, 8:48 a.m. CST

by Banky the Hack

Full list of Scientologist celebs here: http://en.wikipedia.org/wiki/List_of_famous_Scientologists

Nov. 17, 2005, 9:29 a.m. CST

by Yeti

Nov. 17, 2005, 10:55 a.m. CST

by DanielKurland

Speaking of which, anyone have any opinions on last night's episode?

Nov. 17, 2005, 11:24 a.m. CST

by Lando Griffin

Hopefully Kevin Smith gives him shit about it. I can buy into Cruise, Travolta and other actors but Lee? Beck? Seinfeld (was - thank Xenu)? You know you're in a fucked up cult when Charlie Manson no longer practices and thinks you're crazy.

Nov. 17, 2005, 11:31 a.m. CST

by BendersShinyAss

Nov. 17, 2005, 11:54 a.m. CST

by Nairb The Movie

It list chef as a scientoligist! No more chef?!?!?

Nov. 17, 2005, 12:07 p.m. CST

by SalvatoreGravano

A very infantile touch. Oh, and Tomidget looked too tall. Other than that... not too shabby. The Smiths won't be in trouble, though, unless Tomidget comes after them. But he's easy to thwart off - just spray him in the face.

Nov. 17, 2005, 12:26 p.m. CST

by Citizen Arcane

I don't think so. I've already had two friends e-mail me, asking me if all that was true, so even with the caption, the whole thing is so messed up that people still thought they were making it up. The only thing I thought they overdid was saying "Tom, come out of the closet " 10 too many times but overall I couldn't have asked for a better episode.

Nov. 17, 2005, 12:34 p.m. CST

by Banky the Hack

Remember the Mormon episode? Tons of people thought they made all that up too...they needed that disclaimer, and STILL people can't fathom that the Xenu story is the legitimate belief of this group.

Nov. 17, 2005, 12:39 p.m. CST

by Uninvisible

did you guys notice the horrified look on r kelly's face as he snuk off away from travolta and cruise when they left the house. he looked like he had been scarred for life in that closet.

Nov. 17, 2005, 12:46 p.m. CST

by Darth_Nader

Nov. 17, 2005, 1:37 p.m. CST

by Russman

Everyone was John or Jane Smith. Oh that was so damn funny.

Nov. 17, 2005, 1:45 p.m. CST

by Lando Griffin

this disclaimer was not heavy handed or over the top, it was funny and necessary. I had a casual knowledge of what scientologists believed but goddamn, I am an open-minded person, but that shit was down right hilarious and crazy. After the episode I was describing it to a relative and she did not believe me - she only knows of SP as a cartoon and not as the social satire it is. (She has followed news regarding Tom and Katie so she knows there is some kinda crazy going on) But I have since shared the xenu.net, Time article and wikipedia links and she is now just as dumbfounded as the rest of us. I was reading more about CO$ last night and besides weird, it just gave the the creeps reading it. About the harassment they give former followers - its like a MIB thing almost. Same thing that struck me when I saw the Mormon episode, I had casual knowledge but seeing that episode gave me fits and I went online and did more research, as crazy as THAT sounds to me Scientology takes the cake.

Nov. 17, 2005, 1:58 p.m. CST

by Wungolioth

I have an out-of-print book called "L. Ron Hubbard- Mesiah or Madman", publ. 1987, co-written by L. Ron Hubbard Jr. Yup, his own son turned on him. Interesting read if you can find it, tales of imprisonment, harrassment, fleecing the flock, etc. I always love a good Scientology spanking, this definitely was the funniest episode this season. "Dad, Tom Cruise won't come out of the closet." That line had me rolling on the floor laughing.

Nov. 17, 2005, 2:11 p.m. CST

by Wungolioth

Has it been my imagination, or has Chef been completely absent this season? Seems to me he might have gotten a clue about this ep and bolted. I'm hoping it isn't true, but I don't think Isaac Hayes will be back. These guys tend to hold a grudge. Funny, Comedy Central seem to be pimping his greatest hits collection all the time.

Nov. 17, 2005, 2:29 p.m. CST

by Lenny Nero

He simply says that Lee is very serious about it and definitely works his stuff. He compares it in a way to being a Christian in the first 15 years and that we should simply live and let live........but they're all still fucking crazy.

Nov. 17, 2005, 2:38 p.m. CST

by JustBen

Here are some folks I didn't expect to see on this list: Beck, Nancy Cartwright (is this why The Simpsons steers away from Scientology?), Isaac Hayes, Christopher and Danny Masterson, Leah Remini, and Greta Van Susteren. I'm embarrased to admit that my Church (Roman Catholic) seems to deliver the most nuts to this cult: Sonny Bono, Jenna Elfman, Emilio Estevez, Tom Cruise, Katie Holmes...ummm, on second though. Keep 'em. We got enough fruitcakes in this religion as is.

Nov. 17, 2005, 2:40 p.m. CST

by OptimusPrimeTime

Considering that Matt and Trey don't know what their shows are going to be until a few days before animating them, I doubt very much that this episode was sufficiently planned out ahead of time, such that Hayes would remove himself from the show.

Nov. 17, 2005, 2:51 p.m. CST

by emeraldboy

The evangelicals. Evangicals dont find anything funny(because to them everything is sacred), I know someone who became a born again christian, someone who used to be a wild child, I can count the number of times she tried recruit me to her church. I dont speak to her often anymore. The pressure they put on people is immense. George Bush is BAC and is still the worst president america ever had. There latest ruse is to Cure Gay People by converting them to evangelical Christianity. America is Screwed. Unless these people are told where to go! Jason Lee Got recruited adfter working with tom on Vanilla sky seemingly Tom uses his movies as recruiting drives. Tom Cruise was interviewed by Jonathon Ross this summer and Cruise said that he had been working since he was Ten years. I am not making that up. I also heard that he bought a chunk of the himalays and plans to climb it soon. Its toms planet we just live here. He also bought piece of land on the moon for 20 milllion dollars. I once did an impersonation of an Irish politician and this person i should stop mocking and that person should be prayed for. Weird.

Nov. 17, 2005, 3 p.m. CST

by ZombieSolutions

man, religion is the BEST SCAM EVER! yeah, Scientology is a scam, but so are all the rest of 'em. Tax free? Make your own crazy rules and morality? Sweeet! My relgion will be called "The Church of Sex With Your Hot Barely Legal Daughters (And MILFS) for Jeebus." it is the one true relgion. the only way you can be saved is to send your hot teen daughters (and the MILFs that helped you make them) to my erm "Holy Temple" so that i can annoint them with the "Seed of Life". Also, please send me $10,000 each for me to save your souls. otherwise you are all going to burn in hellfire for all eternity.

Nov. 17, 2005, 3:12 p.m. CST

by Wungolioth

I know that Matt and Trey are known for incorporating extremely recent events into occassional episodes, but I just don't think that's the norm. There was nothing in this episode so topical that it couldn't have been done months ago. I still think Hayes saw this coming down the pike and bowed out, but I don't know if we'll ever get confirmation on that.

Nov. 17, 2005, 3:26 p.m. CST

by mustang_dvs

Trey and Matt have been using Flash & Maya to animate the series since Season 3, IIRC. They've said that this gives them an average turn-around of 3-4 days, including V.O. work. They've said in the past that if something really big happens, that they can squeeze out an episode in 36 hours if their staff works practically non-stop, but Comedy Central isn't a big fan of that since there's a higher likelihood of something slipping past network Standards & Practices.

Nov. 17, 2005, 3:34 p.m. CST

by Lando Griffin

for the most part I can see your point, emeraldboy. However, unlike Scientology, Christianity has many sects, so you may be generalizing. The main difference is that evangelicals do not declare "fair game", suit, harass and destroy anyone who utters a negative thing about them. **************I also noticed that among the celeb list Catholics seem to be a recurring theme. As person whose job it is to uncover and report the truth I can't understand Greta as a Scientologist.**********AS a lifelong Simpsons fan I can admit the show fell off years ago, they just aren't edgy or socially relevant anymore, so I can see them not tackling Scientology.*************This question is for anyone that is familiar with Scientology practices. Is it ok to buy into part of it? Say you buy into the psyciatry is evil, reducing stress part of it but don't buy into Xenu, thetans, space DC8's, volcanos and hydrogen bombs part of it? Are they still cool with you? I mean as long as you pay for your auditing?

Nov. 17, 2005, 3:46 p.m. CST

by Spike Fett

Nov. 17, 2005, 3:55 p.m. CST

by StubePT

"Writing for a penny a word is ridiculous. If a man really wants to make a million dollars, the best way would be to start his own religion"

Nov. 17, 2005, 4:42 p.m. CST

by ChrisPC24

Now this is South Park! They haven't lost their touch, even after all these years. I used to think the Mormon episode was probably the best one ever, but this one was much better. Matt and Trey have some huge balls for doing this; I thought they'd pull the punch right until the end. "John" and "Jane Smith"; hahaha!

Nov. 17, 2005, 4:57 p.m. CST

by holidill

Maybe Isaac Hayes left since he no longer wanted to do the show. This came as a blow to Matt and Trey so they get their revenge by doing this episode. They've done it before...(Phil Collins anyone)

Nov. 17, 2005, 5:38 p.m. CST

by Noam

Nothing would be funnier to this Jew than a send up of this new Kaballah movement. It seems to be made up of mostly non-Jewish folks who can't even read the text and lack the years of religious training that is required for true scholars to interpret the writings. It would be nice to see Kyle set a few of these guys straight.

Nov. 17, 2005, 5:43 p.m. CST

by Noam

Is Maddona jewish now? Or is she still technically a Catholic? I just don't get how newKabballah works.

Nov. 17, 2005, 5:44 p.m. CST

by Citizen Arcane

And that was like 5 years ago when they had a smaller staff. So yeah, as long as they're not on hiatus or too stoned, they can crank one out fast.

Nov. 17, 2005, 7:40 p.m. CST

by jrbarker

well...I guess for the same reasons people beleive in other stuff

Nov. 17, 2005, 10:04 p.m. CST

by El Scorcho

A bunch of us South Park die-hards participated in a live chat with Matt Stone on Tuesday night. The question was asked what happened to Chef, and Matt responded that he will be back. He didn't say anything about Isaac Hayes, but Chef will be back one way or another. Might they re-cast his voice? If Hayes is a true scientologist, I would think he would have a hard time returning to this show now. Gotta love South Park, my jaw dropped several times during this episode from its sheer brilliance (and I loved the R Kelly stuff, too).

Nov. 18, 2005, 2:40 a.m. CST

by zillabeast

Only time will tell......

Nov. 18, 2005, 4:44 a.m. CST

by MGTHEDJ

it is called "The Church of Jesus Christ of Latter-Day Saints." Joe Smith was just a sexually frustrated lay-preacher.

Nov. 18, 2005, 9:19 a.m. CST

by xocgx

Lando Griffin....they have a sect that broke off....once the realized the xenu crap was grabage...they just believe in the public stuff.....but it's still nuts. A guy with no real training made it all up...Narconon is a joke. they lie about results. Psychology is real and true. Now, is it always applied properly? We know medicine works, biology works, but how many people get unnecesary surgeries? We don't shit on biology!

Nov. 18, 2005, 10:54 a.m. CST

by R.C. the "Wise"

Nov. 18, 2005, 12:13 p.m. CST

by Diskatopia

The first, easy step is to see how ridiculous/evil/insane someone else's "religion" is at its core... the final step is to realize that, although some may have one or two merits, ALL religions are ridiculous/evil/insane at their cores. Oh well, time to go listen to Lennon's "Imagine" again.

Nov. 18, 2005, 12:33 p.m. CST

by Belledonna

...that Nancy Cartright, the voice of Bart Simpson, is a Scientologist?!

Nov. 18, 2005, 1:54 p.m. CST

by The Skeptical

Nov. 18, 2005, 2:16 p.m. CST

by _Maltheus_

On the subject of Chef, I remember South Park making fun of Scientology years ago (albeit in a much tamer way) and I don't think I've ever heard Chef sing on the show since then. Or it may have been like only once. Before that scientology jibe, he use to sing in every episode. It was a staple, like Kenny dying. I've always assumed that he decided to scale back his involvement after that. ............ That "this is what they really believe" label was not overdone because most people have no clue what scientology is about and South Park typically makes things up. Most people can't even conceive that there are people in the world stupid enough to believe in that stuff. It's like when politicians belong to Luciferian death cults (Skull & Bones, Bohemian Grove, etc). Most people can't imagine that people can believe in such craziness, but it seems like most public figures believe in scientology, new age paganism / Luciferianism or Kaballah. And understanding that is key to understanding why everything has been going to shit in recent times. The crazies are running the asylum, and yes, there are actually crazy people out there who believe in magic new age ascension, numerology and all that crap. ............ This treatment can be applied to all religons. I agree with whoever said they need to send up Kaballah next. I just read a story yesterday on MSNBC where Kateherine Harris (of Bush fame) used taxpayer money to study the principles of Kabbalic mysticism to see if they could make magic/anti-disease water to help cure cirus crops (http://msnbc.msn.com/id/10054116/). Trey so needs to send up those kooks next.

Nov. 18, 2005, 3:29 p.m. CST

by Atomik Steve

I thought they were exaggerating with the "THIS IS WHAT SCIENTOLOGISTS ACTUALLY BELIEVE" until i read that Wikipedia article on Xenu...That is some of the most ridiculos shit ever written. I cannot see how anyone in their right mind would believe that aliens were thrown into volcanoes that DIDN'T EVEN EXIST 75 million years ago. I respect and even study other religions, but I have a lot of trouble digesting this crap.

Nov. 18, 2005, 3:38 p.m. CST

by emeraldboy

Jerry Springer the Opera, is an opera based on well the jerry springer show. Anyhoo, to cut a long story the BBC televised the thing. An activist who name I forget, who was part of a group, attacked by flooding the company with threating emails, phone calls and letters, they even bought ads space in neswpapers where the published letters asking people to boycott the BBC and putting Maximum Pressure to get the thing Banned. MeanWhile the UK Govt. is preparing Legislation which comics fear will have them being dragged away by the police. NOnsense say the govt. This legislation will outlaw what the govt says offensive material. Tony Blair is a fundamentalist christian as is george Bush. I really hope Blair is sent packing and soon.

Nov. 18, 2005, 3:43 p.m. CST

by Tsubame Gunkan

Was Fox Mulder actually a scientologist? Was Dana actually taken to their secret brainwashing center and that is why she had problems with her Catholic roots? These are the real questions that the Lone Gunmen should have been looking into.

Nov. 18, 2005, 5:08 p.m. CST

by lynxpro

It was hinted that he was Jewish. See the episode with the white trash guy plagued with the hearing problem that was killing him. Of course, we all know that Mulder's biological father was really Cigarette Smoking Man/Cancer Man, so I guess he might have been raised non-devout Jewish by his faux-dad but isn't ethnically Hebrew.

Nov. 18, 2005, 7:46 p.m. CST

by Film Whisperer

I don't know: praying to a guy who wrote science fiction books is dumb, but is it any dumber than believing a guy grabbed two of each animals and put them into an ark?

Nov. 18, 2005, 10:03 p.m. CST

by theBigE

Am I the only evangelical Christian on here? Sounds like the South Park episode was hilarious! I think most of the attempts at humor by the talkbackers (and Harry and co.) are a little puerile, but I disagree on your statement that we Christians have no sense of humor. Now I'm supposed to follow my assertion up with some hilarious comment .. let's see ... I'll think of something ... but really, we have a sense of humor! We do! It's the Muslims that have no sense of humor - let's pick on them!

Nov. 19, 2005, 9:01 a.m. CST

by emeraldboy

Comedy is subjective. What you and I find funny might be totally different and probably is different. Bizarrely I acctually dont find south park all that funny really. Well let me reprhase that I find bits of it funny and I kind of think that they do labour jokes they write. Before people start complaining I did see team america world police and again only thought bits of it were funny. I also saw they South Park bigger,longer and Uncut. And now for a revelation. Micheal Moore as hot dog chomping suicide bomber. In an interview with Empire Magazine, trey and Matt were asked by the interviwer, did they do the animations for Bowling for Columbine and the asnwer is the following. They didnt. The Way Moore edited the movie made it look like they did. Everyone kept asking them did they do the animation. Finally the got soo pissed off saying that didnt do that they displayed Moore as a hot dog chomping Suicide Bomber. Janet Street Porter went Moore and couldnt find him. The last perosn I would want on my tail is Janet Street Porter. Moore has gone very quiet all of a sudden..... As an Evangelist did you vote for Bush and do agree with the whole issue of Curing Gay people by converting them.

Nov. 19, 2005, 11:30 a.m. CST

by CleverScreenName

First of all CLASSIC episode, right up there with The Japanime ep and the eariler greats. I heard a rumor years ago, that back in the day Issac Asimov and L. Ron Hubbard had a some type of bet and the loser of the bet had to create a religion. Has anyone else heard that, or are my Thetan levels high again?

Nov. 19, 2005, 11:34 a.m. CST

by emvan

I mean, c'mon, the Dalai Lama has stated that if science is found to disagree with the tenets of Tibetan Buddhism, then the religion is wrong and must change. Contrast to Xenu. There are religions which are essentially humanistic and rational (Buddhism, modern Judaism, Unitarianism, I think Taoism) and those which are essentially doctrinaire and irrational (Christianity, Islam, Mormonism, Scientology). Any sufficiently large enough religion will launch sects of the opposite kind, such as the liberal branches of Christianity or Orthodox Judaism (which is not the original flavor, but a reactionary response to Reform Judaism). That muddies the waters a lot. The average American Christian assumes that all religions make the same claim to exclusive universal truth that Christianity does, and combines that with the reasonable high profile of fundamentalist Judaism (especially in Israel) and the incredibly low profile of Buddhism to conclude that all religions are like the one they grew up in. Just isn't true.

Nov. 19, 2005, 12:27 p.m. CST

by Tsubame Gunkan

Usually in these talkbacks there always seems to be talkbackers who cry foul when Harry or Quint or whom have you talks about something that gets their panties in a bunch. But I have yet to see anyone screaming about the virtues Scientology. So is there anyone out there who actually is a Scientologist or even knows one? Or are all Scientologists just famous people?

Nov. 19, 2005, 2:20 p.m. CST

by LlGHTST0RMER

I don't think anyone here is rich enough to be a Scientologist. They don't bother inviting you to the party if you don't have enough cash. Kind of like the way Republicans used to be.

Nov. 19, 2005, 9:10 p.m. CST

by theBigE

Ok, I voted for Bush - both times, I admit it. Still not convinced we'd be doing better with Kerry as President, but that's another debate. Several of my evangelical friends voted for Kerry, so don't lump us all in the same boat! I find parts of South Park and the Team America movie to be hilarious, once you get past the sophomoric crudeness, but I'm not a big fan or even a regular viewer. As for the "curing" of gays - well, I'm not sure that's the best term for it. But I do personally know several guys that consider themselves "ex-gay." One has been married with kids for 6 or more years now. The other has no attraction to women, but wanted out of the gay lifestyle. Why is it politically incorrect to assume that someone can't stop from acting on their homosexual impulses? I don't act on all of my heterosexual impulses - my wife would kill me, or I could lose my job if I did! Is that called repression when I don't act on my heterosexual urges for women other than my wife? I don't know if Christianity can "cure" all homosexuals of their desires, but I think it can help rechannel those desires. Just as my Christianity helps me to rechannel my heterosexual desires. My two cents worth, I don't speak for everyone of my beliefs.

Nov. 20, 2005, 11:03 a.m. CST

by foma

The South Parkers are people of tremendous courage.

Nov. 20, 2005, 6:20 p.m. CST

by tensticks

I have heard the "Bet" story as well. What I know for a FACT is that in the thirties and forties there were a number of guys who were friends and hung out together who also became major sci fi/fantasy writers (L. Sprague DeCamp, Fletcher Pratt, and I THINK Heinlen and Asimov as well, but I don't have my reference book handy). Yes, the story goes pretty much like that: they made a GROUP bet that none of them could come up with a fake religion and then make people believe it. Apparently, Hubbard won. I'd love to get some origin on this, as I'd like to be able to declare it "true". Wonder what all those other writers thought about Scientology....

Nov. 21, 2005, 2:10 p.m. CST

by www.valiens.com

....even HE thought Scientology was too crazy to join. That's pretty fucking crazy if you ask me. And you did.

Nov. 21, 2005, 4:37 p.m. CST

by Nizzuts

The repeated pleas for Tom Cruise to come out of the closet were great! Every time some one asked him to come out, I started busting up. Come on Tom, we all know that your gay, just come out and say it already. Scientology will let it slide because without you, they are nothing.

Nov. 22, 2005, 1:22 p.m. CST

by Charles Martel

The notice regarding "this is what Scientologists actually believe" could very well be a hint to scientologists (along with the "sue me," truly a dare by Parker and Stone) regarding the legality of any impending suit. After all, truth is an absolute defense, legally speaking, of an libelous our slanderous statements. Re: religions. Well, they aren't all alike, and only in the US do some believe they all "believe basically the same thing." They are, in effect, mutually exclusive. The only way to get them to agree is to effectively excise key elements of each religion. And all belief, at a certain point, is irrational. Belief in anything and everything - it's all irrational at a certain point.