New spy Dafydd insists this business is big and important to "Who" fans, and his passionate tone persuades us:
Dafydd here, with a question for Doctor Who fans: fancy knowing what this season's Bad Wolf could be?
Are you sure?
In that case, just remember one word.
Torchwood
Who or what is Torchwood? You'll get the first big clue in a couple of months when the Doctor Who holiday special, 'The Christmas Invasion' debuts on BBC1. You'll find out the origin of Torchwood in episode two this spring in 'Tooth and Claw,' and that name comes up again big-time in episodes 12 and 13, which begin filming here in South Wales in just a few weeks.
Production on Doctor Who: Series II (as the production is now numbered) began shooting in July, with David Tennant taking over the role from Christopher Eccleston, who jumped ship after just 13 episodes. Billie Piper returns as companion Rose Tyler, and by all accounts, the relationship between the two leads is reportedly a lot less prickly than it was last series.
Although the producers are doing their level best to keep the biggest revelations under wraps, it's amazing what you can find out by rifling a few skips (that's dumpsters to you Yanks), buying a few rounds for the right crew people, and keeping one's ears open for a bit of news around Newport, where most of the interiors are shot. So without further ado, here's a quick recap of what's been happening over the last four months. Most of it has already appeared on other websites, and I'll do my best to avoid giving too much away. Even so, there are spoilers aplenty, so tread carefully.
Production has just wrapped on the first block, which includes the holiday special 'The Christmas Invasion,' episode one 'New Earth' (both of which are written by executive producer Russell T. Davies and episode four 'School Reunion' by Toby Whithouse. They're directed by James Hawes, who helmed last year's chilling two-parter, 'The Empty Child/The Doctor Dances.' 'The Christmas Invasion' features the return of Penelope Wilton as Harriet Jones, now the country's prime minister, and a new race of aliens called the Sycorax. Also returning are Camille Coduri as Rose's mum Jackie and Noel Clarke as her abandoned-back-on Earth boyfriend Mickey. BTW, both characters will be appearing in several episodes this series, and don't be surprised if one of them joins the TARDIS crew for several episodes.
Most of 'New Earth' is set in a futuristic hospital and features the return of Zoë Wanamaker as Cassandra, not to mention another familiar (ahem) face from last year's 'The End of the World.' Wanamaker also appears in a pre-stretched incarnation of her character, and keep an eye out for a scene-stealing turn from Sean Gallagher as Cassandra's long-suffering assistant, Chip.
The biggest crowd-pleaser though, is the return of Elisabeth Sladen as former companion Sarah Jane Smith and much-loved or oft-reviled (take your pick) robot dog, K9. I don't want to give away too much about this episode, but I'm prepared to go out on a limb right now and predict that this will be one of the high points of the series. Oh, and Anthony Stewart Head does not, I repeat, DOES NOT appear as the Master in this episode! He plays Headmaster Finch, which is probably where the rumour came from.
If you don't think 'School Reunion' is going to rule, ask yourself two questions. Number one, what if you were one of the Doctor's former companions, now middle-aged, and you've not only got to cope with the return of a young-looking Doctor, but also his young and beautiful current companion? And if you were the actress who once played that companion, what would it be like to come back in a situation where life imitated art? Something to think about over the coming months.
Right now, production is underway on block two, directed by Euros Lyn ('The End of the World,' 'The Unquiet Dead'). The Doctor and Rose travel back to Victorian times in 'Tooth and Claw,' a period werewolf story with a big twist. There have been rumours that this episode features a race of cat people, but somebody has been confusing it with 'New Earth,' which does have some feline creatures. What it does feature is actress Pauline Collins (Shirley Valentine) playing Queen Victoria, who is not amused by the events of this episode. Long-time fans will remember that it's actually Collins' second appearance in Doctor Who, having appeared in 'The Faceless Ones' opposite Patrick Troughton in the mid-sixties.
The other episode now being filmed is 'The Girl in the Fireplace,' by Steven Moffat, formerly titled 'Madame du Pompadour.' Don't be surprise if there's another name change before airtime, when the producers realise that an episode of the kid-friendly Doctor Who maybe shouldn't be named after a girl in a fireplace. The madam in question is played by Sophia Myles, better known for her recent appearance as Lady Penelope in the feature film version of Thunderbirds. Granted the movie sucked big-time, but maybe Myles will have better luck in her latest genre appearance. In terms of the storyline for 'Girl,' it's sort of a spaceship story crossed with a period tale set in 18th century France.
That brings us to the third block of filming, which is in pre-production right now. Block three consists of episodes five and six as well as twelve and thirteen, which will wrap up the series. All four episodes are being directed by Graeme Harper, the first director from the original series to sign on for the new Who, and by all his accounts, he's going to have his hands full with some very heavy-duty episodes. Episodes five and six form the 'Parallel World' two-parter written by Tom MacRae. It's already no secret that they feature the return of the Cybermen, but as the title suggests, this is a very different Cybermen story. Auditions are being held right now for a group of cyber-actors, who will likely be called upon to work in several episodes.
And what about episodes twelve and thirteen? Well, the producers are desperately trying to keep them under wraps, but at least one website has already spilled the biggest surprise, much to their disappointment. I don't want to reveal it here on AICN, because it would confirm what is still being kicked around as a rumour. Suffice to say, if you were blown away by last year's season-ender, this one is ten times bigger.
Okay, here's a clue, but that's all you get: if you can track down the title for episode twelve, they're not what the title says they are!
Hopefully that's enough to whet everybody's appetite for season two. Thanks to my network of spies here in South Wales, who will doubtless demand quite a number of free pints to demonstrate my gratitude. As for me, it's time to go back underground with the other night-dwellers, but I'll try to report back later in the season.
Your friend,
Dafydd, The Only Fan in the Village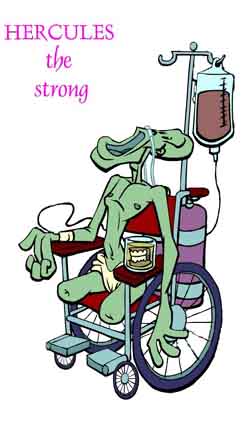 29 DAYS AND IT'S YOURS!! "Buffy The Vampire Slayer: The Complete Series," the best TV series ever produced, WAS available for $239.99 new (or $199.99 used). But NOW you can pre-order all seven seasons brand new, including a never-before-issued 40th bonus disc, for just $129.99!! That's like all 144 hours for – what? – 90 cents per hour!! A better Christmukkah gift is unimaginable!!!