Once upon a time last autumn, "Serenity" was slated to open in April, and Harry and I were busy negotiating with the Mutant Enemy folks to somehow make "Serenity" a component of December 2004's Butt-Numb-A-Thon. Harry was hot to get the whole movie, because Mutant Enemy exec Chris Buchanan kept teasing us about how the film WOULD be test-screened around that time (indeed, a lot of us saw the first of those test screenings here in Los Angeles the Tuesday after BNAT '04 ended). But my back-up plan, if Universal balked, was to maybe screen a great "Firefly" episode like "Out of Gas," then treat BNATers to "Serenity's" big pre-title sequence.
But before BNAT actually rolled around, Universal bumped "Serenity" to Sept. 30, and we were told BNAT would get nothing. Nada. Not even a lousy trailer. They felt it was too early.
Harry, of course eventually got to do his "Serenity" screening as an Alamo Drafthouse Rolling Roadshow event a few days before the movie went into general release, and now you, gentle reader, can now watch that very nine-minute pre-title sequence here, in the comfort and privacy of your own home.
"Herc," you moan, "why are you still wasting our time with this? 'Serenity' only got 81-pecent positive reviews last weekend (87 percent if we're just talking about the biggest media outlets)! It's gotta be garbage!"
Maybe so. Maybe Flipside Movie Emporium and Ozus' World Movie Reviews DID pan this scrappy little sci-fi opus. But I'll have you know that last weekend? "Serenity" grossed over one million dollars.
Don't worry. It's all free and legal. The MPAA won't bust down your door and send your daddy to debtor's prison. The MPAA's boss, Universal Pictures, wants you to watch this one.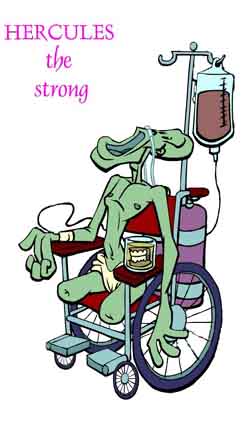 Get this!! "Buffy The Vampire Slayer: The Complete Series," the best TV series ever produced, WAS available for $239.99 new (or $199.99 used). But NOW you can pre-order all seven seasons brand new, including a never-before-issued 40th bonus disc, for just $129.99!! That's like all 144 hours for – what? – 90 cents per hour!! A better Christmukkah gift is unimaginable!!!