---
The Pull List
(Click title to go directly to the review)
DAREDEVIL #77
SHOWCASE PRESENTS SUPERMAN VOL. ONE
DRAX THE DESTROYER #1
TALES OF THE CREVICE: A HISTORY OF VIOLENCE
CHEAP SHOTS!
---
DAREDEVIL #77
Writer: Brian Michael Bendis
Artist: Alex Maleev
Publisher: Marvel Comics
Reviewer: Sleazy G
Things I Have In Common With This Issue Or People In It:
I've been fired from a job I was going to quit because it sucked
I've replaced somebody on a job when the original person should've still had it
I've been told "I know it *seemed* bad before, but this time it's *really* bad"
I've fallen into bed with the ex who came back and said she never stopped loving me
I've been about to break me off a piece when somebody showed up to wreck it
I've never put on a pair of red tights and kicked some ass
I sometimes think I'm leaving them wanting more when they're really just bored with me
Things I Shouldn't Have In Common With This Issue Or People In It But I Do:
No visible, high-profile criminals to be seen
No ass-kicking
No momentum
Just enough progress to fool myself into thinking anything's changed
Wasted potential
A tendency to drag things out longer than I should
Things I Don't Have In Common With This Issue Or People In It:
I've never been killed from behind by a resurrected assassin while looking at a lovely south view out the window of the Hancock Building.
Yet.
---
SHOWCASE PRESENTS SUPERMAN VOL. ONE
Writers: Jerry Coleman, Otto Binder, Bill Finger, Robert Bernstein, Alvin Schwartz, & Jerry Siegel
Artists: Curt Swan, Kurt Schaffenberger, Al Plastino, Wayne Boring, & Dick Sprang
Publisher: DC Comics
Reviewer: Prof. Challenger
"THE NEW PHONE BOOK IS HERE! THE NEW PHONE BOOK IS HERE!"
~ The Jerk
Way back a long time ago, in a world quite different than the world of today, there was a time when comic books were printed on the cheapest of cheap paper with the cheapest possible inks. Also, these cheap little comic books were considered disposable - about on par with readable toilet paper. Which reminds me, anybody else out there own one of those rolls of toilet paper from years ago with an actual complete Hulk comic printed on it? Well I do. Thankfully unused. But I digress. Not only were these comics disposable, the very idea that anybody would still be reading the actual monthly stories from that time some 50 years later was inconceivable. Yet, here I was last week, plunking down $10 for "over 500 pages" of Superman stories from 1958 and 1959.
Before I get to the content a bit, first let me tell you what I found astounding. This is basically, what? Two years worth of Superman stories? By the time of these stories, he had been continuously published for a solid 20 years, had a cartoon series in the theaters, had two movie serials, and was celebrating a successful TV-series that was also about to become one of the first weekly series to broadcast in color. Well, in this brief 2 year period, some of the most important and integral elements of the Superman mythology were introduced into the loose continuity of the time. Check this out. In this 500 page phonebook of 47-year-old SUPERMAN comics, we are presented with the comics that introduced (1) Superman's Fortress of Solitude, (2) the shrunken Kryptonian city of Kandor, (3) Brainiac, (4) Bizarro (as an adult - he had earlier appeared in a Superboy story), (5) Lori Lemaris, (6) Titano, the Super-Ape, (7) Metallo, (8) Supergirl, (9) re-introduction of Krypto (who had previously only been seen in Superboy stories), and (10) the Kryptonite Man. Clearly this was a productive time in Superman's Silver Age history if nothing else.
One of the fascinating things about getting your hands on resources like this is to get an honest look at the state of the continuity well before you were even born. For example, while I've read some of these stories referenced before and I've seen some of the covers, every single story in this collection was "new" to me. Furthermore, I am always struck by the difference between fan remembrances of long-lost comics versus getting to put my hands and eyes on the actual thing. I think I can hear the heads exploding around the country as the continuity-obsessed out there find out a few of the gems I'm about to share. Did you know that even after 20 years of stories and continuity, Superman's powers still were not gained because of the yellow sun/red sun difference between Earth and Krypton? Nope. Throughout all these stories, and in some it was a very important plot point, Superman's powers are inexplicably gained simply because of the difference in gravity between Earth and Krypton. That's it. Nothing more. Adjust the gravity to make it more like Krypton and Superman loses all his powers. Here's another one. Did you know that after 20 years of stories, Superman still did not have "heat vision" as a separate power from his x-ray vision? Yep. Consistently he monologues for the reader that the "heat of my x-ray vision…" or "the heat generated by my x-ray vision." The problem that obviously comes up with that is how come he doesn't burn up the damsel in distress when he uses that same x-ray vision to check and see if her arm or leg is broken, or other such situations.
Here's another handful of continuity conundrums for you. Brainiac's not any super-computer-robot guy. Nope. He's just a bald, maniacal alien. Furthermore, he looks nothing like he's drawn on the cover. Curt Swan gave Brainiac the familiar looking "Brainiac" look on the cover of the comic, but on the interiors, he's just a bald guy with a space-suit on. Or try this one. When Krypton exploded, guess how Supergirl's family really escaped death? Well, I'll just quote it for you:
"Our street of homes is being flung free into space, saving us from the concussion that wiped out all others!…Fortunately, a large bubble of air came along with this chunk! Also, this food machine is still working! We can stay alive indefinitely!"
How about that? It wasn't the exploding planet that killed everybody on Krypton, it was apparently the "concussions" they all suffered from it. Or how about that "bubble of air" that just happened to "come along" with their "street of homes" as they flew off into space. By the way, how exactly were they going to generate power to keep that "food machine" working? Also, how exactly does that "bubble of air" just stay there and not dissipate in the vacuum of space at this point? Or how about that Batman playing a prank on Superman at his Fortress of Solitude? Batman sure spent a lot of time and effort to sneak into that Fortress just to play a joke on his old buddy. By the end of that one story, Batman comes off less like a scary vigilante and more like a drunk, giggling, frat boy. Yeah, that's the way to celebrate the anniversary of Superman arriving on Earth, you bat-eared freak, try to make him believe he's going insane. Batman as Ashton Kutcher. Not very appealing.
And therein lies the charm in those old comics. They were utterly absurd. The level of continuity was simply that once something like a Fortress, or a Supergirl, or a shrunken city appeared, they were available to be referenced and used again as plot devices. That was continuity. No character ever has an epiphany or growth. They are simple two-dimensional characters utilized to tell a simplistic story, usually with a wink at the reader in the last panel. The writing is embarrassingly juvenile throughout with little in the way of cleverness. Only when a totally whacked out character like Mr. Mxyzptlk or Bizarro shows up is there any real effort at creative dialogue. Not to mention, nearly every single story is either ultimately about Lois Lane's desire to be Mrs. Superman or worse, Superman cruelly leading her on and then crushing her. There's even one story where a Kandorian criminal escapes and makes himself look like Superman and then the real Superman actually lets the fake Superman marry Lois under false pretenses. Of course, the marriage was annulled (as we know from her dialogue balloon at the end of the story), but geez, man. Superman's a misogynistic bastard who really seems to get an eerie thrill out of figuratively ripping Lois's heart right out of her chest and showing it to her over and over and over.
There was a strict formula to these stories and when you read them back to back like this, it becomes readily apparent. It also becomes readily apparent that nobody expected people to be rereading these things. In fact, there was likely an expectation that with the distribution of the time, there was a good chance that the average reader could rarely depend upon always being able to find the next issue, so every story was always self-contained within that comic - even if it was a "3 Part Novel" - it just meant all three stories in that issue made up one long story.
Here's the thing though: the SHOWCASE collection is a blast to read. I'm a researcher at heart and getting to put my hands on these first-hand sources in such an inexpensive format makes this a must-have for me. I'll tell you one other thing, these artists that drew these stories impressed me throughout the book. Al Plastino, for one, rarely gets a mention as one of the greats, but this guy knew how to tell a story. There is never a wasted image on the page and it's always clear and consistent in its look. The black and white presentation just highlights the work of all of these men in a way, in my opinion, they would have appreciated. Many times during this period of comic book publishing, the printing and the paper were so substandard that their hard work was often muddied up or blotchy. The modern printing and reproduction capabilities really highlight how nice their brush and line work was especially considering how fast they were churning these pages out. I came away from this package laughing at the absurdly weak writing but newly impressed by the work of the artists. If you are a fan of the Silver Age, this (and the GL SHOWCASE that also came out last week) really is an essential purchase for you. I want more.
---
DRAX THE DESTROYER #1 (of 4)
Writer: Keith Giffen Artist: Mitch Breitweiser Colorist: Brian Reber Publisher: Marvel Comics Reviewed by Dave Farabee
If you're any shade of old-school Marvel fan, you might know who Drax the Destroyer is. If you're not, you might be asking the same question editor Andy Schmidt poses in the issue's afterword:
"Of all the Marvel characters, why are we reviving Drax?"
The quipped response is that Joe Quesada was out that day, but Schmidt shortly gets around to the real deal:
"There's only one reason why DRAX THE DESTROYER is in your hands – because yours truly, Keith Giffen, and Mitch Breitweiser care about Drax. That's it. We like the character, we like the history, we like the concept, we like the powers, and we want everyone else to like him as much as we do!"
I'm as surprised as anyone to find that Schmidt and company's enthusiasm actually translates. DRAX THE DESTROYER is a good book – really good – and over the course of a four issue mini, it could theoretically even hit the
great
mark.
First things first: you don't have to know squat about Drax the Destroyer to enjoy this book. As it happens, Drax is one of Jim Starlin's cosmic-level characters (same sub-group that gave us Thanos, Adam Warlock, et al.), but since he's got a history of dying and being reborn, he's the kind of guy who gets a clean slate surprisingly often. This issue seems to occur just on the heels of one of those clean-slate moments. Great thing is that it
is
in-continuity – no cheap reboots here - as longtimers will gather from various subtle nods. But the
feel
is that of an introduction to the character. And it's a good 'un…
We open with the ominous (and gorgeously rendered) sight of a prison transport ship malfunctioning and drifting into Earth orbit. Writer Keith Giffen is in his serious, sci-fi mode here (see also, LEGION OF SUPERHEROES in the '90s), working up evocative narrative captions of the ship's computer attempting to reboot and dropping catchy descriptors for the inmates like "galactic class criminals." I don't know what you have to do to be a galactic class criminal, but I bet it's pretty bad. Bit of a Vin Diesel/PITCH BLACK vibe to these roughnecks.
Cut to
inside the ship
and said inmates are restless. Something's up and they're trying to figure it out between talking smack to each other. Readers might recognize a few names among these relatively obscure aliens hoods: Lunatik, The Blood Brothers, and Paibok the Power Skrull, notably. They've all got their eyes on the taciturn, green-skinned brute in a nearby cell – that's
Drax
. Paibok and Lunatik know the score on him – "He was 'only' cobbled together to take on Thanos!" – but the Blood Brothers are gonna have to learn the hard way. And
learn they will
when the ship falls to Earth and this cadre of interstellar crooks finds themselves marooned on the planet.
Drax himself is revealed rather neatly by the way the other prisoners view him. As the story progresses, he also seems to shift around in intelligence a bit, going from approximately Hulk-like to at least human-level smarts. Interesting. I know he's varied in the past, I think based on those blank-slate resurrections, and here the relatively swift change suggests that a sleeping giant has awakened, that action sharpens his wits. Exactly
why
he was on the prison ship and
where
his warrior ethos will take him are the big mysteries.
I'm somewhat less enthused about the earthbound scenes in the book. The crashed ship winds up near a small Alaskan town, population less than three thousand, and
two elementary school kids
are clearly set to play a major role in events. Granted, this is a tradition of the more cosmic heroes of Marvel and DC: Silver Surfer finds the Thing's girlfriend as his anchor to humanity, Kirby's New Gods hook up with everyday folk, and even Drax himself is supposed to be the spirit of a dead human resurrected in a powerful alien form. Keith Giffen even writes the kids with a nice smart-assedness, only occasionally betraying that he's not nearly so in tune with youth culture as, say, Brian Bendis. It's just…no matter how you slice it, it's a bit cliché to force aliens to bond with humans. I hope Giffen's got something new to bring to the table with it because I was having plenty of fun with the sparring space-criminals before the kids showed. Loved the notion that the space thugs realize Earth is a real nasty place for bad guys to wind up:
"You want him muckin' around 'n' drawing all kinds of unwanted attention? Ever heard'a the Fantastic Four? The Avengers? … Even got an ex-herald'a Galactus feeling all proprietary 'n' protective!"
"The one with the board?"
"Does it matter!?"
The art throughout is uniformly excellent. It's tight, digitally-painted style calls to mind both John Cassaday and a less-photo-reference-heavy Greg Land. And like DC's ADAM STRANGE and GREEN LANTERN CORPS, DRAX looks to be part of a new wave of comic book visuals ready to shake off the dusty sci-fi shorthand of the '30s through the '60s in favor of an ILM/HEAVY METAL makeover. A part of me misses those Kirby dots we used to see everywhere in space, but I'm okay with sci-fi taking the lead over fantasy. Sometimes it's time to move on, try something new, and artist Mitch Breitweiser's up to the challenge alongside colorist Brian Reber.
Minor complaint: I definitely do miss Drax's
old look
. It was certainly dated with those trademark Starlin wristbands and swashbuckler boots, but did that guy look ready to bust heads or what? The new take is more minimalist, even a little tribal with those tattoo thingees, and it's gonna take a little getting used to.
Net result: lack of wristbands aside, consider DRAX THE DESTROYER essential to anyone who was ever into the "Thanos scene" – you know who you are – and solidly recommended to even the more casual superhero reader. I'm in the latter camp and find myself really looking forward to the next issue. The editor's hype is actually an accurate summation:
"In short, DRAX THE DESTROYER is bad ass."
---
Damn, it's been about a year since I've reached into the Crevice and pulled something out. I may be a little out of practice. Still, I thought it was important to do so this week. Why, you ask?
Well, it seems that some of you don't know that A HISTORY OF VIOLENCE was historically a comic book.
While the film varies greatly from the original book, it does manage to stay true to the first third. (This is not to say the movie doesn't kick ass. It's a Cronenberg movie, fer crissake!) The book opens with a pair of killers on the open road, looking for a place to pick up a few extra bucks. Their pick is the town of Raven's Bend, and the diner owned by Tom McKenna. Tom is just an average looking guy (excluding that finger he lost in a boating accident), but he manages to wipe the floor with these two punks. The papers proclaim him a hero, with the whole town applauding his actions. But that's before three men from New York come to town, including the elderly, half blind Mr. Torrino. He's got a nasty scar on his face, does Torrino. As well as a human finger in a jar dangling around his neck.
Unlike the movie, Tom (or, as Torrino insists on calling him, Joey Muni,) isn't any sort of instinctive killer. He isn't even someone who enjoys violence. He's just a guy who, back in New York, made a mistake. He tried to help a friend, and it cost him the only life he knew. Just how much does one event define who and what we are? Does one act of violence make someone a bad man, an evil man? And just how long and how bad do you have to pay for that one misdeed? These are only a few of the questions posed by this story.
What makes this so interesting, for me at least, is that the book was written by John Wagner. This is the man who created JUDGE DREDD, one of the most over the top, satirical, fascistic pieces of fiction you'll ever find in comics. This book is nothing like that. Oh sure, there are some pretty horrific acts of violence in here, but the main emphasis is on the effect of that violence. It's some strong, solid storytelling, perhaps even some of Wagner's best.
After you've seen the movie, (and if you haven't, what are you waiting for?) give this book a read. At the very least it'll give you more to talk about when discussing the film.
Question for Discussion
What's the one comic you never expect to see made into a film?
---
DRAGONLANCE CHRONICLES #2 (of 8)
- Ah, too bad. This isn't a
terrible
adaptation of the first
Dragonlance
book, but it has the same problem you often see in book-to-comic and movie-to-comic adaptations: it's too hurried. You get that sense you're watching a highlight reel, which might be enough for some just looking to see fave characters illustrated, but you lose what little subtlety and depth the books had. In this issue, for instance, the creepy doings of Darken Wood lose all of their atmosphere as we jump from key event to key event with no time to get a sense of the weight of the place. And a scene that should be exhilarating – the ride on the Pegasi – comes and goes in the space of about two pages. Even with just an extra page of the scene from the book with Tasslehoff trying to stay awake during the flight (and failing), we'd have gotten a better sense of the high fantasy world the characters are living in. Instead, the moment feels prosaic. The atmospheric art takes up the slack a bit, but I look at the series and the missed opportunities outweigh the otherwise solid craft going into it. -
Dave
ULTIMATE IRON MAN #4
One of the reasons for the Ultimate Universe was supposed to be that things could really be different and the readers would never know what might happen next. There have been times when it feels like such a slight deviation that you wonder what the point is, but not so here. Orson Scott Card has given Tony Stark a completely different origin, and it's an interesting and tragic one. He's part Mr. Sensitive from X-STATIX, part Reed Richards. He's also caught in the middle of some ugly family politics and has started building his suit in junior high to protect himself from bullies. Card is once again working with some of his signature material here—that of what evil, cruel, murderous little bastards kids can really be—but it works. He's kept the pace up, introduced some new ideas and chilling nemeses, and there have been some truly disturbing images. I was hesitant to buy this series initially because it's written by Card, but with one issue to go I have no qualms about saying it's stronger than a lot of the other Ultimate miniseries (such as ULTIMATE SECRET SIX or the two ELEKTRA minis). --
Sleazy
TOMB RAIDER – THE GREATEST TREASURE OF ALL
- So taken was I with the very first TOMB RAIDER game from Eidos that through all the poor sequels, through all the awful comics, through all the bad Angelina Jolie vehicles…I've held out some silly hope that something fun could be done with Lara Croft's Indy-Jones-meets-John-Woo stylings. I think I'll officially give up now. TOMB RAIDER – THE GREATEST TREASURE OF ALL was sort of a final chance, fully painted by Joe Jusko and literally years in the making. Ah, to see such painting craftsmanship dashed on the jagged rocks of a violently bad Dan Jurgens story! Now…if there happen to be any Tomb Raider fanatics left in the world all these years after U2 hammered the final nail in the franchise's coffin by including Lara Croft animation in their Zooropa tour…yes, you should pick this up for the art. It's really, really good. Truly vibrant colors. Croft looks great, and is only occasionally too stiff from photo-referencing. One panel even has meticulously painted lion balls. What more can I say? -
Dave
JLA #119
Ahhh, crap. I've had three top picks in the DCICD (DC Infinite Crisis Deadpool), but one of 'em pulled ahead a coupla weeks ago due to some really heavyhanded foreshadowing. As of the last two pages of this issue, looks like I was right and the frontrunner just bought it. Maybe not, and they're just in a whoooole lotta trouble, but things aren't looking good for someone who has been one of the longest-standing members of the League. Nuthin' puts your head on the block quite like wasted potential, though… --
Sleazy
NEW WARRIORS #4 (of 6)
- I'm just having a ton of fun with this series, another under-the-radar winner from Marvel with woefully light sales. We've seen this a lot lately, with books like LIVEWIRES, SPIDER-MAN/HUMAN TORCH, even the original RUNAWAYS. Knowing full well that this series isn't going to suddenly become a sales winner, the best I can say is, "If you liked any of those
other
underdog books, you might well like NEW WARRIORS." In the latest outing, the team investigates mysteries in a corporate town in Minnesota run by an ultra-efficient German motor company. Is Galactus's herald, Terrax the Tamer, stealing pets? How will our reality-show heroes deal with the forced addition of a new member? Are the producers really gonna make 'em drop the "new" in their name just 'cause they've been "new" for years now? Is Virginia Woolf Marvel's latest supervillain? And what dire event could cause The Man Called Nova to scream out, "It smells like liquid hell!"? Just a big ol' doofy-fun comic. More smarts and heart than you'd be expecting, too. -
Dave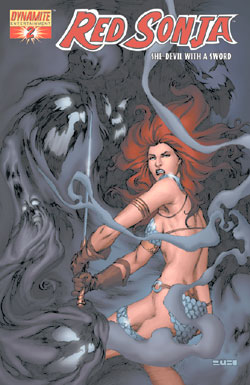 RED SONJA #2
There are a couple of major strikes against this book. The first is that it's published by Dynamite Entertainment Group—an offshoot of Dynamic Forces. This means that they've gone right for the three thousand schmucks in the "collector's market" with multiple covers for every issue and packed every issue with lots of crappy in-house ads. The second is that this is not at all an adaptation of the original Robert E. Howard character; rather, it's based on the 1970's Marvel comic book that borrowed the name and little else from Howard's creation. It's also got a couple of major things going for it, though. So far the story by Michael Avon Oeming and Mike Carey's been an exciting one with some solid twists. It's also got some impressive art by Mel Rubi. I know I shouldn't like this book on a conceptual level, but it's hard not to have fun when an ass-kicker in a chain-mail bikini is setting a giant ogre's head on fire using a flaming skull with a rope tied around it. If a healthy dose of action in the Hyborian kingdoms (with a refreshing lack of the cheesecake exploitation I feared) is your thing, and you can set the initial concerns aside, it's worth checking out. --
Sleazy
NEW AVENGERS #11
- Yes, yes, I know this team is "new" and not my daddy's Avengers. Maybe that justifies the Avengers going after low-level threats like a Yakuza uprising. Maybe that justifies the extended talky-talk this issue between Captain America and Daredevil. But please…don't try to convince me there's not something majorly wrong when Cap brings in mystery Avenger "Ronin" with the plea, "Please…if at all possible…no killing." Bad enough that Wolverine's been brought in explicitly to do the team's dirty work, but the day CAPTAIN-FUCKING-AMERICA is reduced to pleading with a
new recruit
not to kill is…well, it's probably yet another record-breaking sales day for the title, actually. I'm trying not to be condescending here, really trying, but this is just plain shameful. -
Dave
JACK CROSS #2
The second issue doesn't slow down any. In fact, it raises the stakes quite a bit over the impressive premier issue. We learn a bit more about the protagonist, but not because of overly ripe narration. Instead Ellis has Cross show us what he's made of, which seems to be a mixture of sociopath, executioner and...liberal ideologue? Huh? Really? Hey, works for me. There have been comparisons made to 24's Jack Bauer, and not without reason--both characters share a chilliing determination to do whatever it takes, and both are well aware of the personal cost of what they do. It turns out Cross also has a bit of a masochistic streak and a disturbing method of commorating those he has left behind. He's the kind of character you hate to describe as charismatic because he's so creepy, but there's something compelling about him. This fast-paced action story about interagency politics in the world of post-9/11 intelligence is a riveting read. Ellis is flexing some muscles here you may not be used to seeing--track down the first two issues and you're bound to be impressed. -
Sleazy
THE OFFICIAL HANDBOOK OF THE MARVEL UNIVERSE – ALTERNATE UNIVERSES 2005
- We all know these new MARVEL UNIVERSE books can't hold a candle to the originals, with their profuse art and Elliot R. Brown technical illustrations, but credit where due on this latest one! It's a profile of Marvel's various alternate universes, alternate Earths, and alternate timelines, and it's impressively complete. Biggies like Gaiman's 1602 make it, of course, and Marvel 2099 (original
and
Marvel Knights version), but so do older concepts like the High Evolutionary's Counter-Earth, the "Days of Future Past" future, and even Killraven's sci-fi/fantasy world of rebels versus Martian war machines. There's the Mangaverse, Grant Morrison's "Here Comes Tomorrow" future from NEW X-MEN, Earth X, Kitty's Fairy Tale(!), the "New Universe" setting from the '80s, Straczynski's SUPREME POWER setting (and Gruenwald's too), and even the cartoon-world that gave us…Peter Porker, the Spectacular Spider-Ham. There's also an appendix with tons of littler alternate worlds, actually given numerical designations now in order to accommodate the canonical designation of the Marvel Universe proper as "616." DAY-amn! A legitimately excellent reference tool. -
Dave
STAR WARS – X-WING: ROGUE LEADER #1 (of 3)
- I'm such a sucker for a heroic role call, so ROGUE LEADER #1 gets instant points with me for featuring one. Rogue Squadron is, of course, the name of the X-Wing hotshots lucky enough to survive all the cool explodo in the STAR WARS movies. As this new miniseries gets around to each of the notables in turn, they get the equivalent of a movie freeze-frame with a text piece that reels of their name, species, starfighter of choice (X-Wing? A-Wing? Y-Wing? Who knew the alphabet could be so cool...), and their notable acts in service to the Rebellion. You almost feel sorry for the guys who just get meritorious service awards, though – they've got feel like they just stepped out of a cold pool when they see Luke and Wedge each credited with bringing down
Death Stars
. Served!
Anyway, it's STAR WARS, which means "light but fun" when done right, and that's what this is. Story takes place post-RETURN OF THE JEDI, and opens with Rogue Squaders hunting down stray Imperials on Endor, then heading to Corellia for some R&R that we all know ain't gonna happen. Really nice art by Tomas Giorello. Really nice coloring by Michael Atiyeh. Worthy of those who've got the STAR WARS jones and no more movies to see. -
Dave
B.P.R.D.: THE BLACK FLAME #2 (of 6)
- Even given the high standards of previous Mignola/Arcudi/Davis B.P.R.D. miniseries, this issue's something special. Not only is Abe's depression well handled, but I'm absolutely loving Roger the Homunculus and his effectiveness in imitating the hardboiled Captain Daimio. There's a great conversation regarding the latter where Liz expresses her concern to Johann that Roger's taking his new role too far ("There's more to Roger than killing bad guys – or there
should
be."). Johann's response is unexpected and enlightening. And beyond the character stuff, the issue brings the creepy big-time! The research room with its chained-up frogmen is a wonderfully horrific environment in and of itself. Has scientists trying to teach the frogmen to speak and even finding them writing on their own.
Weeeeeird
! Love the book. The art team of Guy Davis and colorist Dave Sinclair owns. -
Dave
YOUNG AVENGERS #7
- Got ourselves a jumping-on point here as the surprise hit enters its second story arc, and guess what? It's still really good, a worthy contender with RUNAWAYS for the best teen superhero book running. As backdrop to the issue, we've got Cap and the Avengers struggling to figure out what to do with the brat-packers – some good moments there – even as the kids try to figure out whether to reveal their exploits to their parents. The kid/parent stuff is especially strong. Makes for scenes ranging from surprisingly funny (yes, one of the gay kids inadvertently outs that to his parents instead of his superherodom – with surprising results), to truly emotional (the scene between Eli and his grandfather will wow all but the most coldhearted Grinches). And while the soap opera stuff is at the fore, the very character-driven nature of the story leads the kids right into their next threat – a favorite, semi-obscure villain of mine, and one I hope gets his due as a serious foe. Was slightly bummed to see a guest artist on the issue (maybe the whole arc?), but Andrea DiVito impresses me a lot more here than on his recent THOR/BETA RAY BILL work. Guess I like him better on down-to-earth material, where his style specifically reminds me of Tom Grummett's fine work on recent issues of NEW THUNDERBOLTS. You'll want to be trying this book if you haven't already. -
Dave