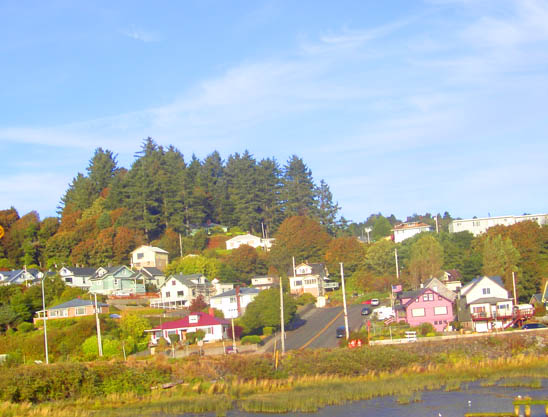 Astoria, Oregon – I cross that first bridge into Astoria and there's the Mikey's house… right up there. I had no idea that it'd hit me instantly. For the people that love GOONIES, it's impossible to explain to a non-Goonie. Take Moriarty for example. He's a non-Goonie. It's sad. We're still friends, but he just doesn't get it. Maybe Toshiro will help him get in touch with his inner-Goonie.
I believe everyone has one. Some seem to lose it the older they get, others… well others hang on to the joy of gadgets and practical jokes, the dream of adventures and the telling of tall tales… then of course there's the anti-big business bit regarding the evil Republicans working to foreclose on the Goondocks. You gotta watch out for them Yuppie money-worshipping bastards that want to destroy childhood friendships all in favor of a larger golf course.
More than any of that, THE GOONIES is about being a dreamer and about best friends. That's its universal appeal, and to geeks, prior to the strange societal shift that put us near the top of the food chain, this movie was one of those films we saw a billion times. I have to fight not saying dialogue in time with the movie. And no matter how many times I see it, I laugh like a freak at the same jokes and the same gags.
But this entire drive to Astoria – well it's a long pilgrammage. I spent the night in Bruce Campbell's town in Oregon – after a long drive up I-5. Ate amazing seafood in Redding, California at Buz's Crab Shack where they had shrimp the size of your wrist and Blue Crab that was like God's cockroaches! So good. And the Calamari… egods. Food of the Gods man, Food of the Gods. Only prob, the 107 degrees outside the restaurant. I had no idea that Northern California had that sort of heat. Shows what I know.
We spent the night in the town of Bruce, Medford, Oregon. I briefly thought about calling him, but then thought about a nice hotel bed, a warm shower and an early night's rest – and well – good sense ruled the night. Besides, I think showing up on Bruce's doorstep could possibly end with an introduction to his boomstick.
We took off early that next morning on our way to Astoria. It was going to be tight. A very long drive, not nearly as long as the next drive, but still the longest trek of the trip thus far. Oregon is gorgeous to go through. The Christmas Tree state, I call it. Though the sign that advertised, "KIDS FOR SALE," threw me for a bit, till Dad pointed out that KID is a term for baby goats – but we pointed it out to my nephew as a place where perhaps we could get a trade in. Get a better kid, but upon further reflection… Other than his manic outbursts about "MY SPOON IS TOO BIG" and "I AM A BANANA!" – he's a pretty good kid, and the kid we'd get in trade would eat the maps, bite into soda cans causing the inside of the car to be sprayed down with soda. I guess we'll keep the kid we got.
Then we spotted a sign saying, "World's Largest Spruce Tree." You have to cross this one lane rickety bridge over a river that was… interesting. Then you enter the forest canopy. This is awesome. In here you can see that all of the Christmas trees have their branches covered with green moss. Really gorgeous. The tree is enormous. Being from Austin, I'm a tree freak – and seeing a Christmas tree that's 56 ft around and 200 – some odd feet tall… well biggest and oldest Christmas tree ever. That's cool.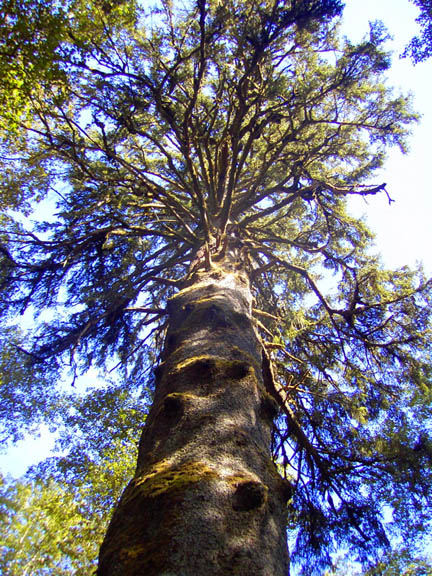 However, the sun is beginning to go away – and we're still a long way from Astoria, and we still haven't eaten today. That's when as we're driving, I'm drawn to a city called SEASIDE. I haven't really heard of it before, but it sounds like it has Lovecraft potential. As we pull into town we see… BIGFOOT'S PUB AND GRUB! Cheesy Americana! Must Go! Zero Will Power To Resist BIGFOOT PUB AND GRUB.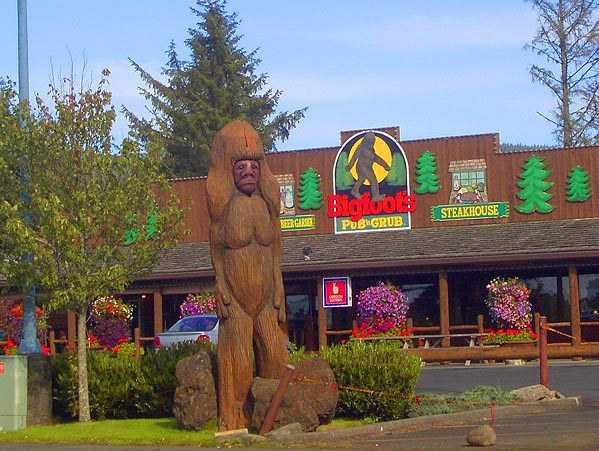 They've got Bigfoot Totems out front, but I'm particularly fond of the female Bigfoot statue, it's classic. Fathergeek is griping about how this probably has awful food… I could care less – I mean – BIGFOOT! This is his place! The nephew's "What's Bigfoot?" is delicious – we go in, and we're immediately confronted with… SASQUATCH! Here he is! Stuffed and inviting me to order today's specials with his soft eyes. The menus are newspapers with the menu items dispersed between articles purporting real Bigfoot sightings.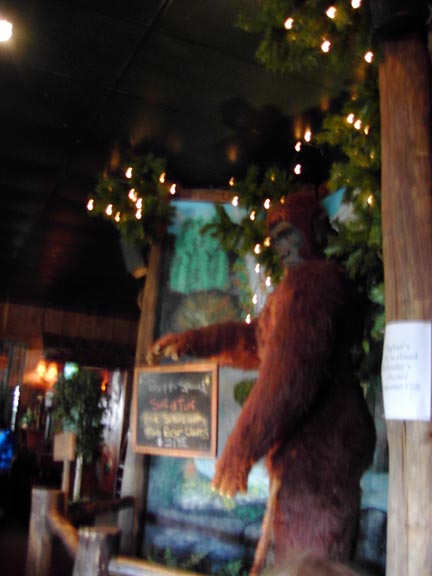 The food did indeed blow – I had Bigfoot's Mushroom Stroganoff, Dad had the seafood thing. But I'm happy, cuz bad food – in a wonderfully crass location… with hot as hell waitresses – well that's great by me.
After that – we made our way into Astoria, and instantly I began smiling. GOONIES lives here. You can see it. Favorite site? Just some anonymous kid riding his bike down the street. Down one of the streets, the Goonies rode on. This is such a beautiful city, so much character.
We head into town, looking for the Football Field from the opening of the film. When we arrive, there's already 5-6 people in line – about 3 hours ahead of time, including this one old lady – who has this terribly funky looking Schnauzer Poodle and a Shirt signed by Chunk – that says, "My RV Was Appears In The Original GOONIES – 1984!" You know – a pink sweatshirt with purple puffy letters? She's absolutely thrilled that this is going on.
We head on into the football field, and instantly – I remember the brief moment of this place in GOONIES. Also – as everyone enters – they must do the Truffle Shuffle to get their complimentary Baby Ruth bar. Everybody – everybody goes "babuh wuff?" It's great.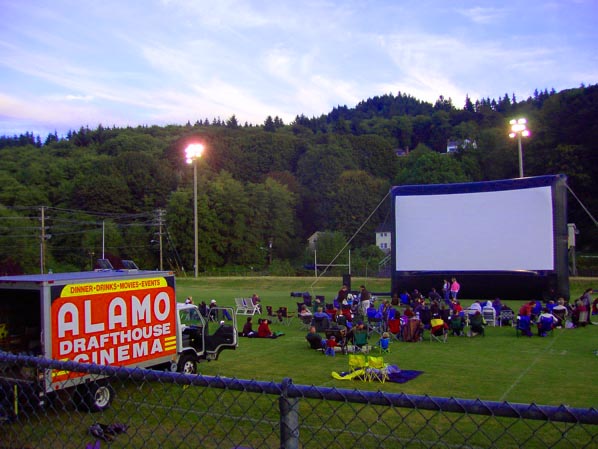 The place is filling up – several hundred have shown up, locals and travelers from Portland and Seattle… Along with us Austinites that have come so very far. As the sunsets and the big screen lights up – with everybody doing the Truffle Shuffle. The audience is laughing non-stop and enjoying it. All the Truffle Shuffling has been nicely edited together – and the audience is laughing and enjoying it all, though… the chunkier you are, the greater applause you get. I hate that the camera wasn't set up yet when I came in. I'd do a truffle shuffle that would send California into the ocean.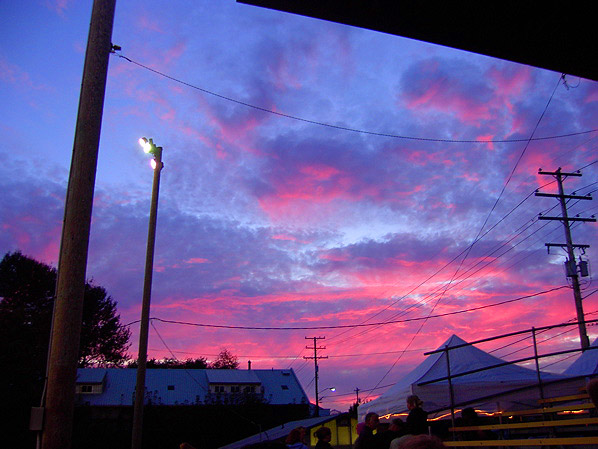 After that – Tim comes out to introduce Corey Feldman – to thunderous applause. Corey shouts out his love of Astoria and all of Oregon. His band has played Oregon many times, but he insists he'll bring it here to Astoria some day. Then he begins to comment upon the Truffle Shuffling that Tim had everyone do – but what Tim didn't know. What none of us knew, was that Corey Feldman, Mouth, was going to force the several hundred folks in the football stadium and field to DO THE TRUFFLE SHUFFLE OR THERE WOULD BE NO GOONIES TONIGHT!
Watching several hundred folks – including myself standing and Truffle Shuffling before the might will of MOUTH… it was just one of those – OHMYGOD, THIS RULES moments. After that – Tim started up the trailer reel.
LICENSE TO DRIVE – insanity.
TEENAGE MUTANT NINJA TURTLES – I love being a turtle!
MEATBALLS 4 – There was a Meatballs 4?
FRIDAY THE 13th: THE FINAL CHAPTER – boy that felt out of place.
Then came THE GOONIES.
I love this film. It's just a warm blanket film, one of those great kid films that I loved being a kid watching, and now just makes me feel like being a kid again. My nephew is obsessed with all things "PIRATE" so he's all about this film. I wish I had time tomorrow to go down the coast looking for "the 3 rocks" and "the beach". But I've got 1256 miles to go in the next 30 hours.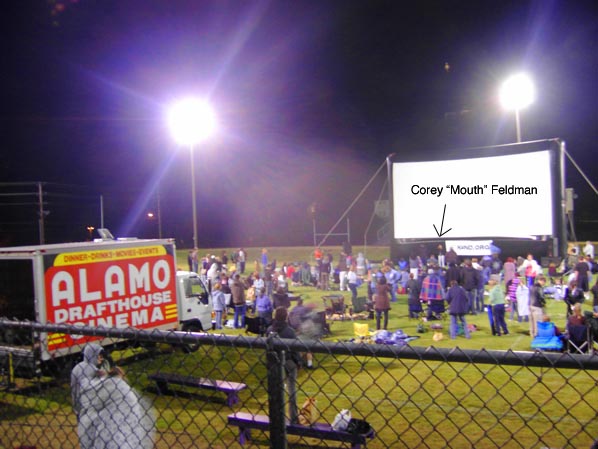 After the film – Corey came out to answer questions. He's doing SUPER ROBOT TEAM MONKEY FORCE GO the movie – and he has a film called THE BIRTHDAY that's coming out next year. GOONIES 2? Corey reports that everyone wants to do it, except Warner Brothers. He really wants to do it. He recalled his memories of seeing the Pirate Ship that first time and being stunned. Folks asked if they pushed the ship out to see at the end, and he confirmed that they absolutely did (wink wink) because the pirates needed to be set free!
On the way out of town – we drove past the Goondocks again, just to make note that the GOONIES had indeed saved them. How cool.
I'm finishing this report after CLOSE ENCOUNTERS at Devil's Tower… As cool as GOONIES was – CEOT3K was… just amazing. As for now, must check out of my Gillette, Wyoming hotel and rush towards Canyon City, Colorado. CAT BALLOU in 2 days!