Movie News
Yes, But Does He Have His Father's Eyes' Wait, that's the wrong film... this is THE OMEN with DAMIEN THORN!!!
Hey folks, Harry here. Pretty much all around the web, the world has found out about momma and daddy for the Anti-Christ... Julia Stiles and Liev Schrieber. And even Quint did up a story all about it, but ya know what? I think we just scored the boy with 666 in his hairline. The one with the cute little hound from hell. The boy every dad hopes for... could it be... the son of... SATAN?!?!!!!? Could be. You've seen this boy before. He was the voice of that inhuman atrocity in POLAR EXPRESS opposite Tom Hanks. He's gonna be one of the kids in Jon Favreau's ZATHURA - I bet he causes all the problems there too. And it seems he's been cast as Damien. I went over to JoshHutcherson.Com to get a look at this demonseed borne of a dead cow... you must stab him with them old iron blades in all his vital organs.. bouncing little boy. And I looked for signs of evil - and finally in this photo I saw the face of PURE EVIL!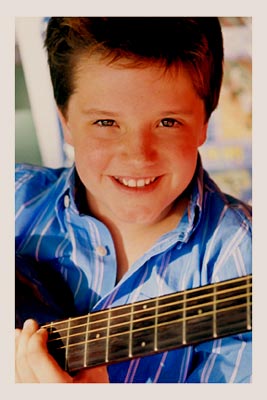 Our source, C.V., is saying that the above maniacal munchkin is the future Sam Neill. Honestly... I think I could be made to believe this boy must be brutally killed. I think that could be done. The real thing I don't think they'll ever be able to improve is Jerry Goldsmith's amazing, Oscar-winning and perfectly scary as modern gas prices score to the original Richard Donner film. We're working to get this confirmed - but look at those beady evil soulless eyes. That's the kid.