Capone likes "Carnivale" too! Look! Capone is trying to save "Carnivale"! Save "Carnivale, Capone! Save "Carnivale"!
Hey, Herc and all you folks on the right-hand side of the page. Capone in Chicago to deliver one last message regarding this weekend's Flashback Weekend (www.flashbackweekend.com) convention.
I tend not be too bothered when a television show I watch gets canceled; I'm not the sentimental type. 99 times out of 100, the show had run its course and deserves a mercy killing. But this was not the case for one show that I will genuinely miss. I was a massive, massive fan of HBO's "Carnivale." The first season was someone taxing, I'll admit, but the second season witnessed such a transformation and upgrade, I almost couldn't believe it. Every week, major events would unfold in the classic battle between good and evil, heaven and hell, the second coming and the son of Satan. And clearly I'm not the only one who felt this way.
I keep reading stories in television columns that HBO continues to get pounded with petitions and e-mails begging them to bring back this quality show. To drive home the point one more time with HBO, there will be a "Bring Back Carnivale" rally at Flashback Weekend on July 30, with several cast members in attendance and yours truly as emcee.
Let me run down the schedule of events: At 1:30, Tim DeKay (Jonesy) will take the stage for a Q&A. At 1:50, he will be joined by co-star Adrienne Barbeau for the official Bring Back Carnivale Rally. This will be followed by a separate Q&A with Ms. Barbeau (who will obviously be talking about more than just "Carnivale"). The rally will be filmed and sent to HBO as yet another example of how devoted the fan base is.
On Sunday, July 31, the full-on official "Carnivale" panel will happen with DeKay, Barbeau, and series guests Bill Moseley and Matt McGrory. At best, it will be a chance for fans to show their support and bring back a great show that was clearly getting better. At worst, it will be an opportunity to say good-bye to some of our favorite from the cast. See you there, and let's shake some dust, children!
Capone
email: Do you want to play... a game? Capone loves playing Global Thermonuclear War! Email him here to sign up!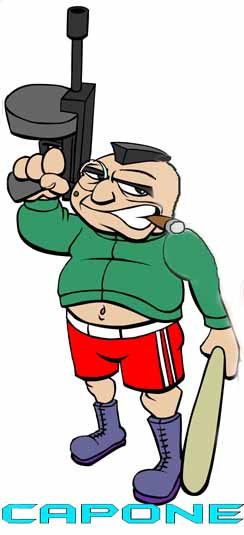 Were Anakin Skywalker and Darth Vader two different people in the early drafts of "The Empire Strikes Back"? All is revealed in The Annotated Screenplays (Star Wars, Episodes IV-VI)!!
Look! Christina Ricci cavorts nakedly!
Prozac Nation on DVD!!
Look! Original casting tapes! Deleted scenes!
Audio commentaries! Backstage with Drive Shaft!
Lost: The Complete First Season on DVD!!