We've been deluged with two major bits of "Doctor Who" news over the last 24 hours:
1) Though the BBC is airing its 27th season finale on Saturday, the series just got a greenlight for a 29th season. There will also be a Christmas special between the 28th and 29th seasons.
2) Despite rumors to the contrary, Billie Piper – who plays the Time Lord's hot little sidekick – will not only return for the 28th season, she'll be in all 13 of its episodes.
"Doctahoooo" has a review of Saturday's season finale. Beware spoilage:
Hi Herc...I was at the press screening of the last Doctor Who episode of the season: 'The Parting of the Ways', so I thought I'd send you a brief review of the episode (there will be a few spoilers, but I'll try to keep them to a minimum!)
Firstly I'll say the episode was brilliant - probably the best of the season, but I'll have to sit down on Saturday and watch it with a little less BBC wine inside me to be sure (such an excellent way to get better reviews in the papers the next day - even if journos haven't enjoyed the episode, they will have enjoyed the wine). It's ridiculously fast paced for the most part, and tries to touch as many bases as possible - how all the plot strands were weaved into something coherent, let alone brilliant is beyond me! There's an excellent sense of desperation that runs through the episode - the stakes are high, and the Doctor is presented with a huge moral dilemma...he ends up making a decision which you imagine not many other fictional heroes would take if they were in his place.
There's a welcome return from Jackie and Mickey, and an early confrontation with the Emperor Dalek - alone in space so long his Daleks now worship him as God. The Daleks themselves are given a bit more menace and insanity through this new aspect to their characters - they hate themselves because they've all been created from Humans which they view as impure. The Daleks look as great as they did in 'Dalek' although the Emperor himself looks a little wrong with his giant eyestalk, but that's a sin I'll quickly forgive if just because his character is an such an excellent contrast to the Doctor's - the dialogue between them is one of the highlights. Have no fear adrenalin junkies as well - there are plenty of exterminations and lots of fighting (we ever get a nice nod back to old Who with the 'my vision is impaired - I cannot see line') - and Captain Jack makes for an excellent leader of troops. Ooooh just got to add about one of my favourite bits - one where the Doctor materialises the TARDIS around Rose and a Dalek - Jack's gun is awesome, and it's cool to see a Dalek in the new TARDIS.
Ultimately this story is not really about the Daleks, it's about the relationship between Rose and the Doctor. I won't spoil the resolution, but I will say that it is going to disappoint a few fans. There is a sense at the end that this stage of the Doctor and Rose's relationship has drawn to a close, and the Doctor has in effect become a new character entirely - I doubt their relationship is going to keep heading in the direction that it was before. I'm looking forward to seeing how this all plays out in the Christmas special (called 'the Christmas Invasion' by the way) and next season. I hope they take the fallout of the Doctor's regeneration as being similar to families that have to deal with someone that has been through a major personality change due to stroke or head injury (does that sound a little tasteless - oh well, I'm digressing anyway). Still, the story resolves naturally - and all the Bad Wolf stuff is answered, but you really have to see it in the context of the story for it to make sense.
There is so much more that can be said about this episode - Saturday cannot come soon enough!
Oh I should just add a few things that were announced at the screening: a third series and a second christmas special has already been commissioned, Billie Piper is in all 13 episodes of series 2, there will be a second series of Doctor Who Confidential, and Russel T Davies is writing the episode that was yet to be allocated - taking his total for series two upto six plus the Christmas special!
Ok, over and out.
Another spy, "Milkybar," sends in a major finale spoiler, which we cloak now in invisotext.
The regeneration scene, that was supposed to happen in the Christmas Special, is actually happening on Saturday. Yep, CE goes, in steps David Tennant, and in classic Who style, his first words are totally absurd - "Hello. New teeth. Now where were we?". So, seems that they have known before they finished filming that a) CE was leaving, b) DT was the new Doctor, and c) the Regen would not happen in the Christmas Special but at the end of the series, as is tradition for the show as a whole....
Which means the Beeb have learned the art of media control over this show, how to whip up an audience, how to make them think things are happening, and also explains the timing and apparent delay in broadcast of Casanova over here (again, well worth the look, another Russell T Davies product)... suddenly my anticipation for Saturday's episode just got ratcheted a couple of notches.....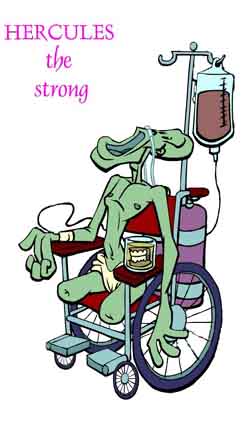 Were Anakin Skywalker and Darth Vader two different people in the early drafts of "The Empire Strikes Back"? All is revealed in The Annotated Screenplays (Star Wars, Episodes IV-VI)
Now that you know how it ends, look for clues in the old episodes!! Lost: The Complete First Season on DVD!!