Coaxial
Tim Minear
The season that's already given us "Battlestar Galactica," "Veronica Mars" and "Lost" is giving us one more great new series.
"The Inside" launches 9 p.m. Wednesday on Fox!
Watch, for at least six reasons.
1) Tim Minear is running this show!
When we posted our "New Shows To Watch List" in May 2004, "The Inside" was a total non-starter. The record demonstrates we were more excited about "Dr. Vegas" and "Jack & Bobby."
Here's how we described "The Inside" on May 20, shortly after Fox announced it:
A distaff "21 Jump Street" about a 22-year-old federal agent who impersonates a high-school girl as part of an undercover operation. It's from writer-producers Todd & Glenn Kessler ("Robbery Homicide Division"). It stars Rachel Nichols ("Dumb and Dumberer"), Peter Facinelli ("Fastlane") and model Willa Holland.
At the end of September, however, something great happened. "The original pilot didn't wow execs," reported Daily Variety. Tim Minear, the trade paper explained, would become the series' new showrunner and create a new pilot.
Who is Tim Minear? Just a TV god, is all! Minear wrote and directed the best episodes of "Angel" series creator Joss Whedon didn't write and direct. Remember the one that introduced The Groosalugg? The one that saw Team Angel move into Wolfram & Hart's Los Angeles offices? So fabulous were installents like these that Whedon made Minear his co-showrunner on "Firefly." So good was Minear's work on "Firefly" that Fox hired Minear as showrunner on "Wonderfalls," last season's best new show.
2) Minear's "Inside" is a different "Inside" than the one we've heard about.
It was reported in the trade press that Minear was "hired to write a new pilot script while keeping the premise." The trade press lies, says Minear. "I agreed to do it if they let me dump the premise. 'The Inside' is totally retooled. It's less '21 Jump Street' and more 'Silence of the Lambs'."
Gone is the high school and any ongoing undercover operation.
The show is now about Rebecca Locke, a young special agent who joins the FBI's Violent Crimes Unit (VCU) in Los Angeles. Having graduated from the FBI academy two years ago, she's already made a name for herself at Homeland Security, where she demonstrated a knack for cracking Queda codes.
The man in charge of L.A.'s VCU, celebrated supervisory special agent Virgil "Web" Webster, recruited Rebecca, and she may be his biggest find yet. Quickly and unassumingly does she demonstrate that she's better at what she does than the older, more experienced and highly skilled agents Webster recruited before her.
We also learn that a very dark chapter was written into Rebecca's life long before she began training with the FBI.
"High school angle - DEAD! This is not an undercover show," emphasizes Minear. "When they asked me to do this I felt there were problems in the DNA."
Rebecca's new VCU teammates include irritable ex-marine Danny Coulter, big-brained psychologist Melody Sims, and young family-man Paul Fatorre, who comes to fear that VCU boss Webster could eventually devolve Rebecca into something as dark and hardened as Webster himself.
The old "Inside" concept, Minear says, was "really good for an episode of a show, not a whole series. A procedural needs to be specific but broad at the same time. 'CSI': it's specific, they do the science. It's broad: it can be applied to any kind of crime/story.
"You can have an 'X-Files' episode about repeating a day, but you don't want to see Mulder doing that every week. Hence the overburdened concept of 'Tru Calling,' for instance. Rebecca will go undercover when I need or want her to. Other than that, it's about the triangle of Web, Rebecca and Paul -- Web and Paul both in existential battle for Rebecca's soul."
"It's 'Silence Of The Lambs' by way of 'L.A. Confidential.' Paul sees himself as the one thing standing between Rebecca and Web's corrupting influence. It is a battle for her soul. If in fact she has one."
Though Rebecca is after a serial killer in Minear's pilot, the series concept doesn't necessitate a "serial killer of the week."
"Violent crime, serial killers, rapists, some terrorism, adbudctions/kidnappings, arsonists, bombers," is how Minear describes Rebecca's workload. "We go to the sick, twisted and depraved place, but not always serial killers."
Will there be a "big bad" to haunt "The Inside's" first season? Or perhaps the entire series?
Minear doesn't say no. "Was Rebecca's abductor ever caught?" Minear asks rhetorically. "Um, good question. Is Web Jack Crawford [the Scott Glenn mentor character in 'Silence of the Lambs'] or Hannibal Lector? Another good question."
So if it's a totally different show now, why not retire the old title too? Word leaked once upon a time that the series might change its name to "Southland" [media slang for "Greater Los Angeles"], but Minear is doubtful that one will stick.
"Probably not 'Southland,' though it was my idea and I like it," he says. "Seemed James Ellroy-ish to me. Start the show with the sound of a car radio spinning on the dial and 'today in the Southland...' kinda thing. But we're still looking for a title. Something probably procedural-sounding."
3) Get a gander at Minear's writing staff!
Those inside "The Inside" now include:
* Jane Espenson! The best and funniest "Buffy the Vampire Slayer" writer not named Joss Whedon! She wrote the one about Xander getting the funny syphilis, the one about Buffy getting the funny telepathy, the one about Xander getting Xeroxed, the one with the Aprilbot, the one that introduced the Buffybot, the one in which Buffy fought the mummy hand, the one in which Giles terrified the Chinese potential with flashcards. Jane Espenson rules.
* David Fury! The author of more produced teleplays set in the Buffiverse than any other writer save Joss Whedon, Fury joined the writing staff at "Lost" for its first season, and promptly wrote most of its best episodes, including the five-star affair in which viewers learned of John Locke's (now vanquished) disability. David Fury rules.
* Ben Edlund! Edlund created "The Tick"! Edlund wrote for "Firefly." Edlund wrote the first pee-pee demon episode of "Angel." Ben Edlund rules.
* Richard Hatem! Screenwriter of "The Mothman Prophecies," Hatem created ABC's woefully short-lived supernatural drama "Miracles," one of the best series of 2003. He also personally scripted its gripping and thought-provoking four-star pilot. Hatem's brainchild caused legions to scrawl the words "God is nowhere" on paper napkins. Richard Hatem rules.
* Craig Silverstein! Silverstein wrote a whole bunch of "Dead Zone" episodes during its first two seasons. Minear says Silverstein knows what he's doing.
4) Look at the cast!
* The only holdover from the old "Inside" is its lead actress, the alarmingly cute 25-year-old 5'10" former Guess? model Rachel Nichols. She was going to play faux high-school student Elizabeth Worth in the old "Inside"; now she's FBI superprofiler Rebecca Locke.
* The big news for "Firefly" fans is "The Inside" reunites Minear with Adam Baldwin, who played violence-prone mercenary Jayne Cobb in the short-lived spaceship series (and in Joss Whedon's upcoming bigscreen spinoff, "Serenity"). "The Inside" has Baldwin playing Rebecca's impatient and amusingly rude colleage Danny Love.
* Peter Coyote, last seen playing supervising government operative Dennis Ryland in "The 4400," plays Rebecca's dark mentor, Virgil Webster. The more episodes you watch (I've seen four now), the more interesting this guy gets. He may be evil. Or psychotic. Or both. Keep your eye on Virgil Webster. He's one of the key reasons you're not going to mistake this show for "Law & Order."
* Katie Finneran, still memorable for her work as Jaye Tyler 's blonde lesbian lawyer sister on "Wonderfalls," plays chain-smoking redhead analyst Melody Sim, Rebecca's only female teammate.
* Jay Harrington, last seen recurring on the WB's "Summerland," plays Paul Ryan, the FBI man trying prevent Webster from driving Rebecca to the dark side.
5) The scripts? They rock. Very hard.
They give us exactly what fans expect from Minear: compelling characters, monstrous twists, rocket pacing and resonant dark humor. Rebecca, especially, is a great central figure, gifted, haunted and driven but also heroic and hugely likeable. The victims are sad. You'll crave grave punishment for their detestable tormentors. And you will thrill to realize Rebecca has the means to destroy them.
6) There's "Inside" stuff Herc's forbidden to discuss.
In an early Minear pilot script, a serial killer leads the FBI to a fictional and abandoned Los Angeles hotel named the Hyperion. Sad to say, the hotel, known to fans of the Buffiverse as the former worldwide headquarters of Angel Investigations, didn't quite survive to the final shooting script. "But look for a very specific 'Angel' reference," promises Minear.
If you think that particular promise is cool, Minear has privately spoken also of tentative plans you'll find 1,000 times cooler. Minear, fearful of jinxing, forbids us to say more, but I'm not exaggerating about the "1,000 times" part. Makes me giddy.
What's that? You didn't notice the "Angel" reference in the first episode? Respect the spoiler! Tame the invisotext! Who does the security guy work for? Does his patch say … "Wolfram Security"?? (In a later episode, there's a very obvious homage to the best-ever episode of "Buffy the Vampire Slayer" - even though Minear never worked on "Buffy." And "Chinatown" fans will appreciate that Webster's VCU is headquarted in the Hollis Mulwray Federal Building.
Fox has ordered 13 hours of Minear's "The Inside." They start airing in a few hours.
9 p.m. Wednesday. Fox.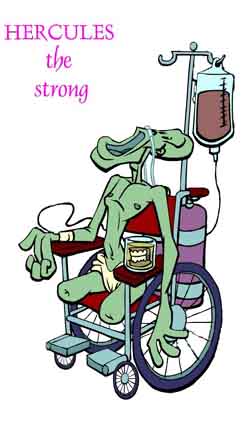 Were Anakin Skywalker and Darth Vader two different people in the early drafts of "The Empire Strikes Back"? All is revealed in The Annotated Screenplays (Star Wars, Episodes IV-VI)
+ Expand All

June 8, 2005, 8:56 a.m. CST

by punto

is that '1000 times better' thing related to 'global frequency' in any way? that's all I can come up with.

June 8, 2005, 8:58 a.m. CST

by maxtrix

This actually looks interesting... I'll be watching..

June 8, 2005, 9 a.m. CST

by ProzacMorris

June 8, 2005, 9:10 a.m. CST

by JackDonkey

1) It's a cop like, don't we have enough cop/lawyer/doctor shows on TV damn. This is coming from me who owns Wonderfalls DVD and Firefly DVD and thinks they're two of the greatest shows ever. The only other DVDs I own are Dead Like me and Kung Fu seasons 1 & 2. That said I'm still gonna watch tonight.

June 8, 2005, 9:21 a.m. CST

by somethingreal81

Oh, right, cause the reviews are almost universally bad. Maybe it's time you stop worshipping at the altar of Whedon & Co., Herc. I mean, did you see Point Pleasant?

June 8, 2005, 9:29 a.m. CST

by Mooly

when it was called The Profiler, Nikita, Alias, or that other Profileresque show with the wrinkly dude instead of the blonde chick. We've seen this before and frankly, the "high school" idea may have been crappy but at least it was original. I'll check it out tonight, but frankly I'm not expecting anything more than those other short lived shows offered.

June 8, 2005, 9:33 a.m. CST

by The Heathen

Well at least we get 13 hours worth, hopefully a lot more based on the writer, actors, and the premiss. Love the fact that there are going to be subtle references to the Buffyverse. Before anyone bitches about that, they sound like they wouldn't be glaringly obvious, but would be cool for all the hardcore fans. I'm there tonight.

June 8, 2005, 9:40 a.m. CST

by PVIII

First off, there are about 20 cop shows on tv right now, and there have been for 20 years. This involves FBI, CSI, NCIS, NYPD, LAPD, Missing Persons Unit, Special Victims Unit, and they're all one big mess of shit right now in my brain. I can't believe Fury, who wrote the best episodes of Lost (Walkabout, Deus Ex Machina), left for this shit. And though I loved Minear's work on Firefly, I don't know if that means it'll cross-over to law enforcement bliss (of which I only count SVU and the Shield...and 24 if that counts). I'm looking forward to Prison Break however, because it looks in some ways unique and fresh, even though Ratner directed the pilot.

June 8, 2005, 11 a.m. CST

by jackburton2003

Seriously. Except for that one scene where that FBI Director/headman/whoever guy says, "I'm glad we can entertain you," this movie looks Godawful. The leading lady looks even more bland and uninteresting than all those other indistinguishable blondes on network TV cop shows at the moment. Hell she even makes that mannequin on "Cold Case" look lively. Seriously guys this is going to get cancelled faster than you can say, "Sh*t, that sucked, where is "24"?"

June 8, 2005, 11:11 a.m. CST

by The Merk

...a rehash of the Profiler. Not that there's anything wrong with that...

June 8, 2005, 11:13 a.m. CST

by PVIII

...'Shindig', by FAR the most atrocious episode of Firefly (basically unwatchable) was written by the revered Ms. Espenson.

June 8, 2005, 11:14 a.m. CST

by The Merk

His track record is that he's associated with Quality shows that get cancel quite quickly.

June 8, 2005, 11:20 a.m. CST

by Creamery Butter

There's your tv story for tonight!

June 8, 2005, 11:28 a.m. CST

by PVIII

I guess it comes down to tastes. I thought the overall production level of the episode was low for starters (the sets, costumes, etc.). I thought the acting of the main "bad-guy" was wooden, and the writing of his character contrived. Finally, the jousting showdown at the end was just plain lame.

June 8, 2005, 11:32 a.m. CST

by JackDonkey

and Jane Espenson is nothing without Joss Whedon. Can you say Gilmore Girls season 3

June 8, 2005, 11:33 a.m. CST

by Hercules

I thought that was hilarious!

June 8, 2005, 11:40 a.m. CST

by Daddy Tones

June 8, 2005, 11:42 a.m. CST

by RenoNevada2000

Yes, but sincethis is FOX, will be it run for at least six episodes?

June 8, 2005, 11:46 a.m. CST

by Daddy Tones

As Firefly episodes go, it wasn't all that, but it was bloody brilliant anyway.

June 8, 2005, 11:56 a.m. CST

by PVIII

Well, I guess I didn't get its humor, and I usually love Firefly humor. Oh, well. And I tried to rewatch it a few months ago and couldn't. Maybe I'll try it once more. But at least give me that it's the poorest episode of the 13 (close the whore-house one, which parts of which I did find funny).

June 8, 2005, 11:57 a.m. CST

by ChorleyFM

Kristen at her column on E said it was average, she had seen the first 3 episodes, and she loves the Whedonverse. Ausellio at TVguide.com wasn't overly complementary either.

June 8, 2005, 11:58 a.m. CST

by Shan

Well, it certainly sounds like it doesn't it? What was it, 4 Buffy/Angel writers - they just haven't said they're on a mission from God yet - and will there be psychotic crazy people after them for anything? - or is that just fandom ...

June 8, 2005, 11:58 a.m. CST

by PVIII

June 8, 2005, 11:59 a.m. CST

by The Heathen

LOVE that line too wolf at the door, one of if not my favorite lines from Firefly. I also have the feeling that this is more than just another fbi profiling show. I'm hoping it's good, because there is not a lot on right now.

June 8, 2005, 12:03 p.m. CST

by Jimmy Jazz

"Look at all the Pretties!" "I'll get nekked!" "He actually thinks he's doing well." Good stuff. As for this show, yes it does look like Millenium redux, but what's wrong with that? Millenium kicked ass. Finally, how could the reviews of this show be bad, when I haven't read ANY reviews, good, bad or indifferent. Can any of you post some of these negative reviews?

June 8, 2005, 12:08 p.m. CST

by punto

nikita was 5 seasons, but it wasn't _exactly_ like this, because it didn't have all this 'light vs dark side battle' crap.. everyone was dark on that show, except for Nikita, who was constantly questioning herself, and that was the boring part for me.. At least they learned the lesson for 24, where Jack goes badass first, and asks questions (or weeps in the car) later.

June 8, 2005, 12:24 p.m. CST

by oisin5199

Mal: "use of a sw...what?" Harrow: I know (Badger). And I think he's a psychotic lowlife. Mal: And I think calling him that is an insult to the psychotic lowlife community. Jayne: What we need is a diversion. I say Zoe gets nekkid. Wash: No! Jayne: I could get nekkid...? Wash and Zoe: No! Inara: As with other situations, the key seems to be giving Jayne a heavy stick and standing back. Kaylee: Yes, sir, Captain Tightpants. Badger: 'Course you couldn't buy an invite with a diamond the size of a testicle, but I got my hands on a couple. MAL: See how I'm not punching him? I think I've grown. Inara: It wasn't entirely a disaster. Mal: I got stabbed! Right here! Inara: You also lined up exciting new crime.

June 8, 2005, 12:27 p.m. CST

by PVIII

and there was a negative review for The Inside on Variety.com.

June 8, 2005, 12:47 p.m. CST

by Mr. Profit

June 8, 2005, 2:25 p.m. CST

by DanielKurland

The Wolfram and Hart connection is cool, however at the end of Angel we clearly saw that the building was demolished, how could they still have security? Any ideas?

June 8, 2005, 2:54 p.m. CST

by Fart_Master_Flex

Say this show is fucking great (which I think it very well could be). What can we expect from Fox who are debuting a show at this time of year? Do you think they will be commited to this? Or do you think they could give fuck all about it and are too busy planning a show about Nanny's who do home makeovers and who also desire to be a pop star?

June 8, 2005, 2:56 p.m. CST

by robogeek.com

...I gotta give anything Minear, Hatem, Fury, Espenson and Edlund do a chance. That's a damn solid writing/producing team and a pretty/interesting cast, though I've read (very) mixed reviews on the pilot. And then again, I don't want to get my hopes up that Fox will air anything close to the 13 episodes they've ordered (I've been burned too many times), but I'll at least TiVo tonight's premiere and cross my fingers.

June 8, 2005, 3:43 p.m. CST

by Daddy Tones

Shindig was marvelous. Example, the line "I'm in". Probably works better in context.

June 8, 2005, 4:20 p.m. CST

by JackDonkey

Existed in other dimensions or whatever, like there as signs that it existed in Pylea, so I wouldn't think they would be done for, but Angel did go above them to destroy something further up the ladder if I remember right, which I'm too confident of. But whatever called all those demons to fight angel and gunn in the end were being commanded by something to do so.

June 8, 2005, 5:19 p.m. CST

by Dannychico

Is there one iota of new content here?

June 8, 2005, 5:28 p.m. CST

by kenobibot

For what it's worth, both of the Philly papers liked it (though the Daily News doubted it would last in a crowded field of police-like shows).

June 8, 2005, 6:37 p.m. CST

by kabong

Well, if you can believe Jenn Garner kicks terrorist butt . . .

June 8, 2005, 6:50 p.m. CST

by The Pusher

June 8, 2005, 8:08 p.m. CST

by AeroB

*Third stab* "I'm all right." I don't think anything more needs to be said.

June 8, 2005, 8:19 p.m. CST

by Hercules

Patience people. I've seen the first four episodes. Tim is builllllllding. Building perhaps something magnificent.

June 8, 2005, 9:09 p.m. CST

by Thunderballs

God I love that old standby device of throwing a stupid twist in when the concept/story gets tired! I haven't seen a twist in anything recently, and am glad the device is being used again to trick people into thinking shit is actually gold!! You know how something is good? THERE ARE TONS OF TWISTS THAT TAKE IT TO THE NEXT LEVEL!!!! Everyone knows if a show or movie doesn't have twists it is no good! Fuck outta my face with this shit.

June 8, 2005, 9:14 p.m. CST

by Kungfumanchu

'cause this is looking pretty rickety to me. This is coming from a hardcore Minear fan. I'm glad to hear you saying you've seen the 4th ep & it improves, because every other review I've read has said it's still bad through the third. I do give him credit for working so many cliches into one episode. Still having a hard time swallowing the copycat suicide. Other than a blind cop getting to carry a gun on Blind Justice, that's gotta be the most preposterous thing I've seen on tv lately. Here's to hoping Herc's right on this one.

June 8, 2005, 9:17 p.m. CST

by jerkstore

Just watched. It was good. Real good. I'm sure Fox will cancel it next week.

June 8, 2005, 9:19 p.m. CST

by SickPuppy

Shock and gross-out factor was a little gratuitous and I saw the ending coming from a mile away, but I can forgive that. The acting wasn't too bad, but I can take or leave Peter Coyote. I'm somewhat intrigued by the backstory angle, hope it doesn't rip off "Lost" with lots of flashbacks to all their histories, though

June 8, 2005, 9:24 p.m. CST

by amievil

it wasn't bad....but hopefully it gets better because if it stays just like the pilot it will get pretty lame...but with the writting staff on this show it should hopefully progress and get better...

June 8, 2005, 9:27 p.m. CST

by SickPuppy

Just read your post. The blind cop comment made me chuckle when I thought back to the explanation they offered in one of the previews for Blind Justice, which I never watched while it was on. They explained away the fact that he carried a gun by the character saying "I signed a waiver"!! Hilarious! How about all those innocent bystanders, did they sign a waiver, too? A lowpoint in tv history

June 8, 2005, 9:33 p.m. CST

by TodayzSpecial

boring. I bet they were locked in with the lead actress and couldn't dump her. She didn't express any of the intelligence that she should have had. I'll stick around for a couple of more episodes, but so far i am not impressed. As far as I saw, there was no humor. It just seemed like a "WB'd" version of CSI. I'm dissappointed in Minear on the pilot. Jayne and Sharon Tyler were both woefully underused. Those are the two who should be headlining the show. The relationships between Web, Paul, and Rebecca seemed so forced. The dialogue was depressingly obvious. The performances were flat. The leads have no charisma ... I'd say this is less interesting than Martin Noxon's Point Pleasant. Whedon writers need Whedon to filter their talent better.

June 8, 2005, 9:51 p.m. CST

by Angelus_420

I think the show has promise and I loved the Angel type montages between scenes. The characters were good but I think that Adam Baldwin needs more screen time. The only thing that really worries me is that the show is on FOX, so if the ratings are strong this show could only last 3 or 4 episodes.

June 8, 2005, 10:09 p.m. CST

by AeroB

but a good one. The case itself was fairly predictable, though it was nice and grotesque. But the characters and production values were great. I'm looking forward to seeing these people explored as this show develops, but... I wouldn't be surprised if this is another FOX stillbirth...

so...does that main chick have big tits or not. I will tune in to find out next week. good opening. average to bad ep. It smells like there could be some shit coming around the bend however, and that could get good. we'll see. and who doesnt fucking love Animal Mother. Nobody thats who. Nobody.

June 8, 2005, 10:21 p.m. CST

by JohnnyBravo

Granted there is some great talent behind it.. but it doesn't change the fact that the casting of the triangle (Paul, Web, Rebecca) is weak.. and the show is run of the mill. I'll give it a few more episodes.. but just because the execs use to work on buffy doesn't make it gold..

June 8, 2005, 10:26 p.m. CST

by BurlIvesLeftNut

This show wasn't landmark by any identifiable stretch of the imagination, but putting it ahead of Point fucking Pleasant? You = fanboy 'tard.

June 8, 2005, 10:42 p.m. CST

by JCOTC64

For a Cop Show it was pretty good. For a first show it was okay too. For a Tim Minear show, it was ho-hum. The first ep of Wonderfalls didn't exactly hit the mark either, but it was leaps and bounds over this, but then it's a diferent genre. All in all, it's good for a cop show.

June 8, 2005, 10:44 p.m. CST

by zer0cool2k2

Think about what you're saying. This is FOX, and that original concept would have had a casy of Abercrombie models and scripts that played like "The O.C.- Undercover. Not to mention it would not have been original, like someone said. It's been done over and over, From 21 Jump Street all the way to David Cassidy: Man undercover. (And I didn't make that up). This first ep was pretty good, and shows a lot of potential to develop into a great show. (Which means cancellation before August).

June 8, 2005, 10:50 p.m. CST

by El Fuego

The plot and casting were a little meh, and the montage felt WAY WAY too Aliasy... but I thought the dialogue was pretty sharp and given that Rachel Nichols is gorgeous, I think I can bear to watch another episode or few.

June 8, 2005, 11:29 p.m. CST

by christonomist

Point Pleasant's a bad example--Marti Noxon was always Buffy's weak link...same's true for Angel's David Greenwalt and anything he's done since. But Minear's been making gold, Firefly... yeah, he had Whedon there, but Wonderfalls! Great show! Look Ma, no Whedon-strings! Which is why anything less than sheer brilliance on Inside completely confuses me. I have no explanation.

June 8, 2005, 11:31 p.m. CST

by Shan

... The Korean film "She's On Duty" just came out on DVD where a policewoman goes undercover in a girl's school for some reason or other. It was supposedly a big hit (in Korea at least) ...

June 8, 2005, 11:38 p.m. CST

by HillaryLovesMe

Could we get some brilliant guesses as to what that would mean? My first guess is "Buffyverse-like vampires!" But that would involve a mountain of copyright issues.

June 8, 2005, 11:44 p.m. CST

by Total Geekazoid

Maybe if they CGI'd Jodie Foster's and Scott Glenn's faces into the interview scene. Do we really need another cop/FBI procedural? Let alone one clearly "inspired" by a movie over ten years old? The revelation that the first death was a suicide reminded me of the Firefly ep. when the guy self-mutilated to make himself into a Reaver. Made about as much sense then, too. Minear said he cranked out the pilot script in 48 hours. Felt like it.

June 8, 2005, 11:48 p.m. CST

by Total Geekazoid

Maybe if they CGI'd Jodie Foster's and Scott Glenn's faces into the interview scene. Do we really need another cop/FBI procedural? Let alone one clearly "inspired" by a movie over ten years old? The revelation that the first death was a suicide reminded me of the Firefly ep. when the guy self-mutilated to make himself into a Reaver. Made about as much sense then, too. Minear said he cranked out the pilot script in 48 hours. Felt like it.

June 8, 2005, 11:56 p.m. CST

by JuanCarlosII

oh the fbi agent killed herself and cut her face open because she was bipolar and staged it as a crimescene naturally. that makes perfect sense. and a fbi director who convienently gets to choose damaged people and work on any crime he wants must make it hard for the writers to come up with episodes. I will cling to the impossible hope that serenity does well and firefly is back with the canceled the inside bringing minear and baldwin back

June 9, 2005, 12:06 a.m. CST

by oisin5199

Since this is a limited run, I'll keep watching. It's pretty damn dark, though. Not the snarky fun of Wonderfalls or Firefly. Though the "stop (shoot) let her go! I did that backwards" had a moment. Seemed out of character for Web, but Coyote played it and the reaction afterwards interestingly. So I guess I'm intrigued with his character. I'm sure we'll get more Baldwin stuff later, for those who worry, but he only works best as a side player (like Jayne). I don't watch procedurals or cop shows and haven't seen Silence of the Lambs since it came out (never saw any pre/sequels), so I don't know or care if it's derivative. The fact that Baldwin's character made a Clarice Starling reference shows me the writers are aware of the connection and can poke fun at it. Even so, I don't think it's that similar in content or style. I liked the style, and am intrigued by "I know all your problems." I've always been a fan of story arc or mythology, so I hope there's plenty. Though if this wasn't Minear, I probably wouldn't watch because again, not so big on the procedurals. I tend to be loyal to the Whedon crew - though I never watched Gilmore Girls, I even tried the awful Point Pleasant, which despite it's OCness had its moments (well, maybe just one or two). Besides, what the hell else you gonna watch during the summer? (well, besides Rescue Me, Six Feet Under, and eventually Battlestar. Okay, and Dead Zone and 4400 for second string genre fare. But besides that, what else?)

June 9, 2005, 12:14 a.m. CST

by Mr. Waturi

Shocked at how bad that was. Bad editing. Dull story. Peter Coyote was half asleep. Felt like they were trying to combine "Seven" and "Silence of the Lambs," which wouldn't be a bad thing, but this was.

June 9, 2005, 12:17 a.m. CST

by zabbadoo

Didn't know that it was written by Tim Minnear until it was half over. They really need to start listing the writers in the TV listings for fucks sake. Anyways. The last half of the pilot KICKED MY ASS. Ben Edlund to come? FUCK YEAH!!! Gonna get to see Baldwin exploring the non-idiot version of intensity? FUCK YEAH!! Anyways that's my 2 bits. That dude who said that television was a vast wasteland? GET BENT DUMBASS!

June 9, 2005, 12:23 a.m. CST

by johnnysunshine

It showed some promise, though I don't think the pilot was even in the same league as Lost or Galactica. The dark, more stylish tone and focus on at least one character set it apart from a lot of other cop shows, though I'm not sure if we really need another cop show. The serial killer of the week storyline felt like something I'd seen a ton of times. Probably because I have. I suppose it's hard to be original with something like that considering how many shows cover that ground week after week. The characters and the style of the show were what kept me watching the whole hour. I'll give this a couple more episodes at least. Did anyone else think the lead character looked just like Bridget Fonda?

June 9, 2005, 12:36 a.m. CST

by GiftedInThePants

Fucking cocksuckers. it's garbage. LMAO TEH SHINDIG LMAO. Flop. Fucking floppy ass Whedon shows.

June 9, 2005, 12:54 a.m. CST

by AshFett

This is partially sarcasm, partially actual curiousity. The sarcasm part is this: While it would be nice if the tv listings said who wrote shows, I think we were all subtly given a hint when the actual show said "written by Tim Minear" in the opening. But my actual question is why/how did you find out Minear wrote it half way through watching the episode??

June 9, 2005, 12:58 a.m. CST

by jmc8y

I had high expectations for this show and yeah, I disappointed. But not that much. Even at where it is now, it's still one of the better shows on TV. I'll be watching next week.

June 9, 2005, 1:09 a.m. CST

by Lefty Lefterson

Now THAT'D be a series! I wanted to watch this tonight, but I completely forgot about it. DAMMIT!

June 9, 2005, 1:44 a.m. CST

by Jimmy Jazz

I would have never watched most of my favorite shows is I stopped watching because of a lackluster pilot. And this wasn't lackluster at all. Nothing relevatory, but it certainly was better than all those other cop procedurals out there. At least this one makes an effort to create three dimensional characters. Those other CSI and Law and Order type clones have cardboard cutouts that serve as placeholders for the rickety, contrived plots. This plot was contrived but at least the script had an atmosphere that the others lack. The lead actress seems a little stiff, but that could be the character. Iliked the part where she got into the victim's head at the apartment. I don't know, I'll give it a few more weeks, but I am weary of serial killer storylines. I hope they tackle other kinds of crime soon,

June 9, 2005, 2:23 a.m. CST

by Prankster

This is the greatest quote ever said by anyone, ever.

June 9, 2005, 2:35 a.m. CST

by KCMOSHer

Well. That kicked great big giant puddles of ass. Now here's hoping Fox doesn't pull a Wonderfalls or a Miracles or a Serenity. Show episodes out of order, switch the timeslot around, refuse to properly publicize the show, etc. This isn't a great start, as Herc was the ONLY way I knew to even TiVO the damn thing.

June 9, 2005, 4:24 a.m. CST

by Daddy Tones

June 9, 2005, 5:26 a.m. CST

by andrew coleman

Only reality shows where idiots try and sing and worthless pieces of shits get their houses a makeover from guys in wheelchairs, since The Inside doesn't have any of that. It will be dropped. Since now only cable has good shows like Shield.

June 9, 2005, 6:07 a.m. CST

by sabine16

I wasn't all that shocked by the opening scene, and Jay Harrington read his lines like a Jay-Bot. I really do like that guy from Firefly, though. He should get his own show. I turned it off and fell asleep around 9:45. Did they catch the bad guy?

June 9, 2005, 6:49 a.m. CST

by Fawst

WHY do I miss everything?! I agree with the above poster, Herc is the only reason I knew it was on last night... too bad I found out THIS MORNING. *sigh*

June 9, 2005, 9:01 a.m. CST

by Russman

and I'm sure someone else mentioned that the killer working in the Subway was just done on Law & Order Criminal Intent. Millineum's first show was creepier than than this and had some NIN in it. Hopefully Prison Break will be better.

June 9, 2005, 9:14 a.m. CST

by The Heathen

June 9, 2005, 9:34 a.m. CST

by JackDonkey

and Daddy Tones, the best pilot ever was for Dead Like Me. I'm sick of mystery of the weak shows. This is an obvious attempt by Minear to make a show that normal Haus Fraus will watch. It's as if he dumbed it down to get the masses to tune in, which isn't really a bad idea for him or Jayne, and Sharon Tyler because I assume it would be nice for them to have a steady income for a year or three.

June 9, 2005, 9:37 a.m. CST

by commiepinko

He wrote all the best eps of Lost, hopefully he can turn this into a good show too

June 9, 2005, 11:22 a.m. CST

by scott5309

it was pretty decent. seemed a lot like house though, old cranky guy and some young whippersnappers that don't like him, but respect him. i'll watch again, and hope it doesn't get dropped as soon as i really start enjoying it. i didn't think reading an inside talkback would inspire me to finally go and get the firefly dvd on my lunchbreak though. that "mercy is the mark of a great man" scene sounds fucking great...

June 9, 2005, 12:02 p.m. CST

by mbeemer

"You didn't have to *wound* the man..." "Nope. Sure was funny, though!"

June 9, 2005, 2:49 p.m. CST

by matrix69

Sorry, Herc, you're way off base on this one. The scripts may be ok (but only just, with all the lame 'Silence of the Lambs' references), but lead actress Rachel Nichols just *cannot* carry a show. She reminds me of Monica Potter from 'Boston Legal' -- another nice-looking blonde with limited acting ability who half the time doesn't even understand the big words uttered by her character. Thumbs down.

June 9, 2005, 3:16 p.m. CST

by Daddy Tones

And it's not looking good. The MAIN THING THAT'S WRONG WITH THE INSIDE: IT'S JUST ANOTHER COP SHOW. Jesus Christ, Tim, what the hell were you thinking? Tim Minear sold out and went for the sellable premise of Yet Another Cop Show, instead of something interesting. A premise like Lost practically writes itself - and good casting makes it a classic. This show has a 1. Poor Premise. It's highly, highly derivative. I DON'T CARE IF I'VE ONLY SEEN ONE EPISODE: because we've already seen every serial killer storyline out there on a hundred different shows (and movies). 2. The boss, played by that old guy, is rubbish. Frank Black had more personality than that contrived character. He was a walking cliche!! Tim - what the hell are you playing at? The main actress was alright, but nothing special. Alias IS special. This...this show can't go anywhere. It's stuck in a Serial Killer Of The Week Mould. It's not even close to being as good as something like The X Files.

June 9, 2005, 3:19 p.m. CST

by Daddy Tones

My God...Firefly really was the best written show ever, apart from Buffy.

June 9, 2005, 4:24 p.m. CST

by amrcanpoet

While XF is my favorite show of all-time, and I will defend it to the end, the pilot for XF was fairly lackluster in and of itself.

June 9, 2005, 5:15 p.m. CST

by thuyvens

I like how the killer worked for Wolfram security. props to Angel.

June 9, 2005, 5:43 p.m. CST

by DizzyEllie

Come one, all you Browncoats, you did not notice the blue gloves the cops wore in the first scene? For shame. Also, I'm guess that the 1000x cooler thing is that Amber Benson is going to be on the show. For the most part, I thought it was passable. It didn't grab me by the collar and insist I watch week after week, but then, neither did Firefly. I'll stick with it based on the fact the the folks involved have created some of my favorite tv moments. I thought the lead actress was okay, but when you have Adam Baldwin and Tony winner/Jaye's sister Katie Finneran in the background, something is wrong. Get rid of the blond, let Adam and Katie play. Also, thought the shoot-first-question-later scene was a little too close to Firefly for my tastes (Mal did the same thing at the end of the pilot), cool though it was. We'll see how it shapes up.

June 9, 2005, 6:26 p.m. CST

by baj24

5 bucks says it's cancelled after 5 episodes. Ratings last night sucked. It only got a 3.2 5...fucking Yes Dear on CBS did better. SMH

June 9, 2005, 8:33 p.m. CST

by Dannychico

June 9, 2005, 9:36 p.m. CST

by The Outlander

I suspect that this will turn into a very good show once the actors and the writers start hitting their marks. I believe there was quite a noticeable improvement even in this first episode, the episode definitely ended better than it started. I think the cast will work well together after they get a few episodes under their belts, having Adam Baldwin and Katie Finneran in the cast should give the rest or the cast a couple of lively sparks to work with and that know how to deliver those witty lines of dialog.

June 10, 2005, 5:58 a.m. CST

by bb6634

This would be an amazing series... if it had been made, say, 10 years ago. Before the Silence of the Lambs, Kiss the Girls, CSI, Manhunter, every third straight-to-video movie starying Karu Wuhrer, Eric Roberts, etc... Sigh. Nice try tho. My bet: Gone after four eps.

June 10, 2005, 7:36 a.m. CST

by Daddy Tones

And if there is anything, we've already seen it before in a hundred thousnad serial killer movies. THE X FILES showed promise because it took a realistic and scientific view of supernatural phenomenon. Also, it had FANTASTIC casting of the leads. And it had Morgan and Wong. The Inside has bad casting, and has no premise to speak of. IT'S LITERALLY THE OPPOSITE OF 'HIGH CONCEPT' TV.

June 10, 2005, 8:39 a.m. CST

by The Outlander

What show where you watching? I thought it had a really good cast and the characters where genuine interesting, because unlike most other cop shows on TV they actually spent a respectable amount of time developing the characters and the relationships between the characters.