Coaxial
Learn When Tim Minear
The season that's already given us "Battlestar Galactica," "Veronica Mars" and "Lost" is giving us one more great new series.
"The Inside" premieres June 8 at 9 p.m. on Fox!
For those just tuning in, Herc loooooooves "The Inside," for at least six reasons.
1) Tim Minear is running this show!
When we posted our "New Shows To Watch List" last May, "The Inside" was a total non-starter. The record demonstrates we were more excited about "Dr. Vegas" and "Jack & Bobby."
Here's how we described "The Inside" on May 20, shortly after Fox announced it:
A distaff "21 Jump Street" about a 22-year-old federal agent who impersonates a high-school girl as part of an undercover operation. It's from writer-producers Todd & Glenn Kessler ("Robbery Homicide Division"). It stars Rachel Nichols ("Dumb and Dumberer"), Peter Facinelli ("Fastlane") and model Willa Holland.
At the end of September, however, something great happened. "The original pilot didn't wow execs," reported Daily Variety. Tim Minear, the trade paper explained, would become the series' new showrunner and create a new pilot.
Who is Tim Minear? Just a TV god, is all! Minear wrote and directed the best episodes of "Angel" series creator Joss Whedon didn't write and direct. Remember the one that introduced The Groosalugg? The one that saw Team Angel move into Wolfram & Hart's Los Angeles offices? So fabulous were installents like these that Whedon made Minear his co-showrunner on "Firefly." So good was Minear's work on "Firefly" that Fox hired Minear as showrunner on "Wonderfalls," last season's best new show.
2) Minear's "Inside" is a different "Inside" than the one we've heard about.
It was reported in the trade press that Minear was "hired to write a new pilot script while keeping the premise." The trade press lies, says Minear. "I agreed to do it if they let me dump the premise. 'The Inside' is totally retooled. It's less '21 Jump Street' and more 'Silence of the Lambs'."
Gone is the high school and any ongoing undercover operation.
The show is now about Rebecca Locke, a young special agent who joins the FBI's Violent Crimes Unit (VCU) in Los Angeles. Having graduated from the FBI academy two years ago, she's already made a name for herself at Homeland Security, where she demonstrated a knack for cracking Queda codes.
The man in charge of L.A.'s VCU, celebrated supervisory special agent Virgil "Web" Webster, recruited Rebecca, and she may be his biggest find yet. Quickly and unassumingly does she demonstrate that she's better at what she does than the older, more experienced and highly skilled agents Webster recruited before her.
We also learn that a very dark chapter was written into Rebecca's life long before she began training with the FBI.
"High school angle -- DEAD! This is not an undercover show," emphasizes Minear. "When they asked me to do this I felt there were problems in the DNA."
Rebecca's new VCU teammates include irritable ex-marine Danny Coulter, big-brained psychologist Melody Sims, and young family-man Paul Fatorre, who comes to fear that VCU boss Webster could eventually devolve Rebecca into something as dark and hardened as Webster himself.
The old "Inside" concept, Minear says, was "really good for an episode of a show, not a whole series. A procedural needs to be specific but broad at the same time. 'CSI': it's specific, they do the science. It's broad: it can be applied to any kind of crime/story.
"You can have an 'X-Files' episode about repeating a day, but you don't want to see Mulder doing that every week. Hence the overburdened concept of 'Tru Calling,' for instance. Rebecca will go undercover when I need or want her to. Other than that, it's about the triangle of Web, Rebecca and Paul -- Web and Paul both in existential battle for Rebecca's soul."
"It's 'Silence Of The Lambs' by way of 'L.A. Confidential.' Paul sees himself as the one thing standing between Rebecca and Web's corrupting influence. It is a battle for her soul. If in fact she has one."
Though Rebecca is after a serial killer in Minear's pilot, the series concept doesn't necessitate a "serial killer of the week."
"Violent crime, serial killers, rapists, some terrorism, adbudctions/kidnappings, arsonists, bombers," is how Minear describes Rebecca's workload. "We go to the sick, twisted and depraved place, but not always serial killers."
Will there be a "big bad" to haunt "The Inside's" first season? Or perhaps the entire series?
Minear doesn't say no. "Was Rebecca's abductor ever caught?" Minear asks rhetorically. "Um, good question. Is Web Jack Crawford [the Scott Glenn mentor character in 'Silence of the Lambs'] or Hannibal Lector? Another good question."
So if it's a totally different show now, why not retire the old title too? Word leaked recently that the series might change its name to "Southland" [media slang for "Greater Los Angeles"], but Minear is doubtful that one will stick.
"Probably not 'Southland,' though it was my idea and I like it," he says. "Seemed James Ellroy-ish to me. Start the show with the sound of a car radio spinning on the dial and 'today in the Southland...' kinda thing. But we're still looking for a title. Something probably procedural-sounding."
3) Get a gander at Minear's writing staff!
Those inside "The Inside" now include:
* Jane Espenson! The best and funniest "Buffy the Vampire Slayer" writer not named Joss Whedon! She wrote the one about Xander getting the funny syphilis, the one about Buffy getting the funny telepathy, the one about Xander getting Xeroxed, the one with the Aprilbot, the one that introduced the Buffybot, the one in which Buffy fought the mummy hand, the one in which Giles terrified the Chinese potential with flashcards. Jane Espenson rules.
* Richard Hatem! Screenwriter of "The Mothman Prophecies," Hatem created ABC's woefully short-lived supernatural drama "Miracles," one of the best series of 2003. He also personally scripted its gripping and thought-provoking four-star pilot. Hatem's brainchild caused legions to scrawl the words "God is nowhere" on paper napkins. Richard Hatem rules.
* David Fury! The author of more produced teleplays set in the Buffiverse than any other writer save Joss Whedon, Fury joined the writing staff at "Lost" for its first season, and promptly wrote most of its best episodes, including the five-star affair in which viewers learned of John Locke's (now vanquished) disability. David Fury rules.
* Rob Pearlstein, Ahmed Lavalis, Mark Fish, and Karine Rosenthal! I've no idea who they are! But they must be super-extra-talented talented if they get to work with Minear, Espenson, Fury and Hatem, right?
4) Look at the cast!
* The only holdover from the old "Inside" is its lead actress, the alarmingly cute 25-year-old 5'10" former Guess? model Rachel Nichols. She was going to play faux high-school student Elizabeth Worth in the old "Inside"; now she's FBI superprofiler Rebecca Locke.
* The big news for "Firefly" fans is "The Inside" reunites Minear with Adam Baldwin, who played violence-prone mercenary Jayne Cobb in the short-lived spaceship series (and in Joss Whedon's upcoming bigscreen spinoff, "Serenity"). "The Inside" has Baldwin playing Rebecca's impatient and amusingly rude colleage Danny Coulter.
* Peter Coyote, last seen playing supervising government operative Dennis Ryland in "The 4400," plays Rebecca's dark mentor, Virgil Webster.
* Katie Finneran, still memorable for her work as Jaye's lesbian sister on "Wonderfalls," plays Rebecca's only female teammate.
* Jay Harrington, last seen recurring on the WB's "Summerland," plays Paul, the FBI man trying prevent Webster from driving Rebecca to the dark side.
5) The scripts for the series' first two hours? They rock. Very hard.
I haven't seen a frame of footage, but I can already tell from the first two teleplays that I love this show. Its scripts give us exactly what fans expect from Minear: compelling characters, monstrous twists, rocket pacing and resonant dark humor. Rebecca, especially, is a great central figure, gifted, haunted and driven but also heroic and hugely likeable. The victims are sad. You'll crave grave punishment for their detestable tormentors. And you will thrill to realize Rebecca has the means to destroy them.
6) There's "Inside" stuff Herc's forbidden to discuss.
In an early Minear pilot script, a serial killer leads the FBI to a fictional and abandoned Los Angeles hotel named the Hyperion. Sad to say, the hotel, known to fans of the Buffiverse as the former worldwide headquarters of Angel Investigations, didn't quite survive to the final shooting script. "But look for a very specific 'Angel' reference," promises Minear.
If you think that particular promise is cool, Minear has privately spoken also of tentative plans you'll find 1,000 times cooler. Minear, fearful of jinxing, forbids us to say more, but I'm not exaggerating about the "1,000 times" part. Makes me giddy.
Fox has ordered 13 hours of Minear's "The Inside." They start airing in less than a month. I. Can't. Fucking. Wait.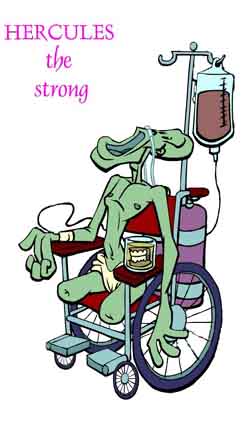 + Expand All

May 12, 2005, 4:37 p.m. CST

by John-Locke

when it's on, if it's any good

May 12, 2005, 4:42 p.m. CST

by dykstrafan

gotta tell you, the girl is very cute but this just doesn't sound all THAT great. i'll give it a shot, like i did with wonderfalls, but most likely will dump it soon thereafter (like wonderfalls), especially with rescue me and the mediocore entourage holding my attention. i do appreciate these heads ups though (not sure how certain we be about it without seeing A FRAME of footage, but i'll give you the benefit of the doubt.)

May 12, 2005, 4:42 p.m. CST

by awesomegeek

....something worth watching

May 12, 2005, 4:43 p.m. CST

by John-Locke

His episodes of Lost were the best yet.

May 12, 2005, 4:52 p.m. CST

by chrth

Somehow I suspect that Fox won't give it more than 7 hours. Bastards.

May 12, 2005, 4:52 p.m. CST

by -guyinthebackrow

The man is royalty. No one even remembers that he supposedly narrated the Oscars.

May 12, 2005, 4:55 p.m. CST

by JackDonkey

This show does not interest me in any way, and Wonderfalls and Angel and Firefly are some of my favorite all time shows.

May 12, 2005, 4:56 p.m. CST

by baba_k

Herc, I know this piece was mostly a big ol' cut and paste, but Kimberly Scott was replaced by Katie Finneran (of Wonderfalls) earlier this year. And the character name is different. You should have known that!

May 12, 2005, 4:58 p.m. CST

by Eshu

Man, this show's creative team sounds so cool... too bad the premise leaves me completely cold. I try and check it out if I remember but I doubt it.

May 12, 2005, 4:59 p.m. CST

by d8cam

May 12, 2005, 5:02 p.m. CST

by Eshu

May 12, 2005, 5:09 p.m. CST

by Grando

You may want to wait until you actually see this before you start shooting your baby batter all over the remote.

May 12, 2005, 5:13 p.m. CST

by TodayzSpecial

... not to mention the oh so great writing staff that's current batting average is in the .100's .... I love Jane Espenson, but she couldn't save Tru Calling. David Fury is going to only be on the INSIDE temporarily as he's going to be co-executive producer of 24 season 5. Tim Minear is amazing, but he seems cursed. Angel ... cancelled ... Firefly ... cancelled ... Wonderfalls ... cancelled. Fox don't break my heart again. I may not even tune in if the ratings don't go well b/c I'm sick of getting sucked into shows that are pulled away from me!

May 12, 2005, 5:14 p.m. CST

by Demosthenes2

When's the last time a basic network show took off with a summer debut? More importantly when was the last time Fox gave a really great show a chance? 24 I suppose, four years ago. Hopefully the summer debuts of cable shows have opened people's minds to look at summer shows on the basic networks but I'm skeptical that without a full launch of premieres on their summer schedule, people don't really look at a network's one to three new shows in the summer.

May 12, 2005, 5:23 p.m. CST

by somethingreal81

The title is probably not going to be changing. Fox has already run commercials and put up a page on their website with the name The Inside. It's not a horrible title, but it doesn't really seem to have anything to do with the new premise. If they wanted something procedural sounding then how about (duh) "Violent Crimes"?

May 12, 2005, 5:25 p.m. CST

by AshFett

what was the last network show to debut in the summer and hit it big? That would be The OC. Before that? Hmm... Well Survivor sure qualifies. It can work.

May 12, 2005, 5:25 p.m. CST

by The Heathen

May 12, 2005, 5:27 p.m. CST

by Jumpstart

1. While I am not a buffy-phile, and therefore don't care if Tim Minear is the creator...I think comparing something to "Silence of the Lambs" is really dangerous territory. Because, if it's not as good, it's a really hard knock to the show that it just won't recover from and 2. Fox has no balls when it comes to dramas. Its only saving grace as far as I can tell is that it's not sci-fi (Fox will give a sci-fi drama two years on the outset, and that's only if the star can grow into the New Hotness *cough*Jessica Alba*cough*). However, I remember a little show called Boston Public, which I loved, and then it degenerated into outrageous plots and stunt casting. I can already see that happening to House (Oh, lookie, House broke Cameron's heart...this won't ever be revisited again, sure, and Ross and Rachel just weren't meant to be together. Right. As an aside, the ONLY stunt casting I will find perfectly acceptable on that show is by Stephen Fry. But anyway.) I see that show coming in with more and more "the only thing more shocking than the patient's illness IS WHAT HE'S HIDING" or "the MOST SHOCKING CASE YET". Well, it's only the first season. Can you imagine what the second has to live up to? But, this is about The Inside. Okay, back to topic. If you can follow the trends for drama at Fox, you can surely understand the fate of this show, and why it just doesn't look good from here. They should give it to FX if they want it to be any real damn good.

May 12, 2005, 5:35 p.m. CST

by Snaieke

If house stay's where it is at for next season, it would be a Tuesday at 10 PM up against Law & Order: SVU. -- best thing they could do to save "The Inside" is piggy back it on the Lost reruns and if it hits, continue the season until Alias comes back on in January or whenever.

May 12, 2005, 5:38 p.m. CST

by Snaieke

forget my last post.... I will do, as I have done for all Fox Shows... DVR it for an entire season then watch it if it actually makes it to a full and complete end..... I learned that lesson the hard way :(

May 12, 2005, 5:47 p.m. CST

by Ribbons

Nice. A "Wonderfalls" alumnus in anything is fine by me.

May 12, 2005, 5:56 p.m. CST

by Dash D

http://www.fox.com/theinside/ http://www.fox.com/schedule/2004/inside.htm You can just see that the original was going to be Craptastic! New one looks cool, though.

May 12, 2005, 6:04 p.m. CST

by DanielKurland

He really is an accomplished writer. You look at the stuff he's done for Angel (minus the early season one stuff) and Firefly alone, and you can easily see he has lots of talent. It's a shame that Hyperion reference was removed, but I am quite itnerested to see what other Angel references he has slipped in. This might be the closest we get to getting "news" in regard to the events post-season five.

May 12, 2005, 6:07 p.m. CST

by somethingreal81

is up at the official site of the actress who played the main character's sister. Apparently she's not a part of the new version. http://www.willaholland.com/theinside.shtml

May 12, 2005, 6:09 p.m. CST

by themidnighter23

FOX hates us all, why do you think they cancelled Futurama and kept that crap King of the Hill?

May 12, 2005, 6:29 p.m. CST

by Quin the Eskimo

May 12, 2005, 6:29 p.m. CST

by AeroB

...unless it's a breakout hit (and they haven't been promoting it enough for it to become a breakout hit). Still, it has Adam Baldwin and Buffyverse writers, so count me in. Minear rocks.

May 12, 2005, 6:35 p.m. CST

by Ole Gravy Leg

But is he Hunter S. Thompson good? Is he Jane Espenson good? Dude, it's crazy nuts, insane. I'll watch this show.

May 12, 2005, 6:40 p.m. CST

by punto

only because of that Tru Calling comment (_that_ was the name of that show..)

May 12, 2005, 6:42 p.m. CST

by jimmy_009

C'mon the best we can do is another investigation show? I was suprised and pleased by Lost because it broke the ENDLESS cycle of cop and detective shows with something ORIGINAL. This sounds like a rehash of everything else. YAWN.

May 12, 2005, 6:45 p.m. CST

by Flem_Snopes

May 12, 2005, 7:04 p.m. CST

by genro

May 12, 2005, 7:53 p.m. CST

by Barry_Woodward

Tim Minear said so himself at the message board he frequents, Buffistas. If the series gets a second season, it's likely even more Mutant Enemy alumni will be tapped as well.

May 12, 2005, 9:26 p.m. CST

by Big Bad Clone

Like Paradise Hotel, Forever Eden, or some other sluts in a remote location shit. Sure the O.C. has plenty of buzz and is watched by a mainstream audience until it was abandoned on Thursday. But that's only one out a dozen shows taht premiered in the summer.

big bad clone what the fuck are you talking about

May 12, 2005, 9:48 p.m. CST

by Darth Busey

May 12, 2005, 10:38 p.m. CST

by The Outlander

Tim Minea also wrote and directed The Best Firefly Episode, OUT OF GAS! Go Tim, You

May 12, 2005, 11:25 p.m. CST

by AeroB

What would be cool enough for you? At least this isn't a promotional article for a DVD set on Amazon... and FYI I do think it's cool news

May 13, 2005, 12:06 a.m. CST

by Ribbons

I know this is subjective, but I liked the pilot episode, man. That baby had mileage. "Out of Gas" had the best line in the series though. I think I've already said this before, so I'll leave the speculation as to what line it was up to anyone who cares.

May 13, 2005, 1:30 a.m. CST

by jtp972

Considering the context of the mention of big surprises...any Buffyverse van now officially has their hopes up for some significant reference (even possible plotline) dealing with Buffy or Angel. Gonna be a letdown, though, if its only something like the main character talking about 'her friend who used to be on the LAPD who went whacky and starting talking about a vampire with a soul.'

May 13, 2005, 9:49 a.m. CST

by Kung Fu Hustler

What's a Buffyverse van? How do I buy one, or at least hitch a ride in one? Sounds cool!

May 13, 2005, 10:06 a.m. CST

by ZO

if the guy who swept the floors on the buffy set wrote a script herc would give it 5 stars?

May 13, 2005, 10:08 a.m. CST

by Kung Fu Hustler

There is no doubt that script would be "better than we deserve."

May 13, 2005, 7:39 p.m. CST

by jmc8y

The definition of "Inane": an ex-Guess? Model portraying an FBI "superprofiler". And this is better then The Shield? Herc = melodrama. she also went to columbia university

May 14, 2005, 1:19 a.m. CST

by Ribbons

While a great line in and of itself, I was thinking of something slightly more comical.

May 14, 2005, 1:41 a.m. CST

by jackburton2003

...now it's all things semi-Whedon related, past, present, or future. Kinda makes you wonder if these guys even have an inkling what the word "bias" means. Sheesh, guys. Get some perspective. Or at least ATTEMPT to project SOME measure of objectivity fer Christ.