Set your TiVos and VCRs for "Z Channel: A Magnificent Obsession," which airs maybe 6 p.m., maybe 9 p.m., maybe 10 p.m., maybe 1 a.m. (please check those local listings) Monday on IFC. It looks like they're repeating it four more times next weekend, and twice more the Saturday after that. Anyway, head over to rottentomatoes.com and discover that everybody who saw it liked it, but know also that "Z" never got anything approaching a real theatrical release. This IFC airing is the first opportunity most of the nation gets to see it.
Many here at Ain't It Cool saw it.
"Moriarty" said:
Xan Cassavettes made one of the best movies I've ever seen about what it is that drives the true film freak to spend endless hours in the dark, and if that's all this movie about, it still might be enough to make it onto this list. But there's also the true story of Jerry Harvey, the genius programmer who turned a local cable station into a sort of movie lover's Mecca before his personal demons finally cut him down. One of the things that will make this worth revisiting is the wealth of tantalizing clips it contains from film that are currently unavailable on video. What makes it count is the human story at its heart.
"Mr. Beaks" said:
Maybe this tyranny of atrociousness was pay cable's destiny all along, but, over twenty years ago, there was a dream called Z Channel that took a daringly egalitarian approach to programming, and, as a result, did more to revolutionize the way we watch movies than fifty-two airings of ANY WHICH WAY YOU CAN in one week ever could.
The inspiring example of that channel, and its tortured behind-the-scenes story that ends in a shocking murder-suicide, is the focus of Xan Cassavetes's stirring love letter to movie love, Z CHANNEL: A MAGNIFICENT OBSESSION, which is one of the most enrapturing films I've seen this year. I know that sounds like a curious thing to say in light of programmer Jerry Harvey's tragic circumstances, but his lifelong mental illness, exacerbated by the suicide of two sisters and a nasty liquor-and-No-Doz habit, is strangely, yet appropriately arbitrary to Cassavetes's narrative. Instead, she focuses on Harvey's visionary notion to share with his 80,000 Los Angeles County subscribers every single fucking movie he could get his hands on. High and low, good and bad – Z Channel showed it all, and, in the process, made careers and saved endangered films.
The bulk of Harvey's backstory is divulged by Cassavetes in the early going, from his advocacy of Sam Peckinpah, whose uncut THE WILD BUNCH Harvey screened at the Beverly Canon Theater, to his short-lived screenwriting career (one-and-out with the little seen Spaghetti Western CHINA 9, LIBERTY 37, directed by Monte Hellman). Harvey finally landed at Z Channel in 1980, and hit the ground programming with an erratic gait, rushing from the esoteric works of marginal American directors Henry Jaglom and Alan Rudolph to soft core Euro erotica starring Laura Antonelli to gritty documentaries like ATTILAS '74. The channel would run mini-festivals highlighting the lesser known films of Altman (who credits Z Channel with reviving interest in MCCABE AND MRS. MILLER), Nicolas Roeg and the never discussed Stuart Cooper, whose OVERLORD I must see immediately based on the striking clips shown in Cassavetes's film (it looks like a WWII-themed precursor to Noyce's NEWSFRONT). Even sophisticated Hollywood audiences were taken aback by the variety of Harvey's selections, but it was all a part of his search for, as critic and Z Channel compatriot F.X. Feeney puts it, the smart viewer (aka "the uncommon denominator") through whom they hoped to hook everyone else.
The implications of this strategy, had it succeeded, would've been enormous. The film business was, as we all know, at a precarious juncture in the early 1980's; studios, shaking off the hangover of an experimental (business-wise) decade, were beginning to develop new boilerplates while the cable and VCR revolution loomed ominously on the horizon. The top two national pay cable channels – HBO and Showtime – envisioned lineups of movies with interspersed original programming and sports, but they were clearly aware, and perhaps a bit afraid, of Z Channel, which had all of Hollywood's subscribers on lockdown. In response, the heavy hitters hatched The Movie Channel and Cinemax, both of which offered slightly more diverse cinematic offerings, but certainly not on the level of Z Channel, which, when it wasn't introducing Paul Verhoeven to American audiences via TURKISH DELIGHT, was busy becoming the first outlet anywhere to show Michael Cimino's full, four-hour cut of HEAVEN'S GATE; thus, saving that film's reputation (though not Cimino's career).
Long before DVD popularized and cheapened the term, the "Director's Cut" was Z Channel's métier; only Harvey was rescuing criminally distorted work like Leone's ONCE UPON A TIME IN AMERICA (which ran side-by-side with Warner Brothers butchered two-hour travesty) or Bertolucci's 1900 rather than restoring D.J. Qualls's bare ass to THE NEW GUY. Harvey also sought out Visconti's Italian cut of THE LEOPARD, the original German broadcast version of DAS BOOT, and even dared to show all twelve hours of Fassbinder's BERLIN ALEXANDERPLATZ uninterrupted. Madness.
Also crucial to Z Channel's appeal was its monthly station guide, which featured aggressively opinionated reviews from F.X. Feeney that apparently kept him knee deep in "fan mail". It's impossible to imagine a station's own listings featuring nasty reviews of its own programming nowadays, but, then again, it's impossible, in this pre-Blockbuster Video age, to imagine Z Channel.
Harvey's mental health, according to Cassavetes's timeline, deteriorated as the channel struggled to keep pace with its competitors, forcing an uneasy alliance of Bergman and Dodgers games, but there were still a few late breaking triumphs, like a December '85 bolstering of SALVADOR that had a hand in getting James Woods a Best Actor nomination. But if Z Channel's future was to be little more than an Oscar campaign tool, it's probably best that the channel, in essence, expired with Jerry, whose manic depressiveness sadly led him to also take the life of his second wife. When Feeney gets choked up quoting Goethe in reference to Harvey's incomprehensible life, it seems fairly clear that Jerry Harvey was not at all a bad guy. He was just a wayward spirit who loved movies, wanted dearly to share that love, and died when the medium through which he expressed that love was co-opted and compromised. Those personally involved in his life will always have much to sift through and mourn, but for those of us who only knew him through his bizarre flights of programming fancy, there's a dream worth celebrating. It's the same dream Roger Ebert indulges with his Overlooked Film Festival, or that Harry lives out every December with a packed Alamo Drafthouse, or, on a much smaller scale, the one we all share with our friends and lovers when we expose them to a gem unseen or, in some cases, not properly appreciated (I know I'll be converting viewers in the name of Coppola's ONE FROM THE HEART until I draw my last).
It's in these hours that we transcend the fakeness of Hollywood, and personalize what so many try to desecrate for a paltry percentage or a meaningless credit. It's then that we realize why we fell in love movies in the first place. And sometimes we all need to paddle into the darkness as a palliative to the smug bullshit peddled by established filmmakers for no other reason than to feast their eyes on their own plasticine "genius". That's what these two films do emphatically and unadulterated.
"FNORDCinco" said:
I just got back from a free outdoor screening of, Z CHANNEL: A MAGNIFICENT OBSESSION at the Cable Center on the University of Denver Campus. They are also showing in the coming Fridays, BETWEEN STRANGERS, HERODES LAW, SLASHER, and a HiDef THE SHINNING (But not before 7 thats' willies time).
Z CHANNEL: A MAGNIFICENT OBSESSION is two documentary's in one. One about Z Channel and its effect on Hollywood and Independent films that will be felt for years to come. And the other on the life of Jerry Harvey their programming chief, a modern day above average manic movie geek with problems. Not being from LA I had only the information on the Internet for any kind of history of the Z Channel. Seemed interesting, lots of very great movies early on when Cable was still sold door to door by salesman. I was shocked while watching, not knowing such a channel existed in the 80's.
First Z Channel is promoted as STARRING Quentin Tarantino, but much like other documentary's seeking wider audience, he is just a player being interviewed about his experiences. His purview is on the side of the documentary that talks about Z Channel itself. He speaks of his video store job and all the recordings of Z Channel his boss gave him to watch. And in one of the more energetic of spots QT somewhat loses it and starts muttering like he seems to do when talking film.
Z Channel itself in the 80's brought life to movies not seen since their two weeks in the cinema or internationally known but cut to suck for America. Jerry Harvey asked directors to do their own cuts in a time when that was unthinkable. He spent massive amounts of the stations cash and gave up so much on films that could easily be called Failures. Producing an independent film guide that is the precursor to all the movie websites and magazines. Also for the pervy talk backers this documentary provides lots and lots of full frontal female nudity. As highlighted in Z CHANNELS' After Hours programming, but even that was shown for a reason. Highlighting that Z Channel wasn't just about showing Indi or Foreign films, but the Full Spectrum of the Art.
Harvey himself was a movie geek before that term existed. Doing what we all want to do, get paid to watch lots and lots of films. Being appreciated for spreading knowledge and giving joy to those with no ability to see such films on their own. Starting the fire inside so many directors and reigniting burnt out film makers.
Through interviews and sound clips of Harvey himself (Always followed by silence) his life is told with loving, by his friends and the women in his life. Z CHANNEL: A MAGNIFICENT OBSESSION doesn't allow the lay to speculate on what happened to Jerry Harvey, having it come out early that he killed his wife then himself. No answers are given for what he suffered and the crime he committed. One has to wonder why this story took so long to get out but as Harvey's best friends said "We were just so angry at him."
This documentary is a primer on films you haven't seen and wont see on Cable ever again, and the price of being dedicated.
"The Last Lizard" said:
This documentary has already been reviewed a few times on your site, and is actually a very interesting but overlong look at the life of Jerry Harvey, the main programmer of the Z Channel, a film channel that was only ever available in the LA area, but was very influential nonetheless (well, "nonetheless"... it WAS LA, of course). Harvey made it his personal mission to screen films he thought were overlooked by the general public. In an era without DVD or even a big VHS market, Z Channel was the only opportunity to see many of these films.
Cassavetes interviews many filmmakers whose careers were helped tremendously by Harvey, such as Henry Jaglom and our very own (ie, Dutch) Paul Verhoeven. She deftly avoids falling into the talking heads-trap by crosscutting an enormous amount of old film material, of films shown by the Channel, of course. A man as obsessive and driven as Harvey, however, must have made some enemies as well, but nary a bitter word is spoken. Cassavetes can't entirely evade the pitfall that's actually mentioned in the film itself: making a hero out of a man who left so much human wreckage behind him.
Besides, Jerry Harvey's story could have been condensed to a more manageable length. At two hours, the documentary overstays its welcome quite a bit, and gets mired in anecdote after anecdote of yet another enthusiastic industry veteran.
Still, it's always fun seeing people like James Woods and especially Quentin Tarantino speak, and the story of the Z Channel is an interesting one.
Monday night also brings what is always Herc's favorite leg of "The Bachelor." Girls who endured rejection unite in a TV studio to bitch at the bachelor, the two girls who made it into the final round, and each other. For some reason, they've only invited 12 of the bootees this time around (it's usually all of them), and maybe that's an even better idea.
Your personal recording devices will get a workout Monday. "Bachelor" airs on ABC at 9 p.m., opposite "24."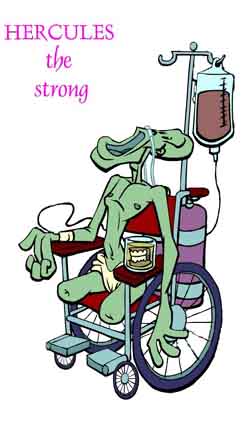 Looking for bumper stickers, plush toys and girls' underwear covered with cute cartoon double-amputees? Visit The Herc Store!