Here's what appears in the current edition of something called The Austin Chronicle:
Laughs are sought in a comedy about a single woman who has a child through a sperm donor on the WB. This doesn't strike me as high hilarity, but with the production team of Brian Grazer and Ron Howard, this could potentially be another offbeat comedy in the style of Arrested Development. (For those who've been wondering, the show has been picked up for a third season).
UPDATE!! The author of the article, Belinda Acosta, said Monday afternoon she will now retract her statement about the renewal. Via email, she tells a Television Without Pity talkbacker:
I *thought* I saw it in a Fox press release. Since I can't find the release, and I, too can not confirm through official channels, I've offered a retraction in my upcoming column.
In truth, Fox will likely announce "Arrested Development's" fate when it announces its sundry line-ups in mid-May.
Read the Chronicle's original piece here.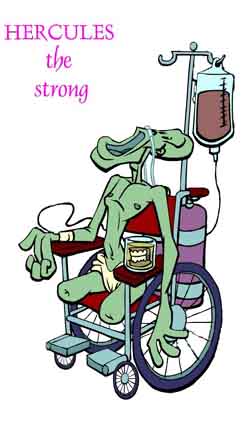 Save "Arrested Development"! Demonstrate to Fox the enormity of its fanbase by purchasing many many copies of its DVD!! The purchase of DVDs saved "Family Guy," and that wasn't nearly so good!!