AMERICAN DREAMS? DEAD!
LIFE AS WE KNOW IT? DEAD!
MEDICAL INVESTIGATION? DEAD!
THIRD WATCH? DEAD!
This time every year, USA Today's Gary Levin tells us which scripted shows are dead, which will live next season, and which may or may not be back. The breakdown:
Renewed (or a shoo-in):
According to Jim (ABC)
Alias(ABC)
Boston Legal (ABC)
Charmed (WB)
Crossing Jordan (NBC)
CSI (CBS)
CSI: Miami (CBS)
CSI: NY (CBS)
Cold Case (CBS)
Cuts (UPN)
Desperate Housewives (ABC)
Everwood (WB)
ER (NBC)
Eve (UPN)
George Lopez (ABC)
Gilmore Girls (WB)
Girlfriends (UPN)
Grey's Anatomy (ABC)
Half & Half (UPN)
Hope & Faith (ABC)
House (Fox)
Joey (NBC)
King of Queens (CBS)
King of the Hill (Fox)
Las Vegas (NBC)
Law & Order (NBC)
Law & Order: Criminal Intent (NBC)
Law & Order: Special Victims Unit (NBC)
Law & Order: Trial by Jury (NBC)
Lost (ABC)
Malcolm in the Middle (Fox)
Medium (NBC)
Numb3rs (CBS)
The O.C. (Fox)
One on One (UPN)
One Tree Hill (WB)
The Simpsons (Fox)
Reba (WB)
Scrubs (NBC)
Smallville (WB)
7th Heaven (WB)
Still Standing (CBS)
That '70s Show (Fox)
24 (Fox)
Two and a Half Men (CBS)
Veronica Mars (UPN)
The West Wing (NBC)
What I Like About You (WB)
Without a Trace (CBS)
Gone (or nearly dead):
American Dreams (NBC)
Center of the Universe (CBS)
Clubhouse (CBS)
Complete Savages (ABC)
Dr. Vegas (CBS)
Everybody Loves Raymond (CBS)
Father of the Pride (NBC)
Grounded for Life (WB)
Hawaii (NBC)
JAG (CBS)
Jake in Progress (ABC)
Jonny Zero (Fox)
LAX (NBC)
Life as We Know It (ABC)
Medical Investigation (NBC)
Method & Red (Fox)
The Mountain (WB)
North Shore (Fox)
NYPD Blue (ABC)
Point Pleasant (Fox)
Rodney (ABC)
Second Time Around (UPN)
Star Trek: Enterprise (UPN)
Third Watch (NBC)
Tru Calling (Fox)
On the bubble:
All of Us (UPN)
Arrested Development (Fox)
Bernie Mac (Fox)
Blind Justice (ABC)
Committted (NBC)
Eyes (ABC)
8 Simple Rules (ABC)
Jack & Bobby (WB)
Joan of Arcadia (CBS)
Judging Amy (CBS)
Kevin Hill (UPN)
Less Than Perfect (ABC)
Life on a Stick (Fox)
Listen Up (CBS)
The Office (NBC)
Quintuplets (Fox)
Summerland (WB)
Will & Grace (NBC)
Yes, Dear (CBS)
"Veronica Mars" is safe!! Want to vote to save "All of Us," "Listen Up," "Quintuplets" or "Summerland"? Click here.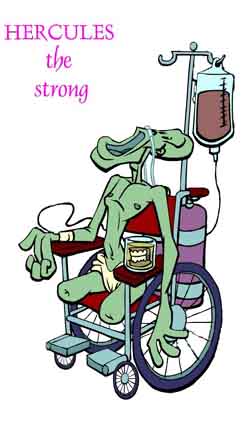 Looking for bumper stickers, plush toys and girls' underwear covered with cute cartoon double-amputees? Visit The Herc Store!