If you continue telling essentially the same joke ad infinitum ... you might be a really bad comedian!
Why is this the show to which I'm most looking forward Sunday? Because Jeff Foxworthy deserves to be reamed in the ass by much better, non-redneck comedians like Nick DiPaulo, Gilbert Gottfried, Jay Mohr, Denis Leary and Colin Quinn. If only Triumph were lurking about!
And Lord? Please let Larry the Cable Guy say "Git'er done!" for the millionth fucking time. Gets funnier every time I hear it.
10 p.m. Sunday. Comedy Central.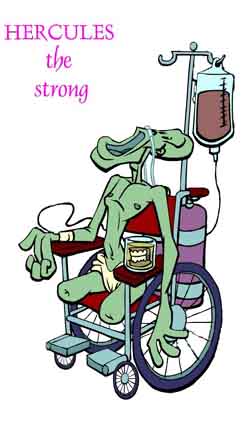 Looking for bumper stickers, plush toys and girls' underwear covered with cute cartoon double-amputees? Visit The Herc Store!