Star Trek: Enterprise 4.15 FAQ
What's it called?
"Affliction."
Who's responsible?
Teleplay is credited to Mike Sussman ("Twilight," "Strategem," "E2," "Home," "The Augments," "Kir'Shara," "Babel One"), the best "Enterprise" writer not named Reeves-Stevens.
What does TV Guide say?
"As Trip prepares the Columbia, Enterprise's sister vessel, for its maiden voyage, Phlox is shepherded by alien kidnappers, who require his skills to kill a mutated virus."
What did Herc say about this one way back in November?
"With 4.15, 'Affliction,' it appears we get a kind-of prequel to the 1996 'Deep Space Nine' episode "Trials and Tribble-ations." Remember how Worf, horrified at sorry state of Klingon visages in Kirk's era, explains to his fellow Starfleet officers that the human-like appearance of the Klingon warriors was nothing to be discussed with non-Klingons? … we will see Klingons inject green fluid into other Klingons - green fluid that may make many of them look like "comedian" and "Last Comic Standing" fixture Rich Vos!"
So. These "alien kidnappers"?
Klingons! Well, Rigellian agents of the Klingons. (As if that Targ in the episode's opening seconds doesn't make as much obvious.)
Didn't Herc also say recently the Klingons were being injected with Arik Soong's "Augment" DNA.
He did. And they are.
Okay, I maybe get why some Klingons of Kirk's era might look human. But do we learn tonight why all Klingons of Kirk's era looked humans?
It's not hard to put together a scenario. The key to it all can be found in the TV Guide logline.
The big news?
"Affliction" is an episode teeming with surprises designed to set geek hearts aflutter. The biggest jaw-dropper arrives at the end of act one, which puts the Enterprise's armory officer in an entirely new light. But there's also an unexpected twist involving Trip, T'Pol … and Hoshi!!
So lots of Hoshi this week?
She wears a tight suede number to Phlox's abduction.
What else is TV Guide not telling us?
Even Surak's katra has a role to play this week.
You'll tell us nothing more of the action on the Trip-T'Pol front?
The first scene aboard Enterprise this week is a Trip-T'Pol encounter. "Are you leaving because of me?" she queries.
Speaking of fronts, does the captain of NX-01 still "like-like" the ponytailed captain of NX-02?
Hernandez and Archer stick to their respective ships this week.
How does it end, spoiler-boy?
With much unresolved. "We're out of options, Travis," barks Archer. "Five point two."
Herc's rating for "Star Trek: Enterprise" 4.15?
***1/2
The Hercules T. Strong Rating System:
***** better than we deserve
**** better than most motion pictures
*** actually worth your valuable time
** as horrible as most stuff on TV
* makes you quietly pray for bulletins
8 p.m. Friday. UPN.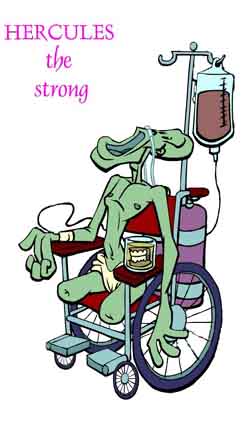 Looking for bumper stickers, plush toys and girls' underwear covered with cute cartoon double-amputees? Visit The Herc Store!