Hi, everyone. "Moriarty" here with some Rumblings From The Lab...
This is a great comic, probably the best thing Sergio Aragones ever did, and I'm curious to see how it'll work on the bigscreen. Here's the press release we got from the company that has just aquired the film rights:
Marc Toberoff's company, IPW (Intellectual Properties Worldwide) has acquired the motion picture rights to the long-running comic book GROO THE WANDERER. Created by Sergio Aragones with writer Mark Evanier, GROO was first published in 1983 and generated an immediate outpouring of affection for its unique irreverence. Groo's adventures now number over 170 issues, and Aragones and Evanier will draw from this wealth of material to write a screenplay as part of their deal with IPW.
Best described as Conan the Barbarian meets Shrek, the comic book has attracted many suitors of late. Toberoff, along with IPW's head of production J. Todd Harris, teamed with Bay Area producer Jeffrey Allard, President of Indie Entertainment, LLC and executive producer of the Texas Chainsaw Massacre remake, to take the property off the market.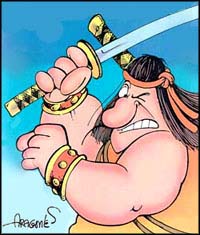 "I've known Mark Evanier and have been a fan of Sergio for many years," noted IPW Chairman Toberoff. "For me, GROO is one of the few remaining crown jewels of the comic world. Imagine crossing Arnold Schwarzenegger with Peter Sellers and voilà -- GROO. Sergio is a visual genius and Mark's witty dialogue and stories are hilarious and family-friendly. In a couple years, our kids will be saying "GROO, GROO, GROO" like Shrek today."
Able to lay waste to entire armies while saddled with the mental capacity of sand, Groo roams the land with his swords and his adoring dog Rufferto, encountering dragons, wizards, witches and kings along the way. Villains often attempt to exploit his legendary swordsmanship by playing on his lack of smarts, but Groo's charming blend of naiveté and stubborn literalness has an uncanny way of derailing their schemes.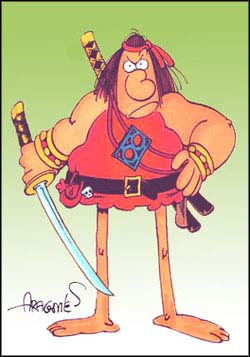 Aragones is best known for his work for Mad Magazine, to which he's been a regular contributor since 1963. He has won every known award for cartooning, including the prestigious Reuben Award from the National Cartoonists Society. Evanier has extensive writing credits in comic books and television (including three Emmy nominations). His television writing includes Garfield and Friends, Mother Goose and Grimm, and Superman. Together, Aragones and Evanier have been nominated for fifteen of the comic industry's Eisner Awards since 1992 (twelve for GROO) and have won six times.
Marc Toberoff recently founded IPW to focus full-time on acquiring rights to branded properties for exploitation via film, television and merchandising. The company recently set up My Bodyguard at Dimension Films and has numerous projects in development including The Immortals at Paramount. and Fantasy Island at Sony. Other properties in various stages of development include Gentlemen Prefer Blondes, Guys and Dolls, Grand Hotel, Rififi, Little Caesar, Asphalt Jungle, Sanford & Son, Hart to Hart, Ironside, Police Woman, and Piranha
In addition to writing the screenplay, Aragones and Evanier will serve as executive producers. Toberoff and Harris will produce. Allard will executive produce.
Hmmmmm... I love GROO, but I don't know if I'd compare it to SHREK, necessarily. Whatever the case, I hope this maintains the comic's original sense of humor. Could be loads of fun...