Did Drew sabotage his own nearly perfect game by choosing fellow horseman Michael over in-house girlfriend Diane?? Drew looked like he wanted to cry when Diane implied he used her. And is Jase disguising some newfound MPB? Did Cowboy just french his very fat mom? Did I say "almost" perfect? First place got $500,000, second got $50,000. Did Brandon and Nicole screw the pooch by not shaving their beautiful heads? Will the really unattractive contestants crush their fitter competitors? The horrible bowling moms, the black parents, the virgin models and the undersized fornicaters are all who remain. "Big Brother 5" Season Finale 8 p.m. Tuesday. CBS.
"Amazing Race 5" Season Finale 9 p.m. Tuesday. CBS.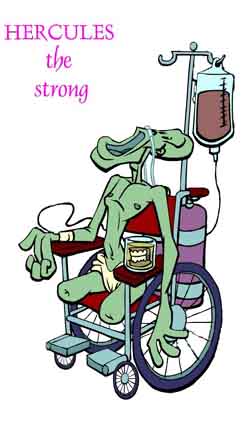 Looking for bumper stickers, plush toys and girls' underwear covered with cute cartoon double-amputees? Visit The Herc Store!