Stringer favors more profit and less violence. This makes him a hero, no? For the record, everyone named "Herc" enjoys "Theme From Shaft." It's the return of McNulty, Greggs, Daniels, Omar, Barksdale and Bell! But will those who missed seasons one and two become awash in confusion?
… brilliant crime drama, which is so assiduous in its storytelling as to be almost impenetrable to the uninitiated. Those along for the ride since the beginning have rightly come to savor this as one of TV's premier hours - a meticulously written, superbly acted program that demands undivided attention. Season three again unfolds slowly, with four screened episodes leaving a litter of unanswered yet thoroughly enticing questions. …
… as vividly written and superbly acted as ever. But let it also be said that those who don't follow the drama regularly might wind up utterly lost. It is not an hour that panders to newcomers. Either you're on board or you're not, and if you're not, well, good luck. … a series that's uncommonly rich, with crackling good dialogue and dynamic characters.
… a dense, difficult series … powerful and fearlessly grim drama about drugs, crime and despair can still stand with the best series on TV.
... Smart and subtle, yet also brutally powerful, The Wire will never be the most popular crime drama on TV. It will just have to settle for being the best.
... superb and lamentably Emmy-deprived … splendid writing and compelling performances. … The brilliance of The Wire is its texture, applied with fine strokes instead of the customary TV trowel. … Latecomers to The Wire needn't be hesitant to join the party at this point. The catch-up curve isn't steep and this season carries every bit of the dramatic and literary heft of the first two years. If it delivers on the promise of the first four episodes, the best show on television might be even better.
… pound for pound the best drama on television … I defy anyone, once absorbed into "The Wire's" profane, amoral universe, to not keep watching. …
9 p.m. Sunday. HBO.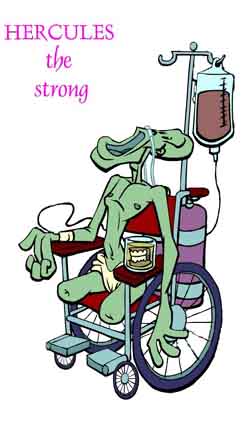 Looking for bumper stickers, plush toys and girls' underwear covered with cute cartoon double-amputees? Visit The Herc Store!