It's a drama set behind the scenes at Los Angeles International Airport, from screenwriter Nick Thiel, a "Magnum P.I." vet who wrote five studio films between 1989 and 1996: "The Experts," "Fire Birds," "White Fang," "V.I. Warshawski," "The Associate." It stars Heather Locklear ("Spin City"), Blair Underwood ("Full Frontal"), Paul Leyden ("As The World Turns"), David Paetkau ("Candy From Strangers"), Frank John Hughes ("Catch Me If You Can"), and Wendy Hoopes (who voiced Jane, Quinn and Helen on "Daria"). It's also another shitty NBC clone of "Las Vegas," the only new show NBC brought back from last season. Feh! But what matters Herc's opinion?
… feeble drama, which appears grounded from the get-go. … We've spent more enjoyable hours in baggage claim. …
USA Today gives it two stars (out of four) and says:
When was the last time you had fun just hanging around at the airport? Well, you won't Monday night, either. A mishmash of clichéd characters and clashing tones, NBC's airport drama LAX would be a bad show in any season. Given the travel climate these days, you can add "clueless" to its list of failings. This is a series that needs to find itself quickly, because tonight's premiere is simply, completely, lost. ...
… Even an appealing cast and superb cinematography can't eliminate the impression that this series was outdated before the first scene was lensed. … the runway for "LAX" would seem to be strewn with obstacles. …
… has yet to pick a proper tonal flight pattern … rather than get into anything too personal, slapstick scenes and emotional heart-tuggers break up the dramatic flow. … the pilot episode overall is confused … The confrontations make for far more compelling viewing than the slapstick, though piling on emergencies can be too much. …
For most of us, LAX, or Los Angeles International Airport, is a place to stay out of — that's why God made Burbank — or get through as quickly as possible. … the series' fundamental cheesiness indemnifies it against its failure to be anything better. Having nothing much on its mind makes ample room for the hackneyed and preposterous. … It feels like a waste of time, but not a vile waste of time. It is not mean, which is a kind of accomplishment nowadays, and if that is the best you can say of it, it's also the worst. …
10 p.m. Monday. NBC.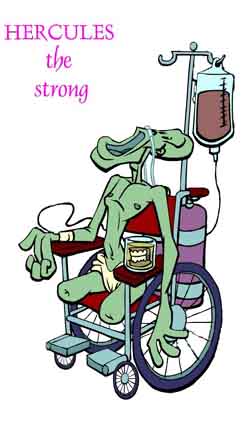 Looking for bumper stickers, plush toys and girls' underwear covered with cartoon double-amputees? Visit The Herc Store!