I'd like to declare "Jack & Bobby" the season's most overrated new Sunday night drama, but ABC's horrible "Desperate Housewives" is still slouching toward its Oct. 3 premiere! "Jack & Bobby" is a contemporary drama about two brothers, one of whom is destined to become president of the United States in 2041. (Surprisingly, it's revealed at the end of the pilot which of the two brothers achieves high office.) As with "Everwood," we must indulge an elderly black man's leisurely narration, but this time around he speaks from the year 2049, at which point "Jack & Bobby" creator Greg Berlanti will almost certainly (and mercifully) be food for the worms. (It would have been much cooler had one of the show's 2049 narrators been an alien or a robot.) What we get with "Jack & Bobby," I believe, is poor drama and bad television. This show lost me when the Christine Lahti character began disparaging her new boss to a complete stranger – who (surprise!) turned out to be that very new boss! Whoa whoa whoa! It didn't occur to her that she met the stranger at a party in the new boss' honor? And that this stranger was the only guy she didn't recognize? That's the kind of fresh storytelling for which we've been holding out! Thanks again for canceling "Angel," WB!!
What makes this family drama different from other family dramas, and it does not make it all that different, is its framing device … mostly old stuff and situations: a school bully, a new girl in town (different, deep), an eccentric mom, an oddball child. … it is impossible not to regard Bobby as special, because we are told continually by the talking heads of 2049 that he is special …as President McAllister, Bobby will be called "The Great Believer." (I would prefer a Great Reasoner, frankly; the Believers scare the pants off me.) …
the idea behind "Jack & Bobby" is more intriguing than the actual premiere … Buoyed by Christine Lahti's knockout performance … stumbles in only a few places, but the missteps are enough to throw off the delicate balancing act … the idea of getting to know the great man as a boy doesn't fully congeal. …
… promising … both dramatically fulfilling and thought-provoking … Christine Lahti, who portrays their mother, Grace McCallister, again demonstrates her ability to find nuance and texture in every character she plays. …
TV Guide, clearly forgetting that "Angel" and "Gilmore Girls" aired on the WB after "Felicity," says:
… beautifully acted and evocative … we haven't been so captivated by a WB drama since "Felicity."
9 p.m. Sunday. The WB.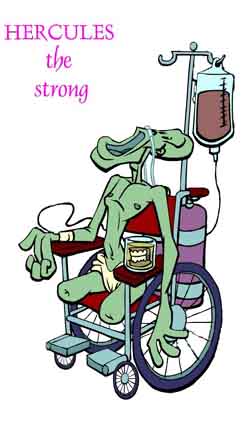 Looking for bumper stickers, plush toys and girls' underwear covered with cartoon double-amputees? Visit The Herc Store!