Hi, everyone. "Moriarty" here with some Rumblings From The Lab...
It's been a busy month here at the Labs already, and it's only getting busier as the fall movie season gets underway. Normally, I leave the Coax side of the site in the capable hands of Hercules The Strong, but from time to time, I see something that I feel like reporting in on. For example, Dreamworks Animation invited me out to their Glendale campus last week so I could meet some of the creative team behind the scenes on their first venture into prime-time CGI animation. Last year, a number of journalists were shown a full day's worth of previews of upcoming projects from the animation division, including A SHARK'S TALE, OVER THE HEDGE (my favorite at the time), MADAGASCAR, and FATHER OF THE PRIDE. There was nothing finished enough from the series to show to us back then, which isn't really surprising. Each episode of the show takes nine months to produce, and they're just now getting to the finish line with their first batch of episodes.
As a result, when I sat down with Jonathan Groff and Jon Pollack, I was the first person outside the studio to see a complete show. Groff and Pollack are executive producers on the series which was created by Jeffrey Katzenberg and developed by Groff. They explained the origin of the show to me, saying Katzenberg was doing some business in Las Vegas, and he ended up spending a great deal of time around Siegfried and Roy. Katzenberg found himself particularly amazed (and amused) by the extent to which the animals used in the show are pampered and treated almost like humans. Because of his friendship with the magicians, he was able to get them to agree to let him create a TV show about these animals. Siegfried and Roy are characters on the show, but it's very much not about them.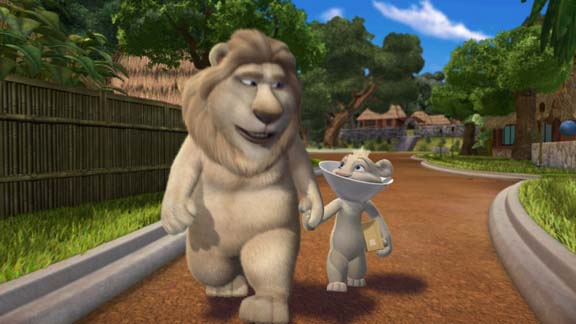 Instead, the focus is on Larry, voiced by John Goodman, and his family. Larry's a white lion who pretty much stumbled into a showbiz career. His wife Kate (voiced by CURB YOUR ENTHUSIASM's Cheryl Hines) is second-generation show business. Her father, Sarmoti (voiced by the great Carl Reiner) was one of the original headliners in the Siegfried & Roy show, one of the first lions they brought from Africa. Sarmoti doesn't have much respect for Larry, and he constantly rags his son-in-law about his work as well as his parenting of teenaged daughter Sierra (voiced by Danielle Harris) and his nine-year-old son Hunter (voiced by Daryl Sabara).
There's a huge supporting cast, too, that I got a glimpse of, including Snack the Gopher (Orlando Jones), an activist lobster that they rescue from a restaurant tank (Danny DeVito), a pair of muscle-bound warthog brothers, and, of course, Siegfried and Roy themselves. Julian Holloway and the always-hilarious Dave Herman voice the magicians, and one of the coolest things about the show is the way these two are depicted. You'd think that because they officially sanctioned the series, they might be treated with kid gloves, but they are played as deeply eccentric loonies, pampered and pompous and self-indulgent and hysterical. I saw one full episode and bits and pieces from several others, and Siegfried and Roy consistently made me laugh out loud. In particular, there's one episode where they're trying to defend Las Vegas against the creeping influence of mom-and-pop values that surprised me with each new gag.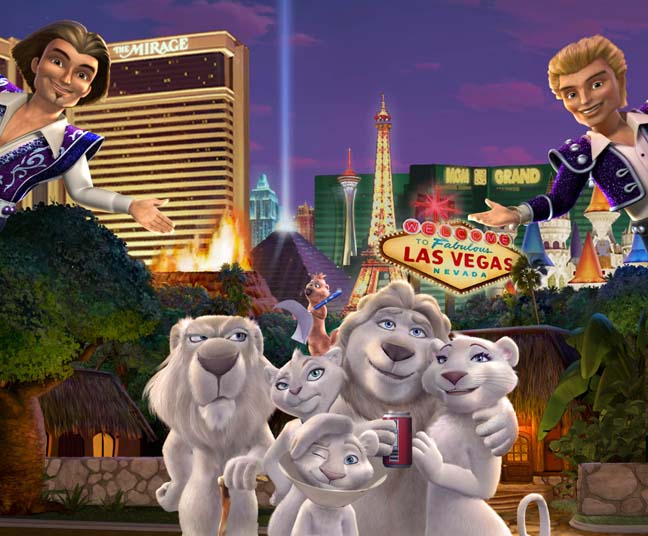 Another surprise is the tone of the show. I expected something like SHREK... family entertainment with just the slightest of nods to an adult audience. Instead, this is the inverse, an adult comedy that would be appropriate for families with older kids only. Even the guest appearance by Donkey (a very funny cameo by Eddie Murphy) is played in a very different way than anything from SHREK. This is Donkey behind the scenes, when he's not making family movies. It's pretty damn funny across the board, and I suspect that the longer it's on the air, the better it's going to get. As Groff and Pollack walked me through the various episodes, it was obvious that they're having a hell of a time. They sound a little shocked at what they're getting away with, deeply pleased by the support they're getting from the studio and from the network. They're going to air on Tuesdays at 9:00, just before SCRUBS, and it feels like a good match. NBC is working hard to make sure that people know this isn't for kids. Don't expect something as blisteringly foul as SOUTH PARK, but it seems more gleefully naughty than THE SIMPSONS or KING OF THE HILL.
The show looks great, and if this is an experiment to see if they can deliver feature-film quality CGI on a weekly basis, consider it a success. There's a rich palette to the show, and the character work is strong and funny. I saw part of an episode involving Roy's long-standing one-sided feud with Matt Lauer. In the scene I watched, Siegfried tries to stop Roy from attacking Lauer, and a magic duel erupts. It's as visually arresting as any of the animated films I've seen in the theater so far this year. I like the character designs, too. They're warmer and less exaggerated than the work in SHREK, particularly where the humans are concerned.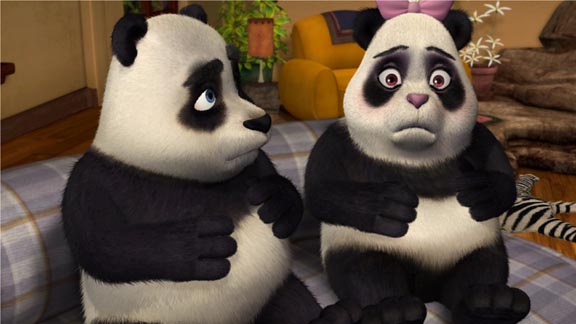 Overall, I think FATHER OF THE PRIDE could be a welcome addition to the world of prime-time animation for grown-ups. I have to say, I think we're living in a golden age for animation freaks. We grew up on the stuff, sure, but looking back at most of the fare we had available to us in childhood, it only works if viewed through the beer goggles of nostalgia. Right now, thanks to ADULT SWIM and Matt Groening and John Kricfalusi and Seth McFarlane and a number of other smart, individual voices who seem to love what they're doing, there's almost too much to choose from. It's a wonderful position to be in as a fan. I'll definitely tune in to see what Groff and Pollack and their talented team of writers and directors are up to when FATHER OF THE PRIDE hits the air next month.
I really do have a ton of things I want to get to this week for you guys, like script reviews of the shooting draft of THE FANTASTIC FOUR and the newest John Sayles draft of JURASSIC PARK 4, as well as reviews of MEAN CREEK, THE BROWN BUNNY, and the newly-reworked THX-1138. All that plus a DVD column or two means I've got to get busy. Until then...