THE DEAL ON THE BUFFY TOON!
The good news? According to one completely reliable source, "thousands of miles across the Pacific Ocean, pretty pictures of Buffy and Sunnydale are being drawn by the thousands." The slightly less good news? "Buffy: The Animated Series" still doesn't technically have a greenlight. The activity is on behalf of a pilot-y "short presentation" being engineered by Fox and Mutant Enemy, featuring the vocal talent of Nicholas Brendon, Alyson Hannigan, Anthony Stewart Head and others, that will soon be unveiled to a multitude of "extremely interested parties." Have you seen the number of cable channels out there? For those new to the site, "Buffy: The Animated Series" will deal with the slayer's Sophomore year at Sunnydale High – as re-created by the monk-types who hatched Dawny Summers. Jane Espenson, mammothly talented writer of many live-action "Buffy" 'sodes, has already penned scripts for three cartoon episodes. How cool is that?? LEARN WHO ELSE IS IN THE FIREFLY MOVIE!!
The terribly impressive Chiwetel Ejiofor, of "Amistad" and "Dirty Pretty Things" fame, will interact with Mal, Zoe, Book, Kaylee, Jayne, Inara, River, Simon and/or Wash, according to those terribly familiar with the Universal motion picture "Serenity." "He's very, very cool and plays an unexpected role in things," notes someone! Note please there are still several other significant roles to be cast for this big-screen sequel to the woefully short-lived TV series "Firefly." JOSS X!
Get your hinder to a comic book store already!! The first issue of "Astonishing X-Men," written by Joss Whedon, hit the stands today. Whedon, for the many who never heard of the guy, authored every issue of the quite wonderful comic book series "Fray." This is not the first time Whedon has written for Marvel Comics characters; some will recall he polished up the movies' "X-Men" script. WHAT? MORE BUFFY? DIDN'T THEY CANCEL THIS SHOW?
I don't think they're making new ones. But you'd never know by switching on the set. Or by attending this presentation of 190 (!) academic papers on the series about "little miss likes-to-fight." (This sort of thing almost never happens to "Walker: Texas Ranger.") "Buffy" also made the cover of TV Guide this week, and its sixth season came out on DVD Tuesday. WONDER WHEN THE WONDER FALLS ON DVD?
Wonder no longer! Series overseer Tim Minear is telling people a big-deal "Wonderfalls" DVD seems to be in the works, and could be on shelves before year's end. One suspects it will sell well! The "Firefly" DVD sold like a mofo, and it only had three unaired eps; the "Wonderfalls" DVD could have as many as nine. But no one seems to be ruling out all 13 episodes airing somewhere. And no one yet seems to be ruling out the series resuming production! WHO's ON NINTH?
Over in blighty, an article in The Mirror indicates that the approaching Eccleston-anchored 13-episode "Dr. Who" series will see the tardis-toting timelord battling updated daleks and waxy replicants. Other sources tell us Who's hottie assistant will be played this time around by Billie Piper. She's pretty!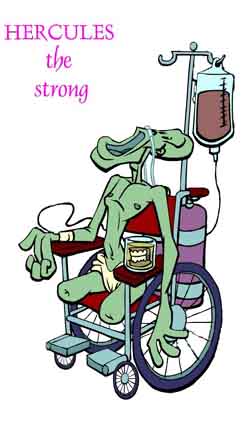 Looking for bumper stickers, plush toys and girls' underwear covered with cartoon double-amputees? Visit The Herc Store!