"The advance review copy fled through the desert and the seaman followed."
Ahoy, squirts. Quint, the crustiest of seamen, here with the very first super-awesome Chum Bucket column. In case you don't remember, the aim of this weekly (bi-weekly/monthly/whenever?) column is to shed some light on high geek interest goodies, be they books, comics, toys, soundtracks, foreign DVDs, etc that don't usually get the spotlight here on AICN. Most of the things covered in this column are movie related, but not all.
The very first Chum Bucket was my love letter to Stephen King's DARK TOWER books. First printed in a limited edition by GRANT BOOKS back in 1981 with the first installment, THE GUNSLINGER, this series has had an odd run. It's not among King's most well known stuff, but at the same time those that have read them are the most rabid beings in the universe. I have not run into anyone who goes, "Damn! I love THE STAND! Remember when Flagg appears on the island in the Uncut version? That was badass! Oh, and remember when Stu falls and breaks his leg! What a bummer!"
There are people who love his other books, myself among them, but the enthusiasm of those following Roland and his ka-tet is unique to King's master series. The Dark Tower books, much like The Dark Tower itself, act as a lynchpin for everything in King's universe. Every book, every story, every character that has gushed out of King's mind and onto paper for us hungry Constant Readers is tied to this series in one way or another. The books themselves are an amalgam of western, sci-fi, horror, fantasy and adventure, with a good dose of old school mythology thrown in for good measure.
What prompted me to write a column about the series is that this foul year of our lord, 2004, sees the release of the final two books in the seven book series. A lot of us Tower Fanatics had a big scare when King got hit by that van and teetered on the brink of death. I must admit, when I first heard of the severness of the accident, my thoughts didn't go out to his family... I was much too selfish for that. I thought, "But what happens to Roland and Eddie and Jake and Susannah and Oy?"
That accident served as a wake up call to King himself and he fairly quickly went about writing the final 3 books. WOLVES OF THE CALLA, the homage to SEVEN SAMURAI/MAGNIFICENT SEVEN of the series, was released late last year and I loved it. That final battle with the wolves is brutal and the losses aren't many, but you feel for each person who falls.
So, after the last column I started putting my feelers out on getting Advance Review Copies of SONG OF SUSANNAH, the next book in the series that is released June 8th. I got lucky. About a week and a half after my column went up, I got SONG OF SUSANNAH in the mail. I'll say right here and now that I tried both official and unofficial routes. One of them worked. Take a guess at which one!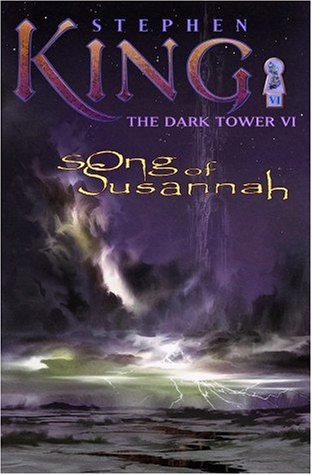 Here are the contents of the book:
1st Stanza: THE PERSISTENCE OF MAGIC
2nd Stanza:: BEAMQUAKE
3rd Stanza: TRUDY AND MIA
4th Stanza: SUSANNAH'S DOGAN
5th Stanza: THE TURTLE
6th Stanza: THE CASTLE ALLURE
7th Stanza: THE AMBUSH
8th Stanza: A GAME OF TOSS
9th Stanza: EDDIE BITES HIS TONGUE
10th Stanza: SUSANNAH-MIO, DIVIDED GIRL OF MINE
11th Stanza: THE WRITER
12th Stanza: JAKE AND CALLAHAN
13th Stanza: 'HILE, MIA, HILE, MOTHER'
CODA: PAGES FROM A WRITER'S JOURNAL
WORDSLINGER'S NOTE
Here are the illustration titles:
GREEN LIGHTNING
A THOUSAND, THOUSAND WORLDS
FOREBODE
DODGE
CORNERED
DOGAN DREAM
THE WOODS
FAINT SHADOW
SINGLE WILD ROSE
BIRDMAN
This non-proofed copy doesn't have any of Darrel Anderson's art work in it (unless you count a fuzzy photocopy of the "Bleeding Rose" on the baby blue title page) and has a few spelling errors, which for some reason fascinate me... Just to see something like adn instead of and was really surreal for some reason.
So, as far as I know the review that follows of THE DARK TOWER 6: THE SONG OF SUSANNAH is the first review of the book to find its way onto the internet. Those that haven't read the series so far, go thee hence to Ebay or the local used book store and find the large trade paperbacks of the first 4 books (THE GUNSLINGER, THE DRAWING OF THE THREE, THE WASTELANDS and WIZARD AND GLASS)... Grab the Plume large paperbacks if you can. The regular size paperbacks don't have the fantastic full page color artwork found in the large Plume editions. I can't recommend these books enough.
For those that are already along for the ride, join me for a little tour of SONG OF SUSANNAH. There are lots of reveals in the book and I promise not to ruin the really big ones (the last thing I want to do is ruin the book for anybody), but I might tread on some of the smaller scale spoilers, so be warned.
The book starts where the other left off. Susannah, taken over by "Mia," the maternal mental intruder, has stolen the mystical Black Thirteen and has used it to gain entrance into the "real" world via the Doorway Cave in order to deliver her demon child. The door is cold. Without the power of Black Thirteen, it's useless and the remainder of the Ka-tet has to gain the support of the Manni in order to pursue Susannah. Only their knowledge of how to travel between worlds can help them.
Ka (fate/destiny) steps in and sends our Ka-tet (a group bound by fate/destiny) off on the final path that leads to the steps of the Dark Tower itself. Eddie and Roland are sent after Calvin Tower in 1977 Maine while Pere Callahan and Jake are swept to modern day New York after Susannah/Mia, much to Eddie's chagrin. Obviously he wants to go after his wife, but Ka has different plans.
All the while, Susannah, trapped in her own mind in very much the same way Jonesy was in DREAMCATCHER, gets to know this Mia personality and finds out some surprising information that I won't spoil here. Let's just say this entity might not be such a stranger to this journey. Mia is drawn to a den of the unreal, The Dixie Pig, which is a kind of headquarters for the Crimson King's lowmen.
A bunch of new characters are introduced, among them Stephen King himself. Thankfully, it seems that King is just as much a part of Ka and whatever power is guiding Roland and his group instead of just being "the writer whose characters got away from him." I was worried for a second... My buddy, Kraken, was convinced the series would end with Roland reaching the Dark Tower and finding Stephen King on the top floor sitting at a typewriter. "Surprise!"
They do allude that all the characters are fictional and from King's mind. For instance, Eddie was brought up in Co-Op City in Brooklyn, which doesn't exist. King made a mistake. Co-Op City is in the Bronx. That kind of irked me a bit... I'd hate to have gotten to know these characters and believed in their quest only to find out that all I cared for was explained away as a bit of fiction. It'd be like having Frodo and Sam get to Mt. Doom, descend into the volcano and find J.R.R. Tolkien there and all he has to do is "write" the ring out of existence.
But having said all that, King makes it very clear that this world our Ka-tet entered (both modern day New York and '70s Maine) is the most real of all the worlds, the one closest to the Dark Tower. When you're dealing with multiple dimensions and worlds and stretching time, you can't really take anything for face value. At the very least it seems like King's involvement as a character in the story is over, so I'd hope that Kraken's prediction about the end is not likely.
On the whole, this book is 432 pages of set-up. Not a lot happens plot-wise, but a good deal of Roland's world is explained. What are the Beams? Where did they come from? How close is the Crimson King to toppling the Dark Tower? What is the fate of Susannah's child? Is the Rose safe? These questions are answered or at least enlightened... but the ending... hoo-wee!
If you guys thought the ending of THE WASTELANDS was a cliff-hanger, you ain't seen nothin' yet. Let me just say that King better thank his lucky stars (and his foresight) that the final book is coming out 3 months after the release of SONG OF SUSANNAH or all the Tower Nutters out there would be after his head. In the final pages we're left with a certainty that a few members of our happy little family are a heavily outnumbered gunfight away from losing their lives. There are also more spoiler-heavy loose ends, but I'll let you folks read about those.
I said above that this is a set-up book. It is, but it's not boring. It may explain away more of the mystery of Roland's world than I would have liked, but it was definitely not boring. King sets the stage for the final 700 plus pages of the series with a confident touch. I especially liked the further connection to the Arthurian legend that he's had attached to the series since book 1. You'll understand when you read it...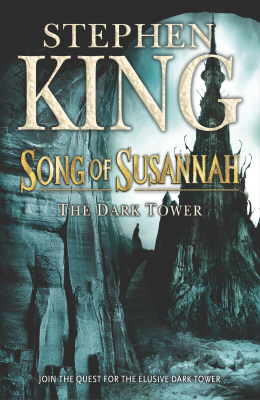 I'd have to rank this book as my least favorite in the series so far, but that isn't saying anything negative. That'd be like me saying the sports fishermen going after the bounty on the shark is my least favorite part of JAWS. That scene may not be as awesome as the rest of the movie, but it still introduces Matt Hooper and some secondary characters that I love, like Ben Gardner. It is important to the film and I couldn't imagine seeing the film as a whole without it. I think in the end, the true success of this book will be determined by what happens in the next and final book in the series.
It's an exciting and scary time to be a Dark Tower fan. I don't think fans will be disappointed with SONG OF SUSANNAH, but who knows what King has in store for us in the final book? A lot is riding on this final book. I have faith in King pulling out a great ending, so I guess I fall more into the excited category than the scared category. We'll see. I'll do my best to get my mitts on an early copy of the final Dark Tower book early. Who knows, I may even manage to wrangle some words out of King about the finished series.
If you folks head over to Grant Books you can preorder SONG OF SUSANNAH directly from the publisher. The regular hardcover edition is $24.00. The limited Artist Edition, signed by Darrel Anderson, is $45.00. You can only order it if you bought a copy of the Artist Edition of WOLVES OF THE CALLA, but if you didn't and still want one keep checking back. I'm sure there will be a limited number put up for general sale. It worth it... the Artist Editions always go up in value, are bound in a sewn binding instead of glue and you get it 2 weeks before street date.
You can also enter the lottery to get the limited signed and numbered edition signed by both Stephen King and Darrel Anderson... these suckers skyrocket on the secondary market and are almost impossible to get.
Before I let you go, I also want to point you in the direction of Lilja's Library. It's hands down the best Stephen King news site on the net. Any info on any Stephen King project, be it an upcoming book, TV adaptation, film adaptation, special edition release... Lilja's Library is on top of it... It even has stuff on the final book... I read as far as "...the losses come from within his (Roland's) circle of companions" before I tore my eyes away.
I hope you folks liked this first foray into book review. I love this series and am delighted to give my fellow Dark Tower Nutters an early peak into this book. I'll be back soon with some reviews and even some King-ly interviews, not of the Stephen variety, but... well, you'll see. 'Til then this is Quint bidding you all a fond farewell and adieu.
-Quint
email: Email the wordslinging sonuva bitch, Quint, here!!!